Transitions
From the East Village to Brooklyn Heights: Leaving a tenement share for a co-op with charm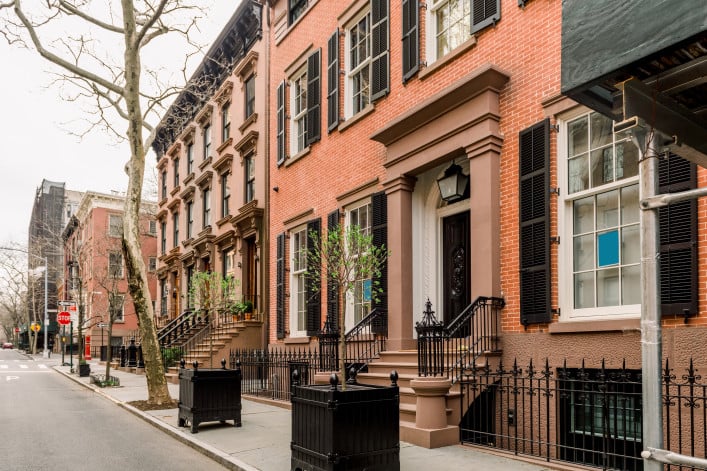 San Francisco native Shelly Place moved to NYC to attend NYU and lived in the East Village. Her apartment was tiny, and very old, but she liked the energy and the nightlife in the neighborhood so much she stayed after graduation. A desire for more space pushed her to realize her dream of living in the very picturesque neighborhood of Brooklyn Heights. Here's how the two neighborhoods compare.
I grew up in the San Francisco Bay area, but I've been a New Yorker for a decade. I came here to go to NYU and moved off campus between my junior and senior year of college with two other NYU students. After graduation, I liked the apartment and area so much I just stayed. 
In 2014, I lived on Saint Marks Place between First Avenue and Avenue A in the East Village with two roommates in a small, three-bedroom apartment on the fourth floor of a walkup —it a tenement that was over 100 years old. We had a tiny kitchen, barely any living room, and each of our bedrooms were only about 80 square feet. We shared one bathroom for the three of us. 
---
[Editor's Note: Brick Underground's series "Transitions" features first-person accounts of what it's like to move from one New York City neighborhood to another. Have a story to share? Drop us an email. We respect all requests for anonymity.]
---
My parents and grandparents came to visit once and were shocked at our lack of space and steep stairs. I remember desperately trying to tell them what a good deal we had compared to other places I saw in the area. I ended up realizing you only get it if you live in New York. Looking back, I question how I was able to live like that for four years, but at the time I was so proud of that apartment. 
The apartment was small, but the neighborhood made up for it in other ways. The East Village offered such diverse food options. I loved getting sandwiches from Sunny & Annie's, Mexican food from the now-defunct Five Tacos, Chinese at Mala Pot, as well as grabbing a coffee at Porto Rico Importing Co. 
Sadly I lived in the area way before there was a Trader Joe's at Avenue A and 14th Street so I used to walk all the way to Union Square and do all my shopping at that Trader Joe's. On hot days, carrying 50 pounds of groceries by myself felt like Barry's Bootcamp. I was too frugal to pay to get my groceries delivered. Besides, who likes to wait around for a delivery when there is so much to do in NYC? Despite my small kitchen, I cooked all the time. 
It's also probably worth noting that as old and as tiny as my EV apartment was it had one incredible thing: an in-unit washer and dryer. This was the only time I have ever lived in an apartment with washer and dryer in it and all New Yorkers know what a rare and incredible thing it is, especially in a shabby rental. 
And we didn't have to go far for nightlife. There was a certain energy in the neighborhood other places seemed to lack. The area got noisy on weekends and evenings but our apartment faced the back of the building so it was more like a low hum of chatter. It was actually kind of soothing sometimes to hear people socializing and having fun. It energized me and made me feel like I was in the center of the action. Now, I don't think I'd be able to deal with it. I like my quiet. 
And although very urban, there were some green spaces I enjoyed. I'd often go running in East River Park and loved the water view. I was also close to Tompkins Square Park.  
However, the East Village isn't the most well-connected neighborhood when it comes to subway options. There are a lot of good bus options, but none of the train lines actually run through the EV, they run along the borders of the nabe. So, my closest train was the 6 at Astor or the R and W lines at 8th St-NYU, but that was still a 10-minute walk from my apartment. So, most of my days started with a nice brisk walk to the train. Still, I liked it (most of the time). It gave me time to organize my thoughts and feel more connected with the neighborhood. I would see the same some of the same people every day. 
After about four years, I wanted to get a place with my boyfriend. I had outgrown the 80-square-foot bedroom. 
I was completely enamored by the beauty and charm of Brooklyn Heights from the very first time I ever visited during my college days. I always knew I wanted to live there someday, and I made it a goal to make it happen. It's so picturesque with its townhouses, tree-lined streets, and river views. The architecture is so diverse. Every building feels like it has a story. 
When we first moved to Brooklyn Heights in 2018, my boyfriend and I lived in a doorman/elevator building for $2,995 a month. My share was roughly how much I was paying to live with roommates in the walkup. Our new place was about 500 square feet. It was actually a great deal, but our rent rose quickly. 
After about two years we opted to move. We now live in 600-square-foot apartment in an 1860s mansion that was converted to co-ops. We basically gave up amenities for charm. And now we live closer to the waterfront. 
Sadly, there is no in-unit or even in-building laundry facilities, so we schlep our wash to the laundromat around the corner.  
The Brooklyn Heights Promenade and Brooklyn Bridge Park are incredible. They've become my backyard. I feel so fortunate to be able to roll out of bed and take a walk or jog with the entire downtown Manhattan skyline as my view. 
The grocery store scene here is on point too. I have about four grocery store options within a 10-minute walk of me and Trader Joes on Atlantic is walking distance too. Finally! 
The food in both neighborhoods is great. New York City in general has great food options everywhere. In Brooklyn Heights I love breakfast sandwiches from Lassen & Henning and they have become our weekend ritual. Jack the Horse Tavern has an oyster room with an awesome happy hour on weeknights. On nice days, we go to Fornino on Pier 6 to enjoy pizza and sangria by the harbor. The rooftop bar at the Brooklyn 1 Hotel is the perfect place to impress visitors from out of town or enjoy a romantic drink with panoramic views of the city. I think Sahadi's on Atlantic makes the best hummus in the world. Period. On nights in, I order General Tso's Shrimp from Lichee Nut or Indian food from Curry Heights. 
The areas are very different though. Brooklyn Heights kind of shuts down past 10 p.m. at night. It's definitely livelier in the East Village, and there are so many more options for going out. But Brooklyn Heights has a nice community feel. I'm able to host people in my apartment easier in Brooklyn than I could in my tiny apartment in the East Village. I love hosting dinners, board game nights, and get-togethers on my roof. If we want to go out, we have to head to other areas. 
But traveling is no problem. The transportation options are so good! That's part of why I moved here.  It's incredibly convenient. Borough Hall has 5 train lines (R, 4, 5, 2, and 3) and the A and C trains at High Street run through the neighborhood too. I travel to all areas of the city for my job so this is key. 
I'm pleased that my first impression of the neighborhood was spot on: Brooklyn Heights is the perfect neighborhood for me. I don't see myself leaving it as long as I'm in NYC.
Brick Underground articles occasionally include the expertise of, or information about, advertising partners when relevant to the story. We will never promote an advertiser's product without making the relationship clear to our readers.