Reel Estate
As far as NYC-based TV shows go, 'The Bold Type' isn't that far off on the real estate front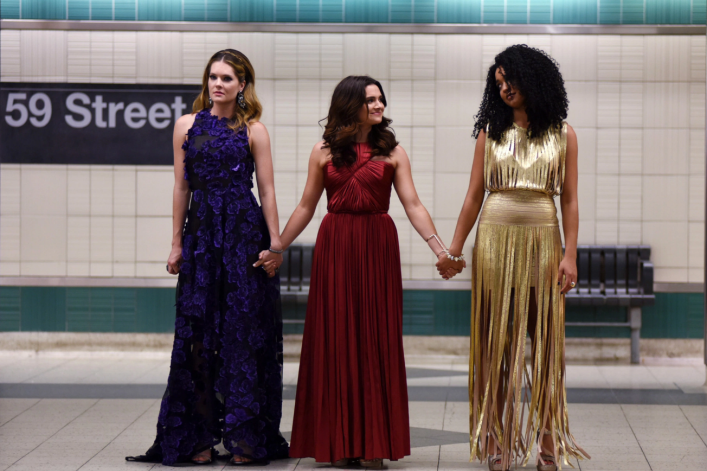 The opening scene of Freeform's recently debuted show, "The Bold Type" features the three main characters decked out in elaborate gowns, screaming in a near-empty subway station, because "There's nowhere in the entire city where people aren't on top of you." (See photo above.) 
True as that sentiment may be, this drama about three up-and-comers in the magazine industry certainly takes creative license (starting with the fact that subway platforms are never that empty).
Of course, series about trios or quartets of stylish young women taking their shot in New York City are nothing new. "Sex and the City" did it with far more style and panache, and "Girls," did it with less style, per se, but scads more edge. (And far more gratuitous nudity.)
This drama series with a punny name features another trio of 20-something females—Kat, Jane and Sutton—toiling by day at Scarlet magazine and discussing men over drinks at night. It is loosely inspired by the life of former Cosmopolitan editor-in-chief Joanna Coles. 
Jane is a newly promoted writer getting a footing for her beat and establishing her writer's voice. Kat has a mid-level management job as social media director, and Sutton is still struggling to get out of being an assistant to a woman addicted to green juices and get promoted into an actual fashion position.
And what about the homes of these three women? Usually NYC-based shows about young women trying to make it here often focus on their apartments–Remember when Carrie's apartment on "Sex and the City" was going co-op and she accepted Charlotte's old engagement ring for a down payment? Or when Miranda purchased her own property as a single woman? Or on"Girls" when Marnie's new husband made a disastrous attempt at building walls in hers?
But sadly, (at least in the first four episodes that have aired thus far) Jane, Kat and Sutton's apartments are little more than an afterthought.
The majority of the girls' scenes are spent in their Midtown office's fashion closet. (At one point, we catch a glimpse of the Trump Tower logo outside of the commercial space windows.
And the first bit of actual residential real estate we see is full-on real estate porn—the luxurious, loft-life apartment of Richard Hunter, a Scarlet board member and Sutton's super-secret lover. When the couple go there for a late night rendezvous, we get a peek into the ultra-modern abode, with its floor-to-ceiling windows and amazing view. It's a pretty realistic apartment for an older and successful gentleman like Hunter.
The actual address, which the camera pans to outside the building, makes sense too: 450 West 17th Street, which happens to be The Caledonia, a luxury rental building.  A quick glance on StreetEasy shows rents in the high-rise range between $4,500-$7,000 for a one- bedroom and $7,000 and up for a two-bedroom. That's pricey, but certainly not impossible for a successful businessman.
Later, even more realistically, we see the façade of the apartment that belongs to Jane's ex, Eric–another millennial with a low-level job. When Jane and gang Uber it out of Manhattan and into Brooklyn in an attempt to stalk him, we are flashed signs for both Coney Island Avenue and North Moore. While we never seen inside his apartment, the building appears to be a basic pre-war walkup. Again, pretty realistic.
Jane's current paramour, Ryan, a fellow writer at a competing men's publication, also lives in an apartment befitting of his circumstances (the stylish and small studio, pictured below, has a small kitchen "corner" and we'd imagine no hall closet, since Ryan's jackets are hanging from a rolling rack). We are never told where exactly it is, but we can assume in Manhattan, as the girls seem to view Brooklyn with a bit of distaste (which honestly feels a little dated for the magazine industry of 2017).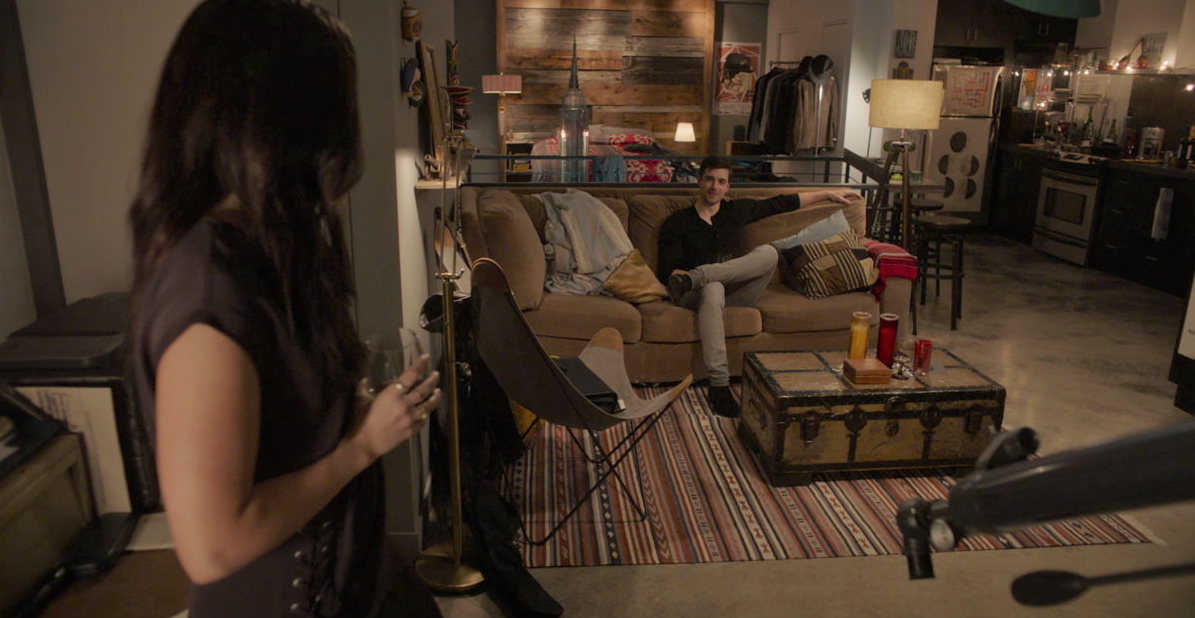 One the other hand, the unit that Jane and Sutton share seems far less realistic. The first time we see it, we get only a brief glimpse of their living room featuring a rather nondescript cream couch and painted exposed brick wall. The décor makes sense—Urban Outfitters chic circa 2012. 
But finally in the fourth episode, when we see more of it, it becomes all the less believable that they could live there. A two-bedroom with French doors that open into a humongous living room complete with built-ins seems far too pricey for low-level magazine salaries.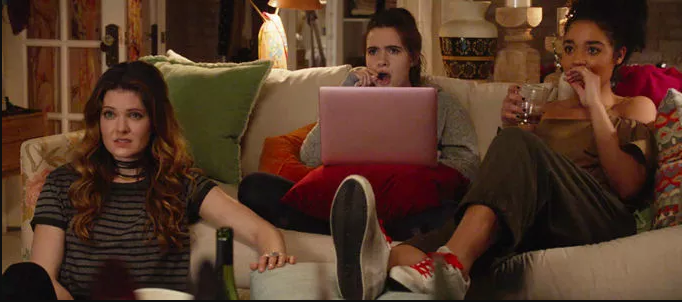 Jane's bedroom has a queen-sized bed and more painted exposed brick walls, and at one point Sutton makes a joke about the walls being so thin that she could hear Jane having sex (hey, many of us real New Yorkers actually been there).
While both Kat and Jane seem to have no worries about money—Sutton alludes to them having familial assistance and no student loans to pay back—Sutton specifically mentions that she doesn't have "a mom who can pay her bills." She dramatically keeps a $100 bill in her purse, explaining it is her "Plan B": enough for a bus ticket back to Harrisburg.
Brief real estate and fashion porn aside, the bottom line is if "The Bold Type" were indeed a font, it'd be Comic Sans - not necessarily hard on the eyes, but a cliched joke.
Brick Underground articles occasionally include the expertise of, or information about, advertising partners when relevant to the story. We will never promote an advertiser's product without making the relationship clear to our readers.