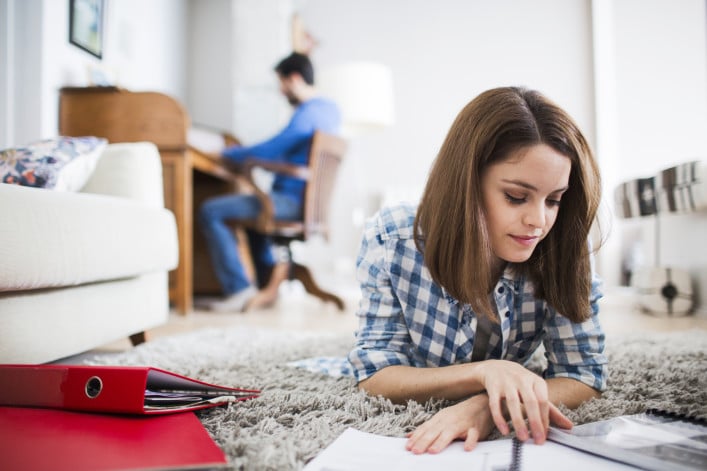 My first few months in NYC were spent sharing a long, narrow, and most likely illegal bedroom in the basement of an East Village duplex. I split the space, such as it was, with my best friend, and though the conditions were objectively dismal, we were pretty pleased with our circumstances: We were living on the cheap in the heart of one of the city's most exciting neighborhoods. Plus, since we were just fresh out of college, dorm-style living was familiar to us, the lack of privacy and personal space nothing new.
That said, the moment my roommate got a promotion and could afford to take over the rent on the room herself, I moved to the adjacent bedroom; that little strip of hallway separating us provided some welcome autonomy. It helped, too, that we were in a three-bedroom apartment and could hang out in common spaces, small as they were. But plenty other more patient and resourceful New Yorkers have cohabitated in even smaller surroundings: studio apartments.
Anyone familiar with our city's rental market knows it's not unusual to save money by carving up bedrooms with dividers and making space for more people. Still, in a studio, there's nowhere to hide. One renter previously shared her studio-sharing story with Brick, outlining its many frustrations: parceling out tiny bits of space in the closet and fridge, the awkward stretches of time when both residents were working from home, and of course, the strangeness of sleeping so closely to someone who wasn't a romantic partner.
Most New Yorkers who go this money-saving route do so with a significant other. But even then, it doesn't take much to get on each other's nerves in such close quarters, as one writer for New York Natives explained: "The difficulty in sharing a studio with my wife-to-be is the lack of privacy," he writes. "In a studio there's no such thing as 'going into the other room' because there is no other room."
So what goes into the decision to split such a tiny apartment—and how do you stay sane once you make the move?
Lilia Berzon, a broker with BOND, recalls a Midtown East studio that she sold on the behalf of a husband and wife. The wife had originally purchased the apartment, and when she got married, her husband moved in with her.
After a few years, pregnancy prompted the couple to finally upgrade to larger quarters. "They were already pushing it because the studio was only 400 square feet," Berzon says.
Berzon found them a buyer, who she originally thought would live there alone, but it turned out that he, too, would be sharing the space with a partner. As for his willingness to move from his home in New Jersey to such tiny digs, Berzon explains: "He just wanted to be in New York. It was definitely, for him, a starter apartment. He mentioned he loved the building and was open to buying something bigger there in the future."
The husband and wife had a few tricks for making the most of their studio, Berzon says. They slept on a Murphy bed, which disappeared into the wall during the day to free up floor space. The homeowners also used their ample storage space—they had four closets—in a clever way, transforming one into an office nook. Plus, they added a counter to the kitchen to separate it from the rest of the room and create more prep space for cooking, and put a table by the window for a small dining area.
Separating a studio into discrete zones can make a tremendous difference, Berzon says. Otherwise, "if you take everything away, it's just a square."  
As for the reasons two people might opt to split a studio, Berzon notes that cost comes first. "When you have a certain budget, there's only so much that's available," she says. "For a couple it will be hard, but on the bright side there's less space you have to clean."
Clinton Botway, a broker with FirstService Realty, agrees that expense is the primary consideration. "It's really all about economics," he explains of the decision he and his girlfriend made to live together in his 550-square foot Midtown alcove studio. 
Aside from the cost of updating the space—they plan to renovate the kitchen and bath—Botway says that once they're living together, he'll be paying half his current rent, and his girlfriend one-third of what she pays now for her spot in a two-bedroom. The setup is workable for two people, he says, as the bed is in the alcove, freeing up square footage in the main area, and because there are two large closets for plenty of storage.
When he first moved to NYC, Devon Wambold chose to split a Yorkville studio with his now-fiancee, Sabrina Schmidt, for its convenient location as well as for the relatively low expense. "Sabrina reverse-commutes to New Jersey for her job and has to be at Bryant Park early each day to catch the company shuttle. Because of this, we had to live somewhere with a quick trip to Bryant Park," he explains. As newbies to the city—Wambold was living in Ohio at the time, and Schmidt was in New Jersey—they wanted to live in Manhattan. A relative suggested looking at the Upper East Side, and the couple found that the only apartments within their price range were studios in Yorkville.
Nonetheless, the apartment they ended up with did have upsides: It had been recently renovated and the sleeping area was lofted, which made it feel a little less like a studio, Wambold recalls. And since they were fresh out of college and accustomed to sharing space in dorms, they were able to get along in the small space without much trouble. "Living in tight quarters with each other wasn't too difficult for us," he says.
What was a challenge, though, was finding room for their stuff. "We are two people with an affinity for clutter," he says, "and having very little closet space made organization and cleaning an uphill battle." The biggest con? "The loft sleeping/storage space attracted a brief outbreak of silverfish which had us sleeping on the couch for about a month while we managed it," Wambold says. But overall, saving money and time on their commutes made the arrangement a win, he says, and the couple has since upgraded to a true one-bedroom in Long Island City. 
Botway predicts that he and his girlfriend will likely head to roomier digs at some point in the future, too. "Eventually, maybe we'll buy a house or a bigger apartment," he says. "But in the meantime, the whole thing about living in New York is that you're not supposed to spend a lot of time in your apartment—you're supposed to be out in the world." 
Brick Underground articles occasionally include the expertise of, or information about, advertising partners when relevant to the story. We will never promote an advertiser's product without making the relationship clear to our readers.