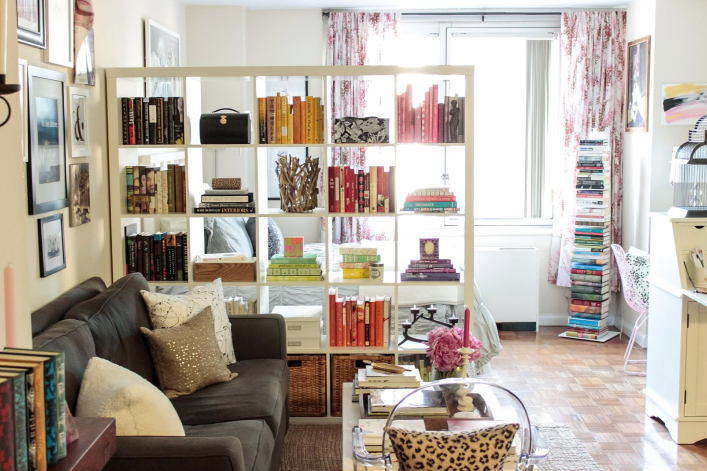 If you live in New York City, especially if you're sans roommate and don't have a trust fund, chances are good you're living the studio apartment life. While at first it can seem daunting to make a home out of just a single room, the fact is that a strategically arranged studio can actually be made to feel as though it has several rooms. Here are some smart strategies for dividing a studio apartment:
Bookcases make good dividers
The Ikea Kallax shelving unit ($199) is one of the best ways to divide a small New York City apartment, due to the simple fact that it creates a feeling of division without blocking light. Any divider that cuts down the light is going to make a space feel smaller and more claustrophobic—big no-nos for studio living—so this unit with its open squares is the perfect solution.
Also: extra storage. With five squares across and five up and down, the Kallax can hold a veritable trove of treasures and necessities, like books, candles, decorative objects and more. There are also many options for open topped baskets that fit within the squares, which can be used to hold clothing, extra scarves and gloves for those cold New York City winters, bedsheets, kids toys, and anything else you can think of. Another plus is that the unit needs to be assembled, so you don't have to worry about trying to fit a huge piece of furniture through narrow stairways and small doorways (which are a reality of many NYC apartment buildings). 
There are various placement options for the Kallax, depending on the layout of your room. You can place the unit at the foot of bed, which will enclose your bed in a little nook. This can be great if you crave that cozy, tucked in feeling when sleeping or laying in bed reading. The unit also works well placed lengthwise alongside the bed. This is the best way to mimic a wall, thus creating what feels like a separate bedroom and living space. (If, like some people, you like your eyes to rest on a clean, uncluttered wall, the second option is most likely the better one.)  It really depends on your space, but one of these options is bound to work in most studios.
Go antiquing—for a folding screen
Another option for dividing a studio apartment is a folding screen. If you want to invest in a timeless piece, an antique option is a great way to go. When looking for screens, consider one covered in a beautiful wallpaper—it's an ingenious way to incorporate wallpaper into your rental, and a lovely way to add color and pattern to a space. (Alternatively, you can buy a plain screen and cover it with the wallpaper of your choosing.) If you want something more simple, look for a wooden screen with some sort of architectural detail, or one that incorporates a cut-out pattern. There is also the option of an upholstered screen; some even come with nailheads. 
The best part about using folding screens is that they can move with you; if eventually you move to a bigger apartment, they can be used to hide unsightly corners or add a decorative aspect. They're timeless, elegant, and a favorite of interior designers the world over. Many thrift stores all over NYC stock vintage screens—don't forget to search New York's many flea markets as well!
Curtains up!
It may seem obvious, but yes, curtains are a good option for divvying up studio space. Hanging a curtain from a tension rod—or if your landlord permits it, rails affixed to the ceiling—allows you to create a "real bedroom," albeit one with soft walls. As for color, go for white or a somewhat gauzy fabric so that it looks airy and lets light through, rather than creating what feels like a blockade. 
Separate the kitchen
Many NYC apartments have a kitchen that opens right onto the living space. A great way to create a feeling of separation is to use a floating island, such as the Belmont model from Crate and Barrel, which also provides you with extra storage. It's not much of a divider, per se, but at least it does create a boundary of sorts from the kitchen. Alternatively, you can use a taller console table and place stools in front of it. You'll create division and extra seating all in one shot—plus you'll have a place to eat! 
Go with a sectional 
A sectional sofa is another useful way to divide a studio apartment, and it solves two problems in one swoop. It helps create an entertaining nook if you love having friends over, and creates a clear delineation between living room and bedroom, while also providing ample seating. 
Jacqueline Clair writes about interior design, fashion and NYC living on her blog,York Avenue.
Related:
How to conquer a no-storage studio, and other small-space decorating tips
Brick Underground articles occasionally include the expertise of, or information about, advertising partners when relevant to the story. We will never promote an advertiser's product without making the relationship clear to our readers.