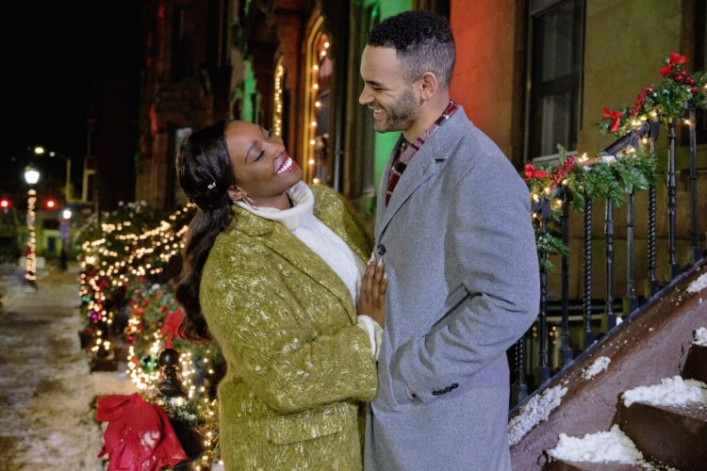 The holiday season is almost upon us and that means new Hallmark movies to celebrate the season. Typically, these formulaic feel-good movies center around a big city-type woman heading back to her small town to fall back in love with both holiday festivities and the man of her dreams. Think: Small towns with white picket fences, wholesome caroling, hot chocolate, placid snowfalls and chaste kisses under mistletoe.
Hallmark's recently debuted "A Holiday in Harlem" is in that vein but with a spin. This time cosmopolitan Jazmin (fun fact: played by Olivia Washington, Denzel's daughter) opts to stay home in NYC, heading further uptown to Harlem. She is forced to take a break from constant travel for her high-powered job when her grandmother, Mama Belle (Tina Lifford) injures herself in a freak yoga accident at the Harlem YMCA.
While there are quick flashes of both the 125th and 135th street subway stations and rows of beautiful brownstones, something seems a bit off about Hallmark's version of Harlem, especially the real estate. There is indeed a real YMCA in Harlem on West 135th Street, but much of the familiarity ends there.
---
[Editor's note: When a movie or TV show is set in New York City—and if the people making it are savvy—real estate becomes part of the story itself. In Reel Estate, Brick Underground reality checks the NYC real estate depicted on screen].
---
Picket fences be damned; the focal point of this flick is grandma's stately brownstone! Mama Belle's brownstone has been in her family for years and the lush original prewar details wow in a way a Hallmark farmhouse never could: Think crown molding, hardwood floors, functioning fireplaces and a labyrinth of rooms!
However, something seems askew about the neighborhood. It's too quiet—no horns honking, no chatter of passersby. And there is absolutely no traffic. Not even one green cab or delivery truck. WTH! Hallmark movies are built on fantasy, but this requires too much willing suspension of disbelief.
On the one hand, it's entirely plausible (although unusual these days) that a Harlem resident like Mama Belle held on to her familial home and chose not to sell for millions, like this similar property asking $4,350,000—but it impossible to believe that her entire block would be filled with long-time owners like herself.
The movie implies a small-town feel that's hard to fathom. In this version of Harlem, everyone knows each other by name and there are no strangers on the street. Plus, there's not one bit of graffiti and not one overflowing corner trash can. Are we in NYC anymore?
Turns out the movie wasn't filmed in NYC at all; filming took place in Hartford, CT. Andrew Gernhard, the producer and production company owner, tells CT Insider, "We shot basically all of it in the Hartford area," he said. "We obviously looked at a lot of research, and we were able to find little bits of Hartford and East Hartford sections that match up with Harlem, and we recreated all that in Connecticut."
Peter Haggerty, who lives on the Hartford street where filming took place, tells Fox 61: "This, you can see this block here, it could be many cities in the country. It could be Philadelphia, could be Boston, could be New York."
Mama Belle's brownstone is also in Hartford and in real life belongs to tv anchors Dennis House and Kara Sundlun.
There are other signs that this show doesn't pay much attention to NYC real estate trends.
Jazmin's childhood friend and would-be boyfriend, Caleb (Will Adams), runs his family's mom-and-pop hardware store with his sister. They have a discussion about expanding and taking on more space. NYC's small retailers (the ones that have survived) are suffering and commercial leases are complicated—expanding isn't something you muse about casually. There's no way this is a realistic NYC real estate conversation.
However, Caleb's own apartment makes sense: He lives in a modern (stainless steel appliances abound) apartment in the area that screams "new development."
With Mama Belle housebound due to her injury, Jazmin and Caleb take over as planners of the annual Harlem holiday block party she typically runs—a block party is not hard to believe, but planning one single-handedly is a stretch, since these are massive events these days.
In true Hallmark fashion, it all works out: Jazmin regains her almost child-like enjoyment of the holidays and finds herself back in love with her Harlem roots—and also with Caleb. The block party is a huge success, with local eateries battling to provide food for the event. (There's no mention of PPP funds to be sure—there's no sign of the pandemic at all.)
Hokey, for sure, but if children are expected to believe a fat man in red will enter their homes and leave gifts instead of steal their Amazon packages, I guess grown up New Yorkers can forgo reality for a few hours and entertain themselves with a depiction of NYC that is totally clean, quiet, and wholesome and Covid-free.
Let's just ho- ho- hope the sequel for next year is a bit more realistic to maintain our interest. Perhaps it could be about how a real estate agent named Scrooge tries to convince Mama Belle to sell her home and move into a condo instead.
Brick Underground articles occasionally include the expertise of, or information about, advertising partners when relevant to the story. We will never promote an advertiser's product without making the relationship clear to our readers.