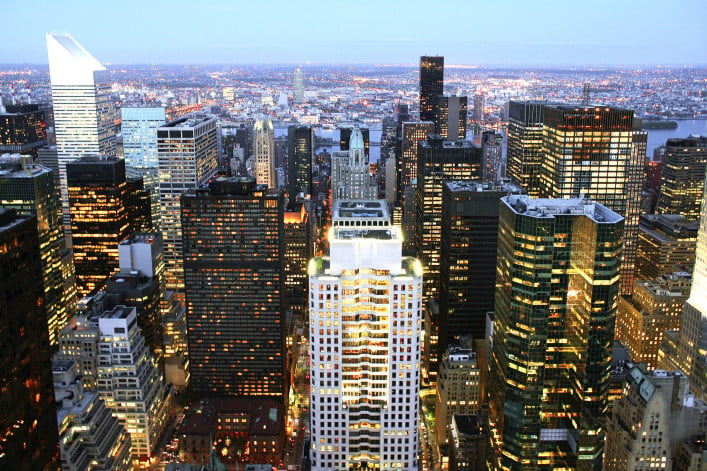 How do you research air rights for your building and those on your block? What does it mean if your board is trying to sell them? What are the possible downsides?
Calculating your building's air rights can be a complicated process, requiring buildings to enlist consultants to review their development rights and consult the city's zoning code. And selling these rights can be lucrative—but it could also mean losing views, dealing with construction noise, and more, our experts say.
Air rights, also known as floor area ratio or FAR, is defined as the ratio of a building's total floor area to the area of its zoning lot. Some buildings have a substantial amount of unused FAR, which could be sold, often to building residents or to neighboring properties. 
But first, the amount of FAR available must be calculated—not necessarily an easy thing to do. 
"It sounds simple, but surveyors and architects are engaged when these deals are made because there are adjustments to the numbers than require professional input," says Steven Wagner, partner at Wagner Berkow (a Brick sponsor). "Usually the parties use the basic calculations when they arrive at a sale price, and the numbers are 'trued up' after the professionals do their work."
If residents of the building itself don't want to purchase the FAR—say, to enclose an already existing outdoor space—then owners of adjacent buildings may want to buy, but the requirements for them to do so are complicated. 
"There must be at least a 10 foot contiguous property line. Very often, a number of zoning lots can be strung together through a series of zoning lot mergers in order to allow the excess FAR to be used on a site that is not close to your property, but in the same 'block' of buildings," Wagner explains. 
Given the hurdles to buying and utilizing FAR, your board could have trouble finding a buyer. If they do, though, there are several potential pluses and minuses to the sale. 
"The upsides are that your building will have money that is infused into its reserve fund and can be used to finance building improvements, pay down the mortgage, and so on," says Deanna Kory, a broker with Corcoran. "Another upside is that if the sale is to a developer, and a building on the block is being built or renovated, the quality of the buildings and architecture will change, and in some cases it will be for the betterment of the block." 
A renovated building or new development next door could be a boon to your own property values, but along with construction can come some disadvantages, as well. The noise, dust, and unsightly scaffolding that construction brings may be temporary, but other side effects could be permanent. 
"Since transferring development rights to a development site would enable a developer to build a larger building, the downside to a sale of development rights could be having a larger building for a neighbor, which could result in loss of views, sunlight, and even privacy for some of the residents of the co-op," says Jeffrey Reich, a partner at Schwartz Sladkus Reich Greenberg Atlas. 
Perhaps even more concerning is the risk that the construction that comes with selling air rights to a neighbor could damage your building. 
"Most developers want to underpin the seller's building, which is a possible danger to the building," Wagner says. "If one or both of the buildings is damaged, will there be enough FAR to rebuild the same size building? That could be a major issue if there is a down zoning of the area." 
There are many other potential complexities, Wagner says, including high tax bills for the sale, challenges getting approval if the building is landmarked, and more.
The possible disadvantages to selling air rights have compelled other co-ops to turn down lucrative deals recently: The Seward Park Co-operative voted down a $54 million deal last year, for instance, with members citing a number of concerns. 
---
Trouble at home? Get your NYC apartment-dweller questions answered by an expert! Send us your questions at [email protected]
For more Ask an Expert questions and answers, click here.
Brick Underground articles occasionally include the expertise of, or information about, advertising partners when relevant to the story. We will never promote an advertiser's product without making the relationship clear to our readers.