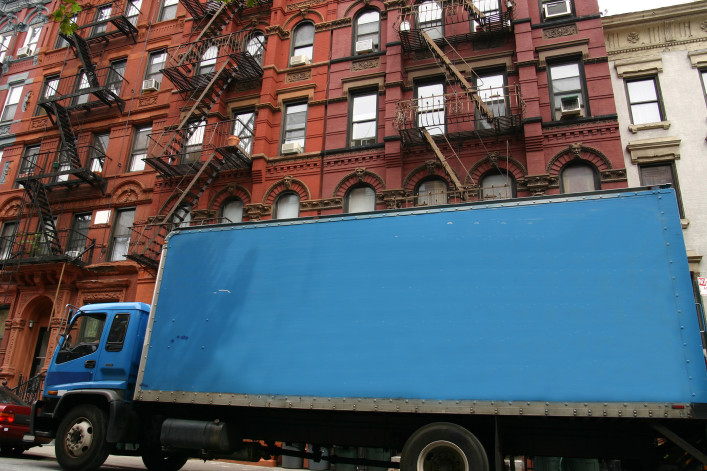 It's a universally acknowledged truth that moving is miserable, and moving in New York City, even more so. The physical and emotional stress of uprooting yourself and cramming your life into boxes is a struggle on its own, but then there's also the hassle of navigating it all through congested city streets and up narrow staircases. Relocating in New York is never a breeze, but we're still holding out hope that it can be rendered slightly less painful.
To that end, we asked brokers, movers, and ordinary New Yorkers for their tips on making the process go as smoothly as possible. (And here's my pro-tip, after eight moves in 10 years: Wrap breakable items in your towels and linens for a two-birds, one-stone packing solution.)
Read on for more advice from those who know:  
Hire professional movers 
"Hire movers, don't do it yourself. Sell a kidney if you have to. If you want to save, rent the truck yourself and pay friends, but don't do it alone, ever. Ideally, save save, save for professionals. Also do a huge purge a month in advance to lessen the loads!"—Katrin Hier, Astoria 
...Or don't
"I've had seven moves within NYC and I can honestly say the only thing that I've learned is to not hire movers for your stuff—furniture only. Someone stole my wallet right out of my purse and lots of other movers broke so many kitchen items. After all that moving I have almost no cups left! Last three moves, we got a U-Haul and moved all our stuff by ourselves and then just got a company to do the big heavy furniture. That way was much cheaper and nothing went missing or broken."—Danielle Vita, Bensonhurst
"U-Haul is super cheap and has labor available for less than TaskRabbit, and definitely less than moving companies."—Lauren Krass, Astoria
Pack smart before the move
"Cut holes in the middle of garbage bags and create pseudo-garment bags for your clothes on hangers. When you move into your new place, you can hang the bag up and cut off the garbage bag and you're good to go! This saved me a bunch of time when I was unpacking."—Christina O'Handley, Harlem
"Get movers to pack. It's honestly priceless. Especially with little kids, when it's just impossible to pack with them around. Entire apartment done in a couple of hours. It's a splurge totally worth doing if you can."—Lucy Cohen Blatter, Yorkville
"Start the de-cluttering process as soon as possible. Get painter's tape in three different colors, and mark items to move, to sell or donate, and to dispose of. When the boxes and movers arrive, mark each box clearly with the destination room or activity, e.g., kitchen, toys, etc. Moving is one of the most stressful events people can experience, so take breaks and have a sense of humor!"—Andrea Saturno-Sanjana, agent, Citi Habitats
Use a storage unit when you know a move is looming 
"We've been 'moving' for over two years. We have a storage unit down the block in Queens to store some of our seasonal items for once we pull the suburb trigger. It should be much easier, as half our stuff is packed already. Also, we haven't bought new furniture, knowing that we'll get new stuff delivered to our new location once that happens."—Peter Jacobs, Astoria 
Review your new building's rules before moving day
"Once you have signed the lease, immediately contact your new management company to confirm their move-in policy. Most larger rental buildings have very specific rules. For example, many require moving companies to provide a certificate of insurance—and on move-in day, protective covering (usually Masonite) needs to be placed on the floors in the hallway when transporting your furniture from the freight elevator to the apartment."—Josh Sarnell, agent, Citi Habitats 
Don't move during a major city event
"Don't move on the day of the marathon. May seem obvious, but I made that rookie mistake. I was moving from Park Slope to Cobble Hill and the movers couldn't cross Third Avenue. They had to drive down to Bay Ridge and back."—Dan Selzer, Woodside 
Make your move a green one
"The number one way to make moving easier is to use bins instead of boxes ... They're crush-proof, so they're more protective of your belongings. Then we do the move, and come to your new location a week or so later to pick up the bins and clean them—and you don't have 80 pounds of cardboard outside your front door." —Mark Ehrhardt, founder of green moving company Movers, Not Shakers!
And lastly, If you're moving to NYC from elsewhere, prepare yourself for the hunt
"Having a good real estate agent, or at least a knowledgeable person to educate and assist you in finding housing, is key, especially if you're moving to NYC from some other area. Personally, having moved within the city six times (at least), I'd say that hiring a moving company to handle the heavy lifting has made the whole process a lot more tolerable."—Shira Rosenhaft, manager, relocations and referrals, Halstead 
"Like moving to any city, do a little research about where you want to live. Take your commute to work and distance to the nearest subway station into account. Contact a real estate agent, like me, to help you find a place. You want someone who is going to listen to your wants, needs, budget, and timeline. If what you're looking for doesn't seem realistic, a good agent will help guide your search and expectations. Without an unlimited budget, you may have to do away with the doorman, dishwasher, and laundry in-unit to be in a prime location."—Bailey Gladysz, agent, Triplemint (a Brick partner) 
Brick Underground articles occasionally include the expertise of, or information about, advertising partners when relevant to the story. We will never promote an advertiser's product without making the relationship clear to our readers.