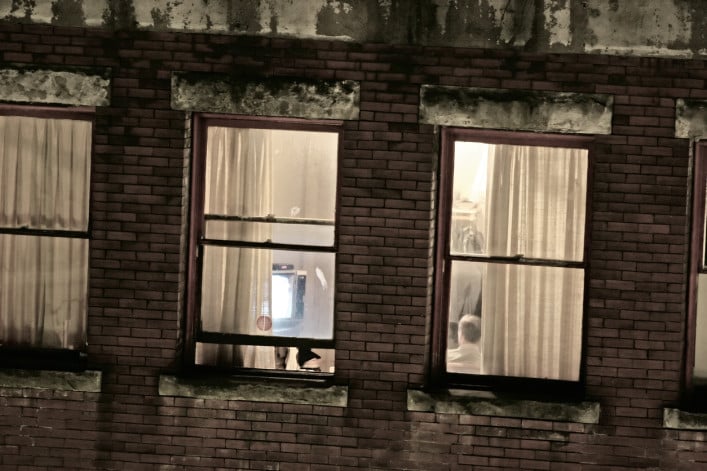 Yes, co-ops exist in other parts of the country, but the New York co-op scene is the granddaddy of them all. The prospect of a board interview is legendary in its ability to strike fear in the heart of even the most confident (and financially stable) New Yorker. Some might argue that reaction is a bit overblown. Others, not so much.
Unlike in a house or a condo, co-op residents are not owners of their units, but shareholders of a single corporation. Some people can't wait to get in one, and some can't wait to get out. The following story is an example of the latter scenario. It's the story of a a first-time co-op buyer in Prospect Heights, who after her experience, says she will never purchase property again.
Now an inveterate renter, her family of four has moved three times in the last seven years, from Park Slope to Windsor Terrace to Kensington—where they now live in a rent-stabilized two-bedroom apartment. 
---
[Editor's Note: This article previously ran in February, 2018. We are presenting it again here as part of our summer Best of Brick week.] This story was told to writer Mimi O'Connor, and has been edited for structure and clarity. We're presenting it anonymously at the request of our narrator.
---
Finding the one
We bought in 2005 in Prospect Heights, Brooklyn. I knew about co-ops because my parents have been living in one in Brooklyn Heights for two decades. They definitely encouraged [my husband and me] to buy, and to buy a co-op, along with helping us with the down payment.
We looked for about a year and we chose this one because it was a one bedroom that we knew we could turn into a legal two bedroom.
Early signs of trouble
There were many red flags during the process. The meeting with the co-op board, for one. My parents told me it was just a formality. Although that may have been true in their building, it didn't feel like a formality for this building. During the interview they asked if we needed to put up $50,000 because the building was falling down or something, where would we get that money, because we were using all of our money as a down payment for this apartment.
They cited as an example a co-op in Washington Heights that was falling down. One of the members' sons lived in it. We told them that we would use insurance and would have to borrow against our retirement. This seemed to be a ridiculous question to us.
The approval process was extremely lengthy with complete disregard for the buyer. Our mortgage rate was only good for a certain number of days and there was zero sensitivity to our timing needs.
At the closing, the co-op's attorney lied and said we did not submit certain documentation when we absolutely did.
When we moved in there were moving-in restrictions. Although there were two elevators, they would stop your move-in at 5 p.m. whether you were done or not.
Pro Tip:
Whether you decide to buy a co-op or condo, did you know you can receive a buyer's rebate from your broker? Buying with Prevu you'll pocket a rebate of two-thirds of the commission paid to the buyer's broker at closing. On a $1.5 million condo, you'd receive up to $30,000. Click here to learn about Prevu's Smart Buyer Rebate.
A tale of two kinds of shareholders
The personality of the building was twofold. There were those tenants who bought their apartments when the building first went co-op and they bought for very little money, and then everyone else. Those who bought their apartments when the building first went co-op were the ones who were on the board, had no mortgages, and were very, very loose with spending money, and tight on rules and lack of transparency.
It felt like an exclusive club of which I did not want to be a member. The club made me sick to my stomach. It seemed like everyone was always watching and commenting on us.
I am not paranoid. Board members would often leave notes on people's doors about infractions, as did the building staff, who would make comments.
For instance, I had a chair delivered that the doorman refused to accept because it was too large and he said he had nowhere to put it while we were away during the day at work. Why have a doorman then?
All of the more recent buyers in the building were very nice, although, many were extremely proselytizing when it came to choosing elementary schools. There was a belief in the building that everyone should send their kids to the zoned low-performing school, as this would improve the school. When we sold the apartment in 2010, people wanted confirmation that it had nothing to do with the school.
When we had twins, many of our neighbors with kids would leave bags of baby stuff in front of our door. It was very sweet.
Time to assess
We had to pay assessments for new elevators and redecoration of the rooftop garden. The elevators looked fine to me. I really don't know why they needed to be upgraded. It also meant that we were down to one elevator from two, so aside from the exorbitant cost and increase to the maintenance, there was inconvenience for time and also more crazy rules regarding the use of the one elevator.

The roof deck was very hot, and they chose plants that were not appropriate and then chose to have it redone every year. Also, then you had to make small talk with the annoying board members who were always up there.
Nasty notes
When we did our renovation, it could only be done by a contractor who was already approved by the board. We used that contractor and his work was awful but we had no choice.
A board member who did not live directly below us wrote us a threatening letter about our dog crying during the day while there was construction going on on the outside of the building (point work). He was an attorney who worked from home.
Also, in 2009 we got bedbugs and told the management company. They did nothing to help us abate them (we paid for everything ourselves). However, they did send a letter to everyone in the building except for us saying that we had bed bugs.
An attempt to work on the inside
I was elected to the board in 2009. I thought as an urban planner with experience in operations and real estate I could actually help with some of the crazy decisions. I was very wrong. I ran on the campaign of "Change" a la Obama. I was so horrified by what I saw in terms of how they operated that after several months of attending meetings, I started to get panic attacks before them. I resigned from the board and at that point decided we needed to sell.
My experience on the board made me feel uncomfortable to be in my own home. I really did not feel like it was my home and I couldn't live there any longer.
No love lost
There is nothing I miss about living there, and I would never buy again.
I don't miss being connected to all of these strangers financially. I don't miss having to pay a bank tons of money each month. I don't miss the building staff tracking my every move—they literally reported on people's comings and goings, and were friendly in order to get info for the board and management company.
The joys of renting
I love the flexibility. I love that no one knows about our finances. I love that if there is a problem with the building, I call the management company and I have no responsibility.
What is nice about renting is that as our needs have changed over the years, we have been able to adapt our living situation without too much of an inconvenience.
Brick Underground articles occasionally include the expertise of, or information about, advertising partners when relevant to the story. We will never promote an advertiser's product without making the relationship clear to our readers.