Living Next To
I live next to a trendy restaurant: The free appetizers make up for idling black Suburbans and the paparazzi
When a trio of Georgetown graduates takes a three-bedroom apartment sight unseen, it doesn't register at first that they have moved next door to a restaurant. As it turns out, it's not just any restaurant, but Carbone, which New York Times restaurant critic Pete Wells described as "fancy red-sauce joint in Greenwich Village as directed by Quentin Tarantino." It takes a little getting used to the black Suburbans ferrying A-list celebs and the paparazzi that wait outside, and of course, the noise. Here's what it's like to live next to a hot destination as told by one of the roommates, who requested anonymity.
In the summer of 2017, I moved into a three-bedroom apartment in Greenwich Village with my two best friends from college, shortly after the three of us graduated from Georgetown University. We were bright-eyed and undeterred by New York City's humidity and the smell of garbage as we carried our belongings up the stairs to our apartment that had a view of an alley. Slightly shocked by the small size of our new home—less than 900 square feet—and its utter lack of sunlight, we unpacked and took measurements for some new furniture.
We had heard about the place through a friend of a friend: Three girls were moving out and needed to fill their apartment as soon as possible. Securing place to live without wasting money on a broker or spending time walking the streets of NYC to find an apartment seemed like a reasonable thing to do.
---
[Editor's Note: Brick Underground's series "Living Next to" features first-person accounts of what it's like to have an iconic or unusual New York City neighbor. Have a story to share? Drop us an email. We respect all requests for anonymity.]
---
That first day, on our new street outside our apartment, I felt a rush of excitement and glee. Looking up at the bright blue skies and all around at the red brick buildings, I knew we had made the right decision to live in the Village. Maybe there were other apartments that offered larger bedrooms and better views but there was no better location than this. My roommates agreed. This was a good choice.
There was, however, one catch. In front of the building next door to us, we saw a buttoned-up bouncer standing up straight as a pin, quietly greeting guests dressed to the nines as they arrived at what would soon become a big part of our lives: Carbone. 
The restaurant, which serves up classic Italian American dishes from chefs Mario Carbone and Rick Torrisi, looks fairly unassuming with a generic wood façade, curtained windows, and a neon sign. We eventually found out the moneyed crowd it attracts would have no problem shelling out $55 for its famed veal parm or over a thousand for a special bottle of wine.
However, it wasn't obvious to us at first that that we had moved next to one of NYC's hottest, celebrity-filled restaurants. Seeing idling black Suburbans should have been the first tip-off. But it wasn't until we saw paparazzi milling about that we knew for sure we were living next to an eatery with quite a scene.
Carbone has a wine cellar in the basement of our building that waiters and waitresses access regularly. My roommates and I soon got to know them. The casual "hey" or "thanks for holding the door" turned into conversations about our days and what type of wine someone had ordered. While we never became good friends or ever hung out with them outside the restaurant, it was like we had extra neighbors in the building.
The best part of living next to restaurant like this? The bouncers at Carbone looked out for us, like de facto doormen, making us feel safer in our new city. There's nothing like a familiar and friendly face making sure you get home safely.
Another perk? Being able to secure a reservation at a super popular eatery. I've gotten to eat there many times when others wait weeks for reservations. Inside, one feels transported to a scene in "The Godfather." It's always busy and there is a steady buzz of people talking in the cramped space. There's Sinatra playing softly in the background. The checkered, tiled floor, dark walls, and waiters dressed in wine-colored satin suit jackets make you feel like you stepped into "Old New York."
My two favorite items on the menu are the famous spicy rigatoni and veal parmesan—paired with a Cabernet Sauvignon. We've been given free meatballs which were amazing, as well as their carrot cake— the best I've had in NYC.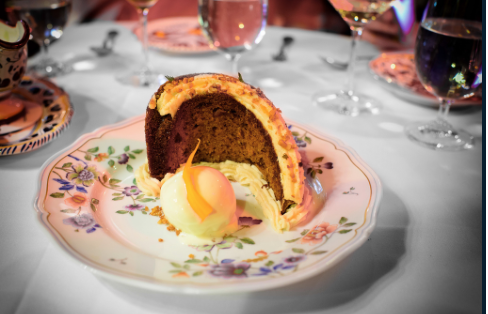 Still, there are some things to get used to when you live next to a very buzzy restaurant. You need to get used to the paparazzi that hangs out outside our building. They are there many days of the week, waiting to snap pics of the celebrities that are dining inside. We've gotten lucky and seen a few celebs on the sidewalk outside our building: Kendall Jenner, Gigi Hadid, Kris Jenner, Taylor Swift, and Lorde, to name a few.  
It's no surprise Carbone gets mentioned in Page Six. Or that Drake—who celebrated his 29th and 30th birthdays there—referenced it in his 2017 song "Do Not Disturb" with the lyric: "Last table left in Carbone, Callin' plays on the rotary phone." 
It's fun to hear first-hand stories from servers about their elite clientele, but sometimes it can be annoying to have so many people coming in and out of our building, particularly after a long day of work. Quarters are tight and the hallway is narrow so you have to go single-file, but thankfully Carbone's staff is always quiet and respectful.
When you live in NYC, there is always some noise from the street, but there is a little more living next to a popular restaurant. The place itself isn't noisy, but we do hear people chatting pre- and post-meal (and post wine), waiting for their Uber to show. People definitely leave the restaurant to smoke outside on the sidewalk. The smokers are typically quiet, and keep to themselves. I'm not a fan of cigarettes, and I hate the smell, but it only bothers me when I walk by, because the smoke doesn't make its way into my building. Carbone stays open very late; some dinner reservations are not until 11pm. But I figure this type of moderate noise is way better than some others—like construction and sirens.
Overall, we love our building, our street and our neighborhood. We really lucked out! We think of living next to something so iconic as a perk, not a challenge. And those appetizers and desserts we get gratis sure don't hurt.
Brick Underground articles occasionally include the expertise of, or information about, advertising partners when relevant to the story. We will never promote an advertiser's product without making the relationship clear to our readers.