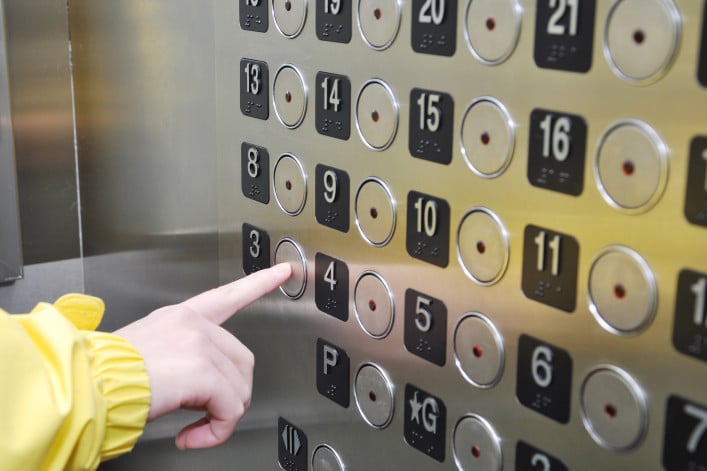 Comedian, actor, writer, and self-proclaimed "big mouth" Judy Gold revels in her rent-stabilized apartment on the Upper West Side, but there is one drawback: Her apartment is next to an elevator. The noise is a constant annoyance, but (naturally) she sees the humor in her situation. Here's how she makes peace with the ups and downs. 
I have lived in my 950-square-foot, two-bedroom apartment on the Upper West Side for almost 31 years! While the low(ish) rent is certainly a thrill, there are trade-offs. I only have one bathroom, but there's this thing called rent stabilization, and since I live the life of a stand-up comedian, I welcome any form of stability. 
I moved here with my then-partner during the summer of 1989. She and I both thought it was huge after previously living in a tiny one bedroom, which was really a studio apartment with a well-placed wall. 
At the time, I never considered that living directly across from something as mundane as an elevator would have a major impact on my life, but it has.
---
[Editor's Note: Brick Underground's series "Living Next to" features first-person accounts of what it's like to have an iconic or unusual New York City neighbor. Have a story to share? Drop us an email. We respect all requests for anonymity.]
---
There are 12 apartments on my floor, and it's not like there's a long walk to the elevator from any of them, so there's no huge benefit in living directly next to it. The only advantage is that when I forget my keys, hat, gloves, phone, brain, I can use one foot to keep the elevator door open and the other foot to keep my apartment door open while I scream at one of my kids to quickly grab what I've forgotten. And food delivery people love it! 
Unfortunately, my front door opens directly into my living room so I can hear all elevator-related activity from that room as well as my kitchen. Several years ago, I had a small divider wall put up to create a mini corridor between the front door and living area. It doesn't help much. 
Our building is very kibbutz-like, so it isn't unusual for a neighbor to unexpectedly stop in for a chat, or just knock on the door to say hello while they were waiting for the very old and sluggish elevator.
When I was younger, the noise didn't bother me that much. Before the kids were born, one of the bedrooms served as my office/guest room/fake "we're just roommates" room. So I had the luxury of hiding back there when I needed some peace and quiet. 
After my two kids were born, I rented an office eight blocks away, and everything was great. The neighbor drop-ins were a welcomed distraction for all of us because as you know, it takes a village to raise children. But when our oldest was seven years old, my partner and I broke up and I could no longer afford to keep the separate office. I had to move all of my work stuff back into the apartment, and the only available space for my desk and office area was in the living room. 
That's when the real problem began: I can hear the elevator moving between the floors. I can hear the elevator door slam. I can hear footsteps walking into and out of the elevator—and I know exactly who they belong to. I can hear people cursing under their breath about how long they've been waiting for the elevator to come. (Okay, maybe that's actually me and it's not really "under my breath.") It's extremely hard to concentrate. As a result I am sometimes driven to locking myself in my room to meditate. Thankfully the bedrooms are in the back of the unit and are fairly quiet. 
I have done lots of research on sound-proofing my apartment door, but nothing seems to work. I bought stuff to cover all of the leaks around the door. I had someone affix a piece of wood to cover the entire inside of the door. The door is hollow and the sound comes right in. If anyone is reading this and can help me, I will give you my first-born. He's 23, handsome, and does his own laundry. 
Still, there's no chance I'm leaving: Not only do I relish the below-market rent, but my kids' godparents live right down the hall. 
For now, I'll deal with my nemesis. I'm biding my time until the kids move out, and I can move my office back into their bedroom. 
Judy Gold has a podcast, "Kill Me Now," an album, "Conduct Unbecoming," and a new book coming out in July, "Yes I Can Say That, When They Come For The Comedians We're All In Trouble" from Day Street Books.
Brick Underground articles occasionally include the expertise of, or information about, advertising partners when relevant to the story. We will never promote an advertiser's product without making the relationship clear to our readers.