Living Next To
I lived below an apartment that sold designer jeans. It was fun until they got busted by police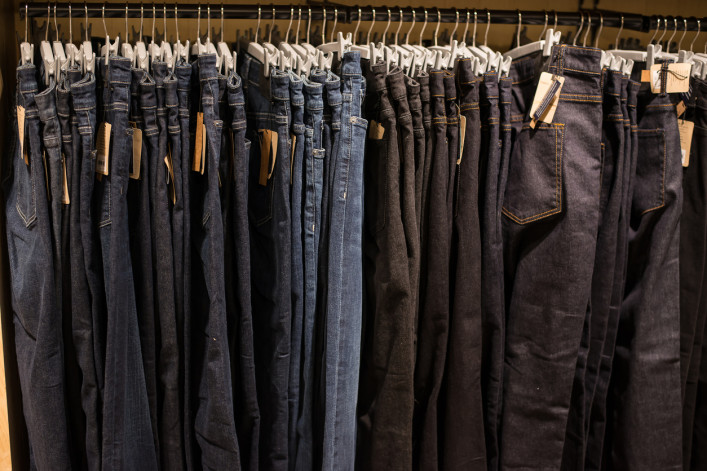 When Ivan moved into a huge apartment building on Broadway in Inwood, he sensed there were something a bit shady going on. His new building felt like a dorm because of all the partying. There there was the clothing store: An apartment a few floors up had been converted into a store selling designer jeans. It all seemed like good fun until he was thrown on the floor during a police raid. Here's his story.
Soon after I moved in, I knew something was up. I was always coming in and out of the building because I train dogs for service, sports, and advanced obedience. I would encounter my neighbors regularly because I am often in the stairwells, teaching the dogs patience and not to rush ahead on the stairs. I was also in and out of the elevators to teach the dogs not to be afraid of them. Having dogs with you is a great conversation starter and people in the building started telling me things.
Even before getting the lowdown, I suspected people in this building were up to something shady. Not violent crimes or anything bad like that, but there was a lot of partying. It was the most fun building I ever lived in and was sort of like living in a giant dorm with no supervision.
---
[Editor's Note: Brick Underground's series "Living Next to" features first-person accounts of what it's like to have an iconic or unusual New York City neighbor. Have a story to share? Drop us an email. We respect all requests for anonymity.]
---
For example, one apartment in my building served up a homemade brew made with turtle penis (really) that is famous in the Dominican Republic for its aphrodisiac qualities. I'm a vegetarian, so I wouldn't try it.
So, when I found out there was an illegal clothing store in the building it seems to totally fit with the vibe here. I had to go check it out.
A couple of floors above me was a two-bedroom apartment being used to sell super high-end jeans. It had a cash register, clothing racks, and two small fitting rooms and a mirror.
People in the area found out about it via word of mouth. While there were no set hours, it seemed to be open for about four to six hours daily. There was no password or anything special. It was manned by two employees. It was right out in the open, which I guess ultimately lead to their downfall and subsequent police bust.
I bought jeans there sometimes. They were top brands at very deeply discounted prices. I don't know if the jeans were stolen and no one was explained how they got there. No one asked any questions. I even took some of my friends shopping there.
I thought it was weird and funny that there was this strange clothing store in the building—only in NYC!
The only annoyance was that sometimes people trying to find the store wouldn't know which buzzer to ring, so they'd randomly ring mine to try to get inside the building. It was never worrisome though; the people who shopped there were regular people from the neighborhood looking for a bargain.
Then one day when I was inside the shop and the cops broke down the door with shields raised and weapons flashing! The NYPD told everyone to get down on the floor and then I got hit with a shield.
The people running the store got arrested and that was the end of getting bargain-priced jeans.
Life rolled on after that. But it wasn't the last time people got busted for doing things they weren't supposed to be doing. Like I said, it was the most fun building I ever lived in.
Brick Underground articles occasionally include the expertise of, or information about, advertising partners when relevant to the story. We will never promote an advertiser's product without making the relationship clear to our readers.