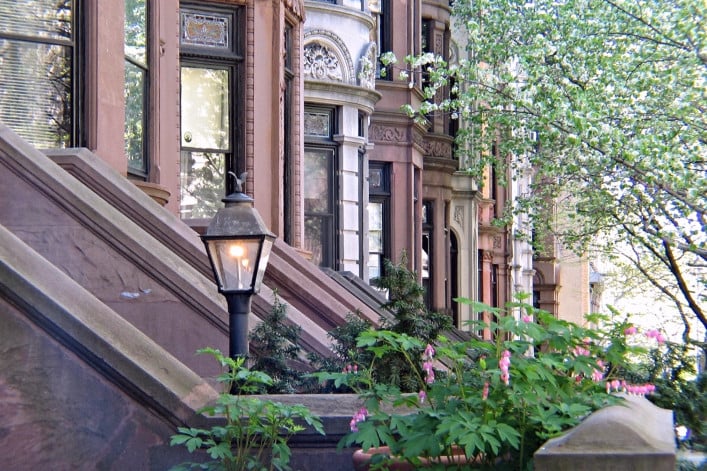 Many Americans were blindsided by Tuesday's presidential election results, given that, as the Washington Post points out, nearly every poll predicted victory for Hillary Clinton. Pollster Jon Cohen attributes the discrepancy to hundreds of thousands of people who said they were going to vote one way, and then ended up not participating at all. 
The New York Times forecast gave Clinton an 85 percent chance of winning, and estimated that she would prevail in New York state by a margin of 21 percentage points. In the latter prediction, at least, analysts were right: Clinton won with 59 percent of the NY vote, while Donald Trump got 37 percent. 
But as for the larger upset on the national scale, some are voicing their suspicions about secret Trump supporters. In an op-ed for NBC, Marie Whitaker writes, "The silent voters slipped by, unnoticed until election day." 
So was there a significant number of these stealth Trump voters within the five boroughs? DNAInfo has released a map breaking down how each New York City neighborhood voted, and there are a few surprises.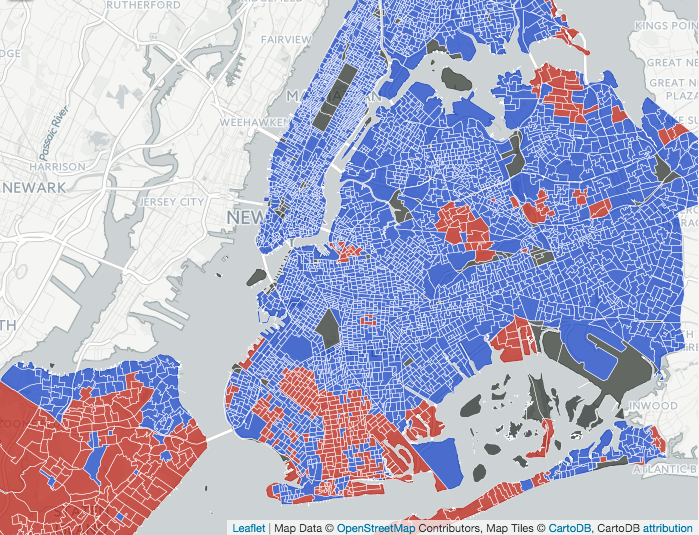 79 percent of NYC residents—or 1,969,920 people—voted for Clinton, while 18.52 percent, or 461,184 people, selected Trump. Much of Staten Island, which tends to be more conservative than the rest of the city, explains Quartz, is red outside of the north shore, though it's worth noting that in the 2012 presidential election, Barack Obama won by a small margin in Richmond County. 
Other neighborhoods that skewed Republican include several in Brooklyn: In Ocean Parkway, Borough Park, Brighton Beach, Marine Park, Sheepshead Bay, and Midwood—Bernie Sanders' hometown—a majority voted for Trump.
Interestingly, some parts of south Williamsburg, too, went red, perhaps due to Trump's success in finding supporters in the Hasidic community. In Queens, Breezy Point, Whitestone, and Middle Village residents also preferred the Republican candidate, while he found no major foothold throughout the Bronx or Manhattan. 
Support for Trump was astonishingly tiny in several corners of the city: If you're not a fan of the president-elect and want to be among like-minded people, head to Stuyvesant Heights, where less than two percent of locals voted for him. Other neighborhoods that voted overwhelmingly for Clinton include East New York, Clinton Hill, St. Albans, and Central Harlem. 
And throughout the city, those who are outraged by Trump's win are coming together in a variety of ways. Thousands marched in protest to Trump Tower Wednesday night, and in a more reflective vein, Subway Therapy is helping thousands more leave their thoughts about the election on Post-Its in the 14th Street tunnel between the 6th and 7th Avenue stations. Judging by the numbers, it's likely that New Yorkers will keep the tunnel papered with their reactions for some time. 
Brick Underground articles occasionally include the expertise of, or information about, advertising partners when relevant to the story. We will never promote an advertiser's product without making the relationship clear to our readers.