Smoking, kids, drugs, religion, an unholy obsession with the Marvel universe: There are plenty of deal-breakers in the dating world. But in New York City, your zip code can also be the filter that separates the swipe-rights from the swipe-lefts.
A recent survey by a new dating app, Sapio, bears this out: According to the 500-person study, New Yorkers tend to stick with people in their boroughs, except for those who live in the Bronx, who were more open to Manhattanites. "Since these boroughs are next to each other, there might be some advantage there," per the poll. "It seems New Yorkers tend to stay put when it comes to relationships. With all the Big City hustle and bustle, who wants to take the subway every time he or she wants to see that special someone?" (H/T to the Observer, which first reported on Sapio's findings.)
A poster on the forum Youbemom shared her observations last summer about the defensiveness of those who live just across the Hudson River:
Why do guys on the dating sites who live in jersey city seem so defensive about it? so weird. every time i see one, the intro on their profile is some defensive statement about how they live only 15 minutes from downtown manhattan or something. um, ok? the current one is "I know what you're thinking, i live two subway stops from the financial district.
Responds another: "Because the hot single ones everyone wants live in the city. and people who live in the city are so snobby about location and ignore when they see jersey."
Snobbery likely isn't the only issue, however. In a city plagued with subway upheavals (hello, L train) and spendy cabs and taxi alternatives, is it any wonder locals don't want to add more stress to an already stressful setup like dating? As one Redditor explains: "Neighborhood is much more relevant to my dating than actual distance or even borough due to public transportation. Someone in the Lower East Side and someone in Lefferts Gardens are about the same distance away from me by mileage, but one is a 20 minute train ride, and the other is an hour on multiple buses/trains."
We checked in with New Yorkers (online and off) to see just how flexible they are about neighborhood boundaries. The takeaway: in a relationship—however seriously you may use that term—commute matters quite a bit:
"Before I moved to NYC, I changed my OKCupid geography in order to get a head start on meeting people. And I began a correspondence with a guy who abruptly rejected me when I told him I was moving to Bushwick. He lived in Dumbo and was like, but you don't understand, it means changing trains and going into Manhattan so this isn't going to work. I thought he sounded like a dick but he turned out to be right!" —Helly
"When I first met my spouse, I lived in Astoria and he lived in New Brunswick. We went on two to three dates, [but] it didn't take. Met again a couple years later, we had both moved to Jersey City, just a few blocks away from each other. Been together over six years." —Rose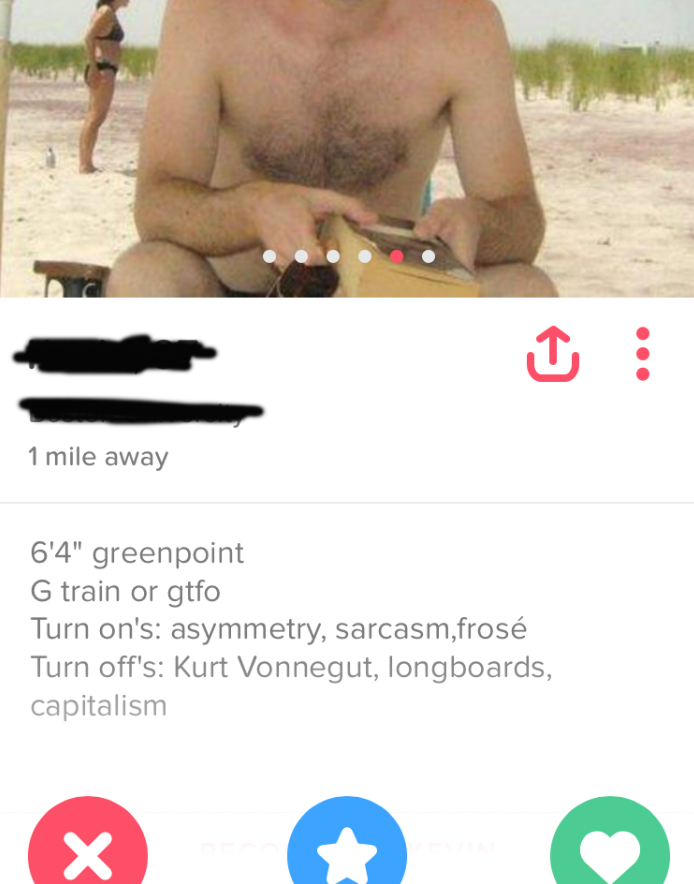 "I almost averted my engagement with my fiancé because there was no way to conveniently travel from Ozone Park (the other side of Queens) to Sunnyside (northern Queens). There is no direct route from OZP to Sunnyside other than taking two buses and two trains. T-mobile service can also disrupt the network in an attached home that creates even more distance between two potential partners. The only [resolution] after months of postcolonial literature-reading commutes on the A, then transfer to the 4/5 to 42nd street to the 7 to 40th street was to move to the $1800 a month 46-story apartment in midtown Manhattan. What was once an hour-and 17-minute commute became a comfortable visit across the East River. God bless the divided boroughs of New York City." —Anika 
"I was talking on Tinder to someone who tried making plans immediately (too soon, actually) to meet up and I thought, 'Why not?' But it was a weird vibe, and once I realized he lived on the Upper East Side—I live in Brooklyn—I thought, 'Why bother when there's not much chemistry?' He also said that even though he lived right near the Met, he never goes there, and that's a deal-breaker." —Katherine
"I was engaged years ago (2002) and one of the key issues we agonized over was that he wanted to remain in Westchester. His family was there, and he owned an apartment... I would never agree to that because I don't know how to drive (nor did I want to learn) and vowed never to leave the city. I tried to convince him to move to Manhattan, but he knew he could not keep a car here and hated the congestion and noise and high prices. We discussed compromising and maybe moving to an area of Brooklyn that had trees and yards, but where you could still have a car but access to all public transport. Needless to say, we never got married, but not specifically because of this. But I do think that this fundamental difference about real estate preferences highlighted a bigger disconnect that ultimately lead to our breakup. He felt my loyalty to Manhattan superseded my loyalty to him—and ultimately he was right." —Kelly