When we first moved to Crown Heights four years ago, the "perks" were obvious: bigger apartments for less money, proximity to express subway lines, a neighborhood that was very community driven. It also helped that many of our friends lived in the same area, and that the Grand Army Plaza Farmer's Market was just a 15-minute walk away.
But those perks, I soon discovered, just couldn't compare with what we had in Cobble Hill, our previous neighborhood. Namely, access to a butcher, local food and a diverse selection of groceries.
As someone who writes about food and loves to cook, groceries were important to me, a fact I overlooked. That weekly trip to the market—and the walk—grew tiresome. (Planning dinners a week in advance is not easy.) I resorted to shopping for groceries in Manhattan after work—at Eataly, Whole Foods, the Union Square Greenmarket—and bringing them home on the subway. And even though the 2,3,4,5 trains were just a five-minute walk down Eastern Parkway from our pre-war co-op, the ride to 34th Street was often 45-50 minutes. Adding shopping bags to the commute was a slog.
But Crown Heights is changing. Huge rental developments are slated to open soon. Rental and sales prices are up. And with the increasingly monied crowd and the sheer number of new residents headed for the neighborhood, amenities are coming soon.
Here are just three examples of how the changes are manifesting themselves. 
A Union Market is opening

In Cobble Hill, Union Market was an easy, one-stop-shop for cheese, nice produce, free-range beef and delicious baked goods, but it wasn't even the best option for all of those items. In Crown Heights on the other hand, the idea of buying meat on my walk home from work is thrilling. Union Market signed a lease to be the ground floor anchor tenant of the new rental development at 1525 Bedford Ave. and will open in 2018—just one block from my apartment.
Yes, the goods are overpriced, but regardless, the day can't come soon enough.
Tribeca Pediatrics is moving in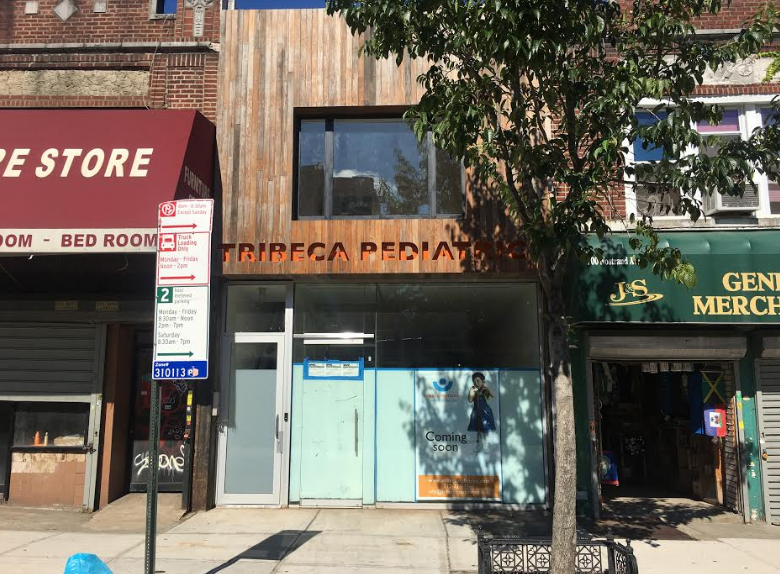 When my husband and I had our daughter two years ago we would take cabs to her pediatrician in Boerum Hill. And when you have a newborn you're there, well, a lot. About a year later when Tribeca Pediatrics announced they were opening another location on Flatbush Avenue in Prospect Heights, I was thrilled. "A 30-minute walk is way easier (and cheaper) than a cab ride," I thought to myself. And while that was true, getting her to the doc and back home or to the nanny in time to then commute to work was, again, a slog. I just kept telling myself that life in the city was a struggle.
So when I recently spotted Tribeca signage outside a vacant storefront on Nostrand Avenue, again I saw a simpler commute, especially since we have a second baby coming very, very soon.
It goes without saying that rents are way up on Nostrand and small, local businesses are struggling or have already closed. This is a real bummer for locals, both new and old, because the neighborhood's vibe is dramatically changing.
In New York City, neighborhoods change quickly, just as people do. What's not lost on me is how much my opinion and needs have changed, too. I remember when Tribeca first opened in Boerum Hill and I lived nearby in the Columbia Street Waterfront District. I was so annoyed. "That is so bourgie," I thought. To me it was, but to local parents, it was a relief. Either way, it was a sign that THAT neighborhood was gentrifying, just as Crown Heights is today.
Local takeout makes 'Best of' lists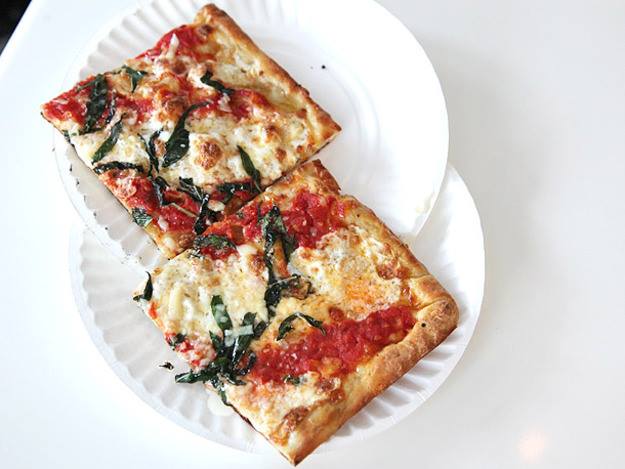 It's not yet Williamsburg, Greenpoint, Downtown Brooklyn, Fort Greene, Clinton Hill, Prospect Heights, Bed-Stuy, Bushwick or even Windsor Terrace or Ditmas Park, but Crown Heights is starting to see restaurants open up that are unique and outside the box. While we've always had truly great Caribbean food—from the renowned Gloria's to more regional spots like Trinidad Golden Place, with its unique Trini Chinese menu and coconut drops—most of the restaurants that have opened in the past five years have been focused on the easy to prepare and trendy (tacos, Asian-inspired "buns," cold-pressed juices).
That's recently changed. At the end of 2016, Brooklyn Pizza Crew opened on Nostrand Avenue. From Nino Coniglio (also behind the popular Williamsburg Pizza), the pizzeria specializes in Grandma Pies with perfectly balanced sauce (a touch of sweetness). The spot just made New York Magazine's Best Cheap Eats list.
Takeout guilt is a real problem. So when I can get food delivered and feel good about it, well, things are looking up.
Now I just have to wait for one more perk, which is completely dependent on my co-op board and not broader market shifts: the addition of an elevator to my building. We live in a "classic five" (two bedrooms, living room, formal dining room, kitchen) that's grand and beautiful, but it's also a fourth-floor walk-up. Our building has just five floors and fifteen apartments, so I won't hold my breath.
Brick Underground articles occasionally include the expertise of, or information about, advertising partners when relevant to the story. We will never promote an advertiser's product without making the relationship clear to our readers.