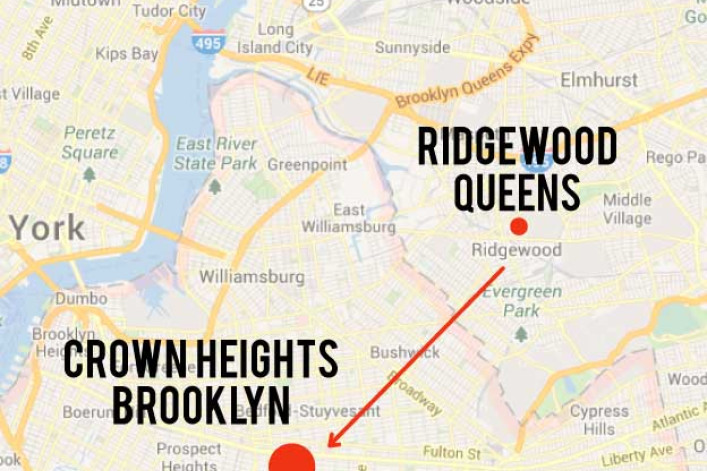 After 10 years in a two-bedroom railroad apartment in Ridgewood, Queens, my kids outgrew  our cramped space.
I originally wanted to move within Ridgewood, but was priced out of what I wanted. I was looking for a three- bedroom, two-bathroom apartment in a building with no more than six apartments. I'm just not used to living with a lot of people and when I first looked for an apartment I wanted a building where I would know my neighbors, especially since I had small children and now I'm just used to the feel of having just a few neighbors. In my experience, small buildings tend to be less noisy, too.
I wouldn't compromise on the apartment so I had to open my options up to different locations. The realtor said that the Ridgewood apartments were so expensive because a lot of them were being rented as roommate situations. The prices weren't very single-income household-friendly.
My budget was $1,700 and that was stretching it, but I also knew that it would be hard to find a three-bedroom, two bath with heat and hot water included. I didn't think it was impossible and it's not because I'm in it now.
I found the exact apartment I was looking for in Crown Heights, Brooklyn. Instead of a two-bedroom railroad on the second floor of a four-family building I am now in a three-bedroom with two baths on the third floor of a three family home.
I miss many things about living in Ridgewood. My mother lived only two blocks away from my old apartment and I had many neighbors as friends. It was nice being able to leave extra keys and money at the corner store for my kids to pick up, and having items shipped there if I was not home for deliveries.
Transportation was awesome; the L train was right up the block and I was only ten minutes from Williamsburg and Bushwick.
Oh and the food! I miss Rudy's Bakery, Taco Bell, having diners within walking distance and overall, the variety of food options. In Crown Heights the only food I seem to find is fried chicken and pizza. There are no bakeries near me and not even any florists.
However, I do like that my new apartment in Crown Heights is on a quiet block, on the northeast border of Crown Heights, on Saint Marks Avenue. And it is much larger than my last; I love the light and the breeze from the extra windows.
Now I live off the C train, one stop from the Utica Avenue A express. I'm still getting used to the 10-minute walk to the train. However, I am now 10 minutes from Downtown Brooklyn so there are new areas to explore and there are bike paths that there weren't in Ridgewood.
Schools were never a factor in either place because my kids  go to school in Manhattan and Long Island City. Their commute is longer now. When we lived in Ridgewood their commute to Manhattan was 45 minutes and now it is an hour and 15 minutes (and they take three trains -- A to the 4 to the 6). Likewise, their travel time to LIC  and back (the A to the G) is also longer. 
In terms of noise, both neighborhoods are relativately quiet. My block in Ridgewood would be noisier on the weekend and occasionally there'd be loud parties. Crown Heights has none of that and remains peaceful at all times. 
Having lived in Ridgewood for 10 years, I felt very safe as crime was low. I was a bit apprehensive about how safe it'd be coming home late in Crown Heights, but I'm pleasantly surprised and it seems as safe as my old area. 
---
Transitions highlights New Yorkers' first impressions as they transition from one  neighborhood to another. Want to tell us your transition story? Drop us an email.
Related:
Moving to NYC? Here's a crash course in finding an apartment here
Yorkville to Ridgewood: Some conveniences are gone, but mom-and-pops (and space!) make up for it
Crown Heights to Battery Park City: Wait, did I move to the 'burbs?
Hell's Kitchen to Crown Heights: Leaving the conveniences of midtown for the next (more beautiful) Williamsburg
Brick Underground articles occasionally include the expertise of, or information about, advertising partners when relevant to the story. We will never promote an advertiser's product without making the relationship clear to our readers.