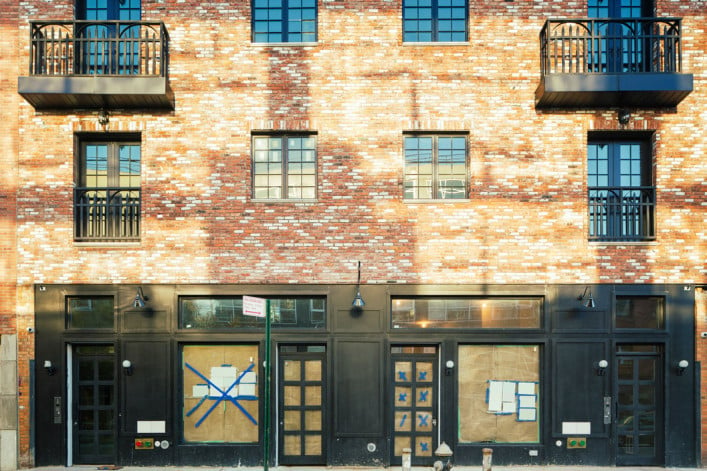 It's a question that anyone walking down a New York City street lined with empty storefronts might ask. Could the solution to two major, seemingly intractable real estate problems, a lack of affordable apartments on the one hand and an epidemic of vacant retail space on the other, be one and the same? Could the city house more people and appease landlords by converting storefronts into apartments?
A question of profit
The short answer is that this kind of conversion is technically possible to do, but it just doesn't happen much. In fact, the Department of Buildings issued just 91 permits to convert commercial spaces or commercial buildings into residential dwellings in 2017, down from previous years. In 2009 there were 261 applications, and in 2005, there were 141, according to DOB figures reported by the New York Times.
There's a vast number of vacant storefronts that could potentially be converted to residential space. Some Manhattan neighborhoods are seeing vacancy rates in the double digits: 27 percent along Amsterdam Avenue on the Upper West Side, and 20 percent on Broadway in Soho, according to the New York Post. The borough's overall vacancy rate doubled from 2.1 percent to 4.2 percent between 2012 and 2017, according to a City Council report. 
However, there's very little incentive for building owners to convert their properties, unless they want to live in the places themselves. That's because in general, New York's retail rents dwarf residential rents, so comparing them is pretty apples and oranges. 
For example, annual commercial rents in part of the West Village are about $350 a square foot, which is actually down from recent years. A one bedroom in a non-doorman building in Greenwich Village, meanwhile, is renting for a median of about $3,600 a month, according to an MNS report. We don't get square footage details from that report, but say a storefront is 1,000 square feet, and renting at $30 per square foot monthly (or a twelfth the annual rate). That comes out to $30,000 per month, which is obviously way more than what a landlord could get for a ground-floor apartment, even with a doorman, tons of amenities, and more floor space.
Also, stores remain vacant for extended periods of time because it can actually pay for landlords to hold out for high rents. As author Susan Shapiro explains in a recent Daily News opinion piece, the value of a property is based on future income stream, so landlords are inclined to take the vacant commercial space as a tax write-off while waiting for a tenant who can pay a high rent.
Proposed fixes to the empty storefront problem
Shapiro points to Mayor de Blasio's proposed vacancy tax, which would charge landlords who keep stores empty, as a solution. The tax has been championed by Manhattan Borough President Gale Brewer since last year, when her office surveyed Broadway and found 188 empty storefronts. However, details on what the tax would look like are scant.
City Council Speaker Corey Johnson also supports commercial rent control, which The Real Deal points out has been proposed in the past but has not come up for a vote. The Real Estate Board of New York, a politically influential real estate industry advocacy organization, is vociferously against these proposals.
Making the switch
Practically speaking, if an owner of a commercial space wants to convert it to residential use, the rules are pretty straightforward. The city requires that the converted space have two exits, windows, and adequate ventilation, and that the owner get an amended certificate of occupancy to reflect the change in use.
To get the new C of O, the owner has to apply with the Department of Buildings and submit plans drawn up by a registered architect or professional engineer that show how that the apartment is up to code. For more information, check out this page on the Department of Buildings website.
But be warned, when a place is converted from one use to another without permission from the city, it is considered an illegal conversion. These often lack basic safety features, like adequate exits in case of a fire. And when apartments don't have proper permits, they often have illegal gas and electric work done by unlicensed workers, creating major fire hazards. Owners can face fines up to $25,000 for illegal conversions.
The rare storefront dweller
In 2010, the New York Times interviewed residents of several apartments that had once been stores. The subjects described their homes as a different, more intimate way of experiencing the city. They touted the distinctiveness of their spaces and the fact that they don't have to climb stairs. One said that at night the glow of streetlights "reaches into corners because there's such a volume of glass."
Yet, the same man said living with only a windowpane between him and the street did not bother him or his family.
"We just didn't want to live in a fortress," he said.
Brick Underground articles occasionally include the expertise of, or information about, advertising partners when relevant to the story. We will never promote an advertiser's product without making the relationship clear to our readers.