Last month, we shared the 25 best books about New York City history, as picked by local authors and historians. So many good books came up in the process that we decided to save some of the haul for further lists. Having highlighted books that deal with the entire city in some way or another, here we're going to round up the best neighborhood-specific New York history books, again as selected by an array of experts. Here are their picks, organized roughly by the part of the city they cover.
Lower Manhattan
South Street: A Photographic Guide to New York City's Historic Seaport, by Ellen Fletcher Rosebrock
"Rosebrock's book was published in 1974 by the still relatively new South Street Seaport Museum. It remains an excellent guide to the neighborhood, but is particularly interesting for its historic images, both those illustrating the 19th-century Seaport, and those showing the neighborhood in all its 1970s shabbiness—a period in the Seaport's history that now seems equally remote."—Anthony Robins, architectural historian and author or New York Art Deco
The Lower East Side Remembered and Revisited: A History and Guide to a Legendary New York Neighborhood, by Joyce Mendelsohn
"Were I limited to one recommendation for a book about the Lower East Side, this book would definitely be it. Briefly and succinctly, Mendelsohn chronicles sites and the historic transformation of this immensely culturally rich neighborhood. Five self-guided walking tours let the reader view more than 150 sites, aged tenements nestled next to luxury apartment towers which in turn abut historic churches and synagogues. This book is a treasure!"—Justin Ferate, historian
The Synagogues of New York's Lower East Side, Second Edition, by Gerard Wolfe, Jo Renee Fine, Joseph Berger, and Norman Borden
"In this update of the 1978 classic first edition, Wolfe kept the exquisite archival photos of Dr. Jo Renee Fine and has added photos and information from a group of very accomplished Lower East Side activists and archivists. This is the only documentation of the surviving synagogues of what was once the largest Jewish community."—Justin Ferate
New York Before Chinatown, by John Kuo Wei Tchen
"The roots of the Chinese-American community and an exploration of the myths and stereotypes."—Kathleen Hulser, public historian
Greenwich Village and How it Got that Way, by Terry Miller
"Historian Terry Miller's walking tour book is a love song to Greenwich Village. Well illustrated with easy-to-read maps, the book glories in delightful stories and beloved legends while exploring the rich social and cultural history of this legendary New York City neighborhood. The author's love and affinity for the Village can be experienced on every page."—Justin Ferate
Uptown
The Park and the People: A History of Central Park, by Elizabeth Blackmar and Roy Rosenzweig
"Fascinating research that tells the story of creating a public park and also outlines what was lost (for example the demolition of the free black town of Seneca Village)."—Kathleen Hulser
This Was Harlem, by Jervis Anderson
"Originally created as a series in The New Yorker, this book is both jaunty and well-researched. It documents the migration of the black community to Harlem at the turn of the century and chronicles the community's life and culture from its heyday in the 1920s to its decline in the 1950s. Using vivid primary sources (news, novels, etc.) as well as secondary sources, Anderson enlivens moments of history."—Justin Ferate
The Madonna of 115th Street: Faith and Community in Italian Harlem, 1890-1950, by Robert Orsi
"This classic work of social history uses Our Lady of Mount Carmel Church as an entry point to exploring the way that immigrant identity, religion, family, and a changing city culture all shaped the lives of Italian immigrant families in East Harlem in the early 20th century. Readers learn how a community stays united in the face of pressures to assimilate, and how one church and its parish reveal both the tensions and the support that often goes unnoticed by the outside world."—Dominique Jean- Louis, historian working on the New-York Historical Society's upcoming exhibition Black Citizenship in the Age of Jim Crow
The Harlem Renaissance: Hub of African-American Culture, 1920-1930, by Steven Watson
"An important study of one of America's most influential cultural periods. Readers learn of Harlem's early 20th-century history, from the Cotton Club to its noted literary salons, from its white patrons such as Carl van Vechten to its most famous entertainers such as Duke Ellington, Josephine Baker, Ethel Waters, Fats Waller, and Bessie Smith, among many others. Watson conveys the social life of working-class speakeasies, rent parties, and gay and lesbian nightlife, as well as the celebrity parties at the mansion of Harlem's most noted salonniere, A'Lelia Walker. The flowcharts that illustrate the interrelationships among all the major players are without equal."—Justin Ferate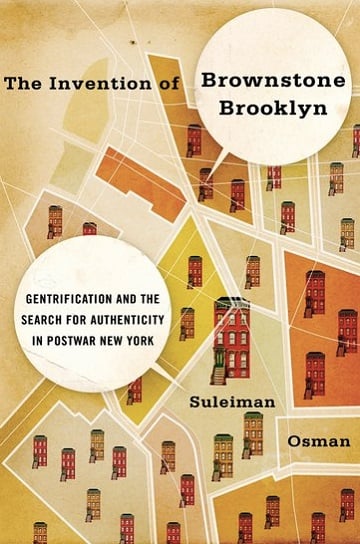 Brooklyn
The Invention of Brownstone Brooklyn: Gentrification and the Search for Authenticity in Postwar New York, by Suleiman Osman 
"About how neighborhoods change. A deep dive into gentrification and redefining aging housing as historic neighborhoods."—Kathleen Hulser
The Girls: Jewish Women of Brownsville Brooklyn, 1940-1995, by Carole Bell Ford 
"A sociologist interviews women of her own cohort, who grew up in the 1940s and '50s, about their memories and shared experiences. A vibrant study of an ethnic, working class community and an original contribution to women's history."—Nancy Woloch, research scholar, Barnard College, author of Eleanor Roosevelt in Her Words
The Accidental Playground: Brooklyn Waterfront Narratives of the Undesigned and the Unplanned, by Daniel Campo 
"A highly original book on how the public appropriates spaces, even before the city gets around to calling them 'parks' and moving in their bulldozers. Skateboarders, fishermen, the homeless, teens, Brooklyn hipsters, and preservationists all appear as players and characters."—Kathleen Hulser
Brown Girl, Brownstones, by Paule Marshall
"This novel about immigrants from Barbados in Brooklyn shares a child's view of an immigrant family's struggle to achieve the American Dream. Her unforgettable neighbors, family, and classmates round out her world and understanding of where she and her family fit in the brownstone-lined streets of Brooklyn. A classic of Caribbean life in New York City."—Dominique Jean-Louis
The Bronx
The City Boy, by Herman Wouk
"An unpretentious and now-forgotten novel about a kid growing up in the Bronx in the 1920s. The reader meets Herbie Bookbinder and shares his droll experience of family, friends, public school, summer camp, and his lower-middle-class community."—Nancy Woloch
Riverdale, Kingsbridge & Spuyten Duyvil, by William A. Tieck
"Rev. Tieck was the pastor of St. Stephen's Methodist Church in Marble Hill. Fascinated by the history of the Bronx neighborhoods directly to the north of the church, he wrote a series of articles for the Riverdale Press, which were collected into this book in 1968. Local New York history was largely ignored at the time. These were the years when Penn Station was demolished. Rev. Tieck wrote in his preface: 'It is time we realized that to lose our heritage is to lose our destiny. And it is time somebody did something about it. Hence this volume.' Historic photos of buildings, sites and manuscripts accompany his chatty but knowledgeable story telling."—Anthony Robins
Bronx Primitive: Portraits in a Childhood, by Kate Simon 
"'I was the queen of my block. No one but I knew it, and I knew it well.' Simon's limpidly written account of an immigrant Jewish girl's life in a Bronx tenement in the 1920s quivers with such vibrant detail that it practically created our collective memory of what that place and period were like."—Justin Davidson, author of Magnetic City
The Beautiful Bronx 1920-1950, by Lloyd Ultan
Ultan, the Bronx borough historian, has written extensively about that borough. "His books go by era and deal with what was going on in individual neighborhoods at the time. They're coffee-table size with lots of photos."—Adrienne Onofri, author of Walking Brooklyn and Walking Queens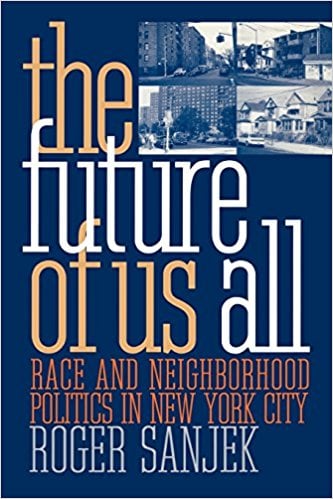 Queens
Walking Queens: 30 Tours for Discovering the Diverse Communities, Historic Places, and Natural Treasures of New York City's Largest Borough, by Adrienne Onofri
"This book makes the complexity of Queens accessible and readily comprehended. It's easily portable and explores the diverse communities, historical places, and natural treasures of well-known neighborhoods such as Forest Hills, Astoria, and Jackson Heights as well as lesser known villages such as Warnerville and Meadowmere. Each chapter features a map with directions for a three to four mile walk through the featured neighborhood."—Justin Ferate
The Future of Us All, by Roger Sanjek
"In the 1990s, the author, an anthropologist at Queens College, began several years of field work in the Elmhurst-Corona area. Here different immigrant streams were becoming a majority of the population but no single ethnic group clearly predominated culturally or politically. In order to achieve improvements in the neighborhood, informal interpersonal connections led to informal and formal organizations, which worked together on their own and with local government. This remarkable book documents these processes."—Jack Eichenbaum, geographer and Queens borough historian
The Power Broker: Robert Moses and the Fall of New York, by Robert Caro
Somehow this book didn't make it onto our best New York City list, but hey, we defer to the experts. This seminal tome is about the man who drastically reshaped the face of the city and the state over five decades of the 20th century, without winning a single election. The book deals with, and Robert Moses's legacy is felt throughout, all of New York. But, "Queens, more than any other borough, was the beneficiary and/or victim of Robert Moses's schemes, and Caro's book is a great read."—Jack Eichenbaum
A Modern Arcadia: Frederick Law Olmsted Jr. and the Plan for Forest Hills Gardens, by Susan Klaus
"A chronicle of the history of the 142-acre development from its inception in 1909 through its first two decades. The book offers critical insights into American planning history, landscape architecture, and the social and economic forces that shaped housing in the Progressive Era. In this book you'll learn of the major players, including Olmsted and Mrs. Olivia Sage, the woman behind the creation of this transformational community that the New York Tribune called ' a modern Garden of Eden, a fairy tale too good to be true.'"—Justin Ferate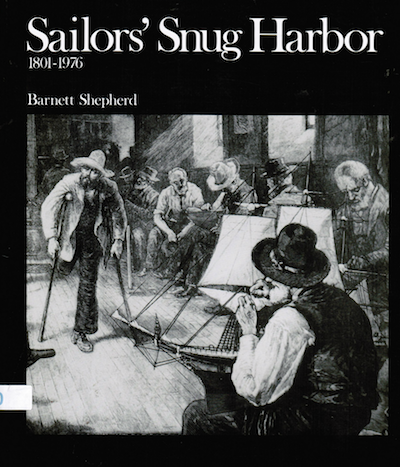 Staten Island
Staten Island and its People, by William T. Davis and Charles W. Leng
"These are two of my heroes. They've written five volumes of what is the bible of Staten Island history. It's where everybody goes first, and it's an enjoyable read. The first two volumes are all about the history of the borough: religion, schools, factories, natural history, wildlife, everything. The third through fifth volumes are biographies of important Staten Island residents, people like Governor Daniel D. Tompkins, George Cromwell, the first borough president, and some of the Vanderbilts."—Patricia M. Salmon, retired curator of history at the Staten Island Museum and author of Realms of History: The Cemeteries of Staten Island
Made on Staten Island, by Charles L. Sachs
"A comprehensive look back at industry on Staten Island from 1819 to the 1970s. A companion piece to an exhibit at Historic Richmondtown, it covers businesses such as Procter and Gamble, Kreischer's Brick Works, U.S. Gypsum, and some of the breweries that were once located on the island."—Patricia Salmon
Sandy Ground Memories, by Lois Mosley
"Tells the story of Sandy Ground (an African-American community of freed slaves and freedmen that dates back to the 1810s) through the personal reminiscences of the author and from a woman's perspective. It covers the life of the oystermen (the profession of many of the residents), the churches, and the school life."—Patricia Salmon
Sailor's Snug Harbor 1801-1876, by Barnett Shepherd
"I love this book. It is simple and to the point with pages and pages of genuine historical photos and some short stories from 19th century publications about Snug Harbor."—Patricia Salmon
Brick Underground articles occasionally include the expertise of, or information about, advertising partners when relevant to the story. We will never promote an advertiser's product without making the relationship clear to our readers.