As New York City dog owners well know, in addition to bringing love and companionship to their owners' lives, dogs also add expenses. A new study from rental listing site RentHop estimates just how much. The research first ranks various breeds' space needs, based on weight, activity level, and proclivity for barking, as well as the breeds most frequently restricted by apartment buildings and landlords.
According to the American Kennel Club, pit bulls and pit bull mixes, American Staffordshire terriers, and American bulldogs are the top three undesirables. The bulldog, Shih Tzu, and cavalier King Charles spaniel top the list of breeds that get a pass. New York City's current most popular breed, the French bulldog is ranked sixth. 
RentHop estimates that an apartment with a pets allowed  policy (dogs, cats, and beyond) costs New Yorkers an extra $35 a month in rent. By comparison, Atlanta and Dallas-Fort Worth area renters pay an additional $10 a month, and Los Angeles residents shell out the most, at $50. The researchers then scored the dogs based on their characteristics, and assigned larger apartments to more difficult dogs. Here are more details on the median rents for various sized apartments by breed, in Miami and New York: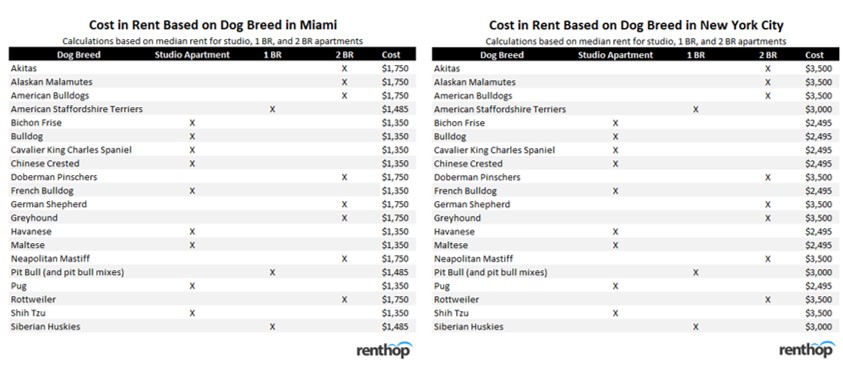 The author of the study, RentHop's engagement and corporate communications analyst Nina Furseth, was inspired to research the topic in part because of her own plans to get a dog. She points out that for less than the price of renting a studio with a small dog such as a pug in New York ($2,495), you could spread out with a German Shepherd in a two-bedroom in Houston ($1,170), which obviously has more to do with the rents in general than the inclusion of a pet. 
For breeds most suited to small spaces and urban living, RentHop recommends the Shih Tzu, French bulldog, and Havanese. Furseth urges potential dog owners to look beyond just size when considering their new best friend, giving the example of the Jack Russell terrier as a compact, but "very active" breed.
For New Yorkers who are committed to the idea of living with a big dog but aren't ready to head down south, Furseth suggests moving farther away from the city center, where renters can often find more room for less money, and perhaps greater numbers of independent landlords with relaxed pet policies. 
Brick Underground articles occasionally include the expertise of, or information about, advertising partners when relevant to the story. We will never promote an advertiser's product without making the relationship clear to our readers.