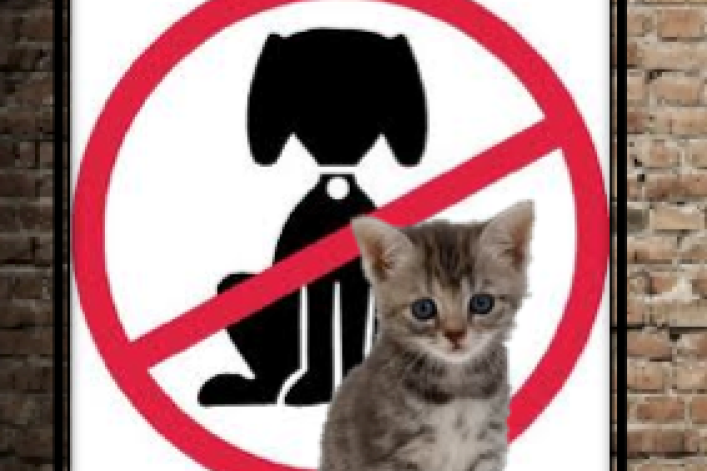 Over on StreetEasy, a renter who assumed that in most buildings, "no pets" applies only to dogs--not cats--is finding otherwise. 
Why would landlords care, she wonders? It seems that hardwood floors and cats really don't mix. (It's a combination of scratching and cat urine that concerns landlords.)
The general consensus on StreetEasy is that you're safer looking for buildings that embrace all kinds of pets, and say that from the get-go. We checked in with a couple of real estate agents to see whether they think "no pets" always means "no cats." 
When it comes to rentals, says Gus Waite of AC Lawrence Real Estate, "there are many, many times" where cats are allowed in a no-pet building.
"Talk to people who live in the building and the super to see if 'no pets' means 'pay the super $100 and bring your cat in in a box.'  Is it 'don't ask, don't tell' or is it-really really 'no pets'?" he says.
He recommends finding out if cats live in the building, and making sure that someone who recently moved in has a cat, since "sometimes pets are grandfathered in. Just because someone has a cat does not mean that new cats can move in." 
When it comes to co-ops and condos, Deanna Kory of The Corcoran Group says, the rules are usually a bit stricter.
"Many times, there is a no dogs policy when they mean no dogs. 'No pets' usually means cats as well," she said. "It is important to ask because people think to 'sneak' cats in and then if found out, they can be asked to have the cat out of the apartment. Safest bet is to ask up front."
Related posts:
The perfect apartment for your cat
Cool stuff: Apartment and eyeball-friendly cat scratchers
Ask an expert: My building smells like cat pee. Help!
Rent Coach: Advice for a pet-friendly landlord
End of an era: Why co-ops should allow dogs (Sponsored)
Brick Underground articles occasionally include the expertise of, or information about, advertising partners when relevant to the story. We will never promote an advertiser's product without making the relationship clear to our readers.