The Market
Brick Underground's 2021 guide to the best Brooklyn neighborhoods for families: Bed-Stuy, Park Slope, Williamsburg, & more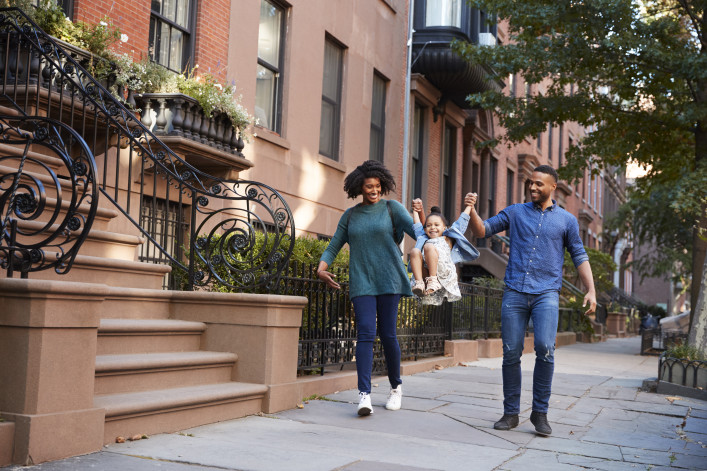 Brooklyn continues to be a very popular place for New York City families—and that favored status became even more apparent during the pandemic. 
Compared to crowded and expensive Manhattan, Brooklyn's winning attributes have long lured families from across the East River (and beyond), attracted to its quieter streets, lower-height buildings, abundant parks, a relatively lower price per square foot, and homes with private outdoor space. These amenities were even more in demand for buyers and renters looking to make a move during or after the lockdown.
Then there are the vibrant commercial areas. With so many families choosing to raise their children in Brooklyn, you can find lots of new and existing businesses that cater to this demographic—like home-based day cares, storefronts offering classes in art, music, science, computer coding (and much more), and day camps that make the most of the borough's green spaces, especially Prospect Park.
Those businesses largely remain open today, a testament to life in Brooklyn during the pandemic, which unlike Manhattan—did not see as many residents fleeing the city either temporarily or permanently. With its business not as dependent on foot traffic from office workers and tourists, Brooklyn's commercial life didn't suffer as much from their absence.
Against that backdrop, Brooklyn's real estate market is booming with record sales levels, creating low inventory and rising prices. Augusto Bittencourt, an agent at Compass, says he's seeing an increase in Manhattanites looking for a better price per square foot in Brooklyn—a trend that intensified during the pandemic. 
"Brooklyn is their number one option," he says, noting that the pull for single people is strong as well, thanks to its vibrant nightlife and club scene. "They're familiar with Brooklyn because of their social life." 
One type of housing in particular is very much in demand.
"The townhouse market in Park Slope is on fire," says Peter Riolo, an agent at Compass. "And any inventory with a washer/dryer, parking, or outdoor space, gets caught up in a bidding war," he adds, making it tough for buyers to land what they are looking for.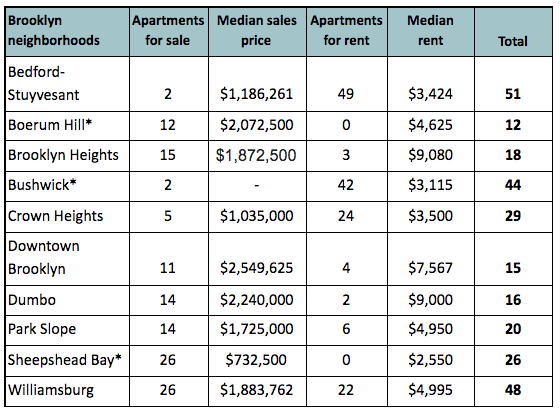 To determine our list, we asked Localize.city, a website that offers a wide array of data points about its real estate listings, to identify the best Brooklyn neighborhoods for families based on areas with the most three-bedroom-plus, two-bath-plus apartments for sale and rent—i.e. the areas in Brooklyn where you'll have the most choice of family-sized apartments. Localize also provided insights into each neighborhood, such as new development projects or upgrades coming to the area, and details on demographics, transportation, and schools.
The data uses recorded median sales of condos and co-ops from the last two years, and median rents are based on asking prices from past and active listings. You'll notice yet another Covid-19 effect, which has fueled tremendous demand recently in both the Brooklyn rental and sales markets, creating a lack of inventory: There were far fewer three-bedroom sales transactions and rental listings, a drop of 75 percent from 2019, when Brick ran our inaugural look at best Brooklyn neighborhoods for families. 
There are many returning neighborhoods from our 2019 piece on this year's list, such as Boerum Hill, Brooklyn Heights and Park Slope, and some notable absences, such as Fort Greene, Windsor Terrace and Carroll Gardens. This is not because the latter areas have suddenly lost their charm for families. Rather, it's due to the fact that the neighborhoods that made our list had more apartments available; for example, Fort Green lacks inventory of apartments for sale, while Windsor Terrace is low in apartments for rent. 
Schools, of course, are often a key consideration for families when deciding where to live, and New York City has a lot of schools of all kinds: public, private, charter, and parochial. Some have programs within those schools—such as dual language and Gifted & Talented.
As it is often reported, the New York City public schools system has its issues, overcrowding and inequity among them, plus the dual challenges of returning to school full-time after a year and a half of pandemic-imposed remote and hybrid learning and managing continuing Covid-19 outbreaks.
That said, there are efforts to address issues throughout the system, and in Brooklyn specifically. Most recently, the Community Education Council of District 15 (where many Brooklyn families live) approved a rezoning plan designed to increase diversity at many of the district's schools. It is currently scheduled to be implemented for the 2022-23 school year. 
District 15 also removed screens and adopted a district-wide lottery system for middle school admissions in 2020, a move that may be enacted citywide. The fate of the city's elementary school Gifted & Talented program is also a topic of recent debate. (Outgoing Mayor Bill de Blasio would like to see it eliminated, while Eric Adams, likely to be the city's next mayor, is in favor of some kind of G&T option.) 
The point is: things can change. If you're interested in a specific neighborhood and are thinking about sending your child to specific elementary school, learn what zone it's in, and sign up for updates from the Community Education Council. (We also recommend reading our guide to navigating the options for elementary school in New York City.)
Safety can also be a concern for anyone moving to a new neighborhood, and Localize.city can provide users with data on crime rates to help people assess their comfort level in an area. 
"While what a resident might experience in an area can be neighborhood specific, it can also be listing specific," says Omer Granot, president and COO of Localize.city. "This is especially true for data related to crime, as crime rates can vary from block to block…The data insights included on the Localize.city website allow buyers to fully understand where they will be living, down to the specific block, building, and unit."
A final note: Price was not a metric used when determining our list, which means that just because a neighborhood is considered a good one for families, doesn't mean it's necessarily affordable—a big consideration for people raising kids in the city. Irony alert: One of the big reasons Brooklyn attracted families in the first place was because the borough offered more space for less money than Manhattan. That is still generally the case, it's just that a square foot of space in Brooklyn costs a lot more now.
Read on for Brick Underground's list of the best neighborhoods for Brooklyn families.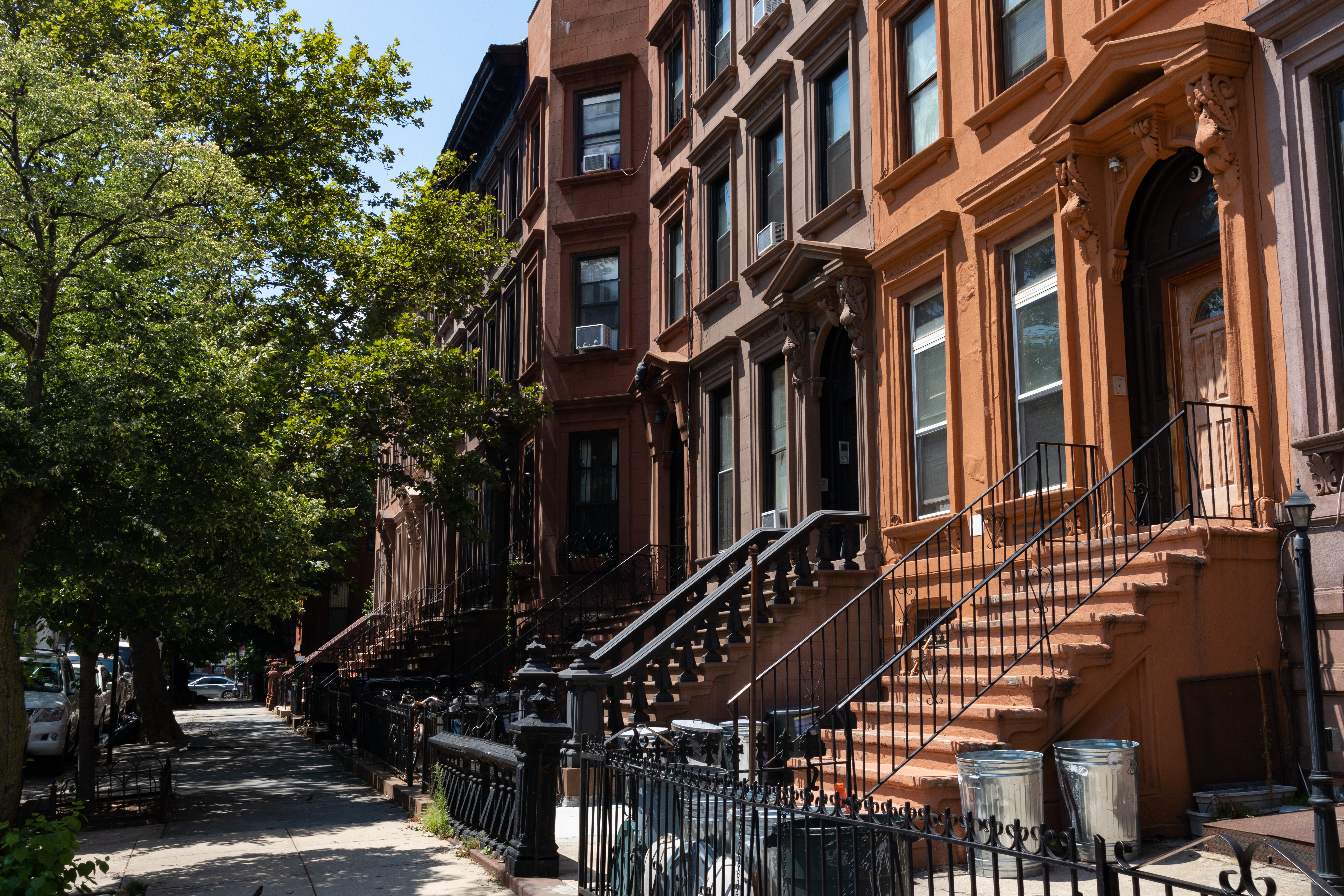 Bedford-Stuyvesant
A comparatively large neighborhood, Bedford-Stuyvesant possesses many hallmarks of Brooklyn charm: Brownstone- and tree-lined streets, local businesses, and a strong sense of community. 
Just two family-size apartments were up for sale, with a median price of $1,186, 261, while 49 family-size apartments were for rent, with a median rent of $3,424 (up from $3,169 in 2019). Still, the median rent in Bed-Stuy is among the lowest, with only Sheepshead Bay offering cheaper rents. 
Your closest subway line depends on where you are in the large neighborhood: the A and the C trains serve the south side, while the G, J, M, and Z serve the west and the north. Additional transit options include buses and Citi Bikes. 
Aaron Graf, CEO of LG Fairmont Group, a real estate firm, is a parent and longtime Bedford-Stuyvesant resident. He describes the neighborhood as "super-friendly" and says newcomers will "wind up knowing all your neighbors on the street." 
He reports that meet ups in places like Fulton Park are common, Halloween is a big to-do with trick or treating at houses and businesses, and its peaceful, walkable blocks are very pleasant when you find yourself roaming around with a newborn or infant. 
It is home to kid-friendly businesses like play spaces, a toy store, and a ceramic studio. There's a popular YMCA here, and CUMBE: Center for African and Diaspora Dance, which offers classes and camps, at the far south end of the neighborhood. Coffee shops and restaurants are generally kid-friendly and are big enough to accommodate a stroller. 
"It's never so packed that you feel weird," he says, adding that outside dining has made eating out with kids even easier. (Like many, he recommends neighborhood mainstay Peaches.)
In terms of new development, you're more likely to see brownstones converted into condos and small, low-rise developments than multi-story towers. Localize.city reports that four projects are planned for the neighborhood at this time, including a new 14-story building coming to 1911 Atlantic Ave., which will have 236 new units upon completion.  
Additional parks and playgrounds include ​​Decatur Playground, Potomac Playground and Harmony Park, and nine area playgrounds have improvement efforts underway or starting soon. 
Because of its size, you could live in one of three city school districts in Bed-Stuy, which includes parts of District 13, District 16, and District 23, the last of which is unzoned, or a "choice district." District 16's Brighter Choice is an Inside School's Noteworthy Pick, and has a dual language program, as is The Brownstone School, an unzoned, more traditional, demanding school. There are several popular charter schools in the area, and the progressive Waldorf School is nearby in Clinton Hill.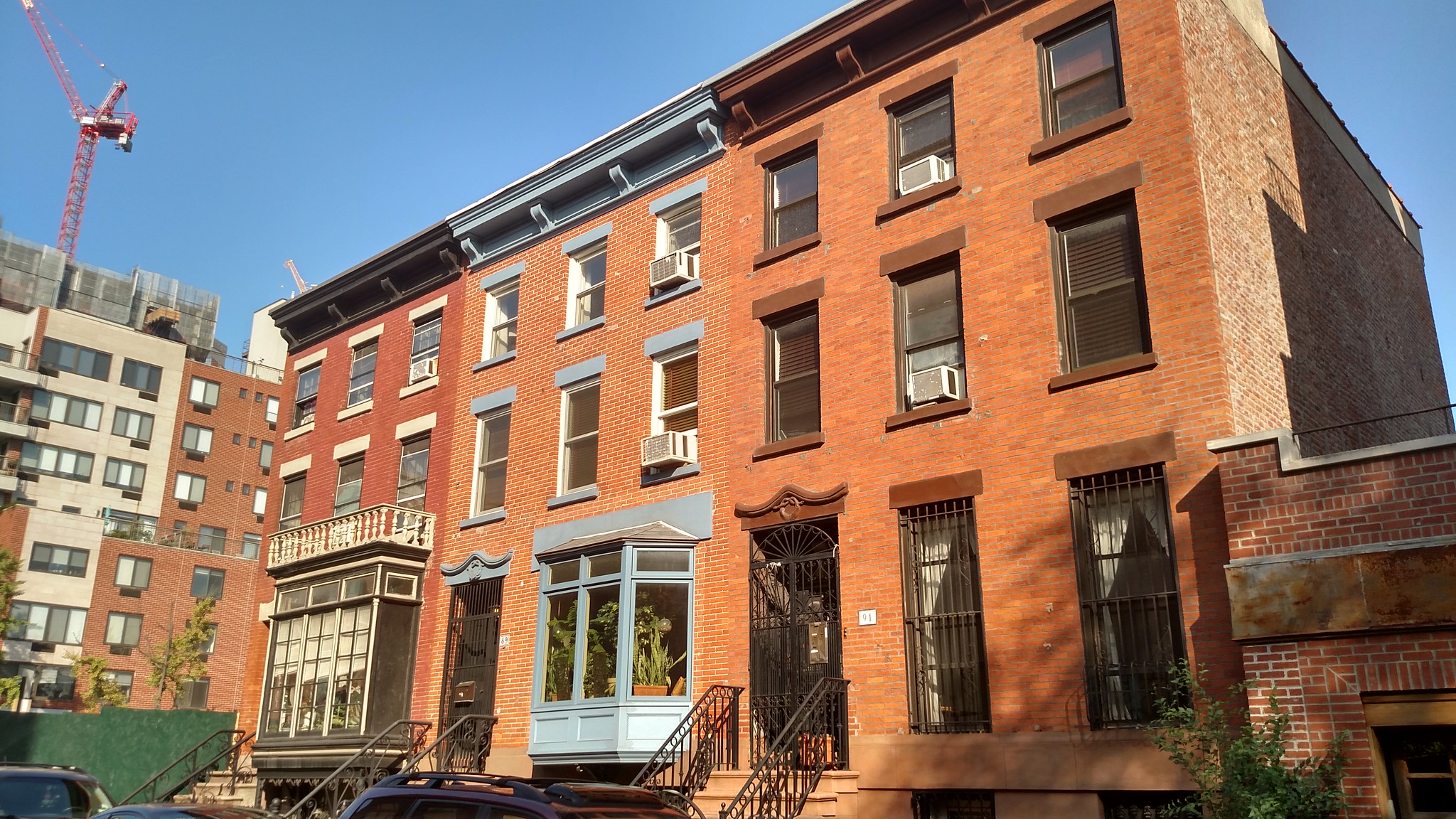 Boerum Hill
A small pocket just to the south of Downtown Brooklyn, Boerum Hill is cute, convenient, and loaded with amenities. Which is why if you want to live there, it is going to cost you. Twelve apartments were listed for sale, with a median price of $2,072,500, and the median rent was $4,625. 
Because of the area's small footprint and similarity to neighboring Carroll Gardens and Cobble Hill (other spots that attract lots of families) the three are often referred to as "BoCoCa," a likely real estate agent portmanteau with varying degrees of acceptance. Still, there is a certain fluidity to the area. 
Boerum Hill is loaded with Brownstone Brooklyn charm, benefits from proximity to Downtown Brooklyn and, to the east, retail and entertainment hot spots like the Fulton Mall, City Point and Barclays Center—the latter of which makes for easy escape on the LIRR if you need it. The southernmost part of Brooklyn Bridge Park (the one with the amazing playgrounds and another ferry stop) is at the end of main thoroughfare Atlantic Avenue. 
Bittencourt describes the area as having a more European feel, thanks to its quaint side streets and petite storefronts, as well as lots of European transplants; a dual language public school program at PS 38 lures many French families, and Bastille Day is kind of a big deal here. 
Other public schools in the area are PS 29 and PS 261, and there are many additional private and charter schools here to consider. Charter school Success Academy has a location in Cobble Hill, and was recognized for its success in closing the achievement gap.
Additional parks and playgrounds include the quaint Cobble Hill Park, the site of a mobbed Halloween Parade, Boerum Park, and Carroll Park (worth the trip a bit south). Also close by: a popular YMCA, the New York Transit Museum, movie theaters of the indie and multiplex variety, and both boutique and big box shopping opportunities (Trader Joe's, Michael's, and Marshall's). Independent bookstore Books Are Magic picked up the gauntlet when area institution Community Bookstore closed, and holds events and readings for children in its welcoming kids' area. Enrichment opportunities for kids (art, dance, sports, music, theater, tech, language) are plentiful in the neighborhood. 
Development projects in the works include the 11-story 533 Pacific St. and 450 Warren St., AKA, "The Tank," an 18-unit project with two bedrooms starting at $2.7 million.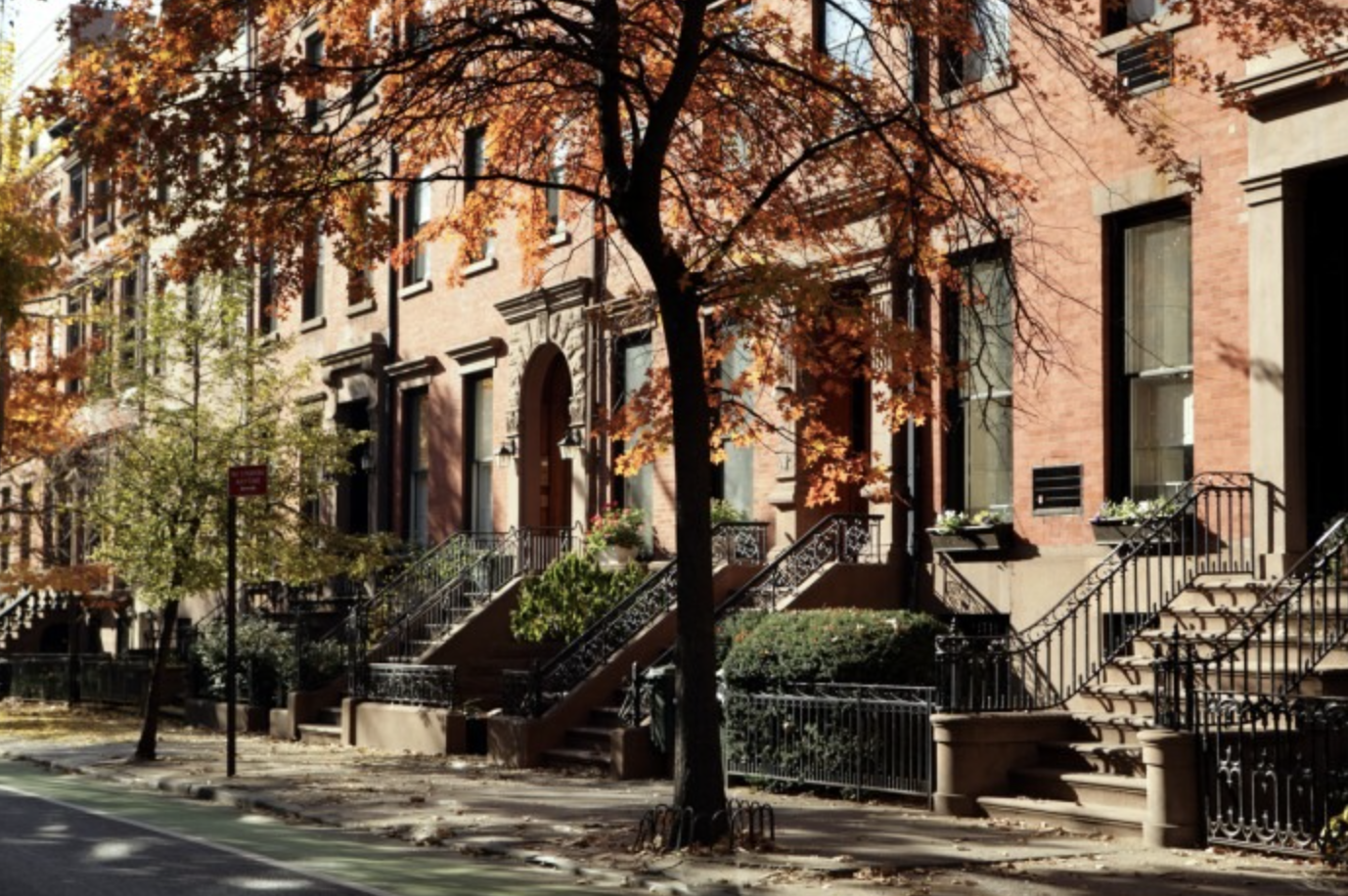 Brooklyn Heights 
An area known for its charm, history, and proximity to Manhattan (not to mention some of the best views in the city) Brooklyn Heights is another neighborhood where beauty and convenience don't come cheap. 
The neighborhood has the highest median rent on our list, at $9,080, and median sales price of $1,872,500. (Not coincidentally, Brooklyn Heights has long been a draw for the wealthy and/or notable, such as Truman Capote, W.H. Auden, Matt Damon, Norman Mailer, Keri Russell, and Matthew Rhys.)  
Transportation options abound, with the 2, 3, 4, 5, R, A, and C nearby, and even the F and G aren't too far; getting to the Long Island Rail Road at Atlantic Avenue is a quick bus or train ride away. 
Brooklyn Heights is another north Brooklyn neighborhood that offers residents quiet, tree-lined streets, with pockets of activity close by—in this case, in Downtown Brooklyn or main streets like Henry or Montague (the last of which is in recovery mode after the pandemic forced many stores to shutter). Groceries can be picked up at local stores (Concord Market, Fresh Start) specialty stores (including neighborhood gem Sahadi's and organic market Perelandra) or big retailers like Gristede's, Key Food, and Trader Joe's. 
The neighborhood is zoned for PS 8, (which has a history of wait lists), and there are many well-regarded private schools in the area, including the prestigious St. Ann's and Packer Collegiate Institute, Brooklyn Friends, and the Mary McDowell Friends School.  
Riolo, a father of two and a Brooklyn Heights resident himself, counts proximity to Brooklyn Bridge Park as one of the prime benefits of living in the area. 
"The piers [of the park] provide access to so many activities: soccer, basketball, playgrounds, a water park, grassy fields. It's easy to pop down there and and enjoy it," he says, adding that his daughters have made good use of the carousel at the north end of the park. Additional choice playgrounds and parks include Pierrepont Playground, Harry Chapin Playground and the playgrounds along Henry Street near NYU Langone Hospital. And of course the Brooklyn Heights Promenade, overlooking Brooklyn Bridge Park, is an idyllic stroll with views of the bridge and lower Manhattan. 
New development in the works includes a 20-story building on Montague that will bring 122 new apartments to the neighborhood. Also coming soon (winter 2022), a brand new library that will have child and teen zones, a 70-seat amphitheater, and a 9,000-square-foot STEM lab.
Riolo points out that with more buildings dating to the first part of the 20th century, Brooklyn Heights is denser than an area like Cobble Hill. But it still offers him a break from urban  life. 
"When I come home, looking at the water, I could be out of NYC," he says. "It doesn't feel like I'm in a city."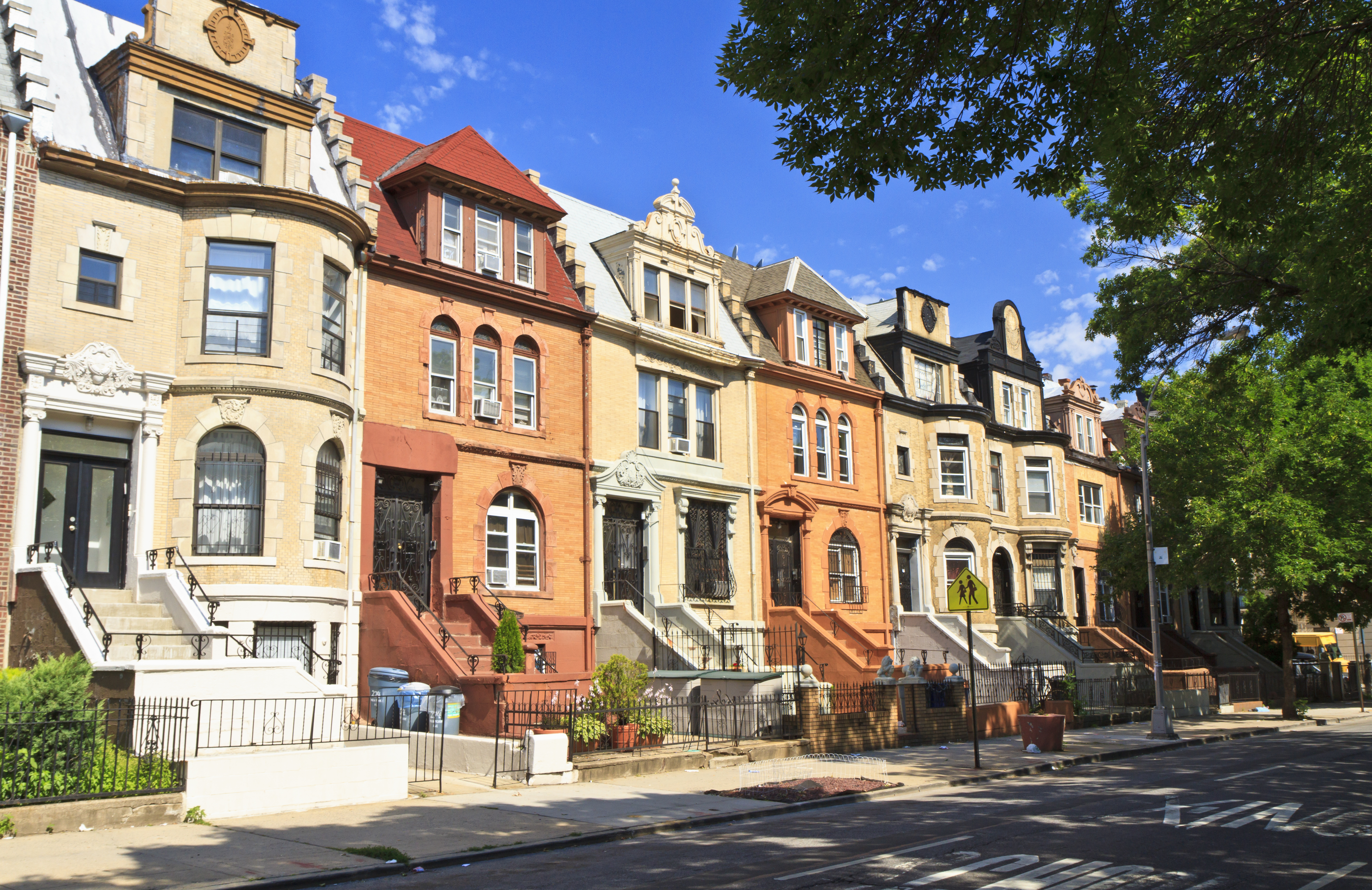 Crown Heights 
Crown Heights is home to (or near) many family-friendly attractions. And compared to the other neighborhoods on our list, it's an area of Brooklyn where families can get more bang for their buck: the median sales price of five transactions was $1,035,000 and for the 24 apartments for rent, the median rent was $3,500. 
Transit options are good, with the A, C, 3, and 4 trains, and even more trains (B, N, Q, R, W and the LIRR) at the Atlantic Center, a few stops away. 
Crown Heights offers the advantage, like Park Slope, of being near many of Brooklyn's main attractions, but residents don't pay Park Slope prices. Big draws in or near the neighborhood include the Brooklyn Museum, the Brooklyn Botanic Garden, the main branch of the Brooklyn Public Library, the Prospect Park Zoo, and the popular Brooklyn Children's Museum. Major entertainment venues the Barclays Center and the Brooklyn Academy of Music are close by as well. 
Crown Heights is directly to the east of Prospect Park. Other parks within Crown Heights aren't that plentiful, although Stroud Playground on the western side is a popular spot.
Grocery shopping can be done at Wholesome Farms Market, Urban Market by Key Food, Food Garden Market, and Foodtown. Nostrand, Washington, and Classon avenues all offer dining and nightlife options. 
Granot notes that the area does skew younger than some of the other neighborhoods on this list, with a large population of 18-24 year olds—who are likely also attracted to Crown Heights' affordability. 
Development is active in the area, with eight projects approved or currently underway, including a seven-story building with 75 apartments on St. John's Place. 
Crown Heights is in District 17 and the zoned public school is PS 289. Other schools in the area include charter schools Achievement First, Success Academy, and KIPP.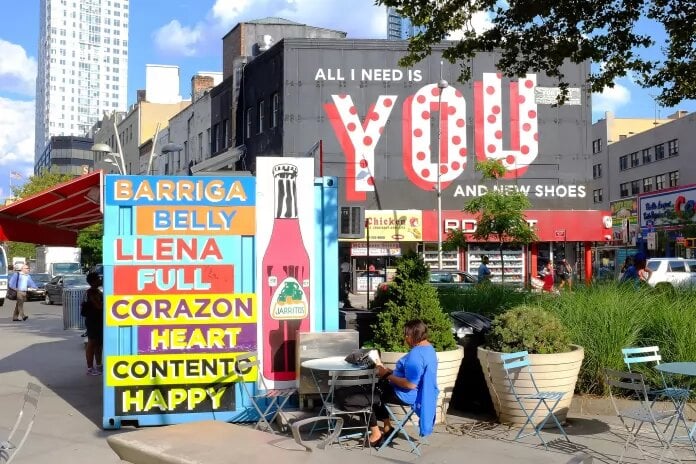 Downtown Brooklyn 
If you like activity, density and an urban feel (plus tons of convenience getting pretty much anywhere) Downtown Brooklyn could be a good match for your family. Just bring money: The neighborhood has the distinction of being the most expensive area on our list. The median sales price here of 11 apartments was $2,549,625, and the median rent of four apartments was $7,567. 
Transportation options abound, with the 2, 3, 4, 5, A, C, F, B, D, N, and Q trains nearby, depending on where exactly you live in the area. Of course, many bus lines pass through, and you'll find more than 20 Citi Bike stations in the neighborhood. It's a pretty quick ride to the LIRR as well. 
The neighborhood itself is bustling, with many high-rise condo and rental buildings going up over the past decade, but development has recently slowed. Downtown Brooklyn is also home to the courts, many new hotels, office buildings, and an NYU campus. 
Shopping and entertainment is very accessible along Atlantic Avenue (Trader Joe's, Marshall's, Michael's) and on Fulton Mall (Macy's, TJ Maxx, Old Navy). At the City Point development, you'll find Target, food hall Dekalb Market, and Alamo Draft House. There are smaller retailers on Court and Smith streets. 
PS 261 also serves part of Downtown Brooklyn, and a 300-seat public school will occupy the mixed-use building at 1 Willoughby Square. The area is near many prestigious private schools, and the in-demand, Quaker Brooklyn Friends School is also here. (Parents looking at public school options should note that the area spans Districts 13 and 15.) 
Brooklyn Bridge Park is very close, as is the Brooklyn Promenade. The green spaces in Downtown Brooklyn aren't much to speak of, although several parks are slated for improvements in the near future such as play equipment and ball field upgrades. The Golconda Skatepark is a popular destination tucked under the Brooklyn-Queens Expressway. Fort Greene Park (and the Brooklyn Cultural District with Brooklyn Academy of Music and other institutions) is on the far east side of the neighborhood.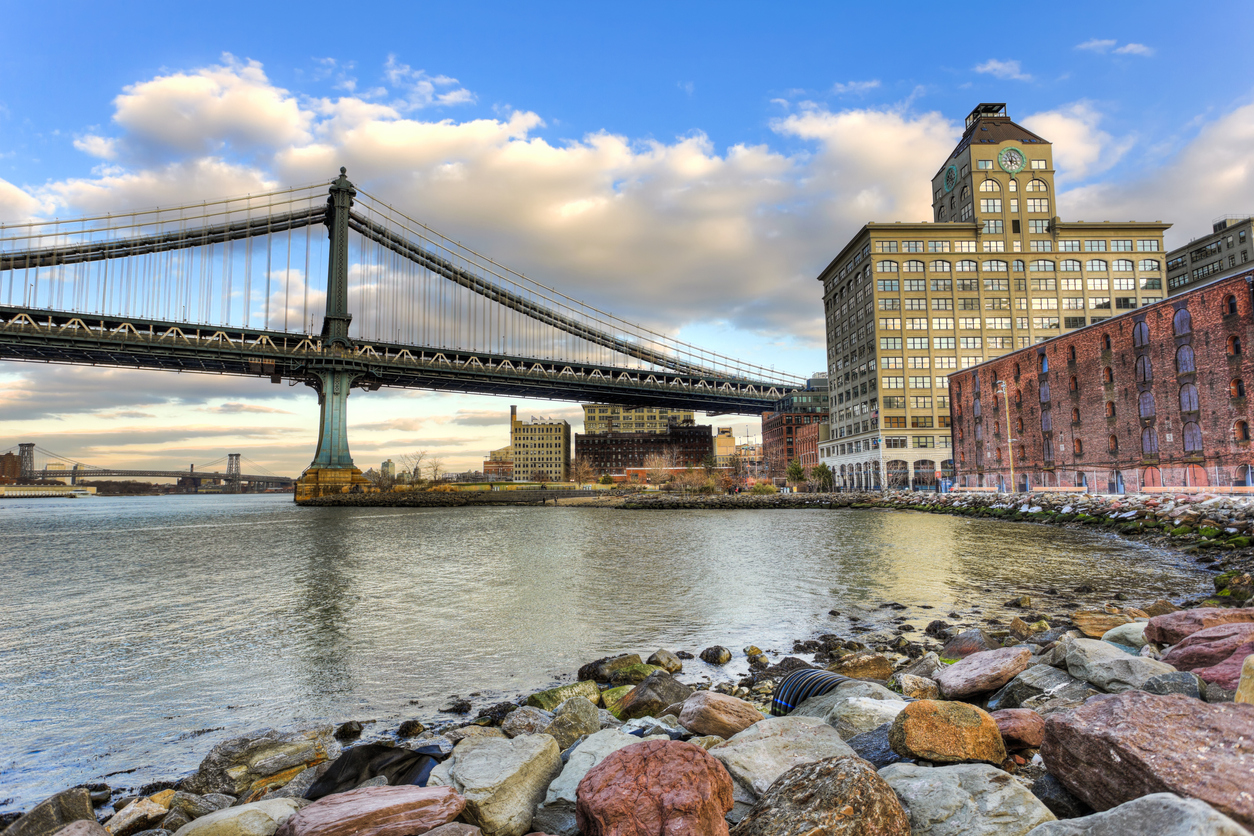 Dumbo
Remember when Dumbo was a totally deserted, heavily industrial area? (If not, that's OK: not many people do.) In 2021, it's a hub of activity of all kinds, for families, techies, tourists and more. 
Dumbo is the second-priciest neighborhood on our list (behind Downtown Brooklyn) with a median sales price of $2,240,000 for 14 apartments; the median rent of two apartments was $9,000. 
Dumbo has its own brand of Brooklyn charm, one of cobblestone streets, warehouses- turned-startup offices and condos, food halls and high end stores; a world-class green space (Brooklyn Bridge Park) and some of the most glorious views in the city. Having a century-plus-old American icon of engineering in your front yard is also pretty impressive, and the kids will love the magical glass-enclosed carousel a stone's throw away. (Tip: Jane's Carousel birthday parties are easy and affordable.)
Bittencourt describes the feel of the neighborhood as metropolitan and international, as well as family-oriented. The professionals he sees moving there tend to skew to the startup and tech crowd, and the area provides "top-notch everything" when it comes to dining, leisure options, and other amenities. (Example: Dumbo House, with its stunning roof deck and swimming pool.) 
The neighborhood is pretty densely populated (thanks to all those tony apartment buildings) so in general it's going to be more crowded than some other areas to the south. Riolo, who enjoys Italian restaurant Cecconi's, located within Dumbo House, says reservations are highly recommended any time you're thinking of dining out. Navigating the narrow sidewalks with a stroller is also a bit more challenging. 
It's also worth noting that while many areas of Brooklyn attract tourists, Dumbo, as Riolo says, has "a fair amount of people who just show up"—whether it's to get a shot on the most Instagrammed street in New York City, pose for prom pictures, visit the park, or get married/attend a wedding. 
The neighborhood offers lots of activities for families. Neighborhood fixture The Archway (under the Manhattan Bridge) frequently hosts family-friendly concerts and other happenings, Brooklyn Bridge Park hosts a robust slate of events, and there's a popular indoor play space here as well. 
A major addition to the neighborhood is the brand new Adams Street Library located under the Manhattan Bridge. It is the first library ever in Dumbo, and the Brooklyn Public Library's first new branch since 1983. April 2022 will bring the completion of  the $7 million Bridge Park 2, adjacent to the York Street F Stop; facilities will include new play equipment, swings, a spray shower, and multi-purpose synthetic turf field.
With so much going on, it may be a surprise to learn that compared to other areas of Brooklyn, transportation is not that great here. The main line that serves the area is the F, which is located on the southern edge of the neighborhood. (To be fair, it is just one stop to downtown Manhattan.) Dumbo is also served by a ferry line, and if you get to work in a car it's a quick zip over the bridge. The A, C, 2, and 3 are short walks from the neighborhood and you will find Citi Bike stations here. 
Located in District 13, the zoned public school for Dumbo is P.S. 307, which offers extensive special education services, and the private schools of Brooklyn Heights are just up the hill.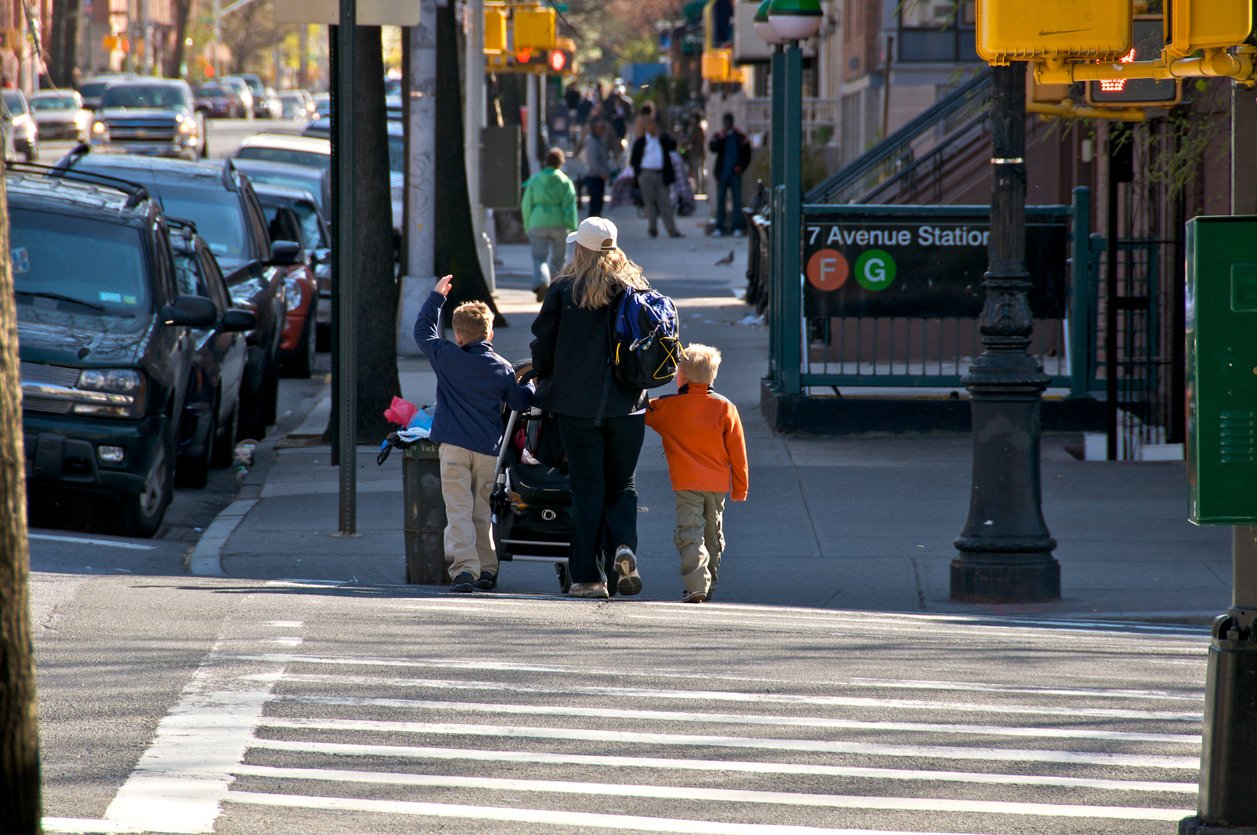 Park Slope
Perhaps the Brooklyn neighborhood most-often referred to as "family-friendly," Park Slope is indeed an area with many amenities and conveniences that make parenting in the city easier. Unfortunately, the lower asking prices and rents it used to offer are much harder to find now. The median sales price in the neighborhood was $1,725,000 (14 places were for sale) and six apartments were for rent with a median rent of $4,950. 
The good news about Park Slope is that as the word has spread that Park Slope is a nice place to live (for families and many others), the neighborhood boundaries, and the local businesses, did the same. Now, you have "North Slope" and "South Slope;" the Park Slope bordering Prospect Park has a distinctly different feel from the one closer to Fifth Avenue. It's big, and there's lots of Park Slope to go around. 
Riolo points out that not only do these areas possess different "vibes," the transit options also change depending on where you live (with some arguably better than others). The north end is served by the Q, the 2, and 3; the F and G are mid- and south slope, and the western side is close to the N,R,W, and D, as well as the F and G. The B41 and B69 bus routes are also well-utilized by residents, and there are many Citi Bike stations in the area. 
Shopping for anything is easy in Park Slope. Grocery shopping can be done at stores like Key Food, Union Market, and the popular Park Slope Food Co-op, and many residents make the trip to Whole Foods in nearby Gowanus. Specialty and gourmet stores abound, as do pharmacies and boutiques. 
You'll find lots of kid enrichment options here, and two YMCA locations, one, located in the enormous converted armory on 15th Street, and another with two indoor pools, on the busy corridor of Ninth Street. 
Development of high rise buildings has been curbed somewhat due to zoning laws. Projects currently underway include 350 Butler St. and 670 Union St., adding 34 and 14 new housing units, respectively. 
The neighborhood really shines in the parks department: Of course, Prospect Park, a playground-filled hub of athletic, cultural, and community activity, runs along the entirety of its eastern border, and Washington Park on Fifth Avenue includes the large and popular J.J. Byrne Playground, athletic fields, and historic Old Stone House of Brooklyn, which also hosts public events and classes
One of Park Slope's zoned public schools is the highly-regarded PS 321 (it is a reason people move to the area); other area schools include PS 39, PS 107, and PS 118, as well as the private Berkeley Carroll School and Poly Prep Country Day School.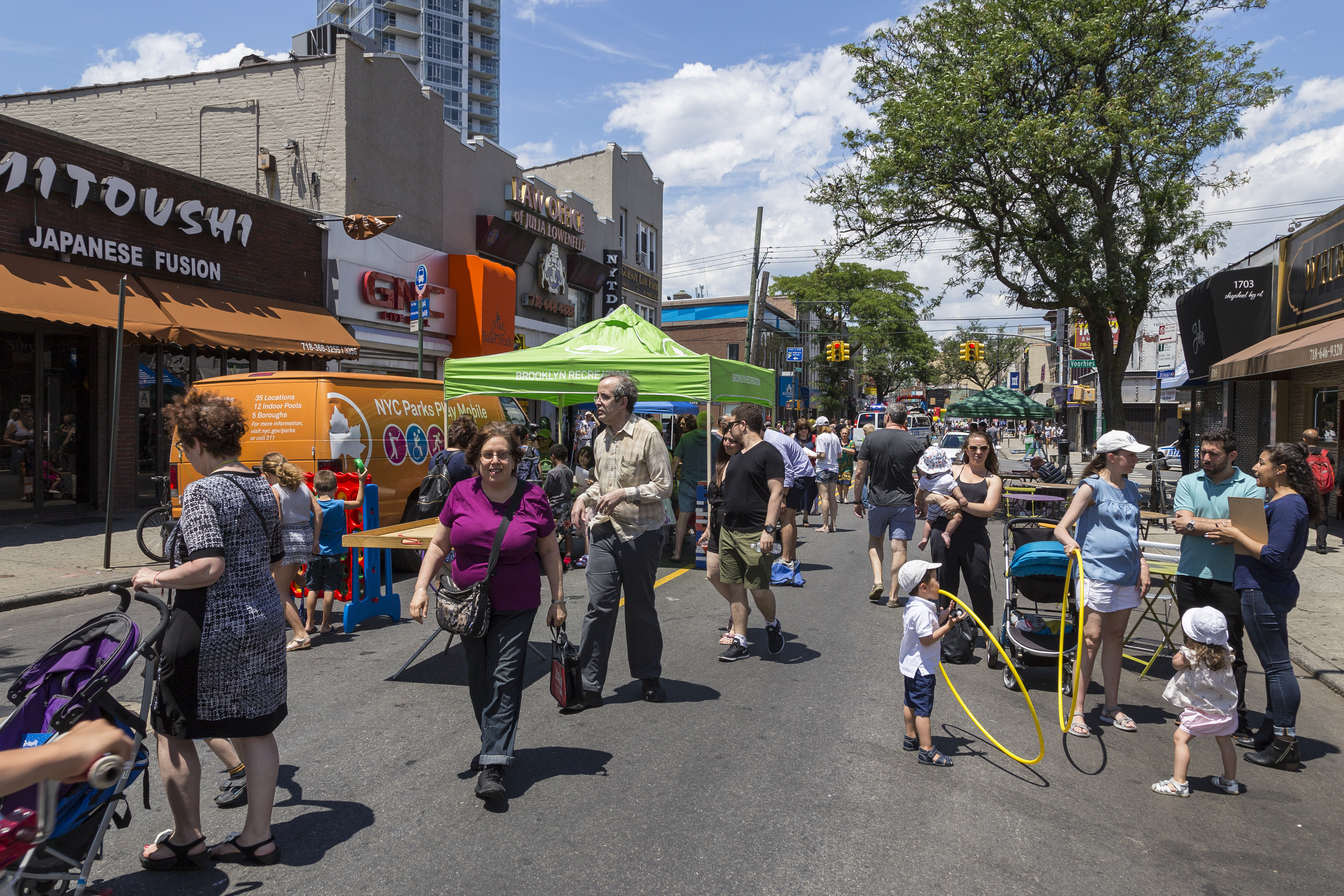 Sheepshead Bay 
If you need to commute to Manhattan, Sheepshead Bay may not be the most convenient place to live. The B and the Q trains run through the western side of the neighborhood, so most residents will have a bit of a trek to the train, which is less than ideal with small kids. (Buses also serve the neighborhood.) Whether you take the subway or drive, the commute is about an hour to midtown. For the record, Citi Bike has not made its way to Sheepshead Bay yet. 
However, Sheepshead Bay is the most affordable family-friendly Brooklyn neighborhood on our list, with a median sales price of $732,500. Additionally, with 26 places up for sale, the area is tied (with Williamsburg) for the most inventory on the market. While no rental apartments fit our criteria for our sample timeframe, the median rent in Sheepshead Bay was estimated at $2,550, based on past rent figures.  
As the name indicates, the neighborhood is on a bay, which results in a seaside feel, different from many other areas in the borough. Fishing is popular here, as is dining on seafood (Randazzo's Clam Bar is an institution), and recreation options nearby include the beach (Manhattan, Brighton), Coney Island attractions, including the New York Aquarium, and a multiplex. 
Neighborhood public schools include PS 255, and PS 197, with the latter offering Gifted & Talented and pre-K programs; you'll also find many private schools in the area.
Green space is somewhat limited. Kelly Park offers access to a playground as well as basketball and handball courts, and Mellet Playground is undergoing a $2 million upgrade that includes a reconstruction of the children's playground, as well as new landscaping and furniture. 
Groceries and essentials are available on Nostrand Avenue, Ocean Avenue and Avenue Y at stores such as Stop & Shop, Aldi, and Kings Gourmet Food, the last of which specializes in gourmet and Turkish foods.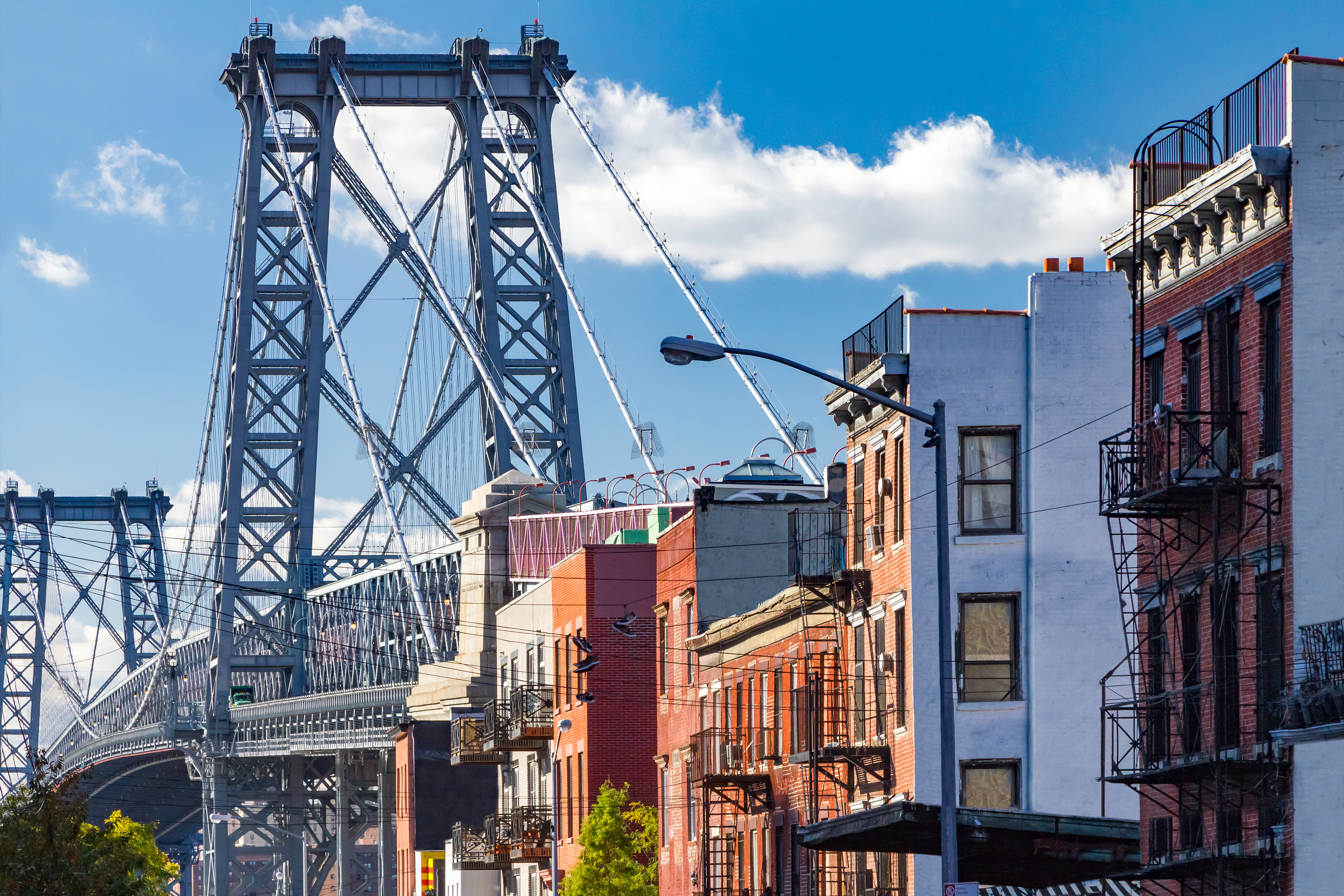 Williamsburg
Once the land of young people, "creatives" seeking affordability (many pushed out of the East Village, a quick L train ride away) Williamsburg is now a sleek and chic playground for people with money to spend. 
The third-most expensive neighborhood on our list for buyers, Williamsburg had 26 apartments for sale, with a median price of $1,883,762; for the 22 apartments for rent, the median rent was $4,995. 
Transit options depend on where in the neighborhood you live. The east side is served by the L, J, M, and G trains; the west side has a newish ferry landing, where you can catch a ride to Long Island City, 34th Street, Dumbo, and the Financial District—but if you are looking to take the subway, it's a hike. (The west side does have the advantage of being closer to the water.)
Williamsburg is still a place with a very active nightlife, but as its population has grown to include people with kids (and cash), the area's offerings for families have increased across many categories. 
Nothing is ever too far away in Williamsburg. Groceries, of the chain and gourmet varieties, include Foodtown, Whole Foods, City Acres, Brooklyn Harvest, and Key Food, to name just a few.  
For outdoor recreation and green space, McCarren Park is a major center of activity, with a popular pool, skate park, and soccer leagues, as well as festivals and events throughout the year. 
Domino Park opened on the waterfront in 2018 and remains a big draw, with play structures mimicking the sugar factory that once occupied the site, and water features for cooling off. And Bushwick Inlet Park, at the very north end of the neighborhood, is primed to become a major destination over the next two decades, with children's play areas, youth soccer and little league fields and more. (Development is underway, but is stalled due to funding issues.) Additionally, many small parks and playgrounds are receiving upgrades through 2024. 
There are two movie theaters in the neighborhood, one dine-in, one traditional, and Brooklyn Bowl offers bowling, as well as kid-family concerts with Rock and Roll Playhouse. You'll find popular indoor playspaces and kids' enrichment centers here, too. 
For at least the past decade Williamsburg has seen an incredible amount of development, with many luxury high rises changing the look and feel of the neighborhood, as well as its density. (Those train platforms can get very crowded.) The pace of development continues, with 17 projects either proposed or underway, including a nine-story building with 60 apartments. 
The neighborhood is in District 14, notable schools include P.S. 84, P.S. 110, P.S. 147, and P.S. 132, and P.S. 414, some of which offer gifted & talented and dual language programs. P.S. 319 is a well-regarded pre-k through first grade option, and there are many popular charter schools in the neighborhood as well. The city is anticipating the need for more seats and plans to add more schools to the area. 
Brick Underground articles occasionally include the expertise of, or information about, advertising partners when relevant to the story. We will never promote an advertiser's product without making the relationship clear to our readers.