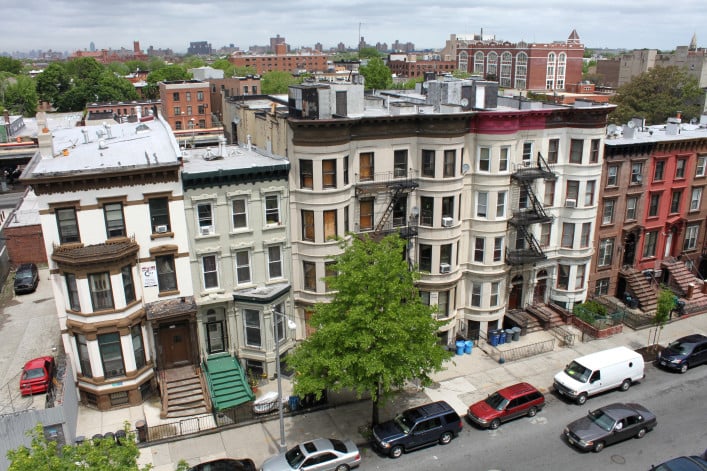 You might think of traditional bed and breakfasts as something you'd find in quaint country towns, but in fact, there are quite a few B&Bs within the five boroughs. Bedford-Stuyvesant, for instance, is home to several, including the Akwaaba Mansion, a historic villa in Stuyvesant Heights, and Arlington Place, a Victorian brownstone that debuted last fall. The owners of such spots characterize their B&Bs as mom-and-pop businesses that simply want to make visitors to NYC feel at home, but city agencies, they say, are treating them more like criminals. 
Arlington Place has run into some legal troubles recently, due to the city's strict, and confusing, regulations around short-term rentals, reports the New York Times. A 2010 law made it illegal for multiple-dwelling homes—that is, buildings where three or more families live—to rent to anyone for less than 30 days. And last month, a new law made it illegal for New Yorkers in those same buildings to advertise their homes on sites like Airbnb, explains Nolo. 
However, it seems that even classic B&Bs are becoming casualties of such regulations. Liz Mandarano, owner of Arlington Place, told the Times that her B&B was raided by representatives from the NYPD, FDNY, and Department of Buildings, even though she doesn't list it on Airbnb. The city, for its part, says that Arlington Place violates the housing code because it's zoned as a one-family home but used as a hotel. Either way, Mandarano faces a steep fine for offering short-term rentals on the premises. 
Other New York City B&Bs have had to shut down entirely due to laws. According to The Villager, after 16 years in business, East Village Bed & Coffee had to close, even though its owner consistently paid the requisite city hotel taxes. 
One B&B owner who wished to remain anonymous—and whose property has been inspected over a dozen times—told us that the real problem is that they are caught in the crossfire of competing agencies. "One- and two-family homes under the multiple dwelling law are exempt from the 30-day rule," the owner explained, meaning that smaller B&Bs should technically be exempt from the Airbnb law. "However, the housing maintenance code allows for only two boarders at any time. This is the conundrum: How can the multiple dwelling law be superseded by the housing maintenance code?" 
Vinessa Milando owns Ivy Terrace, a midtown B&B of six studio apartments, and she says that she's facing the possiblity of closure for operating what the city deems an illegal hotel. "New York has no allowances for B&Bs," she says. "And clearly B&Bs are in older buildings all across the country, and none of them have the same fire and safety codes as hotels do." Hotels in NYC, for instance, are required to have at least two indoor staircases; making such an alteration would involve Milando changing the entire structure of her building. 
When Milando opened Ivy Terrace in 1997, she followed the requirements in place at the time: She had to register with the state as a corporation and pay state sales taxes. In 2002, when the city began requiring B&B owners to pay hotel taxes and register as small facility operators, she obeyed those stipulations as well.
Now, under the new laws, B&Bs like hers are being unfairly persecuted, Milando says: "Without question, the B&Bs registered with city and paying taxes for over a decade should be grandfathered in. I can't speak for what the city wants to do going forward, but they should come up with sensible regulations for new B&Bs opened from 2010 on." 
At least six B&Bs that she knows of have recently had to close, because they're unable to pay the fines or make the major structural changes required to be considered hotels. "These are small businesses, and mostly women- and minority-owned businesses," Milando points out. "The law was well intentioned, but it was poorly written. The city has had the opportunity to correct the oversight that have hit these small businesses, but they have not done that yet." 
Brick Underground articles occasionally include the expertise of, or information about, advertising partners when relevant to the story. We will never promote an advertiser's product without making the relationship clear to our readers.