Doormen—and increasingly, doorwomen—are arguably the most iconic personalities in New York City real estate, often playing a role that's midway between building security and therapist. They see us at our best and worst (and most shopping-addicted and takeout-dependent), as we venture out on our first dates and first days of school and work (and, too, the last), and are the first people we see when we get home and begin to finally shed the armor we don everyday to do battle out there in this big, brash city. 
Columnist Gabriel Falcon, who's been chronicling his meetups with doormen on Facebook, introduces us to the men and women who are the gatekeepers of many of the city's rental buildings and co-ops. 
Meet today's doorman: Roy 
Building: 77 Park Avenue
Years: 43
Shift: Day
Born in: Macedonia
Home: Brooklyn
Passion: Dancing!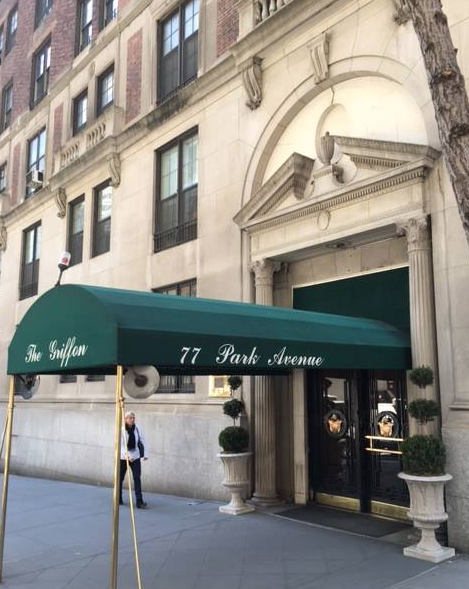 The residence:
Blue bloods, Manhattan belles, and even an occasional baron called 77 Park Avenue, an exclusive white-glove building, home. And between 1925 and 1955, this was the betrothing capital of the Big Apple of sorts, making numerous appearances in engagement and marriage announcements published in the New York Times. Interestingly enough, according to the Wall Street Journal, it once housed a brothel, too. And it's got Hollywood bonafides, its lobby having once been used as a set for the Tom Hanks-starring Bonfire of the Vanities, per the building's website. 
Built in 1924 by the architecture firm Margon & Glaser, it's also known as the Griffon. Historic and prestigious, it has 127 apartments spread throughout 14 floors. The Griffon caters to the upper crust with services including a full-time concierge, a sweet prewar perk. 
And on the first day:
"I started in 1973. I was working as a garbage man and didn't speak any English. I just arrived. And then I got a job at the Langham and then I went here."
Native tongue:
"I was able to learn a little bit of English. It's a good thing. Now I'm on top of the world – this is Murray Hill – this is the top of the world!"
There's no stopping now:
"I should have retired five years ago. But I am having too much fun, I would rather be here amusing people and having a good time than at home. I will do this till I die. I tell them 'abuse me or use me.'"
Perfect attendance:
"I never missed a day of work. I always come here. I am always here at least two hours before my shift starts." (The concierge confirmed that statement, along with everything else he said.)
Just keep smiling:
"You have to be happy, and you shouldn't care about it. I help everybody I see. There's nothing hard about it."
Staying put:
"I would never go back to Macedonia. I forgot how to speak my language!"
No sleep till Brooklyn:
"I live in Brooklyn – with the losers (laughs). It's my home."
Dancing:
"I love to dance. I can't stop. I'll never stop. Everyone knows it. Watch me." (He starts to dance, and true to his word, he didn't stop.)
Gabriel Falcon began his career as a dancing taco bell on The Dana Carvey Show. He has been a staff writer and producer for Anderson Cooper, Piers Morgan and The Today Show. He is currently an executive producer for Al Jazeera. A native New Yorker, he and his family reside in Morningside Heights.