Tips From a Doorman
Tips from an UWS Doorwoman: Gender's not a problem, especially when the food is this good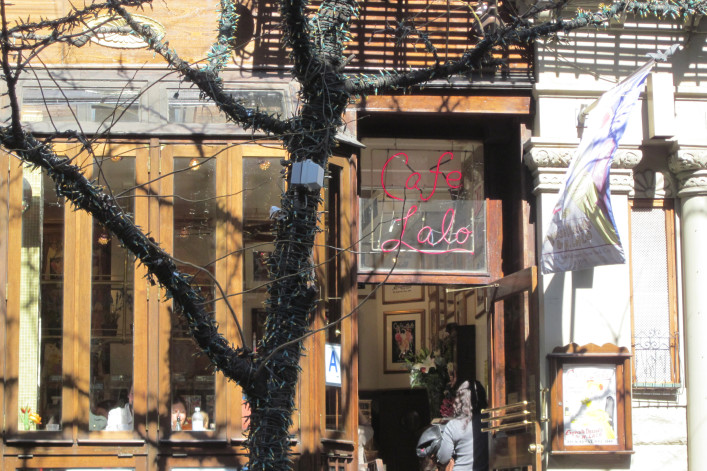 Our latest anonymous interviewee is a 36-year old doorwoman who has been standing guard over a condo building in the West '80s for about a year.  Here's what she had to say about her work hood... and what it's like being a doorwoman.

Best and worst things about the neighborhood: I guess the worst thing about this neighborhood would be the parking. I don't drive, but when people find a spot here, it's like they won the lottery.
I think the best thing about this neighborhood are all the great little restaurants (like Good Enough to Eat, Cafe Con Leche, Artie's, Flor De Mayo, Citrus, Momoya, Luke's Lobster, Cilantro, Jackson Hole and many more), and the fact that the building is about the same distance to Central Park as it is to Riverside Park.
Best dry cleaner: This building has a valet service, but for those who do not use this service I think most use Oxford Cleaners (on West 83rd Street). 
Best hardware store: Basics Plus (on 84th and Broadway). I've never been there, but we get a lot of deliveries from there, so I know the people in our building like it. 
Best locksmith: Union Locksmith (on 79th and Broadway).They are 24 hours and they always arrive quickly when we call.
Best quick bite: Hale and Hearty (on Broadway between 82nd and 83rd streets). Their salads are made to order, so they will be just how you want them. I also like the Chicken Coconut Soup.

Best deli: Amsterdam Deli (at 83rd and Amsterdam Avenue). They deliver and I like the sandwiches. I usually get a made-to-order grilled chicken sandwich and I like their macaroni salad.

Best place to get coffee: There are two Starbucks very close by, however some may argue that Cafe Lalo (on 83rd between Broadway and Amsterdam) is the best place for coffee for the novelty, and for the fact that it's right next door [plus, the cafe was featured in "You've Got Mail"]. I get the specialty coffee drinks.
What kinds of people do you see most during your shift?
Most of the people I see are the residents coming home at the end of the day, visitors who may come, food delivery guys or other delivery persons.  We have a lot of families with children ranging from newborn to college age. There are businessmen/women and those who own their own business. There are doctors, lawyers and people in the entertainment industry. We also see nannies, dog walkers, tutors, piano, guitar and dance teachers. The building also has a gym and pool so we see swim instructors and personal trainers.

How do people react to your being a woman working as a doorperson?

It is interesting that most people in the building were surprised to see me when I first started working even though there is another woman who has worked here for 25 years.  Most were happy to see another woman though. I think it is still somewhat unusual to see women in this profession, however there are more and more all the time. 

Have you ever been in a dangerous or threatening situation?

I personally have [not], but in the building I work in there are two people at the door from 7 a.m. to 11 p.m. The shift I work is 3 to 11 p.m, and I am never alone.
---
Tips from a Doorman features interviews with assorted New York City doormen, in an effort to get the inside scoop on the best (sometimes hidden) gems in their work neighborhoods. 'Cuz who knows a neighborhood better than its doormen(women)?
See all Tips from a Doorman.
Related posts:
Tips from a Doorman: The worst thing a resident can do
Tips from a Doorman: Door to door service not included
Best of Brick: How to concierge your doorman
7 tipping rules for doormen and residents
Brick Underground articles occasionally include the expertise of, or information about, advertising partners when relevant to the story. We will never promote an advertiser's product without making the relationship clear to our readers.