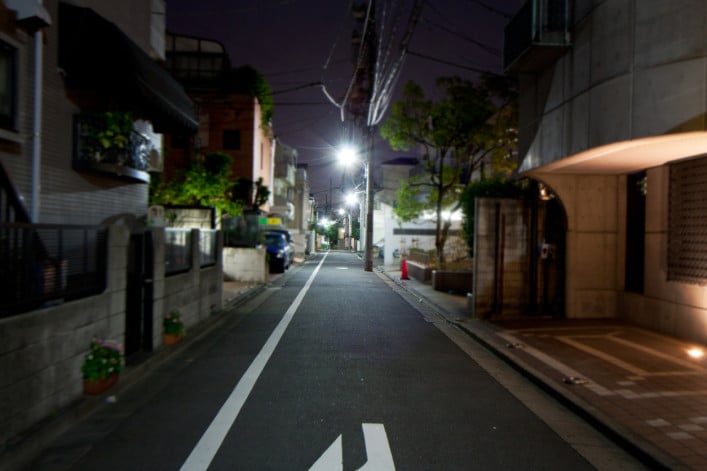 If you live in Brooklyn or Queens, you may have noticed how your streetlights have gone from shining an orange-yellow glow to a brighter, bluer hue. And it turns out that the LED streetlights responsible for the new (and not-so-improved) illumination aren't garnering too many fans.
A story over on Gothamist delves into the controversy. Unsurprisingly, people who live on the ground floor or lower floors in medium-sized buildings are complaining the most.
First, some background: In October 2013, under then-mayor Michael Bloomberg, the city's Department of Transportation started replacing yellow sodium streetlights with LEDs. The city said the replacements would save up to $14 million a year in energy and maintenance. The fact that they're brighter and presumably safer were touted too, and Kensington and Windsor Terrace were the first to get them. 
But Gothamist found 311 data that suggests New Yorkers have made nearly 1,800 complaints under the category "Street Light Lamp Dim" since then; three-quarters of those complaints came from Brooklyn and Queens. "The drop-down menu for the DOT complaint form linked on the 311 website includes no option for a light that is too bright, meaning at least some of these complaints are likely about the new LEDs," Gothamist surmises.
And the issue might simply be that the lights are, in fact, too bright.
The lights installed in Ridgewood and across Brooklyn and much of Queens are rated 4,000 degrees Kelvin, a measure not of brightness, but of what's called color temperature. A regular incandescent bulb has a color temperature of around 2,400K, meaning it contains fewer blue wavelengths, and many more red and yellow ones. Researchers have found that blue lights in the 4,000-5,000K range pose problems, including increased glare, which can hinder road safety, and disruption of people's circadian rhythms. You know how people are telling you to limit your screen time before bed? The same principle is at work here.
On an episode of Brian Lehrer's show on WNYC last May, Mayor Bill De Blasio recommended listeners call 311 if their lights were too bright; but a City Council bill that calls for capping LED streetlights at 3,000 kilowatts (rather than 4,000K) was introduced but has been stalled. Gothamist also found that the chances of these too-harsh bulbs going away any time soon is likely slim.
After several months of email correspondence requesting further information for an article, a DOT spokeswoman wrote back, "DOT will move forward in installing 3,000K LED street light fixtures given their lower cost; softer aesthetic quality; the AMA recommendations; and the timing of the contracting process to procure the LED street light fixtures in Manhattan, the Bronx, and Staten Island."

A quick glance between the lines will reveal that there are no plans to stop installing the harsh, blue 4,000K fixtures in Brooklyn and Queens, or to replace the ones that are already installed there. The LED bulbs the city is using have a lifespan of 7-20 years, according to various DOT statements.
"Bright Lights, Big City" indeed.
Brick Underground articles occasionally include the expertise of, or information about, advertising partners when relevant to the story. We will never promote an advertiser's product without making the relationship clear to our readers.