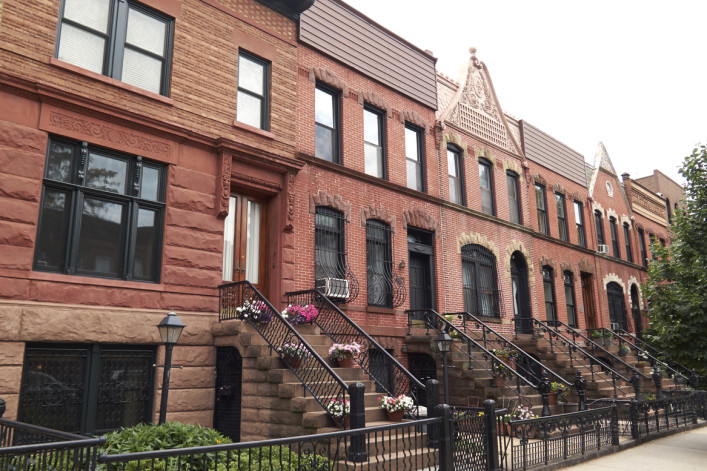 Planning a brownstone renovation involves plenty of compromises, and while there are no work-arounds when it comes to fixing structural deficiencies, there are other areas where you can make some concessions for budget reasons.
Bolster, a New York City-based design-build firm, has identified several suggestions for finding some savings when undertaking a brownstone renovation. 
[Note: This is the second installment in a two-part series about areas where you can and can't afford to compromise on during your brownstone renovation.]
Limit the areas you're heavily renovating  
When budget becomes a major driver for a brownstone renovation, Bolster architect Paul Capece often recommends that homeowners limit the areas that they are heavily renovating. 
For some, this means leaving a room of your brownstone untouched; for others, it's an entire floor. 
This partially depends on the condition of the home, but because scope and square footage are the main drivers of cost, leaving an area of the home untouched can net you significant savings.  
If you decide to go this route, shift your focus from what you're missing to what you're gaining. By leaving a room or a floor for later, you will have time to make considered decisions about how you're going to use the space and grow into it. Most brownstone homeowners are coming from much smaller spaces, like an apartment or condo. It can take some time to become accustomed to having so much extra space. 
Leaving layout changes for later can also help you determine the ideal layout for your needs, "which can mean a lot of things for different people," says Bolster architect Agustin Ayuso. 
Paul agrees. "There is no ideal layout," says Paul. "There are idealized historic layouts, but expectations about how one should live have changed." 
He cites kitchens as an example, which used to be utilitarian afterthoughts, but are now the heart of the home.  
Bottom line: If you're looking to compromise due to cost, plan to spend time living in your new space, feel it out, and make layout decisions down the road. 
Look for value-engineering opportunities
Another area where you can afford to compromise is by selecting materials, finishes, and products that meet your needs and fulfill your aesthetic preferences at a good price point. 
Homeowners should begin by evaluating the types of amenities and resources they're most likely to use. Do you want a state-of-the-art HVAC system? If so, you may want to replace your windows with new, energy-efficient ones. But if a mini-split system will suffice, and your windows are relatively new (i.e. you're not immediately concerned about their longevity or energy efficiency), then you can probably hold off on their replacement. 
Selecting mid-range finishes and products for their value is a good way to keep costs down—but it will only net you marginal savings. In the end, scope is what drives costs on these large brownstone projects.  
"We often have clients who come to us with an enormous project scope including additions, floor leveling, relocation of kitchens and bathrooms, and central air conditioning, but are looking to keep costs down by selecting lower-level finishes. This is a recipe for disaster," says Paul. 
Scope becomes especially evident during the painting process: Most brownstones clock in at around 3,000 square feet. That's a lot of paint! 
For this reason, many brownstone renovators choose to forgo a Level 5 quality finish in favor of Level 4. This is the classic drywall finish, in which a second coat of joint compound is applied to the tape and screws, and the dried compound is then sanded.
(For context, Level 5 is the highest possible level of drywall finish, which involves applying a skim coat and will give the homeowner the smoothest possible finish. Not every room needs a Level 5 finish.) 
"In most old brownstones that have changed hands, the walls have already been painted over so many times," says Anna Karp, COO & Co-founder of Bolster. "At the end of the day, you're going to end up doing priming."
Another great area to explore value engineering is at the garden level of your brownstone, which is likely to be used less than other floors of the home. This is where it may make sense to install things like laminate cabinets and builder-grade appliances. 
Things that can be done later without major disruptions
When doing a brownstone renovation, some things can't wait—like flooring and deficiencies in building infrastructure (as discussed in Part I). But in certain instances, it's okay to leave things for later. 
"When the budget runs short, we tend to recommend to leave things that can be done later without major disruption or permits. This way the owner can do this later at their discretion without needing professionals or a general contractor to coordinate the work," says Agustin. 
He sites examples such as custom closet interiors, cabinetry, and decorative light fixtures. 
Some homeowners also choose to leave the areas found outside their four walls—like the backyard, or façade cleaning and repair—for a later date. 
Don't be afraid to kill your darlings
Often the most impressive aspect of a historic brownstone is the amount of original details found inside, like stained glass windows, coffered ceilings, and custom millwork. 
"Most brownstones were designed with luxury in mind: tall ceilings, large windows, hand-crafted mantels, and other woodwork or decorative plaster work. It's rare to come across a condo or co-op building that has the level of old-world craft baked into them," says Paul. 
That being said, just because it's there and in good condition doesn't mean you must—or should—keep it. Original details like rich mahogany and oak often overwhelm many homes by today's standards and sensibilities. 
A good compromise is to retain or restore some elements in their natural state, and get rid of or paint the rest to brighten up the space and lend a more modern look and feel to the home. 
However, even trying to salvage original details has risks and can end up costing you. Anna cites layout changes as one of the main culprits for losing some of the custom millwork. 
"A lot of people buy the house because of the millwork—but once they start the renovation, they have to come to terms with the fact that they can't keep everything," says Anna. "Restoring it is possible, but it's like a jigsaw. Inevitably, you'll end up with missing pieces, and that's where you have to be flexible."
The most important thing you can do is to understand your goals and expectations, and work with your team to design your home in a way that honors its history, while maximizing functionality and comfort. 
The Bolster Smart Renovation Zero-Risk Guarantee
How can a design-build firm guarantee a Zero-Risk renovation?
Bolster has pioneered Smart Renovation. We apply quantitative analysis along with our  proprietary technology solution to identify and quantify the performance risk on every renovation project. The result is a personalized strategic approach to each renovation that allows us to absorb 100% of the homeowner's risk. Your home will be beautifully designed, and delivered on-time and on-budget. That is our guarantee.
Smart Renovation & Zero-Risk means that Homeowners are now free to dream.
To start your major home renovation project visit bolster.us
The Bolster Promise video
Brick Underground articles occasionally include the expertise of, or information about, advertising partners when relevant to the story. We will never promote an advertiser's product without making the relationship clear to our readers.