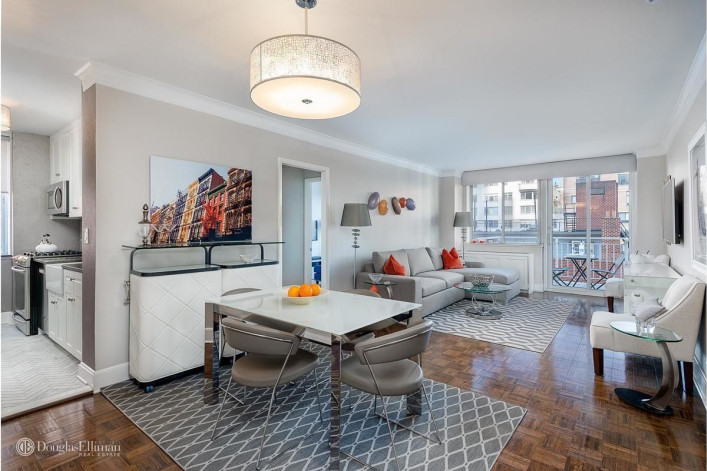 Lots of New York City real estate listings will mention an apartment or house as having "hardwood floors" and that's pretty self-explanatory. 
Sometimes flooring is described as "original parquet" or "gleaming parquet" (pronounced "par-kay") and what that means exactly might be less clear to some. And for those familiar with the term, it could inspire a less-than-enthusiastic response because some consider parquet out of fashion.
But not all parquet flooring is the same, and with the popularity of mid-century modern furniture, the style deserves another look. Here's what you need to know before you turn up your nose and miss out on a trend.
Parquet through the ages
So what is parquet flooring and why do some people have an issue with it? 
According to Dan DiClerico, home expert at HomeAdvisor (who himself restored his original parquet floors during the renovation of his Bed-Stuy brownstone), parquet is a distinctive style of flooring created by arranging small pieces of wood in repeating geometric patterns, like herringbone, basket weave, or mosaic.
"It's been around for centuries. At one time, it was only found in the most luxurious homes," he says. "In those early days, parquet was handcrafted from solid hardwood, making the floors as durable as they were elegant. Many of the finest American homes built in the 19th and early 20th century featured parquet flooring." 
But, he explains, the 1960s and '70s brought the mass production of parquet tiles, made with a thin veneer of wood adhered to a plywood substrate.
"As with all forms of engineered flooring, parquet tiles were thinner and less durable than solid hardwood floors. The process made parquet floors much more affordable, but it also cheapened their image," he says. 
So those people sneering at the idea of parquet floors are likely responding to the budget-friendly form it took in the '60s and '70s. But "true parquet," made of 100 percent wood, is actually experiencing a bit of a revival, says DiClerico, who attributes its increased popularity with an ongoing interest in mid-century modern design. "A nice parquet floor will be right at home in a room with lots of organic shapes and Herman Miller furnishings," he says.    
Improving or installing parquet
If you have parquet floors and would like to improve their appearance, it will depend on the type of parquet you are dealing with. If your floors are made with engineered tiles, they can only withstand refinishing once or twice, due to the thin veneers. (Keep in mind your floors may have already been refinished once.)
"The cheapest versions can never be refinished, because they're just too flimsy," says DiClerico. 
True wood parquet floors will cost about $3,500 to refinish, according to HomeAdvisor's True Cost Report. And to install new parquet floors in an average size home you will spend  around $4,500; using an engineered parquet tile will slash that cost significantly, to around $2,000. 
To install a new parquet floor with a complicated pattern, inlaid border, and expensive finish could cost as much as $10,000, according to HomeAdvisor's True Cost Guide.     

Lessons in parquet refinishing
DiClerico's brownstone had the original parquet floors throughout most of the parlor level, but they were damaged in some places and were finished in an unappealing orange stain. "But we really wanted to salvage them, alongside other original details in the home, like the pocket doors and marble fireplace surrounds," he says. 
The parquet was sanded down with a powerful belt sander.
"Even with the vacuum attachment, the sanding generated a ton of dust, so it's ideal to do this project as part of a major renovation, as opposed to when you're living in the home," says DiClerico. Following the sanding, multiple coats of wood finish with a dark mahogany tint were applied. "It took a few days to dry completely, and for the fumes to dissipate, which is another reason why it's best to tackle this project when you'll be out of the house for a while."
Diclerico's parquet project cost about $3,500, which is less than it would have been if he had installed new parquet floors. "Plus, they look great," he says. "And I like walking through the house, knowing that the flooring underfoot has been there for nearly 150 years."
Brick Underground articles occasionally include the expertise of, or information about, advertising partners when relevant to the story. We will never promote an advertiser's product without making the relationship clear to our readers.