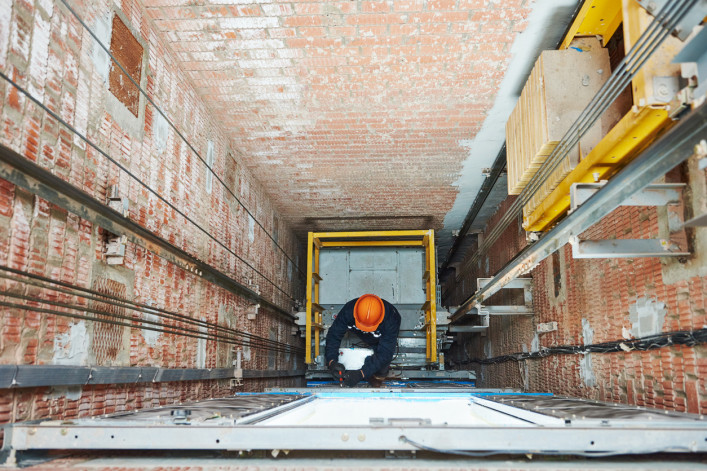 Our building is planning to renovate our elevators, and we're in the process of looking for a contractor to do the work. What should we keep in mind as far as the contract? Is there anything we should negotiate for or watch out for?
An elevator renovation can be a huge, expensive undertaking—and an inconvenient one even if you have more than one elevator—so the first thing to do is hire elevator consultant, says Niki Khindri, an associate attorney at NYC real estate law firm Wagner, Berkow & Brandt, where she reviews contracts for such projects for her condo and co-op board clients.  
"A consultant will help guide you through the entire elevator renovation, from preparing the scope of the work needed, to drawing up specifications and breaking down everything from hoists, and railways, elevator speeds, to the finish of the cabs, to seeking bids from contractors and making recommendations for ones you should hire," Khindri says. "They'll also be the point of contact throughout the project, so all sign-offs will have to go through them so they can ensure the work is being done properly and in accordance with their specifications." 
There are many elevator consultant companies in our extremely vertical city. To find a good one, ask for references from your property manager, legal counsel, or even other cooperative/condominium boards or through word of mouth. 
Choose the right contractor
Once bids start coming in, ask for referrals from the contractor's previous projects in other buildings, Khindri says, especially if you don't know the company. 
You should ask for examples of similar elevator modernization projects completed by the contractor in, say, the last five years. Also confirm that the company has valid licenses with the city and is properly insured. Ideally, the contractor should be qualified with the American Society of Mechanical Engineers (ASME)  
Be sure to review their financials. You want to see how long they've been in business, their profit and losses for the past several years (to the extent the contractor is willing to provide these—in general, you are looking for a strong positive cash position).
Keep in mind that while the consultant is intended to be an independent, unbiased resource, a board should also conduct its own due diligence. 
Negotiate a tight contract
"Payment and performance bonds are not necessary, but sometimes advisable for really big projects," Khindri says. "A rule of thumb is that for projects $1,000,000 or more, you may want your contractor to carry payment and performance bonds."
The cost of these bonds is usually added to the contract price, which means the owner might be paying more for these bonds but will have the assurance that if the contractor pulls out or doesn't pay subcontractors, the owner won't have to chase down the contractor. 
To minimize disruption to residents, spell out the exact timing of each stage in the contract, including the completion date. If your building has more than one elevator, make sure the work is staggered so that residents always have the use of at least one elevator at any given time,.
"You don't want the work stretching out into infinity, especially with something like an elevator," she says. "We always recommend or negotiate for liquidated damages."
These are per diem penalties charged to the contractor for each day that the work goes over the "substantial completion date," which is basically the end date specified in the contract for the completion of the work. This creates an incentive for the contractor to get the work done on time.
You'll also want to put a strong indemnification clause in the contract "so that if there is an issue like personal injuries, like if the workers get hurt doing the modernization or maintenance, we have a release of any claims against the co-op or condo," Khindri says. 
Similarly, your contractor should carry enough insurance or workman's comp insurance to "protect your building from any lawsuits or claims, since you sometimes hear horror stories of elevator disasters—things like people falling down elevator shafts or getting appendages stuck in closing doors—these are horrible, but it happens," she says..
The contract should also specify that when work is completed, your contractor will conduct regular elevator inspections and routine maintenance so make sure the elevator systems are running smoothly and to extend the longevity of the elevators. They can also rectify any Department of Buildings violations that may be discovered during them. Often, you can negotiate a five- or 10-year maintenance contract with your contractor, "and that consistency is important because, after all, they're the ones who did the original work on your elevators," Khindri says. 
Other areas of negotiation: Some contractors will include a year of maintenance for free on elevator modernization projects and/or agree to stagger the project if more than one elevator needs improvements so at least one elevator is always in working order. 
Sometimes, "contractors will perform maintenance on the elevator that's not being modernized for free until they get to the one that needs modernizing," Khindri says. "Then, while the other is being worked on, sometimes they'll offer a lower or free maintenance rate on the other until both modernizations are complete." It's all about how you negotiate—this is where having a consultant can prove advantageous as well.
New York City real estate attorney Bonnie Reid Berkow is a founding partner of Wagner, Berkow & Brandt with more than 30 years of experience litigating in state and federal courts in New York state, including cases involving breach of contract, fraud and breach of fiduciary duty, in addition to real estate disputes and commercial actions. To submit a question for this column, click here. To ask about a legal consultation, send an email or call (646) 780-7272.
Brick Underground articles occasionally include the expertise of, or information about, advertising partners when relevant to the story. We will never promote an advertiser's product without making the relationship clear to our readers.