Improve
Brick webinar recap: How to keep your parking garage safe
Webinar addressed causes of Ann Street collapse and NYC's Local Law 126
Engineers tell Brick lack of maintenance, not overloading were likely to blame
New Local Law 126 requires periodic inspections of parking structures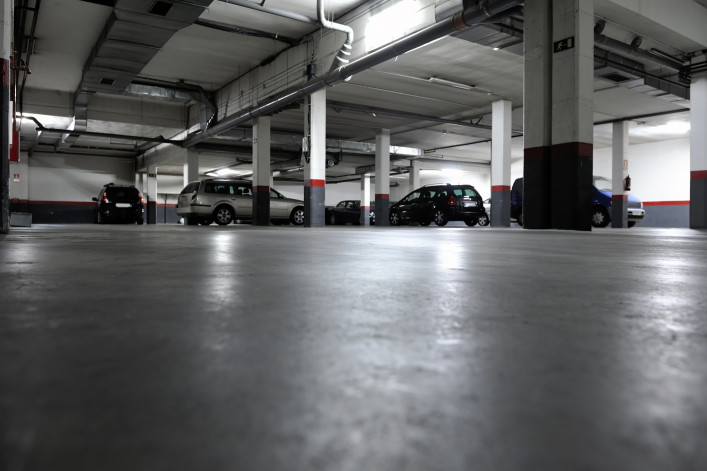 Victor Canales via Getty Images
New York City appears to be increasingly on edge about the safety of parking garages after the late April collapse of a parking structure in Lower Manhattan that killed one person.
On Saturday, New York City vacated four parking garages in Battery Park City, Coney Island, Chinatown, and Park Slope that appeared dangerous, Gothamist reported, including a multi-level parking garage under a 25-story apartment building at 225 Rector Place, which was found to have "extensively corroded concrete" slab reinforcements.
To help address questions and concerns New Yorkers have about parking structures, and shed light on a new local law that mandates parking garage inspections, Brick Underground recently partnered with property management platform Super along with engineering and architecture firm O&S Associates for a building safety webinar.
Likely causes of the collapse at 57 Ann St.
The webinar began by discussing the possible cause of the recent collapse. The age, overloading, and maintenance of the 98-year-old steel-framed building at 57 Ann St. have been suggested as potential factors.
To Suchi Jayasena and Prabhu Perumalsamy, both principals at O&S, corrosion is likely the main culprit.
They explained that garages are susceptible to corrosion primarily because they are open to the weather. Snow, rain, and deicing salts sluicing off cars and running down sloped driveways accelerates corrosion problems for steel and concrete. When water enters a concrete slab, the rebar can corrode, which causes loss of strength and will also cause the concrete to spall, Perumalsamy said.
Spalling occurs when the concrete cracks and comes off in flakes. It is a risk in our temperate climate, which has cycles of freezing and thawing.
The garage below the Champlain Tower South in Surfside, Florida, which collapsed in 2021 killing 98 people, had abundant concrete spalling, among many other problems.
A lack of maintenance is another key factor—buildings are often unwilling to invest in areas that owners and shareholders don't spend much time.
Perumalsamy noted that a 98-year-old building may seem old, "but if your structure was designed and constructed properly, and it has been well maintained, the age is not an issue."
Photographs of cars packed together contributed to a sense that 57 Ann St. was overloaded. But Perumalsamy pointed out that roof parking was added to the structure in 1957 and rated at 75 pound per square foot, which is higher than the current code.
Even if you took the Hummer EV, which weigh over 9,000 pounds empty and parked them "side by side and end to end throughout the whole roof, it would not exceed 75 pounds per square foot. So heavier vehicles and valet parking to us were not the contributors to this collapse," he said.
"Our feeling and from the photos and our experience, we believe the most likely cause was of lack of maintenance and repairs on the structure," he said.
Jayasena pointed out that in general, most owners and shareholders don't think a lot about the structural integrity of their parking garage. "For most people, out of sight is out of mind," he said.
"In a residential building, if you find a problem, you fix the problem right away. If the water is dripping down to your room or your office, you call management and they come and fix it. But in a parking garage, nobody really pays too much attention to dripping water unless it becomes a big problem," he said.
He added that images from the Ann Street garage showed corrosion of a support column and beams. "You can see the soffit of the underside of the slab is completely gone because of corrosion," he said.
Local Law 126 compliance
The webinar also emphasized the importance of complying with Local Law 126, which for the first time ever calls for parking structure inspections every six years. As Teri Rogers, founder and CEO of Brick Underground pointed out, 57 Ann St. was scheduled to file its first inspection report under Local Law 126 by the end of this year.
The collapse "has crystallized the importance of the many safety checks required by NYC," Lindsay Liu, co-founder and SEO of Super, previously told Brick.
These inspections "often feel like a burden, but recent events reinforce how important compliance and city regulation is in ensuring building safety and property value," Liu said.
Local Law 126, which applies to parking structures with more than three vehicles, both self-standing or part of a building, is being rolled out in phases. The first two-year inspection cycle will cover Manhattan Community Districts 1-7. You can see the rest here. 
The law requires inspections and reports to be conducted by a qualified parking structures inspector, who will create an annual observation checklist during the initial assessment with items to that need to be assessed regularly.
The law will require owners of parking structures to file a report with inspection results to the Department of Buildings.
Reports get one of the three following designations:
Safe: No repairs are required before the next inspection in six years.
Safe with repairs engineering monitoring (SREM): requires repairs or monitoring before the next six year cycle. 
Unsafe: Conditions threaten safety. This requires immediately notifying the DOB and closing the area. Repairs must be completed within 90 days or with a filed extension. 
Garage safety recommendations
The engineers at O&S recommend inspecting a building's garage structure once a year. Jayasena said a yearly walkthrough should include looking at the waterproofing membrane and drains. Engineers should be on the lookout for leaks, corrosion and trip hazards, he said. Installing drains where water pools will prevent it from being absorbed into the concrete.
"You should check drains and pipes and address clogs immediately, because that will stop any water from getting into your structure and corroding it," he said.
Super suggests the following checklist:
Inspect and repair the waterproofing membrane
Inspect and repair the drains and drainpipes
Repair leaks
Repair steel corrosion and concrete spalls and cracks
Repair potholes and trip hazards
Wash floors and check drains and pipes before and after winter
Wash and sweep floors during the winter to avoid salt build up
Budget for regular maintenance in your building reserves
The webinar also discussed maintaining the integrity of the roof's waterproofing membrane, especially if is being covered with a layer of pavers.
"Once the pavers are on there, your cost to repair the membrane is double, triple, quadruple what it would be before you, you put those pavers on," Perumalsamy said.
The good news, he said, is that most garages are designed with safety in mind and a major collapse is very rare.
"With regular inspection maintenance, your garage should remain safe for the foreseeable future," he said.
Brick Underground articles occasionally include the expertise of, or information about, advertising partners when relevant to the story. We will never promote an advertiser's product without making the relationship clear to our readers.