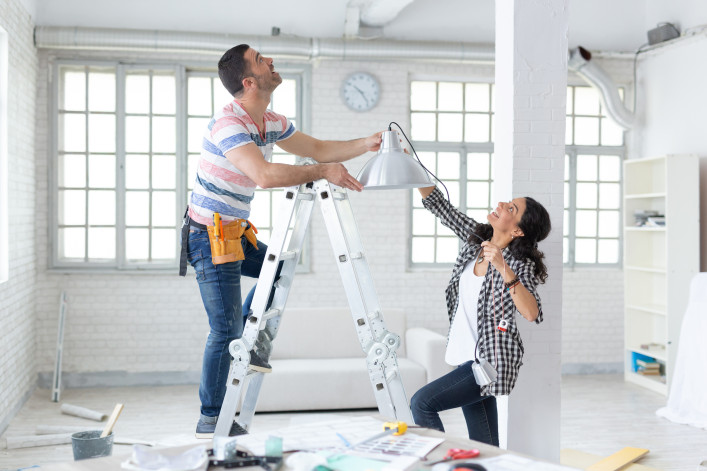 It should come as no surprise that there are countless elements required of an intelligent, compliant, and risk-free gut renovation. Layout rearrangement? Check. Stripping that uneven flooring? Definitely. Replacing the tub that's older than you are? Of course.
But some smaller component parts have a surprisingly large impact on the function and form of your dream home. We're talking about storage and lighting: two seemingly modest line items that, when executed properly, can add incredible value to the home–on both practical and aesthetic terms. 
"The first step is to ensure you're working with a smart design-build firm and a team that understands your family's lifestyle," says Anna Karp, co-founder of Bolster, a New York City design and build company that helps homeowners to control their major renovation by delivering industry-leading expertise and a radically transparent process. "If you have three kids, six toy boxes, and your partner collects rare books in their spare time, your storage considerations will be quite different than a single homeowner with a minimalist aesthetic."
Lighting, of course, poses a unique set of challenges. "If you live in a brownstone with windows in the front and rear of your home, your lighting needs will be unlike the process of designing for a condo or co-op that may have windows in every room, and it's important to consider how man-made lighting integrates from the get-go across all types of properties," Anna says. 
If you're planning a gut renovation, read on for a few smart ways to think about your lighting and storage needs.
Pro Tip:
With more than 50,000 square feet renovated in NYC, Bolster understands how to guide New Yorkers through any renovation challenge, from navigating Landmarks to recreating pre-war details, and gives them full visibility into project milestones. "Bolster is the only renovation firm to offer a fixed-price cost up-front. Once we perform due diligence and verify the existing conditions of your property, we absorb unforeseen project costs," says Bolster's CEO and co-founder Anna Karp. Ready to start your renovation? Learn more >>
Storage: What stays and what goes
Prior to embarking on a gut renovation is the perfect time to think about the items in your home that you want to keep, and the things you may want to toss or donate. "Having a realistic sense of how much stuff you want to hang onto will help inform the type and amount of storage needed," Anna says. 
"It's also critical to take stock of what sorts of items you have the most of and where it's best to store them based on how often you use them. If you're an amateur chef, chances are you're going to want more storage options in the kitchen for all those pots and pans. This will mean that the cabinetry can serve that purpose."
Millwork versus furniture
Bespoke millwork (such as custom cabinets or bookshelves) are big-ticket items in any gut renovation, so it's important to understand how you want to prioritize your budget. There's nothing quite like a beautiful built-in bookshelf, but ask yourself: are these shelves a "must-have" or a "nice-to-have?" 
"Think about what can be accomplished with millwork and what can be stored in furniture like dressers, standing bookcases, and chests," Anna says. Relying on furniture affords homeowners more flexibility in re-arranging their space after the project is complete, and it often frees up wall space for hanging art or keeping things bright and airy. 
Factor how long you are staying in the property to make the calculation. If you are staying for a short(ish) timeframe, consider that while new buyers like millwork, they are highly likely to want to customize the property for their own needs. 
Getting quirky
Sometimes the smartest storage solutions aren't the most obvious. "Consider very high cabinetry in the kitchen for pots and pans that aren't frequently used, hollow benches by the window or in the kitchen, secret storage areas, banquettes, and so on," Anna says. 
Show it off
This may come as a surprise, but some items that are typically stored can become a focal point in a room, creating a bold look that celebrates your lifestyle. For instance, if you're an avid biker or archer, consider mounting your equipment on the wall! 
"This is a smart way of saving space that can be factored into the design process, if you know you want your beloved fixed gear bike stored in a place that sparks a conversation," Anna says.  
Lighting
"Lighting is everything," somebody smart once said, and the sentiment is as true as ever. 
"When you're doing a gut renovation, you're usually going down to the risers," Anna says. "It's the perfect time to think about reconfiguring your lighting or installing new fixtures in place of old ones."
Think about tone
Not all light is created equal. "Consider what type of light you want to surround yourself with," Anna says. "There's natural light, warm light, and cold light to consider, and it's wise to consult with your architect to ensure that your chosen lighting fixtures produce the desired ambience. This is specially the case with LED lighting, which provides so many options."
Amp up the amperage
Many older and estate-condition homes often have insufficient lighting for today's needs. It's critical to consider the limitations of your home, such as lower ceilings or low amperage capacity. (Read all about what it takes to upgrade your electrical system here.) 
"In short, it's imperative that you check to see if your building's electrical capacity has been recently upgraded in order to ensure your apartment can carry a larger electrical load," Anna says. 
Consider your furniture plan
It's important to consider your furniture's layout when planning for electrical upgrades. Dropping "pins" of furniture into the sketches of your property may help you visualize what type of light you need and where (e.g. floor lamps vs. overhead lighting or sofits). It will also help you plan for outlets, which can help inform the design process with your architect. 
Stay the night
Before embarking on a major renovation, it's important to literally see what you're working with. "An out-of-the-box idea is to grab an air mattress and spend a night or two," Anna says.  
Once you've spent time in the space during evening hours, you'll have an intimate sense of what needs to change. "Experiencing the home by night and by day makes a huge impact when considering lighting. It's shouldn't be done blindly," Anna says. 
"The pun was intended," she adds.
---
Every year, New Yorkers waste over $700M following the usual renovation process.
Bolster has uncovered the drivers behind these inefficiencies and has developed a proprietary solution that applies to every home renovation project. Bolster is the first company to bring radical transparency, analytics, and accountability to the entire process. They promise that every project is thoughtfully designed and beautifully delivered for a fair price, on time, and on budget. To start your major home renovation project, visit bolster.us
Brick Underground articles occasionally include the expertise of, or information about, advertising partners when relevant to the story. We will never promote an advertiser's product without making the relationship clear to our readers.