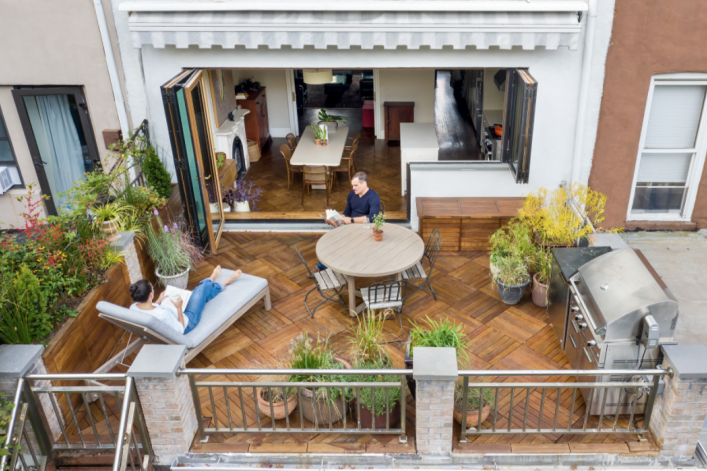 Renovating in New York City often takes place in phases and that's what happened with the 1882 Bed-Stuy brownstone that's home to my wife and me, and our two kids, ages 8 and 13. We finished the main renovation of the house a couple years ago but ran out of money before we were able to redo the back terrace. Like any neglected home space, it soon became a dumping ground for tools, toys, and the like, with an old, rusted-out charcoal grill serving as a sad excuse for an outdoor kitchen.
There was no way to ignore the mess out there. When we renovated our house, we added a NanaWall to the back of our kitchen. This is a glass folding-door system, and with such a strong visual connection to the terrace, the eyesore was a huge bummer. Then the pandemic hit, and outdoor space became not just a luxury, but key to riding out the shutdown. It was time to tackle the terrace.
As with the main project, I drew on my years of experience as an editor at places like Consumer Reports and Martha Stewart Living. Our contractor, Mark Powers, is an old friend I met at This Old House, where we both got our start in publishing in the early 2000s (he now divides his time between that work and small carpentry projects in and around NYC).
Even with all that know-how on the job site, there were still plenty of lessons learned. Here are the 10 biggest.       
1) Outdoor project costs go up fast
As with most renos, the terrace ended up costing a lot more than expected. When all the dust settled, we probably overshot our initial $15,000 budget by at least 50 percent. It was a classic case of "project scope creep," where seemingly small changes added significantly to the bottom line.
For example, we decided to add a mini-fridge to the plan, which is great for stashing wine and beer or marinating a steak. But it meant running a dedicated 120-volt line to the terrace. While we're at it, we said, let's put in a few more outlets for string lights, an outdoor projector, and other electronics. No problem, our electrician said. That'll be $1,000.
On the plus side, outdoor space is at such a premium in the city, even more so post-Covid. I checked in with Nadine Adamson, a broker at Brown Harris Stevens, who sold us the brownstone back in 2014. Landscaped outdoor space adjacent to living space is the most desirable feature of NYC apartments and townhouses, and she says if we were to put the house on the market today, the new terrace might bring in an extra $75,000. Even if we spent as much as $25,000 on the terrace, that's a pretty good return!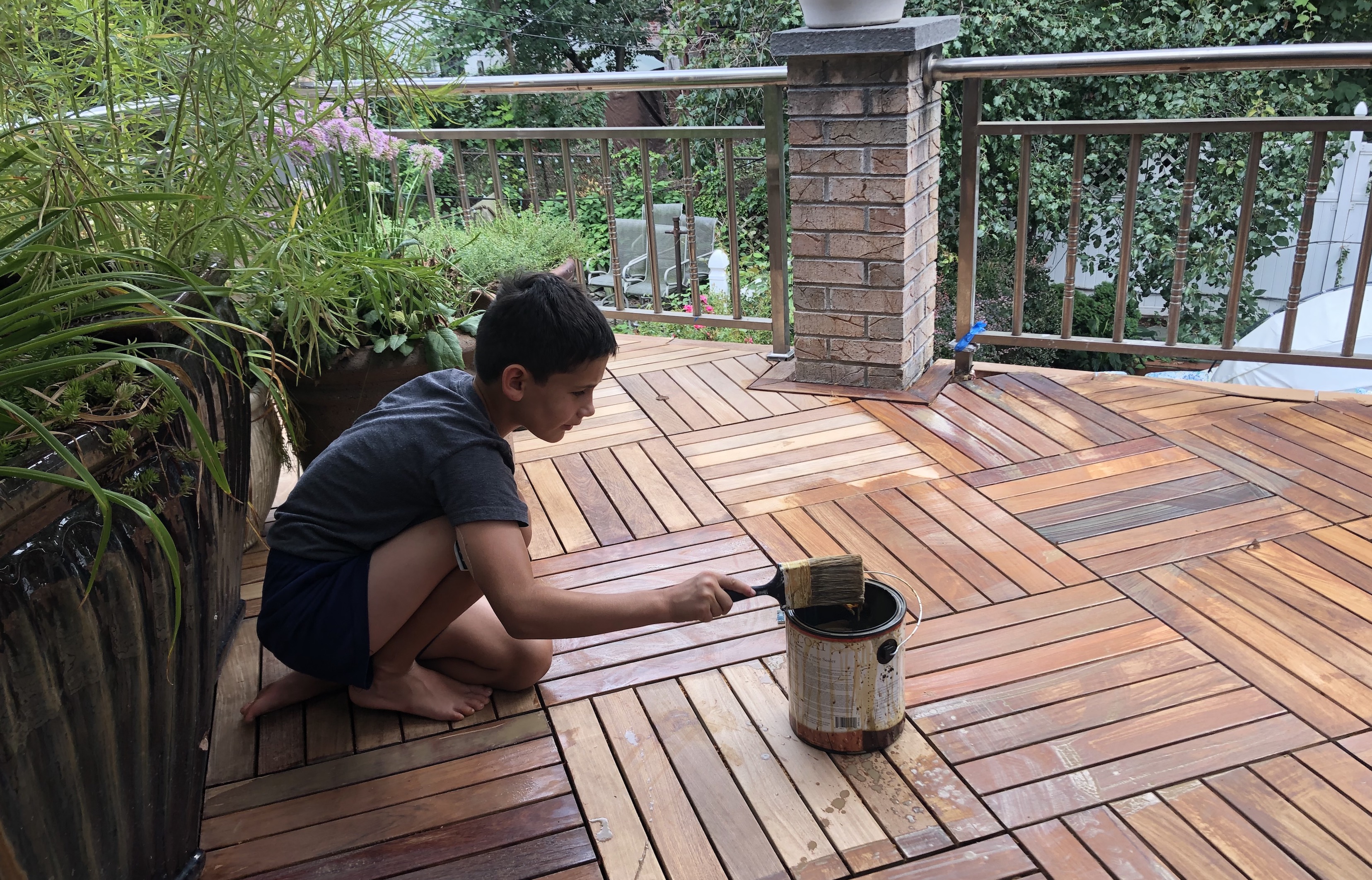 2) Floating deck tiles have multiple upsides
I owe it to Mark for recommending hardwood tiles for the project, rather than traditional deck boards. A Florida-based company called DeckWise makes the tiles in a range of sizes and materials, including the 20-inch-square ipe we went for, which cost $3,000. It's a floating system, meaning the tiles can be installed over any flat, stable surface with the use of plastic connectors.    
Deck tiles deliver a sleek, high-end look at an affordable price. They made even more sense on this project because we've had issues with leaks in the past. Though Mark sealed the existing ceramic surface before putting down the tiles, there's peace of mind knowing that if another leak happens, we can just lift up a few tiles to fix it, rather than having to rip out a whole section of deck.     
3) Small design changes can have major impact
The hardwood tiles would have been even more cost-effective if we hadn't made the decision to arrange them on the diagonal to echo the parquet pattern of the kitchen floor. It's a nice design touch that further integrates the two spaces, but it meant Mark had to make a lot of tricky cuts, adding $1,000 or so in labor costs. I still think it was worth it.
Another example of the power of small changes: Replacing the concrete finials on the brick railing posts with simple bluestone caps; Mark also cut out the small circular detail inside the railing. As a result, the railing now recedes into the background, and the bluestone caps are a great place to set a drink or plate during outdoor dinner parties.    
4) The natural looks carries ongoing costs  
A lot of deck materials require little to no maintenance; these include aluminum, plastic, and composite decking. They're not bad looking, but we really love the warmth of natural hardwood, and it's a much better match for the interior floors. The ipe tiles we chose will only retain their rich, red-brown tone if we clean and seal the surface every year. If not, the material will gray over. That wouldn't be the end of the world, but I plan to keep the color up for as long as possible, even if it will take up the better part of a Saturday every spring.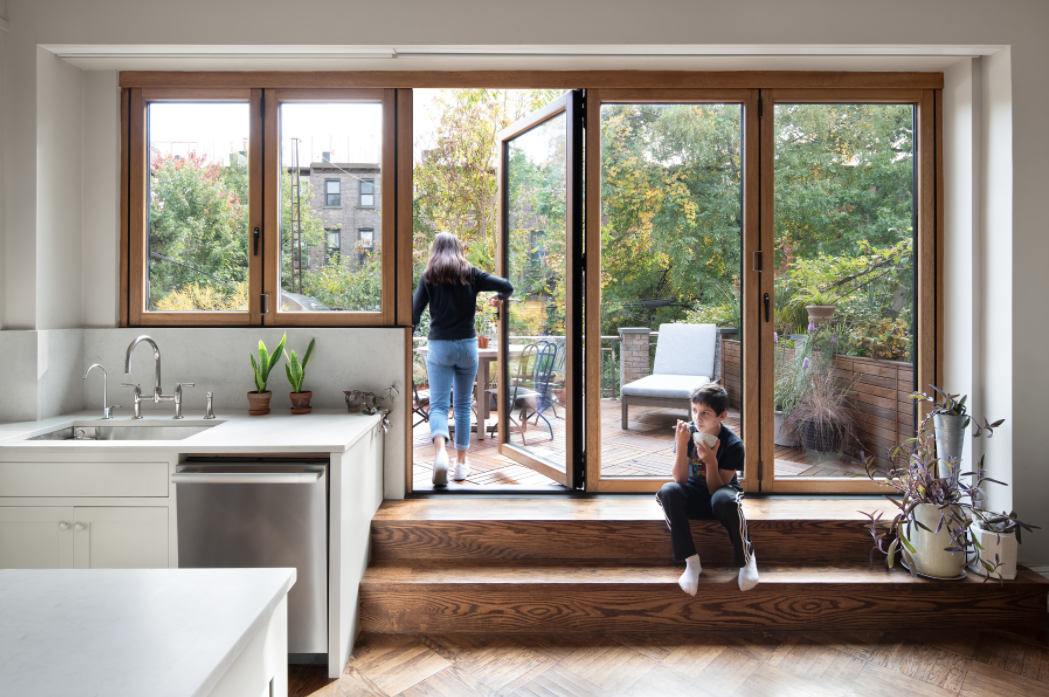 5) A high-end grill is worth the splurge
Sure, we could have spent a couple hundred bucks on a wobbly gas grill from a home center. But it probably would have to be kicked to the curb after a few years of service, especially if we kept it out year-round. That's a big reason we splurged on a professional-grade unit from DCS. The thing is built like a tank, with heavy-duty stainless-steel assembly on both the housing and grates and solid construction throughout. So it's fine outside through the winter, and we have a cover for it during blizzards and other extremely harsh weather.  
Besides its durability, the 36-inch grill is also fully featured, including built-in LEDs (much easier than holding a flashlight with your chin while manning the grill), a charcoal smoker tray, and a 14,000 BTU rotisserie burner that's great when cooking for a crowd. The stainless steel cart provides flexible storage for grilling tools. The fridge is also from DCS; besides cold storage, the soapstone countertop we added is a great work surface. (The grill and fridge are $10,000. ) 
6) Plantings create privacy              
Our terrace abuts the neighbor's. Even with a metal rail separating the spaces, it always felt like we were on top of each other when both families were outside. So we replaced the railing with built-in planters, clad in the same tiles used for the deck. Then we brought in our go-to garden guru, Jim Russell, to create an arrangement for the planters, including ornamental grasses, flowering phlox and fothergilla, winterberry, and a pair of evergreen shrubs. The result is a living privacy screen that provides color and interest throughout the year, and it's as eye-pleasing for the neighbors as it is for us. The plantings were about $700.
7) Shade is essential with south-facing spaces
The terrace faces south, so it's blazing hot in July and August. We wouldn't go out at all during those months, if not for the automated awning that shades the space. Not only does the awning provide protection from the hot sun, it's another design element. Our Para Tempotest fabric has a striped pattern in platinum gray that matches the fabric of the chaise lounge cushion.       
8) A little storage goes a long way
Mark designed a five-foot-long storage bench that sits under the NanaWall folding window; like the planters, the bench is faced in the same ipe deck tiles for a fully integrated look. It's the perfect place to stow potting soil, garden tools, cleaning supplies, and other odds and ends that previously cluttered up the terrace. And it's another perch for guests during large gatherings.     
9) Scale matters with outdoor furniture
The terrace truly functions like an outdoor room, so it was important to get the scale of the furnishings right, something I didn't appreciate at first. In fact, I almost plunked down a few hundred bucks on a 30-inch round table I saw online, not realizing how impractical it would be.     
Thankfully, we ended up working with RH Interior Design, which offers free design consultations for RH members. Our designer asked up how we intended to use the space, then took precise measurements of the deck, as well as everything that would go in it—the grill, fridge, storage chest, and planters. Based on those inputs, she drew up a few furniture plans, most of which revolved around a 48-inch round table, which was the right size for the deck and for our needs.
We settled on the Aegean teak round dining table, which goes nicely with a set of existing antique chairs. The matching Aegean teak chaise completes the furniture plan, its nickel-colored cushion coordinating with our kitchen's muted color palette. We spent about $4,000 on the furniture.
10) You don't have to go out to connect with nature
This final lesson is maybe the most lasting. Because the terrace is an extension of the house, as opposed to a tacked-on element, we can enjoy the connection to it even when we're stuck inside, for example, watching the snow fall or the rain pour down. The NanaWall made the experience possible. Finishing the terrace was the last critical piece of the puzzle.
Brick Underground articles occasionally include the expertise of, or information about, advertising partners when relevant to the story. We will never promote an advertiser's product without making the relationship clear to our readers.