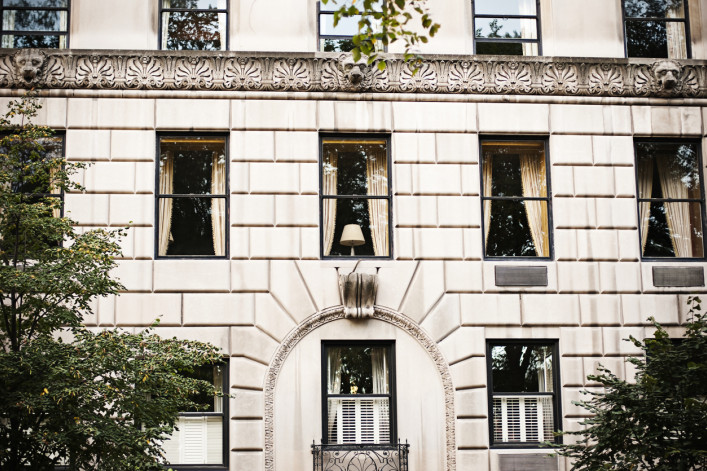 Even in the new gilded age of the glassy, glamorous condo, the prewar classic six apartment remains one the most coveted real estate catches in New York City.  Gracefully designed and solidly built, the classic six is known for its six distinct rooms (a living room, formal dining room, kitchen, two bedrooms and what's known as a "maid's" room), ceilings of at least nine-and-a-half feet, hardwood floors, separate public and private living spaces, moldings and cornices, and on some occasions, even a working wood-burning fireplace or turn of the century intercom system. They're also relatively rare, further adding to their desirability (and cost).
The drawback, if you can afford and find a classic six, is that these apartments often need significant renovations to accommodate a contemporary lifestyle.
"Many people who fall in love with a classic six know they're in for some work to ensure their new home fits their lifestyle, especially if they are purchasing a classic six in an estate sale condition," says Anna Karp, co-founder of Bolster, a New York City company that empowers homeowners to control their major renovations by delivering industry-leading expertise and a radically transparent online platform. "What New Yorkers often don't realize are the unique considerations and challenges posed by these historic properties—some obvious, and some not so obvious. It's crucial to work with architects and contractors who have extensive experience doing this kind of specialized work."
Below, Bolster architect Michael Fasulo, who specializes in prewar projects, explains what to keep in mind during the renovation process.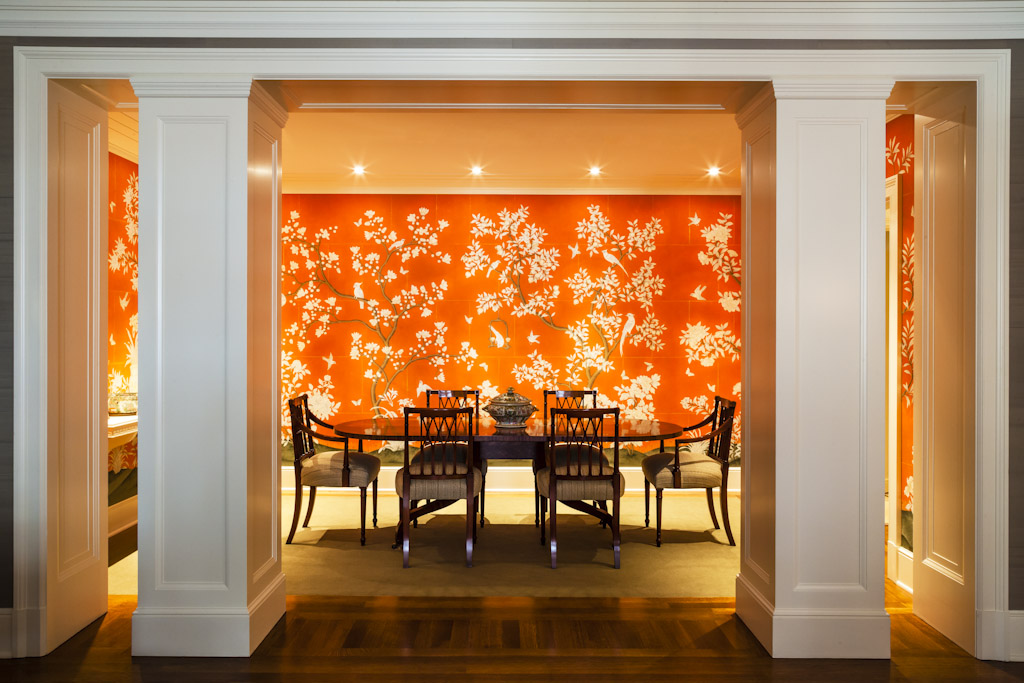 Spatial Arrangements
Like many apartments built in the early part of the 20th century, the traditional classic six doesn't always accommodate the needs of modern living very well.
"They were designed for a different lifestyle, often with a small kitchen space arranged for staff," says Michael. "Now these are spaces the whole family lives in."
A classic six typically has a dining room, which may be better deployed as part of an expanded kitchen area. The maid's quarters, if not needed as a child's bedroom or guestroom, might be reconfigured as a breakfast nook, home office, laundry room, or mudroom.
"A family with two or three kids has a lot of stuff. It's things like strollers and hockey sticks, those ubiquitous three-wheeled scooters and likely many pairs of shoes. It can be helpful to have a space to drop things off at the door right by the service elevator," says Michael.
The generous proportions of prewar layouts can yield unexpected rewards in the hands of a savvy architect. Working with an empty nester couple in their late 50s, Michael started with a plan that had a large floor area but was organized in a way that made the apartment feel very small and closed in. To open the place up, they put large openings in the walls of the rooms adjoining the living room. A normally abandoned dining room lent space to the living room. An unused bedroom became a study also connected to the living room. The maid's room was repurposed as guest suite that doubled as laundry when company wasn't around. Spaces that were closed off or normally vacant in the original plan were added to the rooms that saw the most use, greatly improving the comfort of daily living in the apartment.  
Deciding What to Save and What to Keep
If you're renovating in a prewar building and are hoping to control costs, it's best to work with what you have as much as possible. Disturbing walls, electrical wiring, and plumbing can quickly have a domino effect, requiring the replacement of an entire wall—including the associated electric and plumbing networks. And that's typically no small expense.
"I worked on one project where we were moving the bathroom sink about a foot to the left, and the moment the contractor tapped on the wall, a third of it fell into the bedroom," says Michael, who explains that prewar walls are often a delicate mix of plaster and concrete. "They're not as fast and forgiving as sheetrock." (A prime example: if you want to install an electrical outlet in a prewar wall, you need to chisel a channel for the wiring, as opposed to making an easily patched hole in sheetrock.)
"There's a certain level of known risk associated with renovating pre-war apartments–it's just the nature of dealing with older and often times more finicky infrastructure," says Michael. "Sometimes, these walls just want to stay where they are. Of course, we restored the wall and repaired damages, but this goes to show that you'll want to work with an experienced team who knows how to quickly and correctly mediate any bumps in the road."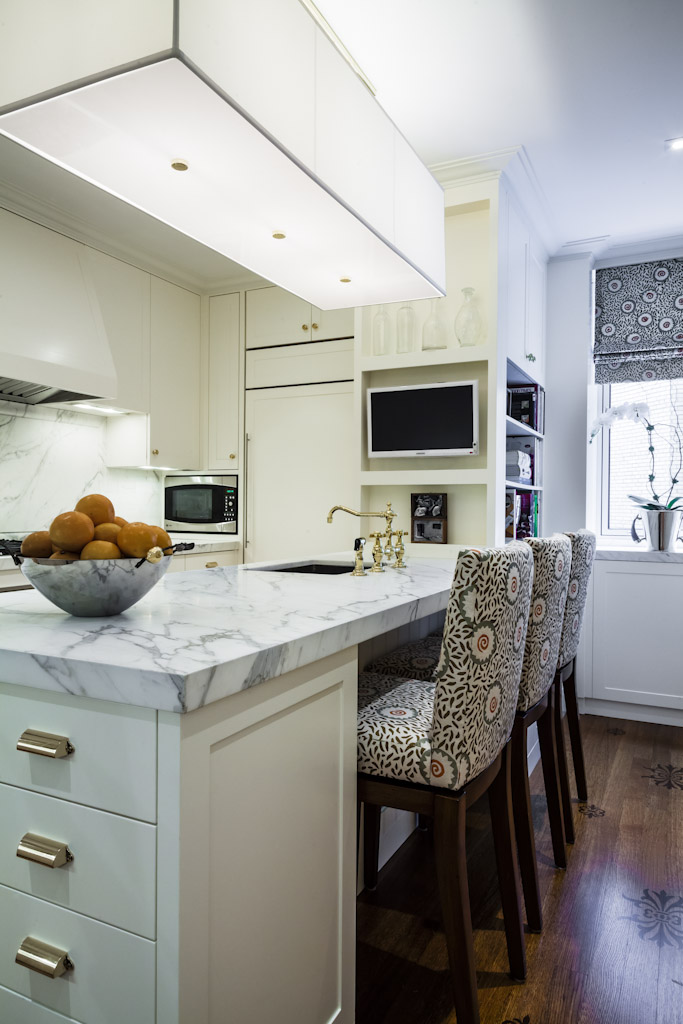 Navigating the Co-op/Condo Board
Perhaps the most crucial step in any prewar co-op or condo renovation is to submit a preliminary sketch of the proposed work to the building's board before getting too far into design. Even what may seem like minor changes, such as adding six inches to a bathroom, can be an issue due to "wet over dry" rules (i.e. restrictions around putting a room that uses water above a room that does not).
"If there's a leak, it impacts everybody," Michael says. "Somebody downstairs could have a Rothko collection. In New York, you never know!"
The co-op board has almost total control, and reviews (and approves) plans with the overall interest of the building in mind, so it's best to suggest reasonable changes.
"Imagine the building as a village with no yards," says Michael. "When you do work, you want to think about what you'd tolerate if your neighbor did it."  
While it might occur to you to try to get around your board's policies, you shouldn't get your hopes up.
"They try to hold everybody to the same standards and are usually reluctant to set new precedents," says Michael. As an example, Michael points to a renovation where the homeowners wanted to reduce the number of bedrooms, which raised some eyebrows on the board: many were concerned about the residence's potential change in value going from four bedrooms to two.
"We had the whole board into the apartment. We walked them through everything. Gave them the plans and images of what the apartment was going to look like. We ultimately won over the board by taking those extra steps to show the value of what we were designing and building. Not long after, the renovation was approved," Michael says. 
Extras Required by Your Building
A similarly critical component of any renovation in a prewar co-op or condo is your building's Alteration Agreement and building requirements.
Track down the most recent version of your building's Alteration Agreement and make sure you understand exactly what's required when renovating. It's crucial to work in tandem with an architect and a contractor when going through the document, as requirements can add expenses to a renovation project—thus impacting your design decisions.
"The alteration agreement is a great guide to the dos and don'ts of renovating in your building," says Michael. "To ensure the smoothest planning and design process, we ask that homeowners prepare a brief of all relevant documents—the Alteration Agreement being one of them—so we can be familiar before we have the first site visit."
Extras that you may not have planned on (or budgeted for) include:
Mandatory window replacements (with building specified models a 'normal' window can cost as much as $4,000 a piece–even more if they are large or need to be fire-rated).

New electrical supply risers if you are doing HVAC, as well as replacement of branch plumbing lines when moving plumbing fixtures.

As mentioned previously, when there's water trouble in one apartment, it can impact other homeowners. Special interior waterproofing requirements are often mandated, as well as moisture-sensing shut-off valves (which can cost as much as $1,800 installed) at washing machines or other wet appliances.

Should your renovation require any kind of plumbing work on the building's main risers, it is not uncommon for a building to mandate the use of pre-certified professional plumbers of your building's choosing. "They know the building, and the board trusts they're not going to cause leaks. Naturally, they also charge a lot because they have a captive market," says Michael.

Strict limits on the duration of renovations can have a big impact on the scope of the work you can do, and exceeding those limits is extremely costly. "The fines can escalate the longer you go on," says Michael. "It might be $100 a day for the first week, then $500 a day the second week."

Noise is also a common issue in co-ops and condos, and so buildings will often require acoustic engineering reports and special sound insulation in walls, floors, and ceilings.

Old buildings also house old gas lines. If the gas lines in your apartment can't pass current pressure testing rules (and many can't), and if you want to move a gas appliance, you may have to convert to electric.

Finally, insurance rates for general liability and workman's compensation are costly on any New York City renovation project. Individual co-ops and condos determine insurance coverage independently, and the insurance coverage your building requires can be—and typically is—much higher than the legal minimums. In renovation projects, you inherit the insurance costs, which impact the overall budget.
Asbestos removal
If your apartment hasn't been recently renovated, you should be prepared to find asbestos, at least somewhere. "It's all over the place," says Michael. "And if you find it, the job has to stop in that area." A staple of pre-70s construction, asbestos can often be found in window caulking, floor tiles, plaster, in radiator enclosures, and around heating pipes.
The best way to prepare for asbestos is to do your due diligence before any kind of work starts (including design), so it's not a surprise.
"The Bolster team has years of experience dealing with gut renovations in prewar apartments where asbestos is a common occurrence. Not only do we know how to deal with it if we discover it, but we usually know how to anticipate its presence in the earliest stages of planning, to help manage the homeowners' expectations," says Anna. "It's particularly important that homeowners have a full overview of challenges they'll face during their renovation—and the solutions available to them. This is a critical consideration with estate purchases, when families are in contract but haven't fully closed on the property. At Bolster, we simply tell them the truth, so they know what they're embarking on."
---
Every year, New Yorkers waste over $700M following the usual renovation process.
Bolster has uncovered the drivers behind these inefficiencies and has developed a proprietary solution that applies to every home renovation project. Bolster is the first company to bring radical transparency, analytics, and accountability to the entire process. They promise that every project is thoughtfully designed and beautifully delivered for a fair price, on time, and on budget. To start your major home renovation project, visit bolster.us
Brick Underground articles occasionally include the expertise of, or information about, advertising partners when relevant to the story. We will never promote an advertiser's product without making the relationship clear to our readers.