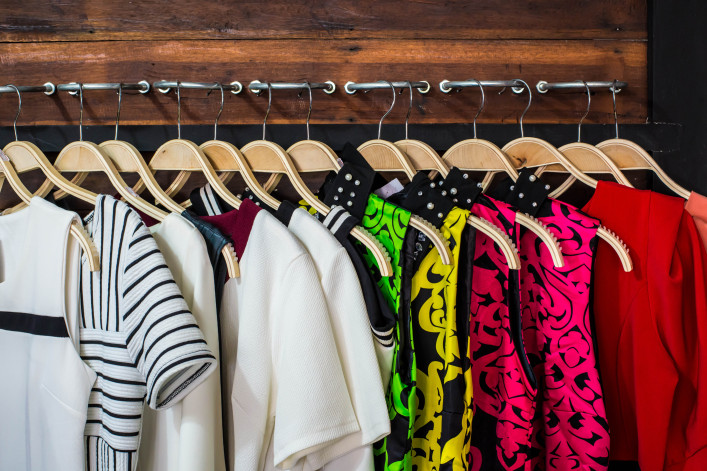 As a lifelong New Yorker who has only known NYC apartment and dorm living (thanks to NYU), I consider myself somewhat of an expert at learning to live with miniscule closet space. However, when I opened my closet last week to look for a dress for a celebration, I realized the once meticulously organized and efficient space was a downright mess.
In my 30-inch by 30-inch by 100-inch closet, dresses were mixed in with blazers, which were interspersed with skirts and blouses still wrapped in plastic from their last trip to the cleaners, and an array of mismatched hangers were about as organized as a day in the Trump White House. I shudder to even mention my two-drawer shoe caddy, which devolved into what can only be described, at best, as a heaping pile of chaos (see proof below).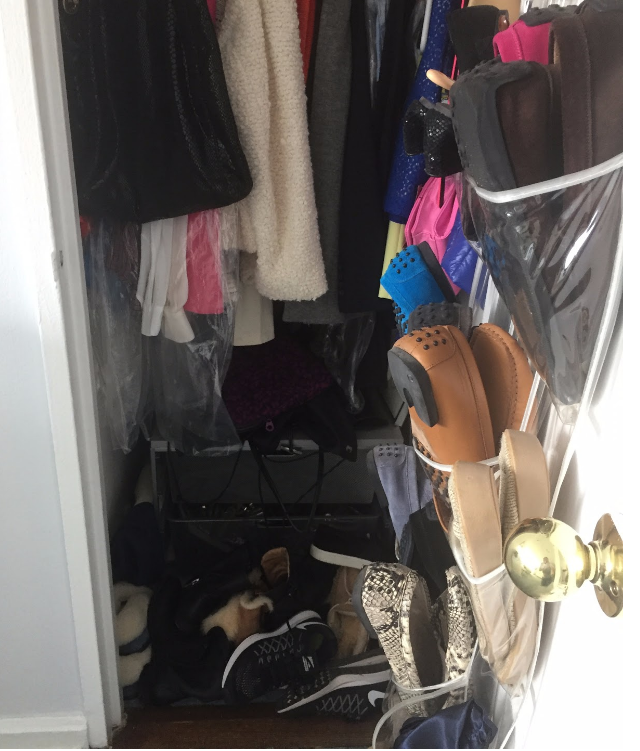 My tiny closet needed a makeover ASAP. It was time to put all of that knowledge I'd honed about how to make the most of a small closet to good use again.
Below are the steps I took to (successfully) reclaim control of the space.
Know what you've got
My first step was to go through everything I'd somehow managed to jam into my closet in the first place. That meant taking all the hangers out, removing all of the shoes from the floor, and clearing every last shelf. This was by far the most tedious step, but also the most helpful.
The gown I'd worn to a family friend's wedding several years ago? Donation pile. The blazer with a mysterious stain on the arm I'd tried to remove to no avail? Garbage. The silk blouse that goes perfectly with a pair of skinny jeans? That stays.
I did a similar purge with my shoes and accessories, and when all was said and done my wardrobe was about 15 percent lighter, already a victory when you consider the overall size of the space I was working with.
Move things out
With my revised wardrobe in front of me, I examined each piece of clothing and determined if my closet was really the best space for it. It turns out there were a few tops I could store in my dresser instead, where space is at less of a premium.
I also relocated some of my bulkier blazers to hooks I have on the back of my bedroom door, and placed another one in under bed storage, along with some winter shoes that won't see the light of day for months. With hopefully at least another six weeks to go before I need to start reaching for the heavier stuff, what's the use in it taking up valuable space in my closet right now?
By going beyond the closet and looking at my apartment as a whole, I was able to utilize space I'd forgotten I had.
Don't be afraid of heights
As a short person with pretty bad balance, putting clothes or accessories on a shelf out of reach is pretty much the kiss of death for me. 
However, when I showed a friend a photo of the mess my closet has become, the first thing she noticed was all the unused shelf space. That was enough to get me to do a little tinkering and make use of the space my closet does offer. I've learned to embrace those hard-to-reach shelves by using them to store clothes I wear in opposite seasons. In other words, in winter I use them for summer dresses, skirts, and light tops, and in the summer they're the perfect place for my blazers, sweaters, and heavier button downs. The seasonal use also ensures I only have to risk life and limb twice a year to make the switch.
Another option, if you don't have shelves, is to move your hanging bar down and add another one up top. By making use of vertical space, you get double the storage. Genius!
Embrace uniformity
Confession: Even with all the closet knowledge I claim to have, I don't know if I've ever owned a uniform group of hangers. Mostly, I've got flimsy dry cleaner hangers, hangers from myriad department stores, and various other misfits.
I'd consistently heard having identical hangers was a great way to save space, and make it look better, so when I spotted a sale on Joy Mangano Huggable Hangars
, I figured I'd give them a try.
As it turns out, the woman responsible for inventing the Miracle Mop (which later led to a portrayal by Jennifer Lawrence in the aptly titled movie, Joy) knows what she's doing. The hangers are thin and chic, and the non-slip velvety finish ensures even the slinkiest of silk tops won't fall to the floor in a wrinkled heap.
Swapping out all of my old ragtag hangers for a sleek new set was probably the best closet-related decision I made, and it gave me plenty of space. Thanks, Joy. Now I can go out and buy more clothes!
The takeaway
Overall, the closet makeover took about two hours to complete (plus shopping for hangers) and has made my morning routine much less stressful.
I can now see each item of clothing in my closet without lifting a finger, and nothing has wrinkled or fallen to the floor due to overcrowding and a lack of space. Gone are the days where I reached inside and pulled out whatever was easily accessible and in wearable condition.
Now I can take my time each day and piece together the perfect outfit without being rushed or flustered. Plus, now that I know how good my closet can look (despite its size) I'm on a mission to never let it become a mess again. So far, so good!
Brick Underground articles occasionally include the expertise of, or information about, advertising partners when relevant to the story. We will never promote an advertiser's product without making the relationship clear to our readers.