Products + Services
How to hire a cleaning service in NYC, plus tips for being a good client (trust us, it pays off)
Word of mouth is still the best way to get recommendations and find a cleaning service you can trust
When searching online, look for companies that are transparent about their services and their prices
Plus answers to: Do you need to clean in advance? Should you be there? And what about tipping?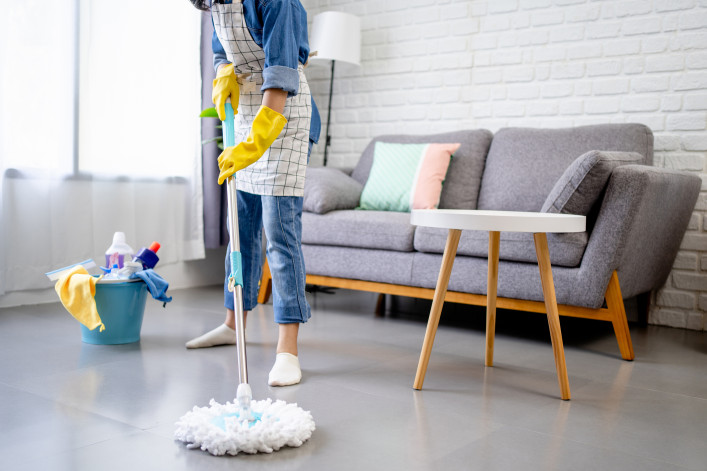 If you're looking to hire a cleaning service for your New York City apartment or brownstone, it can be hard to know where to turn. After all, you'll be inviting strangers into your home and entrusting them with your personal belongings and intimate spaces. 
The goal is to land a service that does a stellar job and won't break the bank—and can handle a deeper clean whenever that's needed. (Read Brick's guide for a breakdown of available services.)
"Everyone has different standards and different means, and sometimes those things are aligned and sometimes they are not," says Sabrina Fierman, founder of New York's Little Elves. "Sometimes people don't care about the dirt they can't see, or if they do, they might not have the means to do anything about it, whether in terms of their own time or the budget to pay someone else to do it."
In other words, if you can only afford a one-time cleaning, you can do just that. But if you are able to commit to a recurring service, you will especially want to make sure you sign on with a company that's a good fit. And depending on your situation, you may also want to find a one-stop-shop that offers special services, such as when you're renovating or moving. 
So knowing what to look for when researching different companies is the first step, with cost just one (important) criterion among many. 
The following is your roadmap for getting reliable reviews and recs so you find a service you can trust, comparing cleaning services to see how they stack up, and managing the relationship to keep both parties happy—and your place looking its best. 
How to find a reputable company
Doing a Google search will turn up lots of companies—but it's up to you to do your due diligence and weed out any wackos. 
Beware of those glowing testimonials on the company's website. You're better off relying on Google Reviews, Yelp, or other consumer rating sites where people must be verified or at least identified (and not by a random initial). You can also check the Better Business Bureau to see if there are any dings. 
Even better yet, rely on word-of-mouth recommendations. Ask your neighbors and doorman for any leads; having a pro who is already familiar with the building can be a big help, and your sources will be able to vouch for whether the cleaner shows up on time and is courteous to the building staff. Canvas your local social network, too, as well as work colleagues who live in the city.
Brokers are another great resource—they tend to have a shortlist of tried-and-true cleaning services they use for open houses and stagings. Same for design professionals in case you worked with one on a recent project (or have any friends in the industry).
And once you land on a service, you can/should ask for a few references. If they refuse to provide any, move on. 
How to compare services and pricing
First impressions mean a lot: Does the website look polished or slapdash? You can expect the work performed to follow suit. But beyond that, you'll want to see some transparency in the different services that are available and what they will cost. 
For example, MyClean offers five "clean types" ranging from standard (with a 40-point checklist), standard-plus (50-point checklist and 50 percent more time on focus areas), deep clean (50-point checklist plus inside oven/fridge/cabinets and 150 percent more time on focus areas), moving (similar to a deep clean), and post-construction/renovation (customized to the space).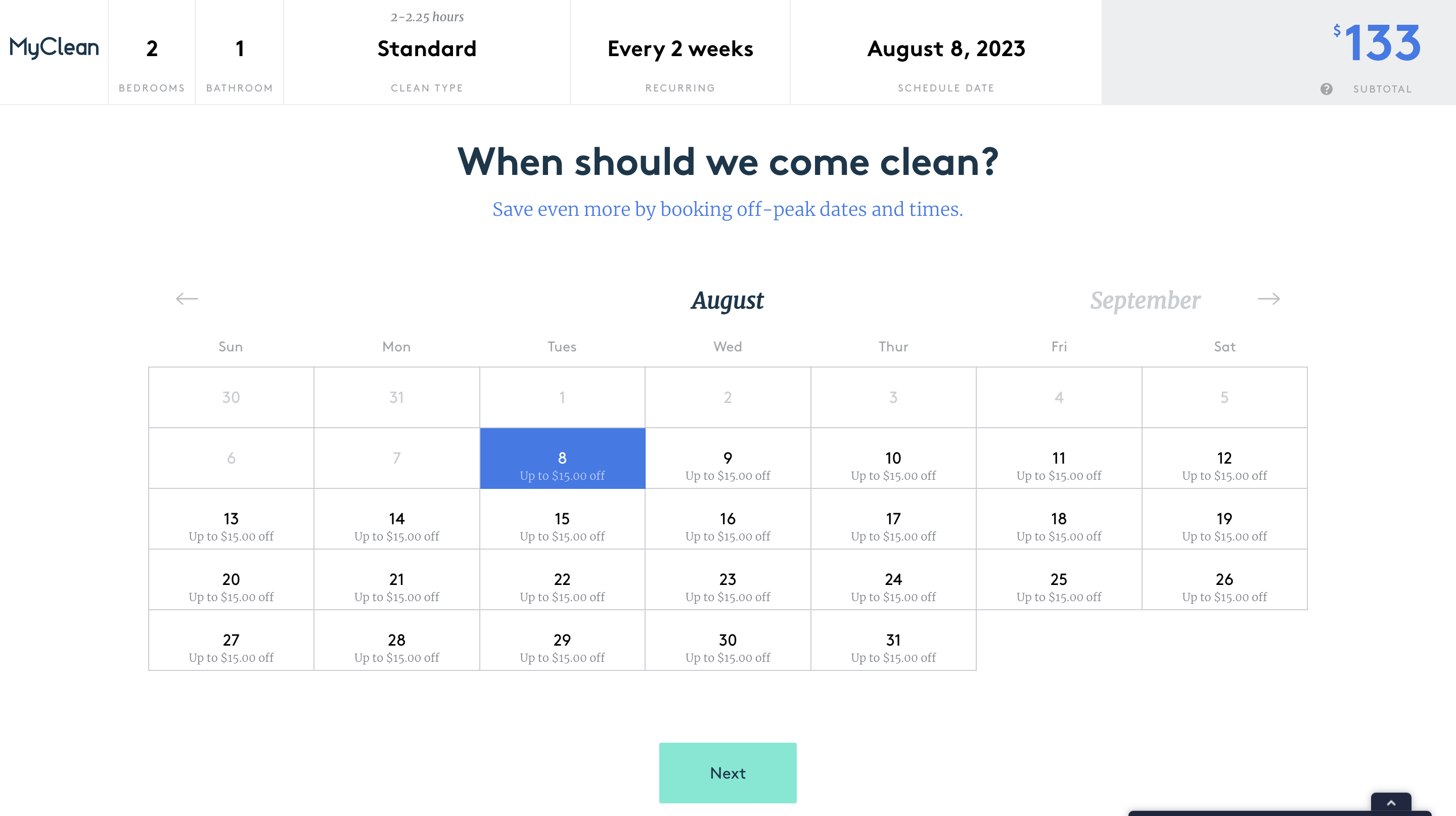 Booking is seamless: You choose the clean type, number of bedrooms/bathrooms, and whether it's a one-time or recurring plan—and if recurring, whether that will be weekly, bi-weekly, or monthly. The price is provided in the upper right corner and you can see how picking "off-peak" days and times lowers that (like when booking flights). Add-ons will bump that number, which you can also see. 
Synergy Maids is another tech-forward company that offers quick online booking that shows the pricing as you select different options—a one-time fee of $184 for a two-bedroom, one-bath apartment drops to $138 for bi-weekly (though you will still be charged $184 for the first visit). Unlike most other companies, Synergy Maids only offers standard cleaning; if you require a deeper cleaning, you can choose an hourly rate and the number of cleaners (for example, four hours with two cleaners costs $523).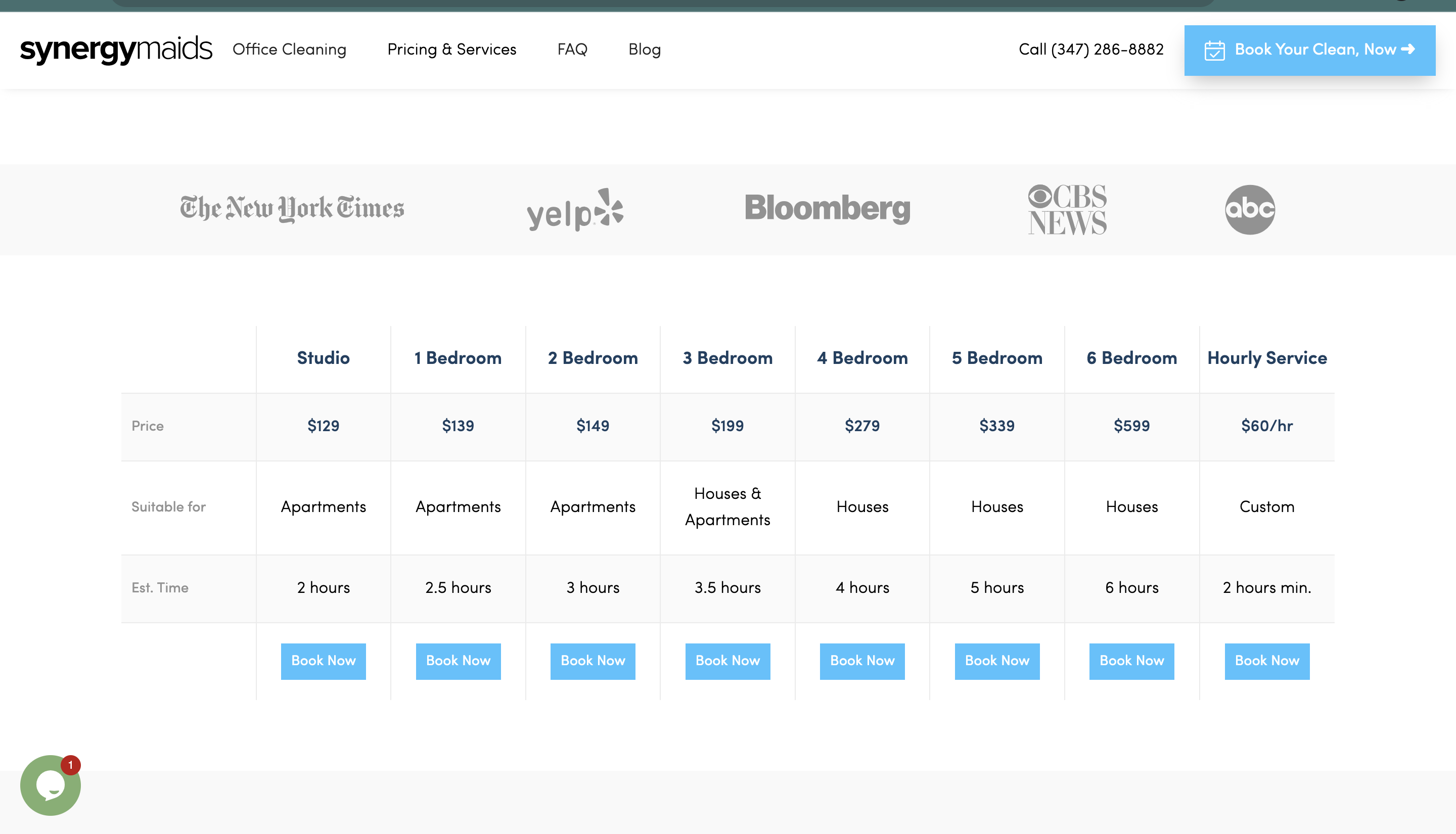 With Urban Company, which offers regular cleaning and move in/out cleaning, you can choose among "full-home packages" based on apartment size with a nifty pop-up window that shows what exactly is included, room by room. Or you can just book by the room, in case you just want to pay for the kitchen and/or bathroom. "Deep clean upgrades" are available, too, for the posted prices. All can be scheduled online. 
At the other extreme, New York's Little Elves offers standard cleaning, deep cleaning, and post-renovation cleaning, as well as pre/post-event clean-ups and its new Four Seasons service, a comprehensive option targeted around seasonal concerns. It even offers packing/unpacking help and will coordinate specialty services like external windows, carpets, upholstery, and chandeliers. As for pricing, you'll need to fill out a form and request a "ballpark estimate" that will need to be confirmed by an on-site walk-through.
Fierman says they often require a one-time deep cleaning before you can begin routine housekeeping and charges a standard $60 per hour per cleaner (with a four-hour minimum) for all of its services. Any cleaning that requires a crew of three or more cleaners has a supervisor at $72 per hour; this is typically not the case for a routine cleaning unless your space is especially large.
Kadi Dulude, founder of Wizard of Homes, another full-service company that even offers organizing and handyman services, says they like to start with a deep cleaning because "it's the only way to ensure the apartment gets cleaned the way it should be." It's not a hard-and-fast rule, though. If you can show that your apartment is in decent shape (backed up by recent photos), you can skip this step and sign up for a standard cleaning. You can see pricing by clicking on the tab for each service and then book it online.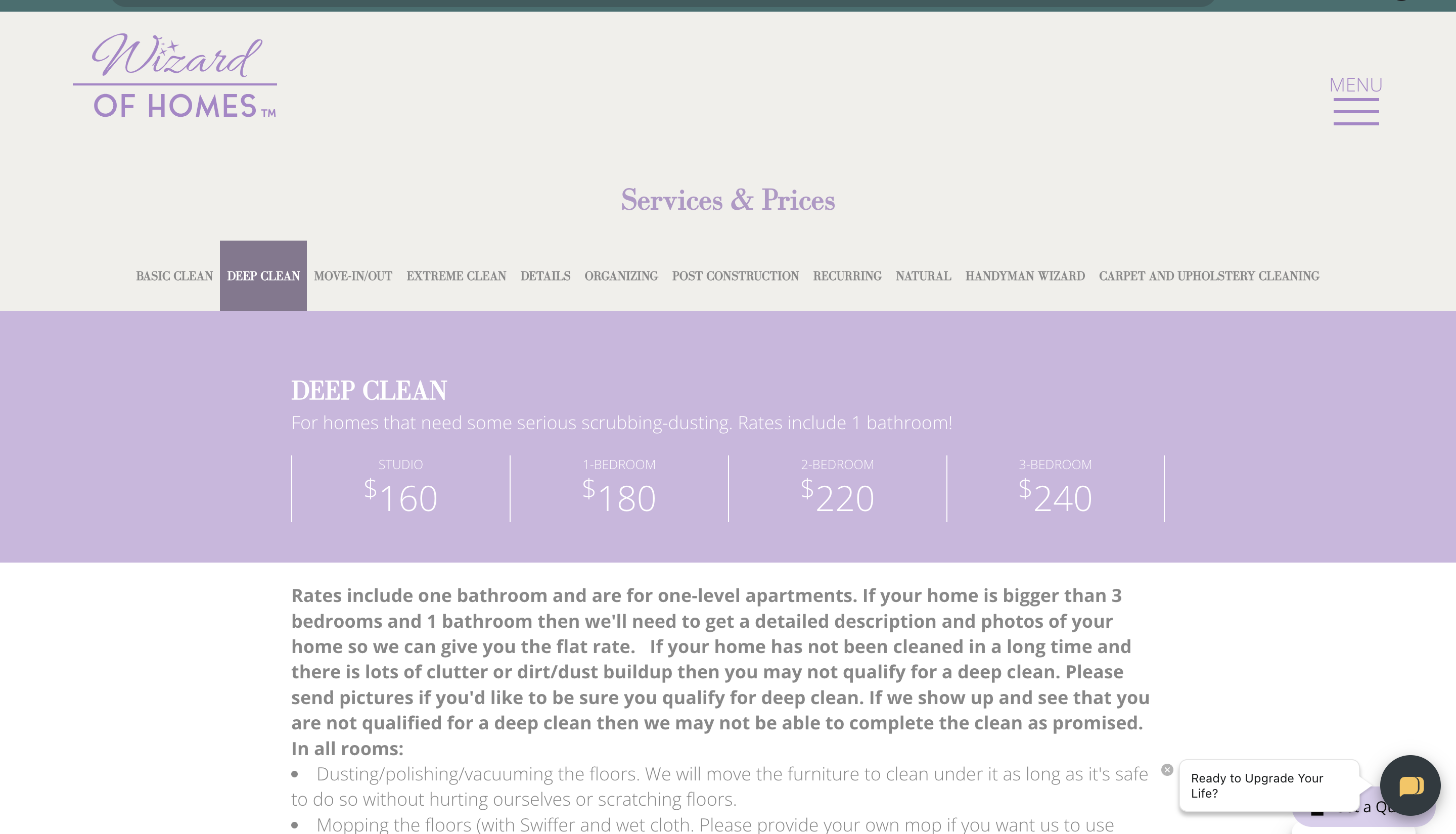 Who will be doing the cleaning?
According to their websites, the companies mentioned here rely on a staff of paid employees rather than farming out the jobs to independent contractors. That means the cleaners are screened (including criminal background checks) and trained and also bonded and insured in case anything goes wrong. (It also means the workers receive fair wages and sometimes benefits.)
All companies claim to send the same person for recurring cleanings—"no rotating cast of characters," Fierman says. 
Not happy with your existing cleaner? You'll want a service that lets you request someone else without any hassle. If you don't see all of this spelled out loud and clear on the website, be sure to dig deeper to find the answers. 
What do they bring, and what are you expected to provide?
Every company has a different policy, so it pays to read the FAQs (which usually answer this exact question) or ask on a phone call. 
Many operations (like Synergy Maids, Urban Company, and Handy) will bring everything that's needed, though if you prefer to avoid harsh chemicals, you'll need to furnish your own products or find a service (like Synergy Maids and MyClean) that uses only green cleansers or will bring their own upon request.  
That said, you'll always need to provide specialty cleaners such as for stainless steel, granite, wood floors, and other surfaces—as well as a Swiffer system if that's your thing. 
Some companies bring a vacuum cleaner, but others (like MyClean and Wizard of Homes) don't. Be sure to ask if you don't have one—or to leave your Dyson Animal v10 out if you want them to use it instead.  
Wizard of Homes also requires that you supply a broom and paper towels, as well as a stepladder. According to its website, they bring all other supplies for one-time services but not for weekly or biweekly cleanings, when you must provide "all-purpose cleaner, soft-scrub, window cleaner and floor cleaning supplies. You can also just have your wizard buy everything and bring you the receipt so you can reimburse her." 
New York's Little Elves is another company that does not bring supplies to regular cleanings—the thinking there is that people are particular about the products they like to use.
"For deep cleaning and post-construction, we bring our own supplies—ladders, HEPA vacuums, copious bags, and all the cleaning products, down to chopsticks which we will cover with a cotton rag to get into very small spaces," Fierman says. (Note: The prices for the supplies start at $300 and can go up to almost $1,000.) 
Do you need to be there? 
That's entirely your call. 
"Most people prefer not to be there and never see the cleaner, and the building will provide access," Fierman says.
Dulude agrees that most clients prefer to give them a copy of the key or to leave one with the doorman. "We can also meet you before you leave for work and then slide the key under the door when finished (if you don't have a self-locking door)."
If you want to be there for the duration, Wizard of Home (per its FAQs) requests that you "please stay out of the room where your cleaner is working" to avoid having to tip-toe around you and avoid vacuuming because you are on the phone or watching TV. That's probably a good rule of thumb to follow for all companies. 
Even if you'd rather not be around, you might want to at least have an initial meet-and-greet to show them the lay of the land and pinpoint any focus areas, though you can also do this over the phone or via the online booking form. These are experienced pros who can usually manage the work without you being there (and hovering over their shoulder). 
What if you have pets? 
You'll need to discuss this ahead of time—and some online forms specifically have you tick a box for cats or dogs. 
Fierman says you should always let companies know when you have pets, especially cats, in case certain cleaners have allergies. "And dogs should either be contained or at doggy day care, or the owner should be there to manage them until the cleaner feels comfortable being around them."
Here's another case where being there to introduce the cleaner to your pet on the first visit can help smooth the process going forward. 
What should you do before each cleaning? 
Fierman says a lot of people feel the need to straighten before a cleaning, but her general advice is that anything highly personal should be put away. (She's had cleaners call her after finding drugs or rolls of cash, "which makes them very uncomfortable and they want to leave.")
The same goes for anything that's "extremely dear to you, whether of sentimental value or monetary worth—just tuck it away. It's not that it will disappear, but accidents do happen and this will put everyone at ease."
Dulude's company policy is that you take a few minutes to pick up personal clothing, toys, and other household items. "The fewer items your wizard has to pick up, the more she can concentrate on the actual cleaning. It's totally fine if you don't have time to pick up clutter, we just need to charge extra for the time we spend doing it for you.'
What about tipping? 
Fierman says, "Our people do not expect it, but they are extremely appreciative. But I don't like to give a number—it should come down to your means and how you feel about the work."
Certainly, tipping makes good sense if you have regularly scheduled cleanings. You can either do this on a routine basis or as a once-a-year "bonus" during the holidays (like for your super and doorman). 
For one-time cleanings, Dulude says 10 to 20 percent is standard and that clients can send tips via Venmo once they see the results rather than tacking it on to the upfront payment.
What are other ways to maintain the relationship?
Most companies do not allow their staff to eat or drink on the job, both to prevent spills and because you are paying them to work, not slack off. Fierman points out that for lengthier jobs where they need to be there all day, the company will work with the client ahead of time to designate an area for lunch and breaks.
However, if you know that your recurring cleaner appreciates having a freshly brewed cup of coffee waiting for them upon arrival (as reported by a friend), there's nothing to stop you from doing that. Another person says she always has muffins or cookies on hand for snacking; another puts items he is purging (that are still in good shape) in a box with a "take it or leave it" sign. 
What if something goes wrong? 
This is often one of those factors that you can't really know until it's too late, but there are some clues to look for, such as whether there's a way to reach the company by phone or email, or if the "contact us" button only leads you to a generic form.
Handy, for example, has a "Handy Happiness Guarantee" and 24/7 customer service agents who are available by online chat or by calling the provided number. You can also cancel, reschedule, and otherwise manage your account via their mobile phone app, while other companies (like MyClean and Synergy Maids) provide the same features on their websites. 
Of course, you'll want to stick with companies that are bonded and insured in case of any damages to your property or belongings, including having worker's comp for any on-the-job injuries (per Fierman). 
Hopefully, you'll never need to go down this road, but it's good to know the company's got your back if and when you do.
Brick Underground articles occasionally include the expertise of, or information about, advertising partners when relevant to the story. We will never promote an advertiser's product without making the relationship clear to our readers.