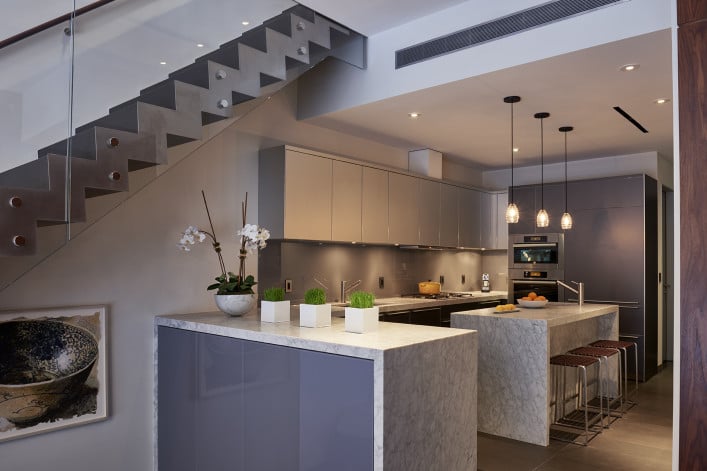 If you have an open plan living area, or are considering creating one through a renovation—you should consider how to make the kitchen and adjacent dining area visually cohesive. One way to do that is with a waterfall kitchen island, which in addition to blending the kitchen and dining areas, also makes an elegant design statement.
"It's a great solution to a thorny design problem," says Mark DuBois, principal for Studio DuBois, a New York City-based architecture and design company.
A waterfall is when the counter material continues down the sides of the cabinets, usually on both ends—but it can be on just one—creating a cascading effect with the countertop material.
"The countertop becomes a sculptural object," DuBois adds, and it is particularly striking in marble (especially if veined), granite, or quartzite. But other stones and even wood can be used.
The countertops on traditional kitchen islands often extend beyond the cabinets the below so people can sit and eat at the island. But that can create an "awkward look, with the corners of the counter sticking out into space," DuBois says.
A waterfall countertop "creates a modern, sleek look, and allows it to be a showstopper," says Judy Olson Dunne, principal at New York City-based design firm Butter and Eggs.
They're also great for concealing bar stools and minimizing the furnishings you need, if it is also used as a dining table, or for camouflaging an appliance. DuBois likes to install electrical outlets under the cabinets so the charger and a good part of the cord is half hidden.
Waterfall islands have become particularly trendy the past few years. DuBois created his first one sometime in the late 1990s/early 2000s, he says. Dunne's first project with one was in 2008. 
"I used to have to do a lot of explaining and story telling about [waterfall islands], but that has really changed. Now I find clients know exactly what I'm talking about and even ask for the finish they want," Dunne says, adding that they used to be used more in contemporary buildings, but she's now seeing them even in traditional apartments.
Waterfall counters are often considered high-end options for kitchens. Prices are about $80-$130 per square foot for a stone that isn't too exotic or popular, Dunne says. Some materials are much more expensive. The thickness of the material—2 centimeters or 3 centimeters is standard, BuDois says—also matters. You then have to make sure you have a fabricator who has worked with the material and knows how to install a waterfall counter properly, which adds to the cost.
"It is always preferable to use a mitered joint, where both pieces of stone are cut at 45 degree angles. This hides the joint line and creates a beautiful seamless corner," DuBois says. The cutting is done with computer controlled machines, and miter joints are fragile, so the installer has to be more careful and experienced than a general fabricator.
One material that you can't do miter joints with is quartzite. "It's harder than granite, which sounds great, but the tradeoff is you can't miter the edges," he says. It's so hard that it's a little brittle and can chip when you cut it at a 45-degree angle, so you have to do a stacked edge.
In addition to looking good, and offering a place to dine, waterfall kitchen islands can provide an extra layer of protection for what you store underneath.
"They're both aesthetically and functionally really pleasing, because not only do they look good, they also afford you some level of added durability, and who doesn't like that?" Dunne says.
Brick Underground articles occasionally include the expertise of, or information about, advertising partners when relevant to the story. We will never promote an advertiser's product without making the relationship clear to our readers.