Renovation
When a Tribeca townhouse had to be updated by a baby's due date, Bolster met the 'need for speed'
When Elizabeth and Daniel purchased their Tribeca townhouse in 2021, they were glad to finally have more room for their young family. The couple had been living in a 700-square-foot apartment in the East Village for years but with a toddler and another baby on the way, they had outgrown the space.
"After a year of looking, we stumbled upon a landmarked townhouse in Tribeca—the type of place we never even imagined could be something realistic for us," Elizabeth says. "It was the perfect neighborhood to continue building our family. And the townhouse, albeit unique and beautiful in its charm, needed some TLC."
As it turns out, the townhouse only needed a few upgrades. Still, undertaking a renovation is always a daunting prospect, and it's even more complicated when you have young children. But Elizabeth and Daniel's situation provided an opportunity, and the timing was perfect: The couple could continue living in their current apartment while making updates to their new townhouse before they moved in to better accommodate their growing family.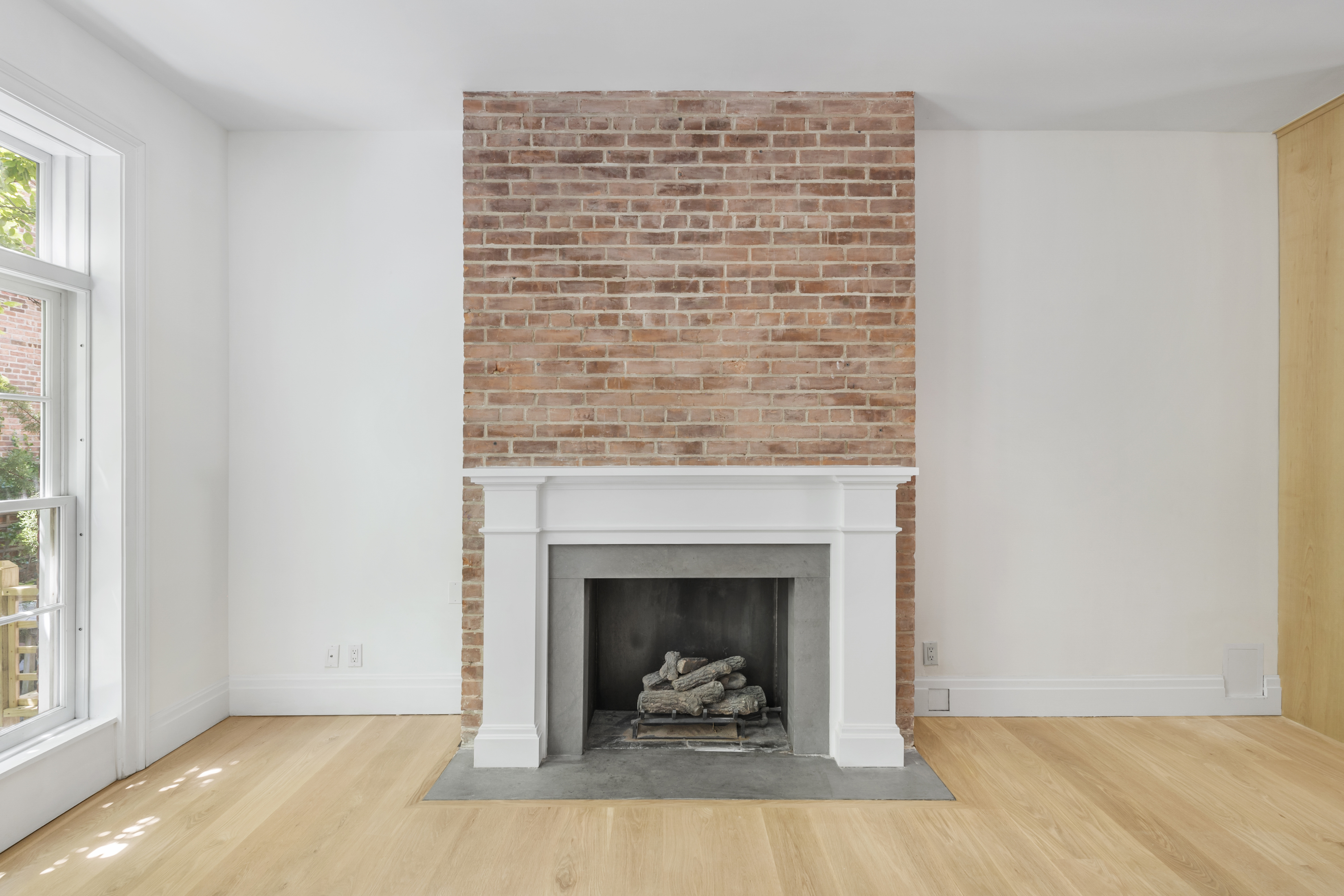 Why a Design-Build firm makes sense
The couple has family members who had bad renovation experiences with traditional contractors. As a result, they were only interested in working with a Design-Build firm, largely because they didn't want to manage multiple parties or relationships. Their real estate broker referred them to Bolster, a New York City-based renovation company that offers a suite of project delivery methods to meet homeowners' needs. Bolster's data-driven approach and iterative pricing process allows homeowners like Elizabeth and Daniel full visibility of all design and build costs upfront.
"The team at Bolster put us at ease instantly, showing us time and time again that they were truly listening to what was important to us," Elizabeth says. "We needed to stick to our budget and scope, and we needed clear and consistent communication throughout. Bolster understood very quickly what our needs were, and they were incredibly communicative and responsive."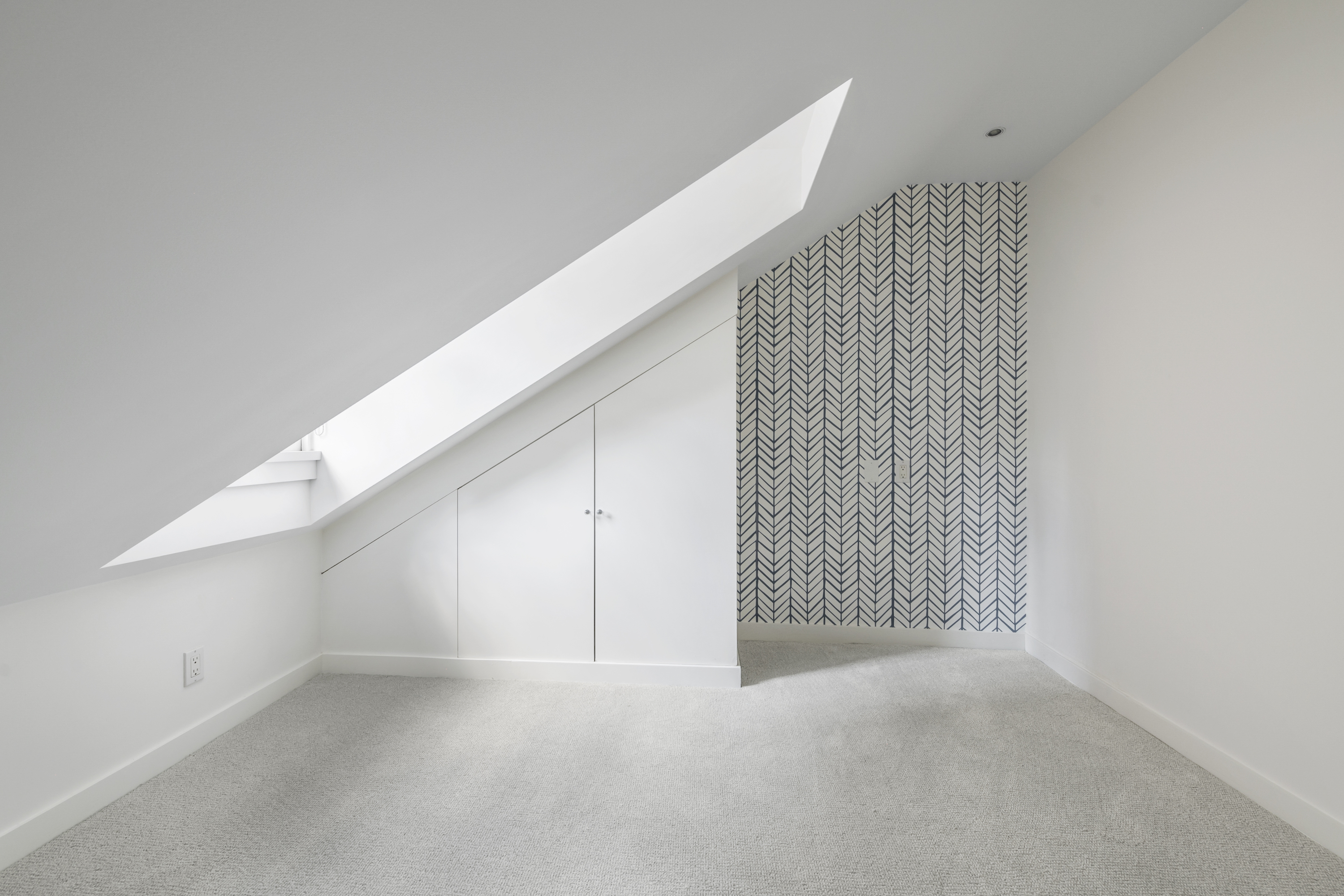 The Design Phase
Elizabeth and Daniel's Tribeca townhouse was in good shape, having undergone renovations just after 9/11, when many of the homes in the neighborhood were damaged. The city had encouraged people to rebuild, so the previous owners completed a full-gut renovation that included a new HVAC system (a cost driver in most renovations). However, there were two main issues that Elizabeth and Daniel sought to address—the first was the dysfunctional kitchen on the parlor level of the home.
"The kitchen was bizarre and annoying," Elizabeth says. "It had great high-end appliances, but it appeared to be built for a boat: Everything was miniature. It seemed like an afterthought and didn't make the most of the space."
The second issue was the lack of functionality on the third floor of the townhouse. It was constructed as a loft-style space, with only one small bathroom that lacked a bathtub—not ideal for young children.
Elizabeth and Daniel originally thought they wanted to make the third floor of the home their primary bedroom suite; however, in working with Bolster's design team, they discovered it would be better suited for their two children. Bolster architect Matthew Rauch led them to a solution that ended up being better than what they had envisioned.
"Matt had the awesome idea of separating the third floor into two rooms with a playroom in the middle," Elizabeth says. "We designed a haven for our two children on the top floor, creating a playroom we never knew could even be an option, and thus increasing the room count of the house."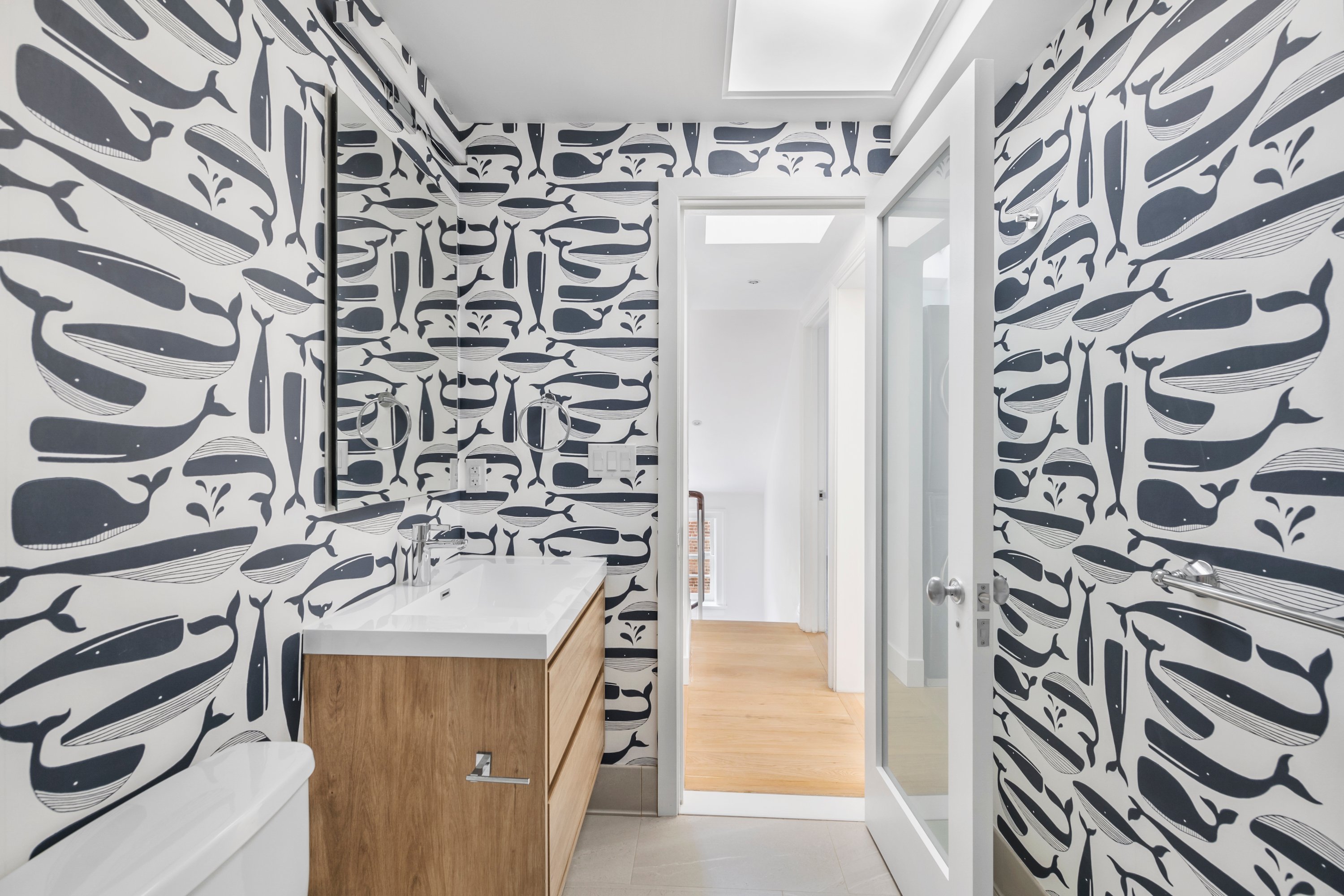 The Build Phase
Once the Design Phase of the renovation was complete, the Bolster team got to work on the Build Phase in a race against Elizabeth's due date.
"Bolster matched our need for speed. There was no time to waste, and Bolster internalized that in ways we truly had never heard of or experienced before in any renovation project previously," she says.
The probing that occurred prior to demolition was so thorough that there were few surprises when the Build Phase officially began, ensuring relatively smooth sailing throughout the project. This is a key part of Bolster's ethos. 
During demolition, the brick fireplace was exposed. The homeowners selected natural wood cabinets and custom millwork in the kitchen in keeping with the home's historic nature and chose sleek black fixtures in the kitchen and bathroom and unique touches like bold patterned wallpaper for a modern NYC vibe. The couple also splurged for high-end appliances, including a Sub-Zero refrigerator, an induction stove, and a top-of-the-line dishwasher. Their rationale is that the family will use their kitchen often, and the appliances are a long-term investment that will boost the home's resale value.
Like many homeowners who have renovated in the past year, Elizabeth and Daniel experienced supply chain delays and took a realistic approach to dealing with the challenges.
"From a supply chain perspective, we only ordered things that were in stock. If we liked something—like tile—that wasn't in stock, we said, 'Scrap that–show us something else,'" Elizabeth says. "When it came to appliances, we decided to use our old ones until the new ones arrive."
Throughout their renovation, Elizabeth and Daniel received regular updates from the Bolster team.
"Our Build Manager, Julieta, is the exact person you want on your project. She is highly communicative, engaging regularly and in real-time each day on Slack, and sends comprehensive weekly progress reports every Friday," Elizabeth says.
The final cost
The total cost of Elizabeth and Daniel's 1,680-square-foot Tribeca townhouse renovation was $324,100. As in most major gut renovations, their biggest investments were electrical ($17,495) and plumbing ($30,980). They also chose to invest in custom millwork ($52,800) and all-new, high-end appliances ($21,325).
"With the full team behind Bolster, from architecture to procurement to build, we have been blown away by the attentiveness and rigor they've each given to our project," Elizabeth says. "The firm makes us feel like we're the only project they have, and we are confident that with them managing our renovation, we'll be happily settled in our dream home to welcome home baby number two!"
---
The Bolster Smart Renovation Zero-Risk Guarantee
How can a design-build firm guarantee a Zero-Risk renovation?

Bolster has pioneered Smart Renovation. We apply quantitative analysis along with our proprietary technology solution to identify and quantify the performance risk on every renovation project. The result is a personalized strategic approach to each renovation that allows us to absorb 100 percent of the homeowner's risk. Your home will be beautifully designed, and delivered on-time and on-budget. That is our guarantee.

Smart Renovation & Zero-Risk means that Homeowners are now free to dream.

To start your major home renovation project visit bolster.us.
The Bolster Promise video
Brick Underground articles occasionally include the expertise of, or information about, advertising partners when relevant to the story. We will never promote an advertiser's product without making the relationship clear to our readers.