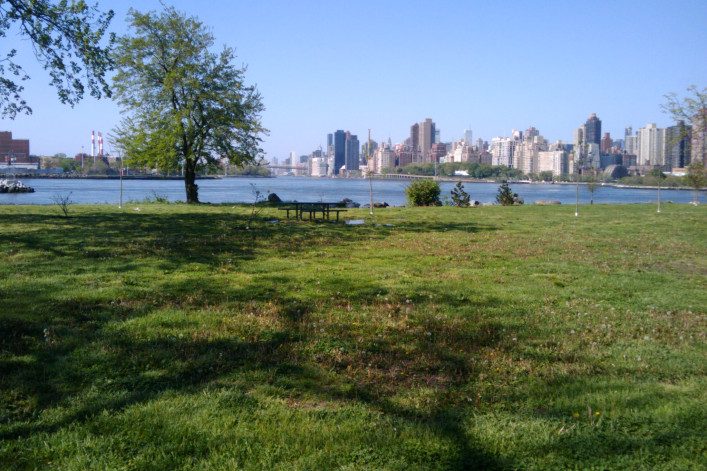 If an idyllic island getaway isn't in the cards this summer, consider turning your gaze to your own backyard. Within the bounds of NYC are several islands that, while not necessarily tropical paradises, nevertheless make for pleasant day trips. Whether you're looking for a multi-day electronic musical festival, or just a place to eat a lobster roll by the water, NYC's islands have got you covered.
[Note: This post first ran in June 2016, and was updated in June 2017.]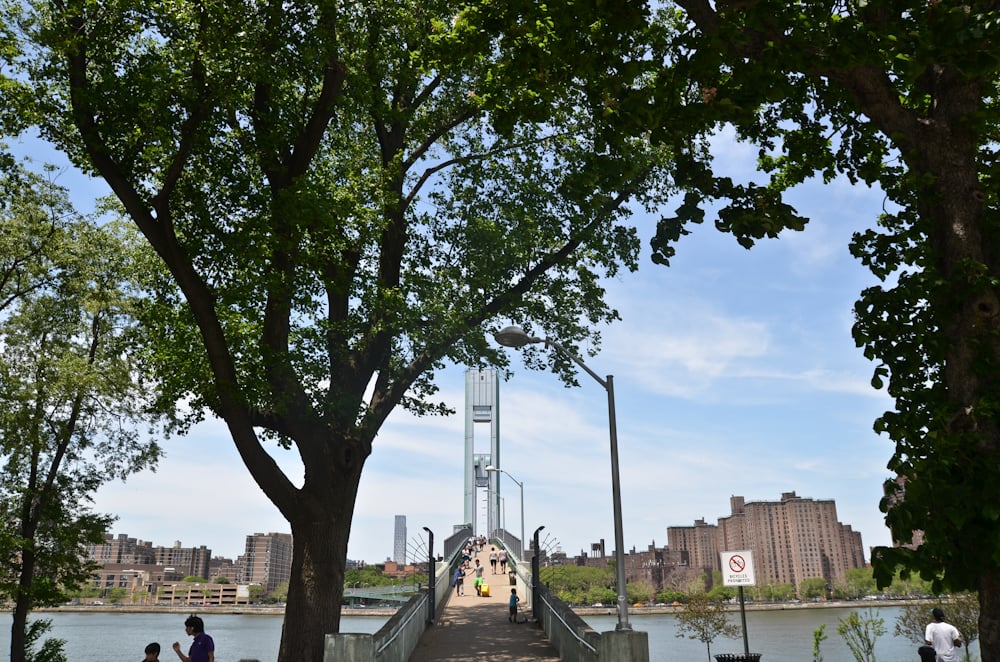 [Stacie]
Randall's Island
Located between Upper Manhattan and Queens, Randall's Island has long been a haven for the outdoorsy—and more recently, for music festival-goers. But before it was converted to parkland and joined with neighboring Ward's Island, Randall's Island was for many years home to New Yorkers with nowhere else to go. Atlas Obscura investigated its history as part of an "Islands of the Undesirables" series; for much of the 1800s, it was home to an orphanage, mental institution, hospital and, most notoriously, a children's reform school, where students were seriously mistreated until the state intervened.
The island underwent a dramatic transformation in 1930, when city planner Robert Moses, in his role as Parks Commissioner, recommended eliminating the institutions and transforming Randall's Island into a recreation area. A stadium was built there to host the 1936 Olympic trials, where gold medalist Jesse Owens qualified; later, that venue became Icahn Stadium, which is now devoted to track and field events, as well as to lacrosse and soccer games.
You'll find an assortment of other facilities here, too—Randall's Island is a bit of a mishmash—including a New York Fire Department training academy, an urban farm and education center, and a golf driving range. There are eight miles of paths for bikers, walkers, and joggers, some of which run alongside wetlands and waterfront areas, ideal for bird-watching. For a more rigorous workout, Icahn Stadium opens its track to amateur runners during Open Run Nights.
Randall's Island also offers New Yorkers an urban version of sprawling, outdoor music fests like Coachella. In July, for example, the island welcomes Panorama, a festival organized by the company behind Coachella and headlined by Frank Ocean, Solange, Tame Impala, and Nine Inch Nails. And in early September, the electronic music festival Electric Zoo returns; this year's theme is "The 6th Boro." 
There are more sedate outdoor activities to take part in, as well. Randall's Island offers one of the city's more picturesque settings for movie nights; its outdoor film series kicks off on June 25 in Randall's Island Park, with movies like A League of Their Own competing with views of the Manhattan skyline. During the day, Flow.17 invites visitors to view free, site-specific art installations along the shoreline, as well as take guided walks and meet the artists. Other walking tours explore everything from the island's turbulent history to its wildflowers. It may not have beaches, but Randall's Island offers plenty to feed your mind; check out the Randall's Island Park Alliance site for a full summer schedule.
Getting there: You can reach Randall's Island on foot or by bike by crossing the 103rd Street footbridge from Manhattan, the Randall's Island Connector footbridge from the Bronx, or the Triborough Bridge from its pedestrian paths in the Bronx, Manhattan, and Queens.
By public transit, take the M35 bus from 125th Street and Lexington. If you're driving, expect to pay an $8 Triborough Bridge toll. The Randall's Park Alliance notes that ferry is also available during major events.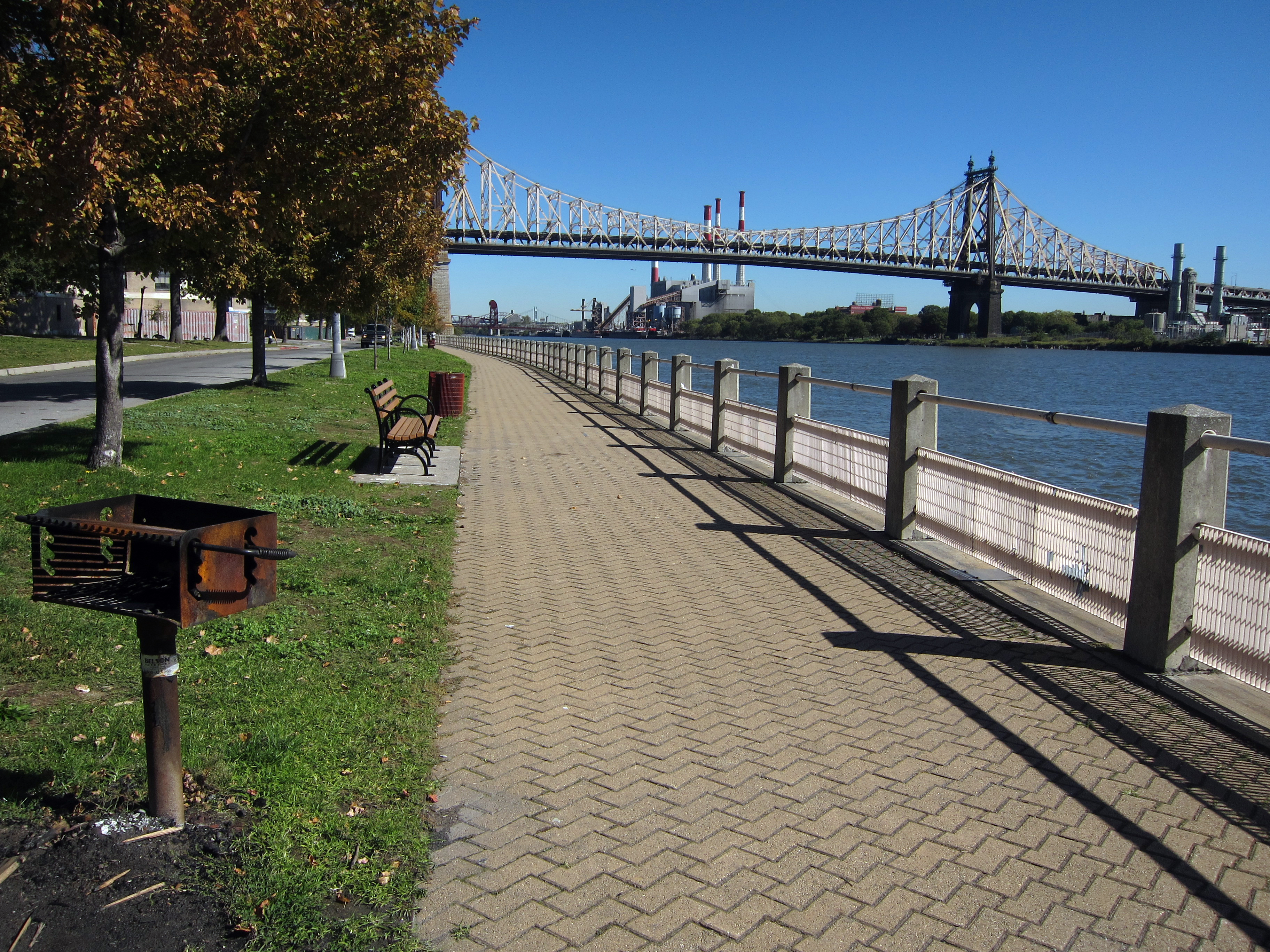 [joevare]
Roosevelt Island
Another city island with a sordid past, Roosevelt Island, to the south of Randall's Island, is comparatively accessible, and home to about 10,000 residents. But during the 19th century, when it was known as Blackwell's Island, the thin sliver of land in the East River was home to a jail, an asylum, and a hospital for the poor. Residential development began in the 1970s, and the establishment of the Franklin D. Roosevelt Four Freedoms Park further transformed the island. Today, it's attracting new interest thanks to plans for a new Cornell Tech campus—and during the warm months, its green spaces and stellar views of Manhattan are a draw for daytrippers.
Despite its position between two bustling boroughs, Roosevelt Island has a quaint, small-town vibe, which is bolstered by the preferred form of local transportation: the Red Bus, which makes a loop around the two-mile-long island and is free to ride. There is greenspace at each of its ends: the Four Freedoms Park to the south, and the Light House Park to the north. There are grills available to the public in the latter park, and you have a good chance of nabbing one, as it isn't typically as crowded as NYC's other barbecue spots.
While there are no beaches on the island, it does offer a new opportunity to cool off via a candy-colored, 60-foot pool in the Manhattan Park apartment complex. Per the Roosevelt Islander blog, locals and visitors can purchase passes to swim and sunbathe.
The Roosevelt Island Operating Corporation has a schedule of this summer's weekly movie nights held on Firefighter Field by the Queensboro Bridge, and there are several family-friendly events as well, including Roosevelt Island Day on June 17, which offers bucolic, kid-pleasing activities like a petting zoo, pony rides, and flower-planting. And history buffs can take themselves on a walking tour of the island's several landmarks, including the Octagon, the former lobby of the New York Lunatic Asylum, which Nellie Bly famously faked her way into for an investigation
Getting there: The tram from East 59th Street and Second Avenue is always a memorable way to arrive; the F train also stops in the island, as does the Q102 bus from Astoria. By car, take the Roosevelt Island Bridge from Astoria.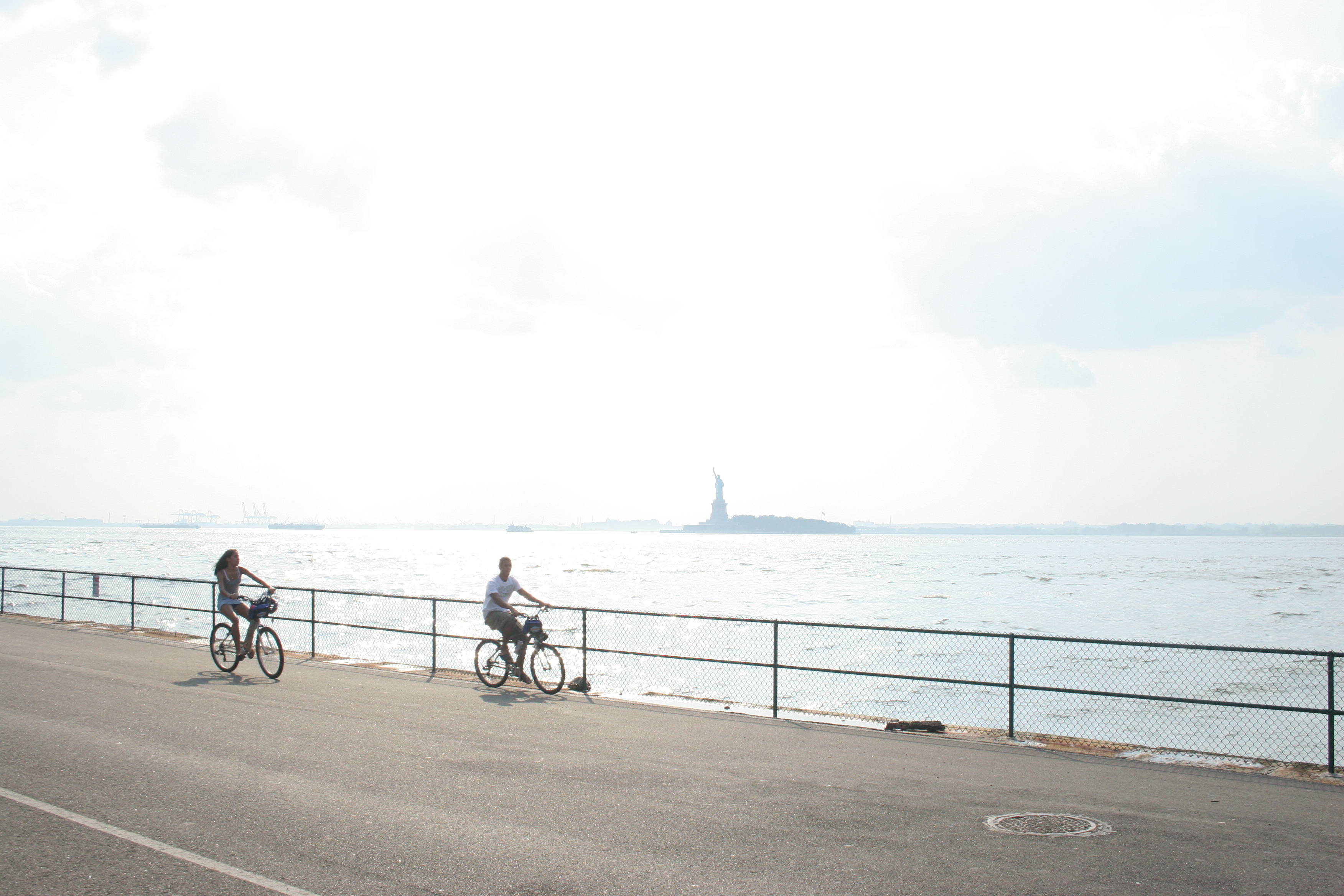 [Mandy Goldberg]
Governor's Island
Located off the tip of southern Manhattan, Governor's Island has seen plenty of action in its time: during the Revolutionary War, the 172-acre spot was used as a point from which to fire cannons at the British army, and during the Civil War, two of its forts held Confederate prisoners of war. Beginning in the late 19th century, first the Army, and then the Coast Guard, established offices and living quarters here; after the Coast Guard base closed in the mid-1990s, the city began planning for new developments.
Today, a portion of the island has been designated a National Historic District, and the forts that once housed prisoners a national monument. The remainder was converted to parkland and public space; there are Citi Bikes on the island, with which to explore its miles of paths, as well as ballfields, playgrounds, and a sightseeing promenade. Governor's Island has a few interesting tenants as well, including the New York Harbor School, where students prepare for maritime careers, and the Lower Manhattan Cultural Council, which hosts artist residencies here.
The most recent development here is The Hills, a scenic spot that rising 70 feet above sea level and offer panoramic views of the Statue of Liberty, the harbor, and downtown Manhattan. The Hills made their debut last July; you can see a video of the site here. Slide Hill, which features a slide that wends down three stories, is a wildly popular destination for kids. 
On a more grown-up note, the beloved annual Jazz Age Lawn Party is back this summer; its June party has passed, but there's another scheduled for August 26, giving New Yorkers the opportunity to Gatsby it up by sipping old-timey cocktails and dancing to jazz orchestras. Coming up on June 24 is Pinknic, a two-day festival centered on rose wine and featuring food, entertainment, and lots of pink clothing. Other events celebrate eclectic independent music, poetry, African film, and--of all things--unicycles; check the Governor's Island calendar for full listings.
Governor's Island also distinguishes itself by offering an appealing range of eating options, with foodie-pleasing vendors like Veronica's Kitchen and Wafles & Dinges gathered in the island's food courts.
Getting there: Your transit options are limited to ferries from the Battery Maritime Building in Manhattan and Pier 6 in Brooklyn; the latter only runs on the weekends. See the schedule here.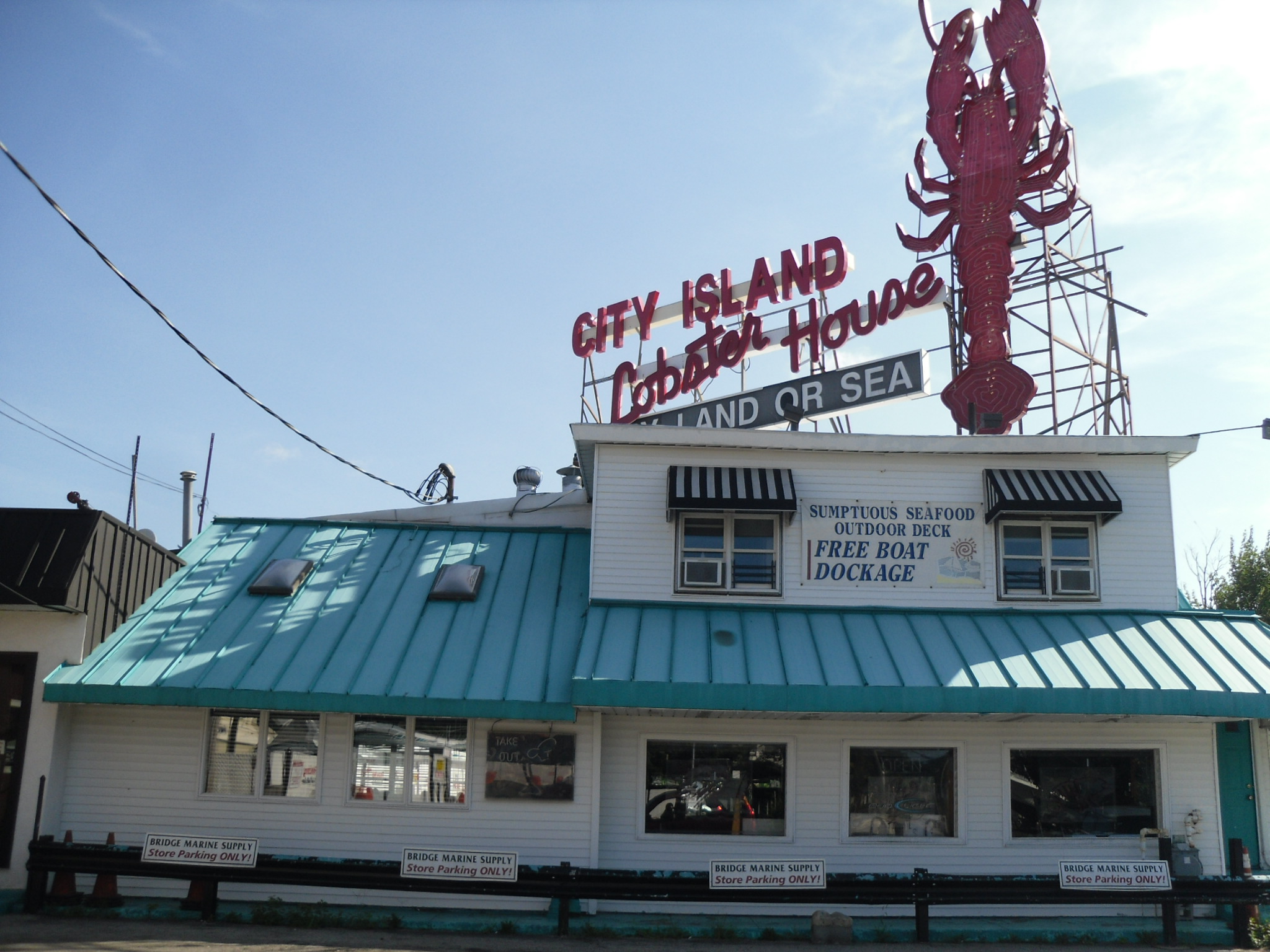 [Doug Kerr]
City Island
The Bronx's version of a seaside village, City Island is a 1.5-mile stretch on the Long Island Sound. Of the islands we've included in this roundup, it has the most peaceful history, having served as a center for fishing and shipbuilding since the 1800s. These days, about 4,400 people call it home; despite the small population, there are dozens of restaurants, a huge draw for daytrippers.
Sadly, visitors can't access the beach—unless you know a local who lives on a private one—but it's easy to get close to the water. Get a glimpse of the area's seafaring past at the Nautical Museum, and then take yourself on a walking tour down City Island Avenue to survey the restaurants, yacht clubs, and shops. Or get out onto the water yourself by renting a boat from Jack's Bait and Tackle, or fishing aboard the Island Current.
Gothamist has a thorough guide to your many dining options on the island; naturally, seafood is the specialty. The island isn't all old salts, either—it has an creative side, and a number of art galleries to explore.
Getting there: By public transit, take the 6 train to Pelham Bay Park, and transfer to a BX9 bus. By car, take the Cross Bronx Expressway to exit 8B. 
Brick Underground articles occasionally include the expertise of, or information about, advertising partners when relevant to the story. We will never promote an advertiser's product without making the relationship clear to our readers.