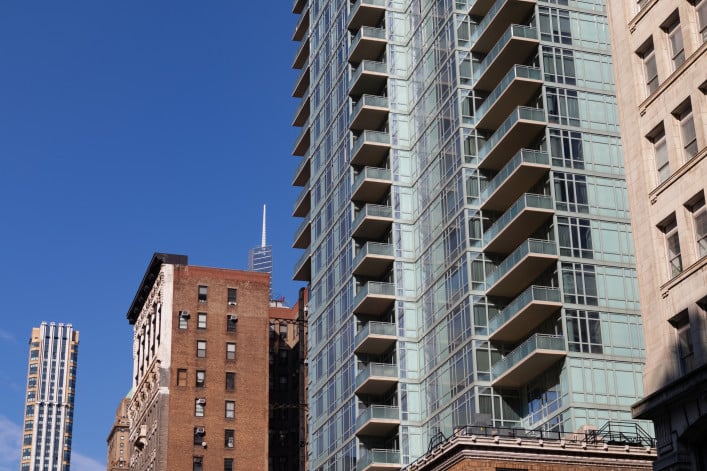 What are the pros and cons of buying a co-op vs. a condo in NYC in 2022?
The most significant difference between buying a co-op and a condo is the ownership structure, says James Woods, Esq., managing partner at Woods Lonergan PLLC, a Manhattan-based law firm that concentrates on real estate and in particular, buyer, seller, and cooperative and condominium representation.
Condominium buyers acquire ownership by way of a deed transfer, whereas co-op buyers receive shares in a cooperative corporation. The shares are accompanied by a proprietary lease referencing the particular apartment.
"The shares in the cooperative corporation and proprietary lease are inseparable components," says Lauren Tobin, Esq., a real estate attorney at Woods Lonergan.
The lease allows you to occupy the apartment and delineates the rules and rights pertaining to your occupancy—similar to a lease in a rental building. As owner of a co-op apartment, you are responsible for paying a monthly maintenance fee, which covers the building's operating costs including any underlying mortgage on the building. Unlike monthly common charges at a condominium, maintenance at a co-op includes your property taxes.
Meanwhile, when you buy a unit in a condo building, you are buying real property, and you get a deed which includes your interest in the unit and a percentage of interest in the common elements of the condominium building. You pay monthly common charges, which cover the upkeep of common areas and amenities. You pay your property tax bill separately.
Are condos or co-ops more expensive?
"New York City co-ops tend to be less expensive than condos as a result of that ownership structure," points out Andreas Christou, Esq., a real estate attorney at Woods Lonergan. "There's also much more of them—an estimated 75 percent of non-rental apartments in NYC are co-ops."
Condos are often more expensive than co-ops because they are often new construction or converted buildings and feature modern amenities. (The current median sales price for Manhattan condos is $1,750,000 compared to $800,000 for a co-op.) Buyers are also willing to pay more for condos because they are easier to buy: The approval process is simpler, and owners can renovate, sublet, and resell easier—more on all of that below.
What do condo and co-op boards want to see from buyers?
Both co-ops and condos require applicants to submit applications. "Co-op buildings are notorious for making buyers jump through many hoops to be approved, but there's a good reason for it," Woods says. "The process is intended to protect the shareholders' investment by identifying financially responsible applicants.  And when you become a co-op owner, the board is looking out for your interests as well."
In addition to requesting a thorough financial portrait including tax returns and financial statements, "many times co-op boards require references and information on where you've lived, perhaps even request information from your current landlord," Woods says. "The approval process for co-ops is far more invasive than for condos. A co-op board can reject a buyer for any reason, provided it is not discriminatory, and is not required to provide an explanation."
In recent years, condos have been trying to become restrictive and require similar information as co-ops. But while they try to collect as much info as they can about buyers, they don't have the right to turn down buyers, Woods notes. If a condo board doesn't want to accept a buyer, the board may have the right of first refusal, meaning the condo board can elect to buy the apartment instead—something that happens very rarely.
How do closing costs compare for condos vs. co-ops?
Some closing costs are the same whether you are buying a condo or a co-op, but there are a few significant differences. Whether you are buying a condo or a co-op, you can expect to pay attorney fees (starting around $3,000 and up), application fees, New York State and New York City transfer taxes. In some cases, sellers are also responsible for paying a mansion tax, which despite its name, applies to any apartment that costs $1 million or more and rises in tiers.
Condo buyers are also responsible for paying title insurance and a mortgage recording tax if they finance the purchase of their unit. 
Since a condominium is considered real property, just as if you were to buy a home, title insurance covers you if you close the deal and then find there are liens on the apartment or any issues arising from former owners or open permits that were not revealed in a title search performed in advance of closing. Title insurance for a $1 million condo may cost around $4,500.
Meanwhile, the mortgage recording tax costs 1.925 percent for loans over $500,000 and 1.8 percent for loans under $500,000.
The biggest stumbling hurdle for co-op buyers tends to be the down payment. Putting down 20 to 25 percent of the purchase price is standard, but stricter buildings require 30 percent, and putting down 50 percent is not unheard of, as is not allowing any financing to purchase a co-op apartment.
Co-op boards will also want to make sure that you have remaining funds after the purchase, called post-closing liquidity, in order to pay your maintenance fees. Some buildings will want to see six months to one year in the bank, and some may request a certain number of months of maintenance be paid at the time of purchase.
Is it easier to sublet in a condo or a co-op?
"We always try to gauge a buyer's intention," Christou says. "If someone is looking to buy for the purpose of renting, we may want to steer them toward a condo, which is easier to sublet."
That's not to say that condos don't have any rules—some condo buildings implement an approval process, but they can't turn down your tenant.
Co-op buildings usually have rules about subletting in the proprietary lease or house rules. Some co-ops limit sublets to one or two years in a five-to seven-year period of time and require board approval of the tenant. Some co-ops may limit the numbers of units being sublet in a building at any given time; some co-ops may prohibit renting or subletting entirely. 
Pro Tip:
The real estate attorneys at Woods Lonergan have decades of experience successfully representing buyers and sellers in every type of transaction. "We mobilize quickly to guide you through every aspect of your purchase or sale, from home inspection to contract negotiations and closing," says managing partner James Woods. To learn more about Woods Lonergan or schedule a free 15 minute consultation, click here or call 212-684-2500.
What is the renovation approval process like for condos vs. co-ops?
Both condos and co-ops have rules about renovations and may require you to sign a document, typically called an alteration agreement when you plan to renovate. By signing this contract, you agree your work will comply with code-related and other legal requirements, as well as the building's house rules, for example, which may include the time of the day and even months of the year that work can take place, or limits on the building's elevator, for example.
The goal is to make sure the work is done safely and takes into consideration the impact you will be having on your building and your neighbors.
A co-op will require you to get approval before commencing work. Meanwhile a condo cannot prevent you from doing work, but it can hold up the process. Both condo and co-ops will want to ensure that any construction or alteration work is done in accordance with city regulations, with proper permits being obtained, and work being conducted by licensed professionals. This is important as boards will need to ensure work being done in one apartment is not adversely affecting the neighboring apartments. 
How can I stay involved at my condo or co-op?
"Whether you buy in a co-op or a condo, it may feel like you are buying in a place where there are lots of rules. As a cooperative corporation shareholder, you might be subject to rules that haven't even made yet," Tobin says.
"Nonetheless, you have rights as a co-op shareholder or condo owner. You should remain as informed as possible, vote at elections, be an active member of your community, and be aware of any new rule changes," she says. After all, the board is made up of volunteers like yourself who are elected to serve on the board to create and enforce rules that are designed to enable a building to run smoothly and foster a neighborly community.
James Woods is a partner at Woods Lonergan PLLC, and Lauren K. Tobin and Andreas E. Christou are associates with the firm. Woods Lonergan PLLC  represents New York City buyers, sellers, cooperative corporations, landlords, tenants, contractors, developers, and management companies. To submit a question for this column, click here. For a free 15 minute legal consultation, call 212-684-2500 or send an email.
Brick Underground articles occasionally include the expertise of, or information about, advertising partners when relevant to the story. We will never promote an advertiser's product without making the relationship clear to our readers.