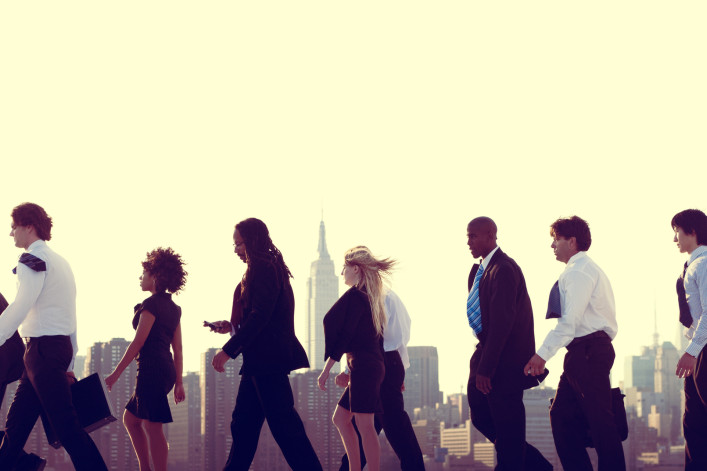 There have been signs for a while now that NYC's gangbusters post-recession real estate market is finally slowing down, and this may be another to add to the pile: There are so many brokers flooding the market that some investors see their presence as a sign to tap the breaks. Data site NeighborhoodX took a look at current membership stats for the National Association of Realtors, and numbers are at the highest they've been since just before the great recession, a possible sign that a "market correction" is on its way.
"Given where we appear to be in the market cycle, we're spending some time looking at market signals that have been leading indicators in past cycles," explains NeighborhoodX founder Constantine Valhouli. And while high NAR membership rates indicate confidence among agents and brokers, some investors see it as a sign that money in the industry is flowing too freely, and that things are headed for something of a slowdown.
NAR membership nearly doubled between 2000 and 2006, Valhouli notes, jumping to a high of 1.37 million members before the crash. Currently, national membership is back on the rise, and at a new post-recession high of 1.16 million members. And while the New York market tends to stand somewhat separate from the rest of the nation, our statewide rates of NAR members seem to rise and fall at roughly the same rate as the national average.
In particular, Valhouli points to "contrarian investor" Sam Zell, who famously sold a $23 billion trust of properties in February 2007—just ahead of the recession—and who again unloaded $5.4 billion worth of residential properties in October 2015. If Zell's assessment of market indicators led him to decide to sell, perhaps it's wise for other investors to follow suit. This in mind, the NeighborhoodX team put together a chart tracking NAR membership numbers over the past 16 years, and marking Zell's major sales along the way. (Note that yellow bars indicate national NAR membership numbers, and the black dotted line marks New York membership.)
NeighborhoodX also consulted veteran appraiser Jonathan Miller, who points to recent softening in the luxury condo and rental market, and says, "Zell has already said we have peaked now, or words to that effect."
But that's not necessarily to say that anyone's predicting a big crash on the way, so much as a cooling-down after years of non-stop growth. "So much depends on where you think the economy is headed," says Miller. "Some at the Fed say a rate hike is imminent, and some disagree. This residential development boom is not based on leverage, so it is not the same scenario as last time. On the other hand, stagnant wage growth and tepid household formation make it hard to see the same rate of price gains going forward. I see the U.S. market moving into a period of modest price growth, if not one that moves sideways."
Valhouli adds, "[NAR membership statistics] are just one market signal among many to be considered by a prudent investor. One should also take into account inventory absorption, days on market, and looking at if closing prices are below, at, or above list to get fuller picture of market activity." Translation: this data is worth keeping an eye on for investors, but by no means cause to panic and put everything you own on the market.
Whatever ends up happening, the data makes at least one thing clear: If you're thinking of going to business as a broker, you'll have a lot of competition these days. 
Brick Underground articles occasionally include the expertise of, or information about, advertising partners when relevant to the story. We will never promote an advertiser's product without making the relationship clear to our readers.