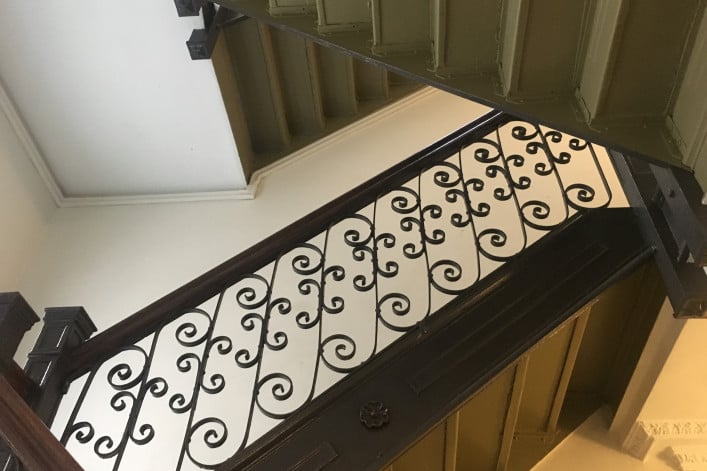 Some people like to move. They like the idea of a new place, a blank slate, new walls to paint. They like to rearrange furniture. I am one of those people. I crave physical change.
So when I found out I was expecting a second child, one of the first things I got excited about was the prospect of moving. (Yes, that's true. After the initial panic subsided, I realized a potential plus would be a new place to call home.) "Our two-bedroom apartment isn't big enough for four people!" I told my husband, excitedly. He didn't completely agree. But he didn't disagree either. After a conversation about just how a move would play out, we decided to begin the search process. 
While we loved our co-op on the fourth floor of a five-story, prewar walk-up in Crown Heights, there was no outdoor space and we wanted to leave apartment living behind—a house and a yard were key to this whole deal. 
We started talking about where, when and again, where. And also, how? We set our budget at around $800K for outside NYC or $1.2M for a townhouse with a rental unit in Brooklyn (yes, we'd be borrowing a lot from various sources). 
Considerations on where to move obviously depend on many factors, including who you are, how big your family is, how much money you can spend and your personal desires related to jobs, culture and community. For many people, even figuring out the criteria is difficult. For us it was very difficult, because what we wanted and what made logistical sense were two very different things.
Where did we want to live?
As 10-plus-year residents of Brooklyn (Williamsburg, the Columbia Street Waterfront, Clinton Hill, Cobble Hill, Crown Heights), we first had to ask ourselves if we wanted to leave the borough. I was prepared to go. My husband was not as excited.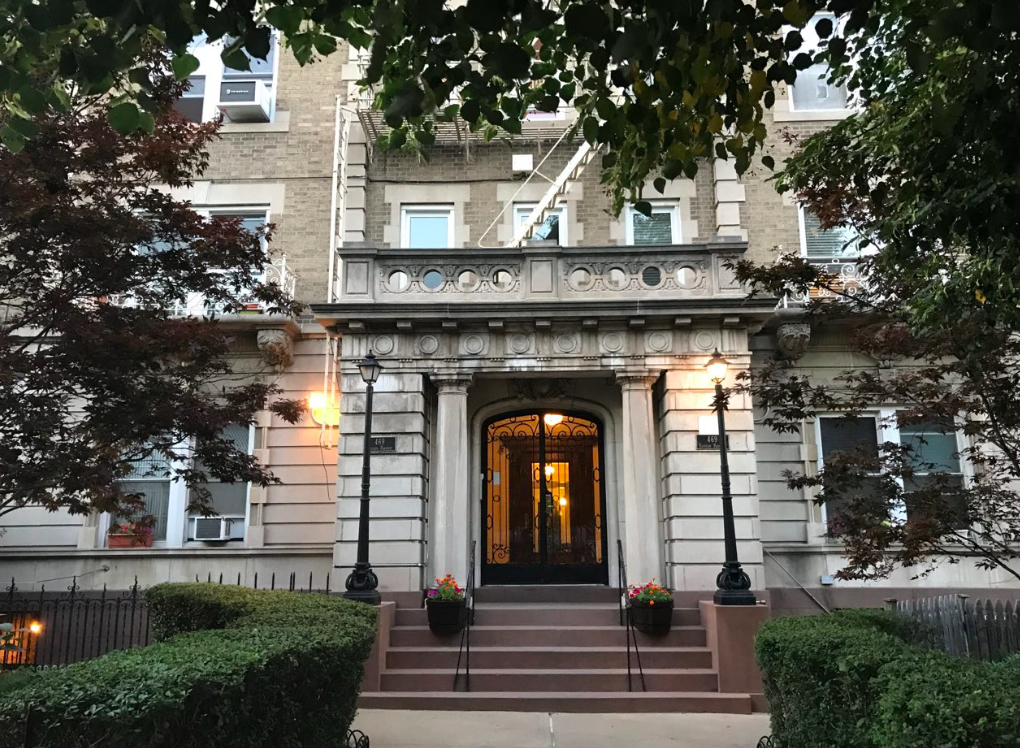 We looked in Bay Ridge first, knowing it was still a little bit outside the hype beam of real estate speculators. It turned out that affordable co-ops could be found there, but most single-family houses started at around $1.1M, most without the cost-offsetting rental apartment we would require.
We knew we could get more space (at a much lower cost) if we left. And so the search beyond Brooklyn began.
Upstate or New Jersey? Queens? There were two regions that never even came into play: Long Island and Fairfield County. While we both like the beach, the general Long Island vibe (and Republican sensibility, at least in some parts) didn't appeal to us and as a girl from the Connecticut coast (past New Haven), Greenwich and Westport may as well have been Mars. Too preppy. 
First, the considerations. Can we commute for work? How are the schools? Is the town diverse enough for ex-city dwellers? What about prices and taxes?
We started thinking about the less obvious factors next. First, we didn't want to move to "the suburbs." That's not who we are, we told ourselves after visiting a few towns, including Montclair and Pleasantville. The towns were quaint, for sure, but we wanted to live in a place that existed because it was interesting, not because it was within commuting distance of Manhattan. While boasting gorgeous homes, one New Jersey town just felt devoid of community. South Orange OUT. 
But when we started considering small towns farther from the city, my husband realized it really wasn't feasible for him to have a 90-minute commute each way, every day. Cold Spring, that gorgeous Hudson River town of antique shops and farm-to-table restaurants, OUT.
So we were back to square one. Where would we go?
And when?
The real estate market is always time-sensitive in that deals go fast, and you have to be ready to make big decisions in a small window, but due to my pregnancy, we also had another timetable to consider. Would we be able to list and sell our apartment, have the potential buyer go through the co-op approval process and find (and potentially renovate) a place for us before the baby came? All of a sudden, when became as much a part of our decision-making process as where. Also: what. As in, what the hell were we going to do?
It was March, five months before my mid-August date, when I first doubled down on my search, despite being told by everyone (our broker, my parents, even my husband) to put off the move until after the baby came. But I wasn't ready to throw in the towel. After the question of where stumped us, I did pause, only to engage again in early June.
Now, you may be thinking I'm crazy, but here's another variable that was influencing my thinking: my toddler. Like I mentioned, our co-op is a fourth-floor walk-up. And our toddler, who just turned two, wasn't doing that walk on her own back in the winter and spring. Even now, she only does it occasionally. I stopped being able to carry her in April because she's heavy and the baby I was carrying inside was, too. The issue became getting help carrying her up. I tried to hire our building's super's daughter. She came over a couple of times but #highschoolkids. Then my 12-year-old neighbor stepped in. Both worked out fine, but I felt helpless, which I really hated. Thus, my perseverance.
Finally, a decision: Brooklyn it is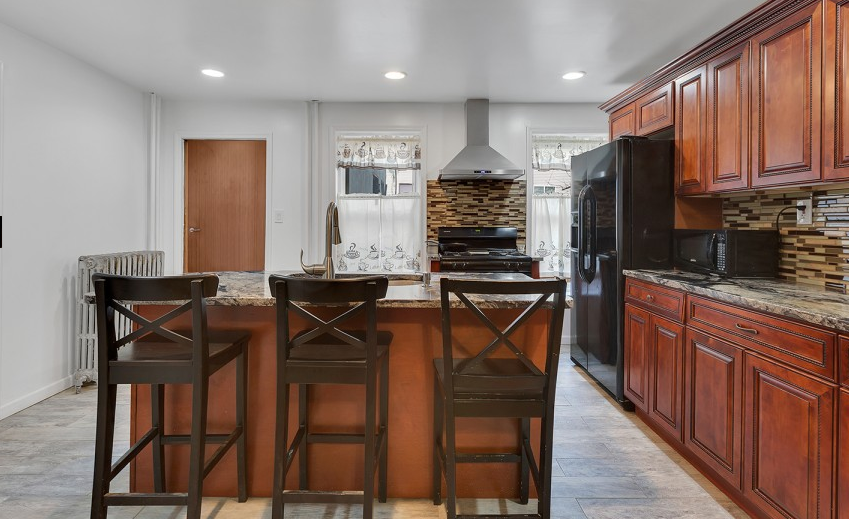 I don't remember exactly what it was that helped us come to the decision to stay in Brooklyn, but both my husband and I realized that considering where we were at both personally and professionally, we couldn't move to the country like we wanted to (in our dreams) and we didn't want to go full suburban. "Let's get a fixer upper three-story townhouse and rent out one floor to help pay the mortgage," we thought. After Bay Ridge, we narrowed our search to Brooklyn neighborhoods we were familiar with and knew we liked: Crown Heights, Bushwick, Bed-Stuy, Ditmas Park, South Slope, Gowanus, Greenwood Heights, and Prospect Lefferts Gardens. 
This plan, it sadly became clear, was also out of reach. As you may have heard, real estate is insanely expensive in Brooklyn! Along with our broker, we started an aggressive search. We quickly learned that everything in our price range would require renovations (and I'm not talking cosmetic).
One three-story townhouse on Kosciuszko Street in Bed-Stuy looked promising: there was a two-floor owner's duplex with exclusive access to a yard and a two-bedroom rental on the top floor. The pictures showed original detail and a renovated kitchen. The price was $1.225 million, the going rate for the area. I went to see it, knowing there was some renovation needed, but after talking with the listing agent I learned the home needed $200-300,000 more in renovations. And the kitchen was cheaply done, so that would need fixing at some point, too. The yard was completely ripped up and would need to be professionally leveled. I was very, very discouraged. This wasn't even the type of situation where you could move in and pick away at the work. The home was uninhabitable. My baby was two months away.
Staying put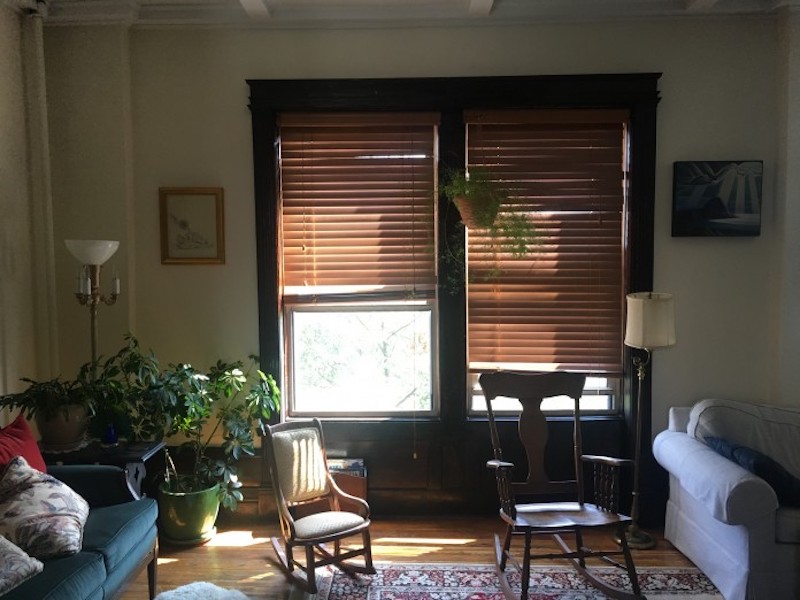 And so, that's why we're here. In our two-bedroom apartment. In our walk-up. With a second baby just days away from existence.
Actually, the market and circumstances made the decision for us. I'm not mad about it—quite the opposite. I love our building and our neighbors, and I feel lucky to be a part of this community. What happens next is anyone's guess. Will we stay indefinitely, or will the next six months be so intense that we decide to take the dive and list our apartment in the spring? And go through this whole process again?
I'm not quite sure. I could morph into a crafty person who builds bookshelves and lofted beds and somehow manages to keep the amount of crap in the apartment to a minimum, but I doubt it. Time will tell. 
Brick Underground articles occasionally include the expertise of, or information about, advertising partners when relevant to the story. We will never promote an advertiser's product without making the relationship clear to our readers.