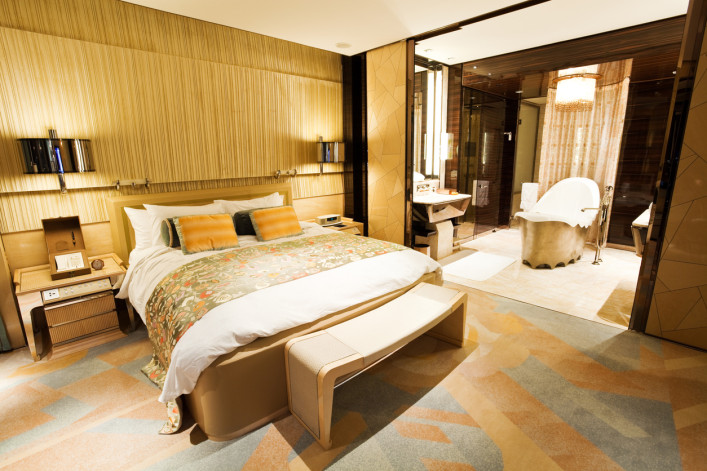 When you search real estate listings in New York and beyond, you probably come across the term "en suite bath." It sounds fancy, and that's because it sort of is: an en suite bath is a bathroom that is connected to, and accessed through, a bedroom. ("En suite" is French and means a set or sequence. Fast fact: according to Webster's Dictionary, the first-known use of the term "en suite" was in 1812!)
But en suite baths are not for everyone, and the case can be made both for and against.
The following are some musings and observations from the Brick Underground staff, and real estate professionals around the city who have their finger on the pulse of the WC needs of New Yorkers.
First, the (obvious) dream to make an en suite bath fully enjoyable: An apartment that has two full baths, one en suite, one not. Why? You get the luxury of having a bathroom exclusive to what is typically a master bedroom, and an additional full bath for guests passing through or staying overnight—the latter don't even have to take a shower in your own bathroom.
The arguments for the en suite bath
Convenience
"En suite bathrooms are highly desirable, but only if the home offers more than one bath. En suite conveys the luxury of privacy, proximity, safety and convenience," says Elizabeth Kohen, owner/broker at Garfield Realty.
Trips to the bathroom in the middle of the night are easier, with no dimly-lit journey down a dark hall that could also potentially wake other people in the house.
A breeze of a morning routine
Getting ready in the morning is that much easier. "Having the shower be close to your closet is great—it may be a drag for some to have to walk through the living room after a shower with your towel, dripping water along the way while you walk to your closet to get dressed," says Christopher Kromer of the Arrifin/Kromer team at Halstead. 
Easy access in hard times
Caught a stomach bug and wary of straying too far from the commode? Steps from your bed, the en suite is your new best friend.
Privacy for you
All your personal items are hidden away from living room company.
Privacy for them
When your living room company uses the bathroom, they are hidden away
Encourages you to be your best self
It's motivating! "If you're concerned with appearances, having an en-suite forces you (or motivates, depending on how you view it) to have your bed made, keep the dresser tidy, etc. or risk feeling embarrassed," says Kromer. 
The arguments against the en suite bath
Everyone can see your business
All you personal items are on view to anyone who does use the bathroom—from guests, to handymen.  "All your medications are there and your private grooming items. Plus, now people are walking through your bedroom where you keep cash and jewelry," says Dolly Hertz, associate broker, Engel & Voelkers.
Your slob inclinations are on display
Bad for messy/lazy/busy people. "Sometimes we just don't have the time to make the bed or keep our bedroom clean and you don't want to have to worry about it," says Kromer. 
No singing in the shower
Not great for the early bird/sleepyhead combo. "If it's a couple, and one likes to sleep in while the other likes to listen to music or a podcast while they're getting ready or taking a shower, that can be tricky," says Kromer.
TMI
Major romance killer. Relationships are all about intimacy—but sometimes it's nice to retain a little mystery, no?
Less room for the couch?
Potential to eat into the more "public" areas of the apartment.
"I've encountered an issue with en suite bathrooms quite a bit this year when it comes to buyers pursuing larger apartments in the luxury market. Newer developments construct en suite bathrooms for every bedroom, the downside of which is minimized square footage for entertaining spaces (formal living/dining rooms and great rooms)," says Matthew Melinger of Brown Harris Stevens.
Limited appeal for future buyers
Possible resale issue.
"Pitfalls of the one bedroom with en suite bath will become an issue, too, when you're ready to sell. Prospective buyers with eyes wide open will underbid and you may end getting less than you expect," says Hertz.
Sean Curneen of Citi Habitats says, they are not as bad if the bathroom has Jack and Jill doors—meaning one entrance from the bedroom and another from a common hallway. "The lack of privacy may be ok for families with young children but either way you are limited in the buyers that would be interested."
Brick Underground articles occasionally include the expertise of, or information about, advertising partners when relevant to the story. We will never promote an advertiser's product without making the relationship clear to our readers.