Manhattan architect Ritu Saheb doesn't mince words. After a quick look at the listing for this prewar one bedroom on the Upper West Side at 46 West 83rd St., she declares it to be "pretty crappy," and says that little has been done to fix it up. She's also not a fan of what she calls "the cheap cabinetry in the kitchen."
Still, she likes the location, half a block from Central Park. She also loves the price. The co-op unit is listed for $525,000, significantly less than the $890,000 median price for one bedrooms in the neighborhood.
"That's unbelievable for this area," she says.
For this week's Reno Ready, Saheb details what she'd do to update this apartment on the cheap. She says it's important to keep renovation costs down here, because a buyer at this price point is not likely to be interested in spending lots more money to renovate it.
"They'll want to spend where it counts," she says.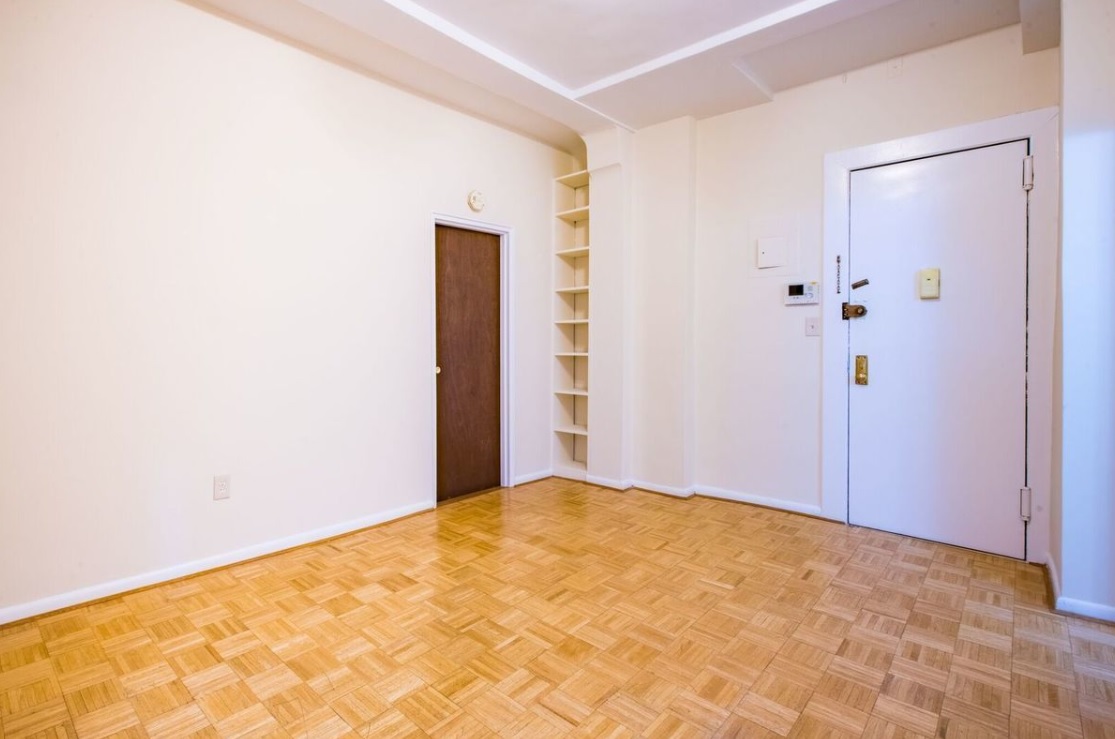 Living room (also shown at top)
Floor: Saheb doesn't mind the light oak flooring. But since it's old, she would have it stripped and refinished. She believes that this should cost around $20,000 for the entire apartment.
Walls: She also doesn't mind the beige walls, so she would leave them be. The new owner could add vibrant furniture for pops of color to the room. She would also keep the built-in shelves.
Moldings: Since this apartment has a traditional look, Saheb would add more ornate floor moldings and crown moldings, as well as new door and window casings. She thinks that these small details will add more architectural "oomph" to the space. She'd paint these new moldings white to complement the beige walls. (For tips on selecting the best white paint for your walls, see Brick Underground's guide.) 
These new moldings should cost about $10,000 for the whole apartment, she says. A gallon of Benjamin Moore Decorator White is $75.
Bedroom door: She'd paint the bedroom door the same color as the moldings because she feels that its current wood look screams "cheap." 
Window treatments: "I would definitely change the curtains," she says, explaining that she'd prefer the more traditional approach of a sheer layer with a heavier curtain over it. These sheer curtain panels start at $20 at Bed Bath & Beyond. These jacquard panels start at $25, also at Bed, Bath & Beyond.

Lighting: It isn't clear if there is a fixture on the ceiling. Many prewar buildings have concrete ceilings that are nearly impossible to drill into. If the ceiling isn't wired, she'd go with an assortment of floor and table lamps. This Dexter Arc floor lamp is $299 at Crate & Barrel and this Orda table lamp is $139, also at Crate & Barrel.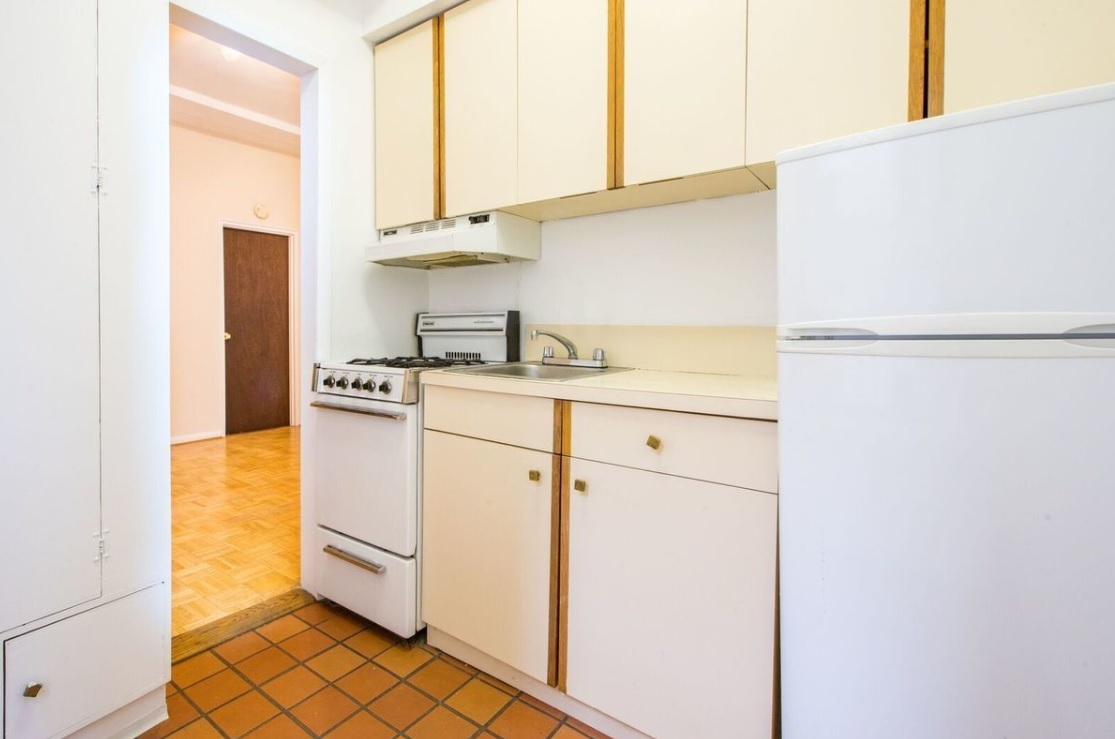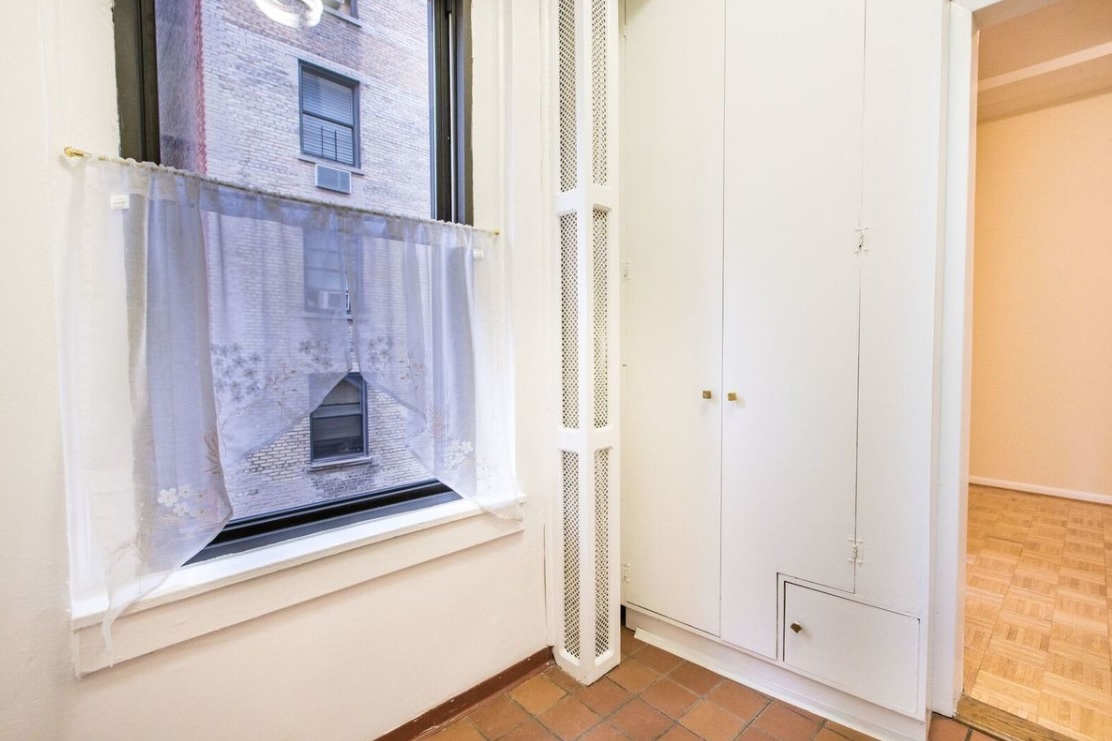 Kitchen
Floor: Saheb would keep the flooring in the rest of the unit, but the kitchen flooring "needs to go." She'd opt for neutral-colored ceramic tiles instead.
"The more neutral the color, the larger the kitchen will seem," she says. She says that ceramic tiles for a space this size should cost about $5,000.
Cabinets: Saheb would replace the cabinets with simple white laminate cabinetry without panels on the doors.
"White will make the room look bigger, and will reflect light well," she says.
She thinks these new cabinets will cost around $15,000. She would also keep the pantry by the window because that extra storage is useful and you could add a few more shelves there to hold more things.
Walls: She doesn't mind the light-colored paint in here, either.
Appliances: Since the range and fridge both look practically prehistoric, new ones are in order. Saheb would also add a built-in microwave with a hood. She'd go with stainless steel for all the appliances so that they'll stand out from the white cabinetry and walls. This GE French door refrigerator is $1,478 at AJMadison.com and this 30-inch freestanding gas range is $551, also at AJMadison.com. This GE over the range microwave is $199 at Lowe's.
Sink: She would swap this out for a better-quality steel sink with a faucet that has an extendable hose This Kraus under-mount sink is $270 at The Home Depot. This Kohler single-handle pull-out faucet is $149, also at The Home Depot.
Countertop/backsplash: Saheb would put in neutral-colored counter tops that will look good alongside the white cabinets.
"I'd go with something Corian-like," she says, noting that it doesn't need to be brand name, but should look and feel substantial. She'd run the same material up the wall to serve as a backsplash. She believes that this should cost around $2,000.
Window treatments: She'd go with a sheer curtain in here.
"It'll let in light, but you'll still have privacy," she says. These curtains are $15 on Amazon.
Lighting: Though it isn't visible in the photos, Saheb says she assumes that there's probably a ceiling fixture. And since it's probably old, she'd swap it out for a more modern-looking, decorative light. She'd also add under-cabinet lights.
"They're really useful when you don't want to turn all the lights on," she says. This glass ceiling light is $250 at Lamps Plus. This LED under-cabinet light kit is $269, also at Lamps Plus.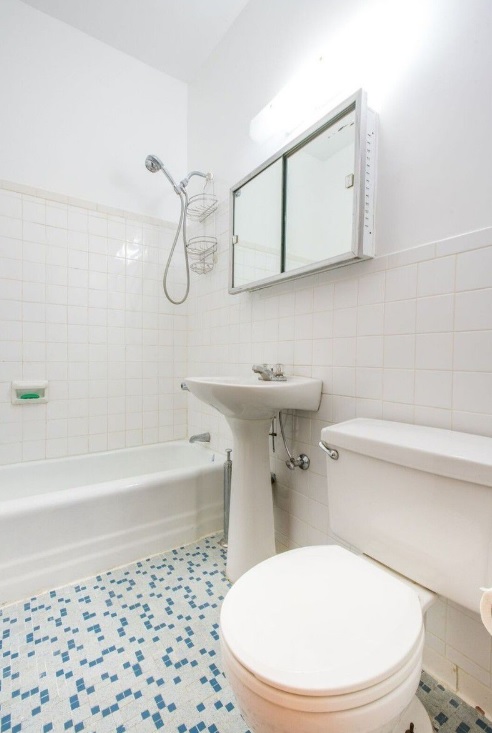 Bathroom
Floor: "I actually like the floor," Saheb says. The blue-and-white tiles appear to be a relatively recent addition.
"It's probably not that old, and it doesn't look dirty," she says. To save money, she'd hang onto the flooring.
Tub/Toilet: She thinks the tub looks fine, as well, and since it can be a pain to put in a new bathtub, she'd keep it. And if the toilet works, she sees no reason to replace it, either.
Lighting: "The [current] light is fine," Saheb says. "You can apply your makeup with that light. And anyway, there's no room between the shower head and the medicine cabinet to add a new light."
Sink: Saheb says a bathroom this size could use some more storage, so she'd swap out the pedestal sink for a vanity. This Kendall white bathroom vanity is $900 on Houzz.com.
Faucet: She'd also get a newer, prettier faucet, like this Delta two-handle center-set faucet, $120 on eFaucets.com.
Medicine cabinet: She'd upgrade to a "slightly better" wall-mounted medicine cabinet, "something longer that ends about six inches above the sink," so that it'd be easier for even the shortest people to see themselves in the mirror. This Kohler medicine cabinet with adjustable flip-out mirror is $661 on Wayfair.com.
Wall tiles: While she isn't entirely sure what she'd do here, Saheb says she'd rip out the white tiles in favor of "fun" wall tiles to play off of the colorful floor, perhaps with a Mediterranean theme. She'd go all the way up the wall with them. 
Curtain and rod: Finally, she'd get a new shower curtain and rod because there isn't one in here at the moment. This Glacier Bay curved shower rod is $38 at The Home Depot and this Blue Ombre shower curtain is $50 at CB2.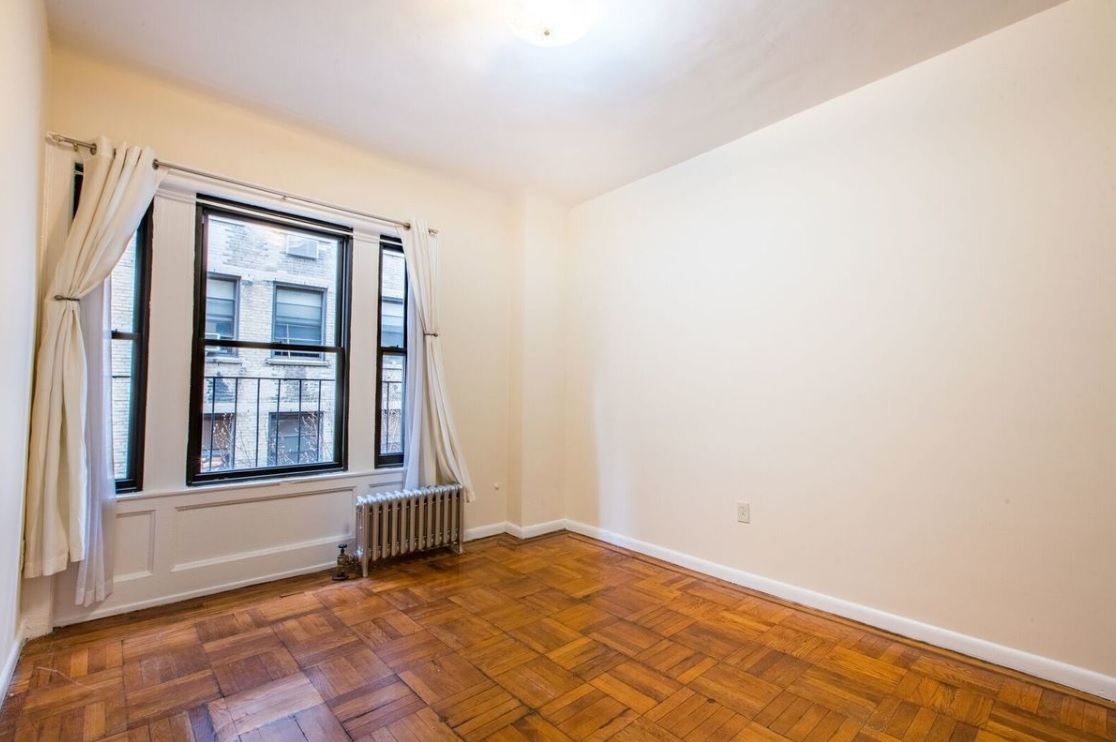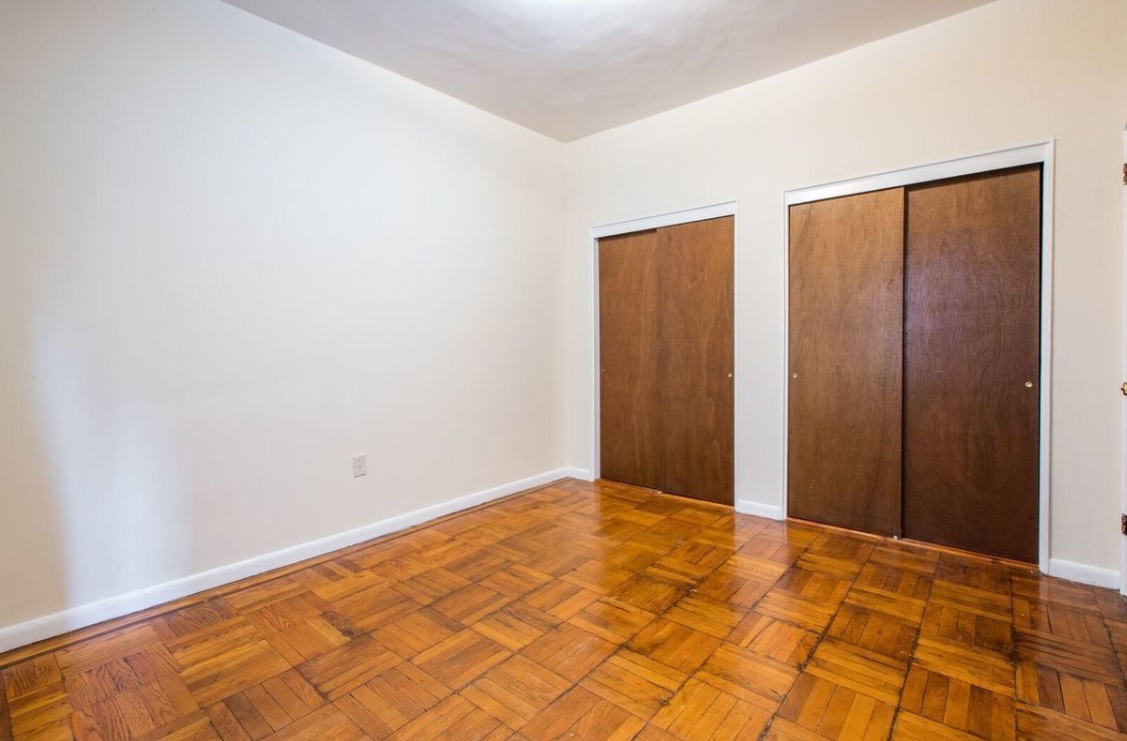 Bedroom
Floor: Saheb would keep the flooring here since it seems to be in decent shape, but would have it stripped and refinished. In addition, she thinks that the floor might look a little uneven, so some leveling might be necessary. 
Moldings: She'd put in new floor and crown moldings, as well as new door and window casings. She would paint them the same shade of white as the trim in the living room. 
Walls: She likes the color that is already here, so she'd leave the paint as is.
Closet: "You'll get a really big bang out of redoing the closet," Saheb says. She would have new wire shelves put in, as well as new poles. She would also paint the closet doors the same white as the moldings. 
Lighting: "I am a big believer in having a comfy light by your bed," Saheb says. So she'd get an adjustable goose-neck lamp that can easily be reached while lying down. She'd also change out the ceiling fixture for a more decorative one.
"Something light and airy because the space is so small," she says. This goose-neck desk lamp is $49 at Lamps Plus and this Baybrooke pendant lamp is $276 on houzz.com.
Window treatments: She'd go the two-layer route in here, too: a sheer curtain topped by a heavier layer to block light. She recommends shorter window treatments in here so they don't touch the heater. These Bal Harbour semi-sheer short grommet curtain panels are $17 at Touch of Class. These Ultimate Blackout 45-inch grommet curtain panels are $43 on Overstock.com.
Window sill: "It looks like there's a crack in the center of the sill," Saheb says. "The edge is gone, too."
She recommends replacing the window sills throughout the apartment. She thinks this would cost about $5,000.
Brick Underground articles occasionally include the expertise of, or information about, advertising partners when relevant to the story. We will never promote an advertiser's product without making the relationship clear to our readers.