If you're in the market for a New York City apartment, you know that in some ways, it's easier than ever to "shop" online for real estate; it's possible to peruse literally thousands of potential places to call home from the sofa or on your phone. But buying (or selling) an apartment here is more complicated and nuanced—not to mention competitive—than ordering a new microwave via Amazon Prime, and that's why both buyers and sellers agents provide their clients with a key advantage.
"New York City is famously home to the most complex and cut-throat real estate market in the world, and the landscape is constantly changing. It's virtually impossible for the layman to keep up, and that's why both listings agents and buyers agents are indispensable when it comes to navigating the market and getting the best deal," says Martin Mucha, founder of new online search platform Igluu, which uses a proprietary algorithm to produce the industry's most accurate search results. "Igluu, a one-stop shop for buyers, makes finding the right place easy, with the largest marketplace of vetted apartments for sale in NYC along with highly reputable agents."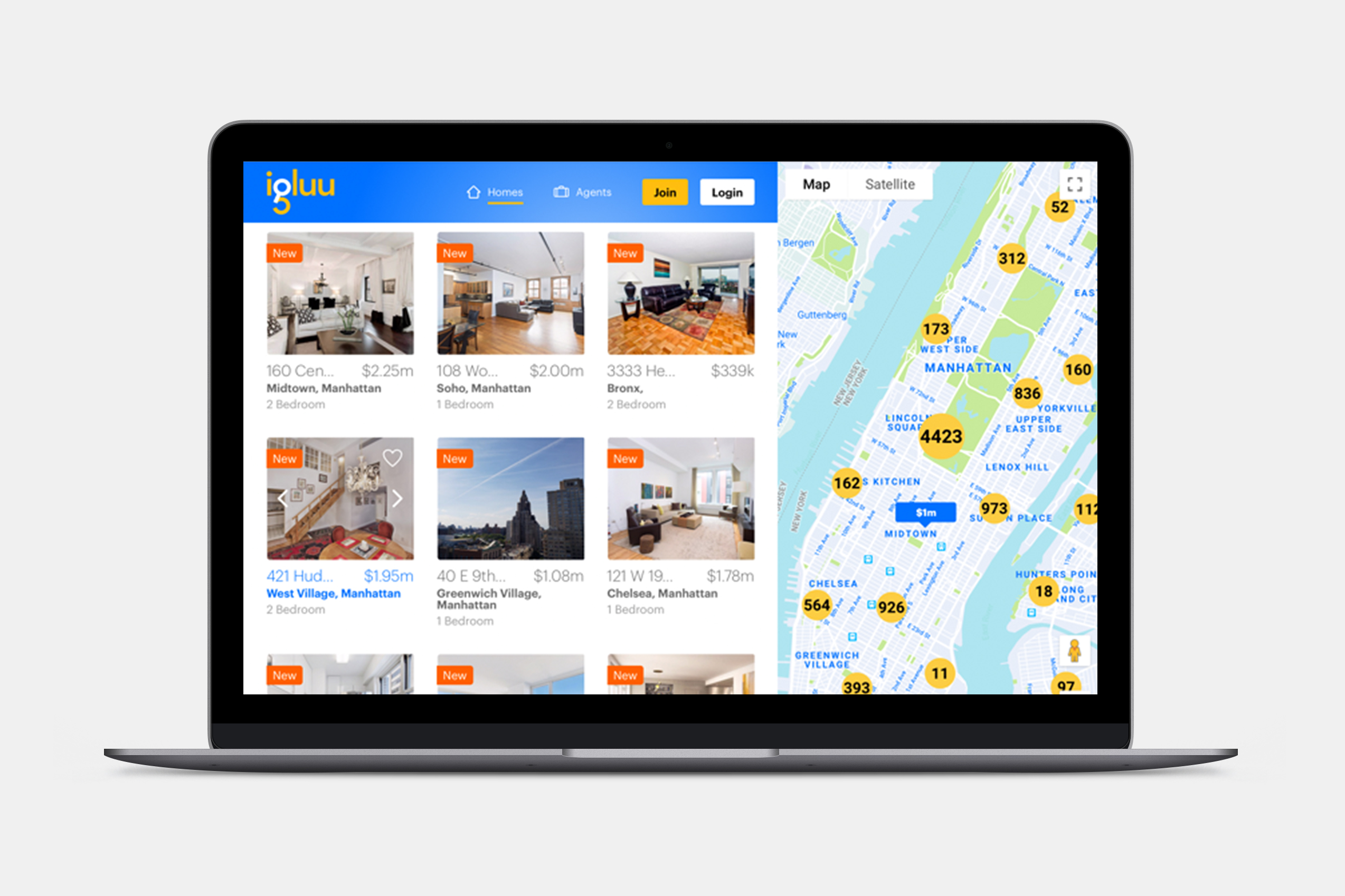 Listing agents vs. buyers agents: What's the difference?
An agent is an agent, right? Actually, no.
A listing agent represents the seller and works with the seller to set a price and market the apartment (in addition to facilitating closing after a bid is accepted).
(Note: "On some real estate sites, such as Zillow and Streeteasy, it can be difficult to determine who the actual listing agent is— it's not always the person whose photo and contact info is displayed next to the listing," says Igluu's Mucha. "That's because these sites sell that placement to other agents who want to work with buyers. Igluu, however, does not do that, and the agent you see is the person who listed the apartment, knows the most about it, the building it's in, and the neighborhood.")
A buyers agent works with the buyer, advising them on where they can find an apartment that fits their needs at the price they want to pay. The buyers agent will also help facilitate the closing process.
"I think whether a consumer is buying or selling, they should have a broker on their side to represent them, just as two parties would each have their own attorney to represent them in a legal dispute. There would never be just one attorney to present opposing arguments on behalf of two adversaries," says Douglas Wagner, Director of Brokerage Services at Bond New York Properties LLC. "In the sale or purchase of a home, both sides have tremendous stakes in the transaction, and each side needs to be confident and fully-informed about their potential risks and benefits as a result of the sale."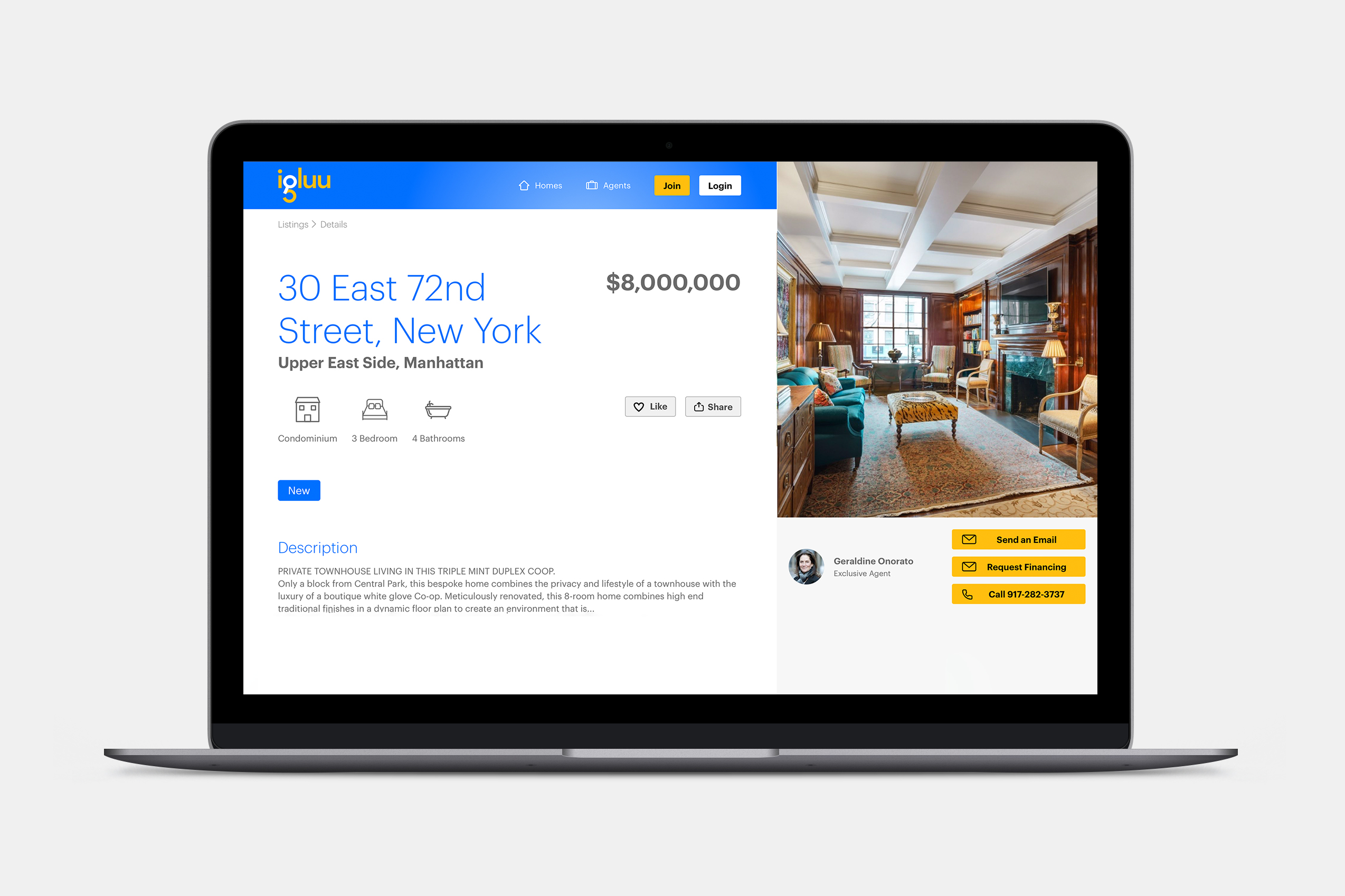 Why you should work with a buyers agent in addition to a listings agent
There are many advantages to working with a buyers agent, which range from practical to strategic to financial.
First, a buyers agent has a fiduciary obligation to you exclusively, and will advocate in your financial best interest only.
Buyers agents, with their extensive knowledge of the marketplace, can save people an enormous amount of time. Armed with a buyer's specific criteria (apartment features, neighborhood, price) a buyers agent can pinpoint the apartments that are the best match for someone. Not only do buyers agents have the most up-to-date information on what's on the market, they may also have contacts who sell the type of apartment you're looking for, and could gain access to a place before it is even listed. By working with an agent, you tap into both their knowledge and their network.
A buyers agent will have a sense of the market both macro and micro.
"An experienced broker likely has seen the same apartments trade more than once," says Samantha Behringer, a licensed associate real estate broker at Douglas Elliman. "They'll have a grasp of the market as a whole, not just one home." Behringer adds that both buyers and sellers look to real estate sites' sales stats to gauge current pricing. "That creates a lot of misinformation. Those closing prices are often six or more months old if you consider when they actually went to contract. The market is ever-changing now. People are not getting the full picture and are not coming to the correct conclusions."
A buyers agent can also save you time and anguish by directing you toward co-ops where you are likely—with their help— to be approved as buyer, and away from ones where, for any number of reasons, you may not be an ideal candidate.
"Most contracts in NYC are subject to some sort of board approval, and sales can fall apart even after contract signing due to a board rejection," says Wagner. "A buyer's broker is responsible for completing coop and condo board applications and submitting their buyer in the most favorable possible light so that the board approves the purchase application. Having an agent who is talented at creating board packages is worth the compensation they receive, even though it's just part of the process!"
A buyers agent can be especially helpful in the current climate, as they can act as an informed negotiator on your behalf, and save you money. That might be in the form of a reduced price on the apartment, or less obvious opportunities for reducing costs that experienced agents are familiar with. "One of the most important contributions of a buyer's agent is negotiating on behalf of the client. And there are ways to reduce the the total cost," says Halstead agent Shery Saeed. "One can play with closing costs...for example, sellers can cover certain taxes in place of a price cut. There is a lot of back and forth until agents work out a satisfactory deal."
Having someone working on your behalf can also take the edge off what is admittedly a stressful and emotional process for both parties. "A third party negotiating on a buyer's behalf will remove the emotional pitch from the process and focus on the actual value of the property and the business transaction at hand," says Wagner. "A buyer's agent will be able to argue for certain discounts, credits or other benefits and compromises that will ultimately seal the deal."
In addition to making your search more efficient, effective, and potentially less costly, buyers agents can also help accommodate various special circumstances for people.
For example, Shery has more than once found herself in the role of referee, when including the needs and wants of husbands and wives, or parents buying an apartment for a child. She's also conducted searches for clients remotely, "touring" apartments via Facetime for people moving from across the country or overseas. (International buyers may face financing challenges U.S. buyers don't; an agent may be able to help facilitate that process. Additionally, so can Igluu: the company recently introduced a financing program for international buyers offering loans up to 75% of value, in amounts from $1 million to $20 million and closing within two weeks.
How to get the most out of working with listing agents and buyers agents
Whether you're buying or selling, working with an agent provides numerous advantages. Here's how to get the most out of working with one.
First and foremost, make sure they are reputable. Igluu vets all of its listings and verifies that the listing agent featured is the person representing an apartment.
If you are looking to buy, do yourself and your agent a favor and identify what you want, what you need, and how much you can spend. "I sit down with a client for a chat. The goal is to identify what are their top three to five negotiable and non-negotiable factors," says Shery. "This will help me customize the search and find option the client would enjoy exploring. Setting expectation is another important factor. The more I know about what you are looking for the more useful I can be."
For sellers, Behringer also recommends an initial, upfront conversation. "Have a straight, managing expectations conversation right out of the box," she says. "Is it uncomfortable? Sure. But these conversations always yield positive results."
Thinking about buying or selling in New York City? Now you know why you shouldn't go it alone! Click here to find your agent, and your new place with Igluu.