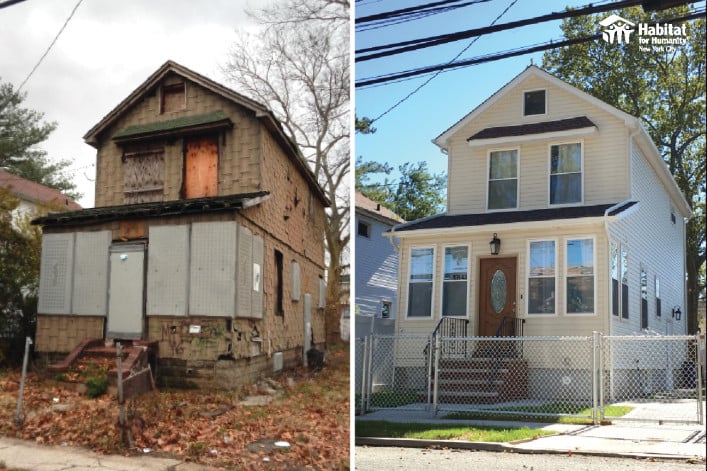 Affordable housing options of all kinds are notoriously hard to come by in New York City, but with most affordable developments currently geared toward renters, for a buyer in hopes of finding a deal, the options are particularly sparse. 
Habitat for Humanity NYC is aiming to chip away at the disparity, and just last week announced two projects that, all told, will bring 48 new units of affordable homes up for ownership onto the market in Brooklyn and Queens. The properties will be split up between two different projects; Queens Phase Two, a collection of 20 single-family homes in Queens, as well as three in East Flatbush; and SEED, a three-building, 25-unit new development in Brownsville, which is slated to be the second-largest multi-family development that Habitat NYC has ever put together.
As for the single-family houses, they're so-called "zombie" homes (in other words, abandoned or foreclosed properties), which NYCHA acquired and sold to Habitat NYC for $1 apiece in order to renovate them and turn them into livable housing options for NYC families. "This particular set of homes is a rarity, in that we're working with NYCHA to transition them off of their rent rolls [and into affordable property]," Habitat NYC CEO Karen Haycox tells us.
The SEED project was financed through programs in Mayor Bill de Blasio's Housing New York plan, and will be Enterprise Green Communities and EPA ENERGY STAR certified, in part to keep utilities manageable for homeowners in the long run. Habitat NYC has also partnered with programs like SONYMA (a state-run program offering low down payments) to allow purchasers to buy with as little as two percent down payment (as opposed to the standard 10 or 20 percent).
Though the timeline for when the homes will be finished is still TBD—as is the pricing on the houses and apartments—Haycox tells us that applications should likely open in fall 2017 and run through winter 2018, and that prices will be roughly in the $250,000 to $300,000 range, though may skew higher or lower.
The main aim, she says, is to target families earning between 50 and 80 percent of Area Median Income (AMI), and that Habitat NYC will work with individual groups to try to bring prices into a range that constitutes no more than around 30 to 33 percent of their take-home income. "Many of these families are paying up to 50 percent of their incomes in rent," says Haycox, and besides the stability of ownership, a major consideration is freeing up extra monthly income for those who are currently rent-burdened.
If you're interested in signing up as a potential buyer for Habitat NYC's current programs, details are available here on their website about registration and upcoming information sessions. If you're on the fence, Haycox urges you to throw your hat in the ring. "One thing I always say is that the biggest barrier to opportunity for affordable home ownership in NYC is that families don't apply because they think they won't qualify," says Haycox. "They think they can never afford it, or that they'll be rejected because of past credit indiscretions." 
As part of its push to transition more New York renters into owners, she notes that Habitat NYC has programs to work with buyers on improving their credit and other qualifying factors to get them ready for a future purchase. "We have a family coming into a project right now that was denied the first time, then worked with us through the Pathways to Partnership program, and now they're buying," she notes. "Fear can be your biggest obstacle. I would encourage people to apply—even if your circumstances don't qualify now, it is possible that they can qualify over time."
Brick Underground articles occasionally include the expertise of, or information about, advertising partners when relevant to the story. We will never promote an advertiser's product without making the relationship clear to our readers.