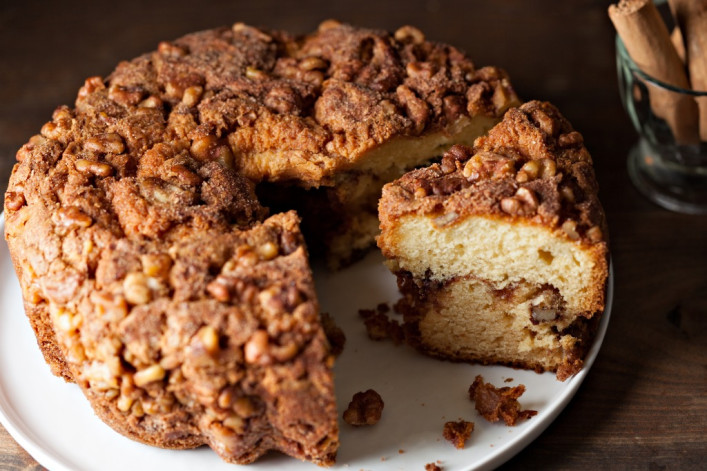 A board interview is the final step to approval when buying a co-op unit in New York City. In this series, New Yorkers tell Brick Underground about their experience with the interview process, what worked and what didn't—and what you can learn. Have a story to share? Drop us an email. We respect all requests for anonymity. 
This week Nick Davies and Jason Arthur share their experience buying a two-bedroom co-op in Bay Ridge, Brooklyn. Jason is a baker who's appeared on The Great American Baking Show. He thought a homemade coffee cake would be a nice icebreaker for the interview and although that didn't pan out as the couple envisioned, they were able to connect with the board over Bay Ridge's varied food scene.
What were some of your concerns going into the interview?
Jason: The unknown of it all that was the most anxiety-ridden part for me. You jump through all the mortgage and banking hoops and it all comes down to this one interview which, depending on how it goes, means all that work could be for nothing. 
Nick: I wasn't particularly anxious because our broker did a great job, telling us there's was nothing to worry about, that we just had to go in and be ourselves, but the one thing that I had in the back of my mind is that they don't need a reason not to approve you. If they don't like you, they can deny you and it's up to their whim. 
---
[Editor's Note: This story previously ran in June 2019. We are presenting it again in case you missed it.]
---
How did you prepare?
Jason: I have a friend who used to be on the co-op board for her building in Prospect Lefferts in Brooklyn, so I took full advantage of that and asked her about her interview process for the co-op board. She said that by the time the buyers get to them, it's a case of going through the rules of the building and making sure the new owners are going to be OK with that. We had gotten a copy of the rules of the building, so we knew what to expect. Nothing came up in the interview that was unexpected. [My friend] really put my mind at ease that it wasn't going to be an investigative interview into our past but more of an informal meet and greet.
Our broker said you don't have to bring anything, but as I'm a baker, I bought a little coffee cake that I made for the board. We showed up to the interview, which was at one of the board member's apartments. We were the first ones to arrive—the other board members weren't there—so I gave her the coffee cake and she was very excited and said she had such a sweet tooth but then she proceeded to put it in the kitchen and it never reappeared! I thought she might get it out to share during the interview but we never saw it again! 
Nick: It's a recipe that's being rolled out in the Barnes & Noble cafes and is baked with a lot of love—and sugar! We thought it might have been a nice icebreaker but I don't know where it went or who ended up having it!
Was it easy to schedule the interview?
Nick: They offered a time and it was late enough after work that it worked for us and we were so eager to get on with the process, we probably would have said yes to anything. It was an evening on a weekday, and it was a good way for us to test run the commute. We have some good friends of ours who live close to the apartment, so to make sure we weren't late, we went early and hung out at their apartment for a while so that when the time came for the interview we just walked over.
How did the interview go from there? 
Nick: There were three female board members. They started with introductions and then the first thing they started asking about was our financials. They had some questions about credit cards and other properties.
Jason: I have a mortgage in my name on a house in New Jersey but we have it rented and up for sale, so I was just reassuring them that the house is for sale, we've had offers.
Nick: After the financials, they went through the rules of the building, gave us the rundown. We interjected with questions as it went but mainly they were telling us what's allowed and what's not in the building.
What originally appealed to you about the co-op?
Jason: It's a two-bedroom unit with one bathroom, with a really good-sized kitchen and it looks like the unit was renovated fairly recently, maybe in the past five years, so all we had to do was come in here and paint. It's got a pretty good layout. There are some things we are considering doing down the road in the future but nothing immediately.
The topic of renovations did come up in the board interview. Our broker told us we shouldn't really ask about renovations because the board doesn't like the idea of new people coming in and just immediately causing a ruckus. Because we had no immediate interest in renovating we didn't broach the topic but they did bring it up, telling us what the process is if you want to renovate, telling us you have to be approved by the board, all work has to be done during business hours, all contractors have to be licensed and insured, all that kind of standard stuff.
What other questions were you asked?
Jason: We were asked about why we wanted to live in the area. We have friends who live around the corner. When we were looking at apartments, we had Bay Ridge on our radar, because every time we came to the area it's been so nice. 
Nick: It feels like an authentic New York neighborhood. Some places that seem up-and-coming, you feel it is just because other neighborhoods are getting so expensive and gentrified, that they creep into the margins. Bay Ridge feels like it's been established, it's been a real community and neighborhood for a long time and there are great restaurants and bars. And great bagels!
Were there any surprises in the interview? 
Jason: Towards the end of the interview, they were talking to us as if we were moving in next week. They were saying, 'just contact the super, here's his name, make sure you sign up for the STAR program to save some money.' That was a surprise and really put us at ease midway through the interview.
Nick: One big piece of advice from our broker was not to ask big questions. We felt comfortable asking about lighter questions, and when they did open it up to us, we asked about their favorite restaurants in the neighborhood and they rattled off so many recommendations and were very enthusiastic to tell us about all the great places. My advice [to others] is keep it fun and on the surface and ask questions about the neighborhood—something that conveys your enthusiasm for wanting to live in the area and in the co-op.
Jason: I know it's stressful, but I think the board just want to see who you are and recognize you in the lobby.
Brick Underground articles occasionally include the expertise of, or information about, advertising partners when relevant to the story. We will never promote an advertiser's product without making the relationship clear to our readers.