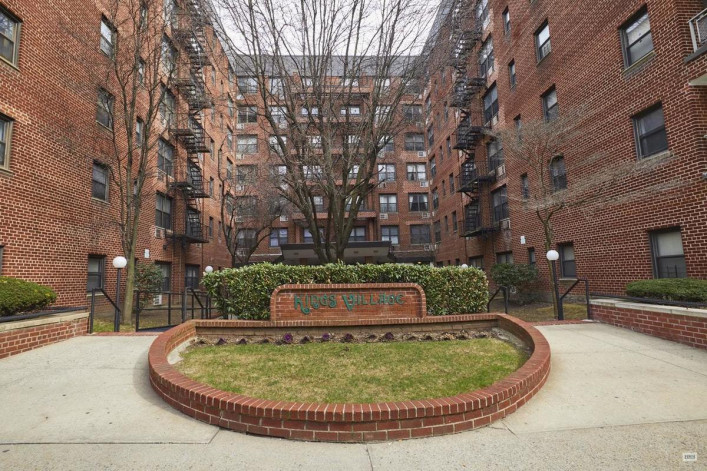 Brown Harris Stevens Residential Sales via StreetEasy
A board interview is the final step to approval when buying a co-op unit in New York City. In this series, New Yorkers tell Brick Underground about their experience with the interview process, what worked and what didn't—and what you can learn. This week, Natasha Meyers, who asked that we use a pseudonym, shares her experience buying a two-bedroom co-op for her and her mother in Kings Village, Brooklyn. Meyers worried about getting to the interview on time and was nervous about the kinds of questions she'd be asked. In the end, she thinks the non-traditional arrangement of living with her mom worked in her favor.
What were your main concerns on the day of the interview?
My concerns were two-fold, getting there on time and just the uncertainty of what I was walking into. I was purchasing the co-op for my mother and me to live in, so she accompanied me to the board interview. The interview was at 6 p.m. which was perfect because I was coming from work and the interview location was at the management office, which was right down the block from the building, so it was really easy to get to.
We got there right on time. I didn't want to be late. I work in Manhattan, about an hour and a half from where the building is, so it's a long commute. I left work an hour early to get there on time.
My other concern was about what we were going to encounter. Who was going to be in the interview room? Were they going to be concerned that it was me as well as my mother? I had no idea what they were looking for in terms of a new shareholder.
My biggest fear was that I would go in and answer all the questions to the best of my ability but still get turned down for some unknown reason, because the board can reject you for any reason at all and they don't have to tell you. So you can do all that work and all that preparation, and still get rejected.
How did you prepare for the interview?
I read articles online just to get an idea of what to expect and it was scary. I was very concerned that there were so many unknowns around the process. I told my mom to smile a lot and answer the questions as honestly as possible. My mom has a great personality so I just said, be yourself, and I took that same advice. We went into the room and the members of the board were three older women and they were immediately very nice.
What questions were you asked?
They asked me very simple questions. I think they asked why I wanted to live in the building, and why I wanted to live in the area. They asked me about my employer who they were curious about—not that it was a sticking point, they were just curious. They asked one other question, like what were we looking for in a building. There were no curve-ball questions, just a few get-to-know-you questions. Then they said, "let's tell you about what Kings Village is like and some of what we experience here." I didn't anticipate that! It was a very easy interview. The conversation flowed. I wish I'd known that going in, I wouldn't have been so nervous. 
Most of the articles I had read were about board interviews in Manhattan, so that's where I got the impression it was a really daunting experience. I'm sure there are buildings in Brooklyn that mimic the board interviews in Manhattan, but I think the outer boroughs are a bit more laid back.
How did the board respond to you and your mother wanting to live together?
On the one hand, I thought maybe that was favorable; because I'm a younger purchaser maybe they might like the fact that my mom is here holding down the fort. So, I thought it is probably going to be beneficial but on the other hand, it is non-traditional. I thought, maybe they might not like a single person and her mother living together, maybe they are looking for a family. I had no idea.
In the end, I think it came off well particularly because the members who interviewed us were all older women so I think they liked the fact that my mother and I are still close. I think they thought it added some stability. In hindsight, if it was just me buying the apartment by myself, I'm not sure if it would have gone over so well.
Do you think the interview might have taken a different direction if it had just been you?
I think so. I was 30 years old at the time and I'm a single woman and the apartment is a two bedroom and I think they would have been concerned about what I was going to be doing, concerned about parties. It's a very quiet building; mostly families and older people. I think a big concern was whether buyers are quiet and considerate of their neighbors. Unfortunately, there's a stereotype that younger residents are less committed and less considerate of their communities and I think having my mother there allowed me to sail more smoothly through the process.
They seemed to like my mom because my mom was close to their age and towards the end of the interview they asked if I planned on making any repairs to the apartment so that gave me the impression I was going to be approved right away.
Were you comfortable answering questions about renovation plans?
I was hesitant to do that. I had only visited the apartment very briefly. There were no pictures online and I didn't have a full idea of what I wanted to do. I knew the bathroom and the kitchen weren't really updated so I knew at some point I wanted to do some work on it, but there were no specifics in my mind at the time of the board interview. I was honest. I said I might want to do some work in the future but I had no immediate plans.
Why did the apartment appeal to you?
The apartment is on the top floor but didn't stand out to me until I saw another apartment with the exact same layout on the second floor that was $30,000 more expensive and I thought, the other unit is the exact same layout but cheaper and has a great view.
How is it living in the co-op now?
It's great. The co-op is very comfortable and very quiet. We really enjoy living here. At some point in the near future, I'm going to scrape some money together to do some renovations. So that's really the only thing I want to do. We are very happy with it. I'm still learning what it means to be a shareholder in the building. It seems quite complicated to me but I'm learning as it goes along. It's been a good experience so far.
Brick Underground articles occasionally include the expertise of, or information about, advertising partners when relevant to the story. We will never promote an advertiser's product without making the relationship clear to our readers.