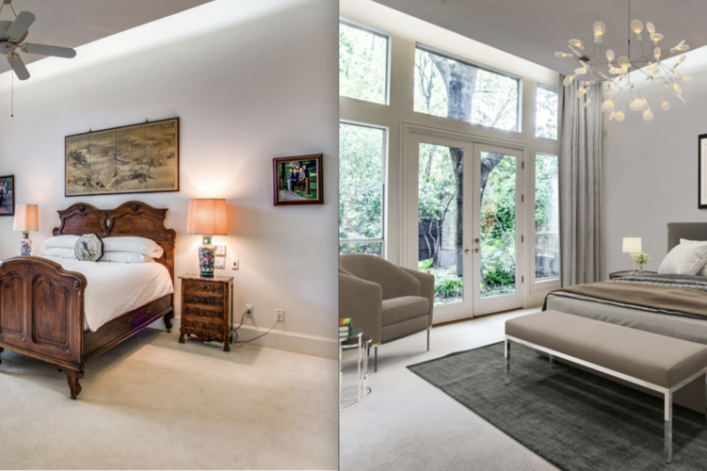 Virtual Staging Solutions. Composite by Brick Underground
Virtual staging, meaning using digital renderings of furniture, lighting, textiles, art, plants, and more, to enhance real estate photos, has come a long way in recent years. With some listings, it can be very hard to tell if you're looking at an actual photo of an interior or one that's been created or manipulated.
"People have gotten very, very good at these. It's really difficult even for me to tell if it's a rendering or a photo," says Joseph Vance of New York-based Joseph Vance Architects. Gone are the days of virtual "tells," like a pillow that looks too perfect or smooth and shadows falling the wrong way.
Virtual staging is primarily meant to suggest the potential of a space and move buyers and renters to come check out a place IRL, but it's easy to be seduced by these picture-perfect living spaces. This is why it's important to bring a discerning eye to a listing with virtually-staged rooms. 
Brick Underground asked around to find out about the tips and tricks of virtually staging, and what renters and buyers should look for and consider when looking at digitally decorated interiors. Here's what we learned: 
Know what you're looking at
You can't blame an agent for trying to entice you, but they should also disclose an apartment is virtually staged. You may find photos that are labeled "virtually staged" in the corner or as a watermark; agents may also choose to note a listing is virtually staged in the description. Be on the lookout for this indication.
Because a listing is an ad, you should expect some enhancement or an apartment to be "showing its best side."
"We're not out to deceive," says Dennis Miller, co-founder of Virtual Staging Solutions, which has been in the virtual staging business since 2009. Typical improvements: a dingy room can be "painted," ugly cabinets "replaced" and a dark interior can be brightened, usually to show what could be, particularly in the case of an estate sale.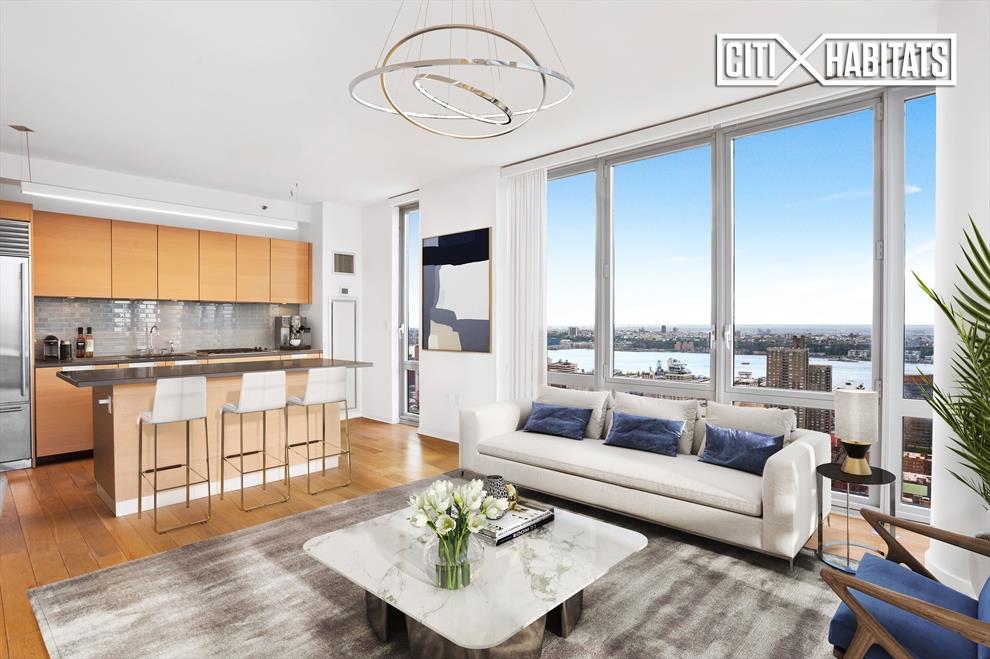 Look up
It's important to remember that virtual furniture and fixtures don't weigh anything, and don't need an actual power supply, so pesky considerations like drilling into concrete or missing outlets are not a problem.
"Often, in virtual staging, an agent will throw a beautiful chandelier on the ceiling," says David Palmieri, an agent with Citi Habitats (and an architect) who uses virtual staging for some of his listings. But that's not always possible because the infrastructure doesn't enable it. "You have to have a junction box in a concrete slab for that, and sometimes you don't have the capacity to do that." (So, your light may be coming from table and standing lamps, not from overhead.) 
Other features, which can be summoned at the flick of a mouse, may in fact be quite complicated and expensive to execute. As an example, Vance offers cantilevered shelves. "In reality, to do those you have to rip open the wall and have them professionally installed," he says. 
Look for the outlets
Similarly, does the way the living space is organized seem supported by practical considerations? For example, is it actually possible to plug in a television and related tech where its placed in the virtually staged room? Miller says the first thing he looks for in a room is the electrical outlets. "We think about, 'How do you live in this room?'" he says, and if necessary, designers will speak to clients to understand how it is used. 
Look down
Sometimes a virtual stager will build a digital model with 3D software, so the floors in a virtually-staged room may not depict the real floors at all. "The floors may not be in as excellent condition as they look," says Palmieri. 
Look out
Know that if you're shown a view, it will very likely be enhanced. That might mean a bright blue sky and a cityscape, or a sparkling and dramatic nighttime skyline through floor-to-ceiling windows. But it's unlikely a view will be completely fabricated. "We're not going to put a beach scene out the window if it's not there," says Miller. "What's out the window is out the window." 
The orientation and surrounding buildings will also have an effect on the natural light an apartment gets. If you can see that a window looks out onto an alley and an apartment looks nice and bright, the image has likely been enhanced. (This of course happens with all kinds of listings, not just virtually-staged ones.) Likewise, "If an apartment is west-facing, you're not going to get southern light flooding in," says Palmieri. And that thriving banana leaf tree in the corner? You may want to dial back your plant fantasies until you're in the actual space. 
Look at the floor plan
Floor plans typically include dimensions. Do the digital renderings seem to squeeze in more furniture than the laws of physics can tolerate? If so, the space may be smaller than the image seems to suggest.
Charlotte Kullen, founder of media relations firm Char PR experienced it herself. "A broker who had an apartment in my same line in my building—with the same size and floor plan—magically created a larger home—with more space between furniture than reality dictates and room for additional pieces of furniture that would no way fit in real life," she says. "Wonder how many buyers noticed the size was off when touring!" (Miller says that all furniture in renderings by Virtual Staging Solutions is to scale.) 
As Palmieri points out, scale can be manipulated to increase vertical space as well, for example, a slightly shorter chair or coffee table that make a ceiling look higher. His tip to reality-check renderings: "Find something to reference for scale, like a door frame or door, which are typically 36 inches wide," he says. "Use that constant dimension as a reference to determine if other things in the picture are to scale." 
Brick Underground articles occasionally include the expertise of, or information about, advertising partners when relevant to the story. We will never promote an advertiser's product without making the relationship clear to our readers.