Real estate commissions in New York City have been falling for quite some time, but not in the way you might expect. While most sellers in NYC continue to pay between 5 percent and 6 percent in total commission on a resale, a declining percentage of this broker fee is actually being pocketed by real estate agents in the city. If sellers are still paying commission rates of 5 percent to 6 percent—as they have for decades—you may be wondering: Where is the rest of the commission going?
The answer is not what you might expect, but it's good news for both buyers and sellers who have reluctantly accepted high broker fees and high closing costs as a cost of doing business in NYC real estate for decades. In recent years, savvy buyers have been pocketing some of the broker commission paid by sellers through buyer agent commission rebates. 
"A buyer agent commission rebate is simply another form of a closing gift given to a purchaser by her or his buyer's agent," explains Sonja Gosine, spokesperson of Hauseit, a New York City-based reduced commission platform for buyers and sellers established in 2014. 
"Instead of receiving a box of chocolates or a bottle of wine as a closing gift, astute buyers who have discovered the concept of a broker commission rebate are receiving large checks at closing, which can be up to 2 percent of the purchase price and amount to tens of thousands of dollars in savings on closing costs."
Broker commission rebates were legalized in 2014 as part of a push by New York lawmakers to breathe competition into the real estate brokerage industry. However, despite the legislative change, broker commission rebates have been plagued by misinformation on the part of brokers and consumers in NYC, many of whom incorrectly believe that commission rebates are not allowed.
While many buyer's agents in the city are unaware that rebates are legal, some agents are  prohibited from offering them through restrictions imposed by their brokerage firms. Other, more traditional buyer's agents who are aware that rebates are legal are simply not willing to give up any commission to a buyer client at closing.
But for buyers who are in the know, a buyer agent commission rebate can be a serious payday, given the high purchase prices which are a staple of life in NYC. At Hauseit, "We offer buyers the ability to save up to 2 percent and reduce buyer closing costs through the largest broker commission rebate in NYC," Gosine says. "The buyer of a $2 million property in NYC can save $40,000, assuming that the buyer agent commission being offered is 3 percent."
While the prospect of saving thousands of dollars as a home buyer in NYC is enticing, the broker commission rebate itself serves another purpose: The additional monetary savings from a rebate can give a buyer the ability to step up on price in a bidding war and beat out the competition from fellow bidders. In other words, a commission rebate may enable a buyer who otherwise might not have come out ahead in a competitive bidding process to secure a highly desirable property.
Moreover, sellers in NYC typically agree to pay a fixed total commission upon closing, which is meant to be split equally between the listing agent and the broker representing the buyer. In the rare instance a buyer is unrepresented, the listing agent generally pockets both sides of the commission and neither the seller nor the buyer save any money since there is only one agent on the transaction.
And in an environment where sellers continue to pay hefty, fixed commissions of 5 to 6 percent on average in NYC, broker commission rebates are one of the most effective ways for buyers to painlessly extract broker fees from a transaction and ultimately push the city's brokerage model towards more fair and moderate commission rates that benefit consumers.
How does Hauseit's Buyer Agent Commission Rebate program work?
Hauseit pairs each buyer client with an experienced, local partner buyer agent who will not only serve the role as a traditional, full-service buyer's broker but who has already agreed to discreetly write you a check for up to 2 percent of the purchase price, which comes out of the commission paid by the seller.

Most importantly, Hauseit's partner brokers are traditional brokerage firms and agents based locally in NYC who never openly discount their services or offer rebates online. In a NYC brokerage environment which still relies largely on reputation and on the cooperation of fellow agents, Hauseit argues that this discretion makes for smoother transactions and less disruption.
"Since our launch in 2014, we've found that our buyer clients value the element of discretion when it comes to receiving a rebate," says Gosine. "Our clients want to save money, but they also don't want to risk losing a deal by antagonizing a listing agent who may not necessarily support broker commission rebates and what they mean for the future of the brokerage model in NYC."
Hauseit also offers ways for sellers in NYC to reduce or fully eliminate broker commissions through their flagship Assisted FSBO listing service, which is similar to a DIY flat fee MLS listing that one may find in other parts of the country. The company also offers a 1 percent Full Service Listing option for sellers who are unable or unwilling to pay a 6 percent commission but understand the value in having a traditional, full-service agent.

"By addressing both sides of the typical commission structure in NYC real estate, our platform gives buyers and sellers more choice and ultimately encourages a less expensive and more equitable approach to broker commission rates in NYC," Gosine says.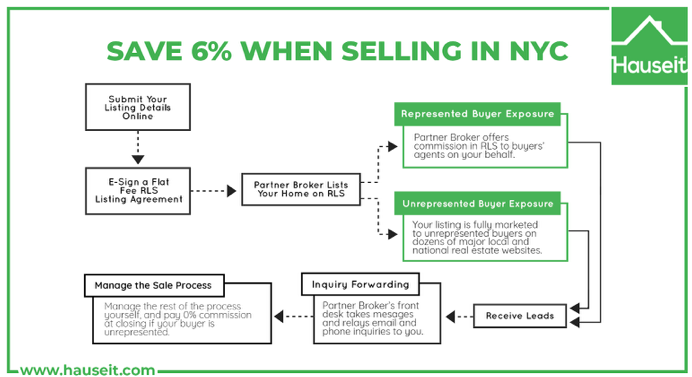 ---
Hauseit is a New York City-based reduced commission platform for buyers and sellers established in 2014. Click here to learn more about ways to save up to 6 percent as a seller in NYC, and click here to learn about ways to save 2 percent or more as a buyer in NYC.