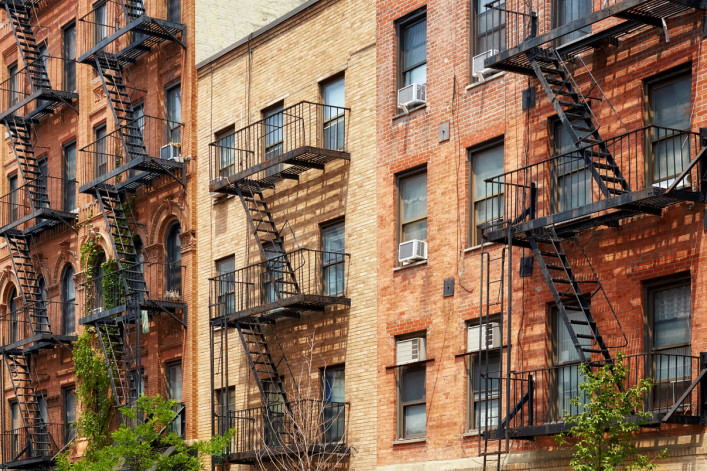 New York City co-op buildings are known for their rules: They have strict financial requirements for the buyers they will accept as well as stringent policies about subletting, pets, and renovations. But the pandemic—and the stalled sales market—has forced some buildings to make some changes and relax some of their rules.
Here's one example: Co-op buildings are typically resistant to allowing shareholders to rent their apartments on a short-term basis—but this became an economic necessity for some owners.
Kathleen Adan, who asked we use a pseudonym, bought on the Upper East Side two years ago and is now on the co-op board for her building. She says she's aware of three short-term rentals in her building that under pre-pandemic conditions would not have been approved. "We did have problems renting our co-op owned apartments during 2020 so this was a way to replace some of the lost rental income," she says. 
Rules shape the character of a co-op: They are an important part of who they attract and who ultimately is allowed to buy in the building. The changes underway, accelerated by the pandemic, could ultimately make a wider group of New Yorkers able to live in a co-op. Here's a look at some of the shifts.
Short-term rental flexibility
Changing the sublet policies became an urgent priority for some co-ops when owners left the city during the pandemic. Co-op buildings all have different rules in the proprietary lease but most limit sublets to one or two years in any five- to seven-year period. Boards might also insist that you, the shareholder, have lived in the apartment two years before you sublet. 
However, Wendy Sarasohn, an agent with Brown Harris Stevens, says sublet polices are easing up for an obvious reason: Boards don't want empty buildings. If shareholders have moved out of town she says, "It's very difficult to hold them accountable for their maintenance." 
In addition, some co-ops are allowing more flexible lease terms—in some cases less than 12 months, according to Philip Horigan, founder of Leasebreak, a short-term rental marketplace.
In Adan's building on the Upper East Side, there's been a long-standing limit on how many years an apartment can be sublet consecutively but she says exceptions have been made. "We did allow an additional sublease renewal beyond what we normally would approve," she says. 
Financing and post-closing liquidity rules
Prior to the pandemic, there was pressure on co-ops to show more flexibility with their financing arrangements for buyers. Sarasohn says market conditions resulting from the pandemic have intensified that need. She is aware of at least one co-op building in Carnegie Hill that doesn't allow more than 50 percent in financing but the board is meeting this month with a view to increasing that to 65 percent.
A 65 percent cap on financing still requires a substantial down payment but Sarasohn says it makes the building more competitive with buyers who want to take advantage of low mortgage rates. "Even people that have the wherewithal to pay all cash want to borrow," she says. 
Another daunting co-op obstacle is the post-closing liquidity requirement. In Sarasohn's view, the demographic of the Fifth Avenue co-op buyer is shifting away from the older pied-à-terre or second-home buyer to young families who have high incomes but not the liquid assets to get past the board. She knows of one co-op on Fifth Avenue that lowered its post-closing liquidity requirements just as the pandemic hit. (It had previously demanded three times the value of the property in assets.) The building in Carnegie Hill is considering making similar changes at its upcoming meeting. 
Similarly, Michael J. Franco, a broker with Compass, says some buildings have lifted restrictions on pieds-à-terre in response to this pandemic as a way of increasing the buyer pool because so many New Yorkers are spending time out of the city. 
However, don't assume co-op boards are completely ditching their financial requirements and restrictions. New York City co-ops are all unique and Sheila Trichter, a broker with Warburg Realty, says many are now more concerned with strong debt-to-income ratios and high liquidity out of a fear that buyers may lose their jobs. 
Outdoor space 
Speaking on the Brick Underground podcast, Bianca Colasuonno, a broker with Compass, says she's seen co-ops in Queens open up grounds that were previously off-limits. "They have all these beautiful, closed-off grounds that they don't let anyone sit on or even touch the grass, but now I see them starting to open those to people to allow them to enjoying the space," she says. 
It's a smart move for a co-op to provide these types of amenities. On the Upper East Side, Sarasohn says one co-op board is taking notice of the interest in outdoor space. "The backyard looks like it's abandoned and buyers are turned off. The board is recognizing they need to put plantings and make it visually appealing—it's as important as the lobby," she says.  
Colasuonno says she's also seen co-op buildings add bike storage to meet the demand from residents. In one Fifth Avenue co-op building, the board has decided to expand the gym to include outdoor space. Rachel Lustbader, a broker at Warburg Realty, has a listing in the building and says the upgrade is a direct response to Covid.
Allowing pets 
Landlords have been quick to show flexibility about pets as cat and dog adoption soared during the pandemic. Sarasohn was working on a deal with a co-op buyer who she was told had a dog. Then it was revealed the buyer actually had two dogs. The board allowed the deal to go ahead. 
"We are moving towards an environment in which the co-op rules are going to be more user-friendly," Sarasohn says, who points out much of this is approved on a case-by-case basis. 
Brick Underground articles occasionally include the expertise of, or information about, advertising partners when relevant to the story. We will never promote an advertiser's product without making the relationship clear to our readers.