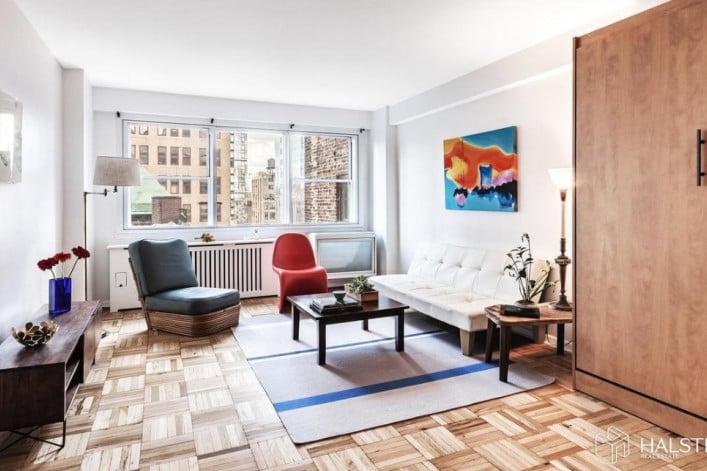 Manhattan can be loud—at all hours of the day and night. For some, that's part of the attraction. For others, well, not so much.
So when it comes time to search for an apartment here, folks who can't fall asleep unless it's pin-drop silent will have a much harder go of it than those who can easily tune out the booming bass from the bar next door, the occasional elevator ding, and the upstairs neighbor with the newfound affinity for clog-dancing.
Still, it isn't altogether impossible to find a quiet apartment in Manhattan.
In this week's Buy Curious, Michael Comandini of Keller Williams Tribeca and Gill Chowdhury of Warburg Realty tell you how to do it, with tips on which parts of a building you should focus on, which floors will be quieter than others, and which neighborhoods you should be looking at so that the apartment you choose can be the refuge you that you need it to be.
The question:
I'm very sensitive to noise and looking for a super-quiet apartment in Manhattan. Is that doable? Where should I look? What should I look for?
The reality:
Among Manhattan's many nicknames is, of course, The City That Never Sleeps. The never-ending din can be exciting for some people, but can also be an absolute nightmare for folks who need silence in order to fall asleep.
But that doesn't mean that these types need to escape to the suburbs or resign themselves to an endless cycle of earplugs and white noise machines.
"The key is knowing what to look for both online and in person," says Comandini.
Where to begin your search 
Finding a quiet apartment will take some attention to detail and some leg work. While there isn't a search option for "quiet unit" on listing sites such as StreetEasy, Comandini recommends that once you zero in on an apartment that you think you like, take the extra step of finding out where the apartment is located—both geographically and in the building itself, to filter out any that may be too loud for you.
"Apartments located on side streets are usually your best bet," he says, "but you can find quiet spaces in buildings located on major streets and avenues depending on where they're located in the building." Rear-facing units, for instance, will typically have less noise than street-facing ones. (Checking the address on Google Maps can tell you if the building is on a side street. And looking closely at listing images can sometimes (but not always) tell you if the apartment is facing a street or backyard).
Additionally, he proposes finding out whether there are "noise-emitting points of interest" in the vicinity, such as fire houses, police stations, schools, bars, and hospitals.
Typing the address into Localize.city can also give you some insights about noise, such as construction projects nearby.
Chowdhury also suggests checking to see if a listing mentions CitiQuiet or sound-proof windows.
"I once rented out an entire building right outside the subway in Brooklyn," which had the noise-canceling windows installed, he says. "Although the CitiQuiet windows didn't fully defeat the J train, they made the noise bearable to a point where I could rent out every apartment in the building!"
What parts of a building are typically the quietest?
The rear and corners of the building are the quietest from an exterior noise perspective, Comandini says.
Corner units are also typically far away from the elevators and garbage chutes, which tend to be centrally located in the middle of a floor.
Which parts are the loudest?
Comandini recommends steering clear of units close to the elevator "as the foot traffic and noise from the shaft could bleed into your unit." Same goes for the trash chute.
Chowdhury adds that you'll want to stay away from any floors with any amenities, such as gyms or playrooms.
Does it matter what floor the unit is on?
Generally speaking, the higher up you go, the less street noise you'll be subjected to.
In addition, there are often fewer apartments on higher floors, meaning that you'll have fewer potentially loud neighbors to despise.
"Being on the first floor exposes you to the noise of people entering the building, while being on the middle floors increases the chances of noise from neighbors," Comandini says.
He also suggests asking your attorney to check the building's board minutes for any noise complaints during the due diligence process, specifically relating to the unit you're interested in and those surrounding it.
How to check for other noise
In addition to checking for sound-proof windows, Comandini advises walking around the apartment to see if the floors produce any noise. If yours do, chances are that your neighbors' will, too.
It's also a good idea to try and determine how thin the walls are so you won't feel like you're living with your neighbor rather than next door to him or her.
Finally, he suggests checking the apartment at different times. "Visit the apartment during high building traffic—before or after work—as this is when both interior and exterior noise is the highest."
Chowdhury notes that he's had some noise-conscious clients even ask to stay in an apartment overnight to see if the noise levels were acceptable to them. "Although a lot of sellers would not be amenable, it doesn't hurt to ask," he says.
After all, it could be "perfectly quiet at 3 p.m. and rock concert-loud" by the time you typically head to bed.
What types of buildings are the quietest? 
Comandini likes prewar buildings, which tend to have thicker walls that'll keep sounds to a minimum, and new developments, as the projects "are noise-conscious and are using some of the best noise-canceling materials around."
He'd advise staying away from brownstones, though.
"Brownstones that were initially single-family homes can have some of the worst noise as they were not built with the intention of subdivisions," he says.
Which neighborhoods are the quietest?
Comandini suggests looking in Tribeca and the Upper West Side because they have less through-traffic and more residential-only streets.
Chowdhury advises looking for blocks without any restaurants or bars since they'll likely attract less foot traffic—especially at night.
"You can find these blocks on the Upper West Side, Upper East Side, and the West Village," among other locales, he says. "These are great places to look if you need quiet. You'll be in the city but won't necessarily be in a heavily commercial area like Times Square."
Check out these apartments on the market with quiet features or locations: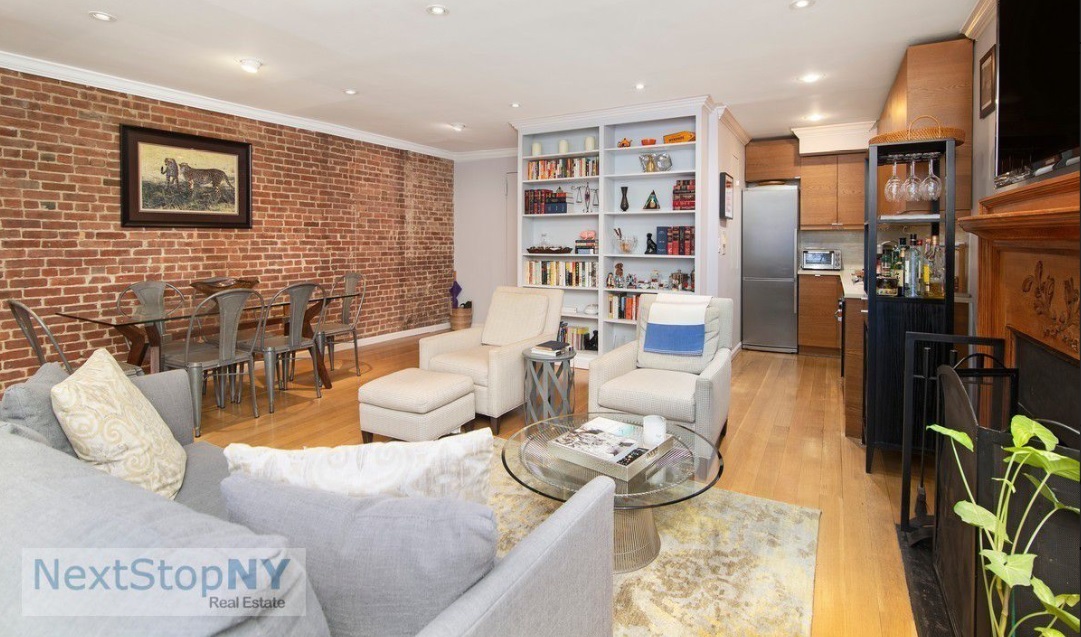 Listed for $759,000, this 650-square-foot, south-facing, one-bedroom, one-bath co-op has stainless steel appliances, a decorative fireplace, exposed brick, hardwood floors, and is outfitted for a washer/dryer. It also has a manicured garden that is completely private to the owner of this unit. It's located in a brownstone building with common storage and bike storage on a quiet block near the Museum of Natural History. Maintenance is $1,120 a month—and actually decreased 7.5 percent from 2018 to 2019. No dogs allowed.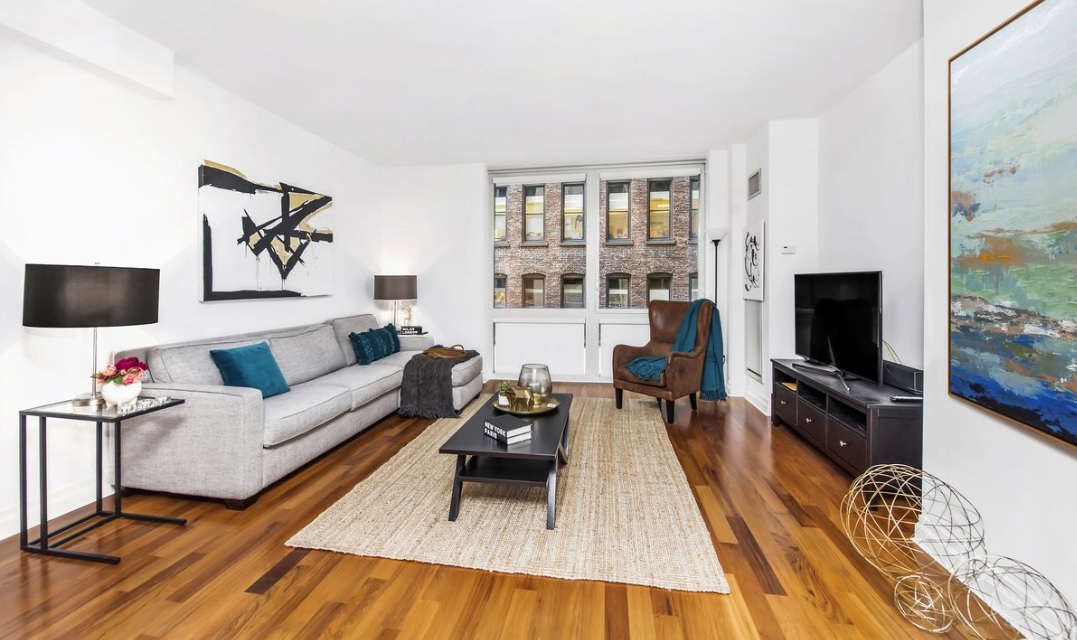 According to the listing, this is $1,200,000, one-bedroom, one-bath, north-facing condo is very quiet. It has floor-to-ceiling windows, teak hardwood floors, an open gourmet kitchen with white countertops and a dishwasher, and in-unit washer/dryer. It's in a condo building with a boutique hotel-inspired lobby with an espresso bar, 24-hour doorman and concierge services, rooftop deck with Empire State Building views, on-site parking, refrigerated storage, fitness center and yoga room, and wifi access in the lobby and common areas. Common charges are $611 a month. Taxes are $722 a month.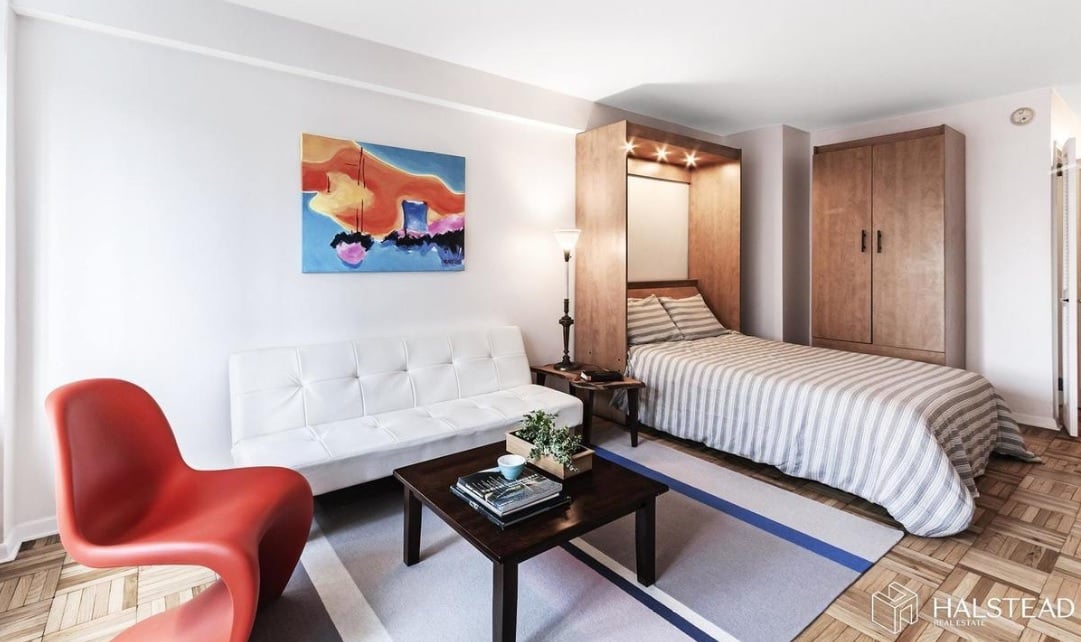 Priced at $459,000, this studio co-op (also pictured at top) has an updated kitchen with stainless steel appliances, three closets, refinished oak parquet floors, new baseboards, a custom-made wooden radiator cover, and CitiQuiet noise-proof windows, as well as a noise-proof AC enclosure. The apartment is located in the back of a co-op building with a 24-hour doorman, live-in super, laundry room, planted and furnished roof deck, renovated lobby, storage, and bike storage. Maintenance is $1,077 a month, and includes taxes, heat, hot water, and gas.
Listed for $719,000, this one-bedroom, one-bath co-op has beamed ceilings, hardwood floors, separate windowed kitchen with brand-new stainless steel appliances, a bedroom that can fit a king-sized bed, and CitiQuiet windows in the bedroom. It's in a pet-friendly, white-glove building with a full-time doorman, live-in resident manager, bike room, central laundry, and storage. A gym and garden are coming soon. Maintenance is $1,868 a month.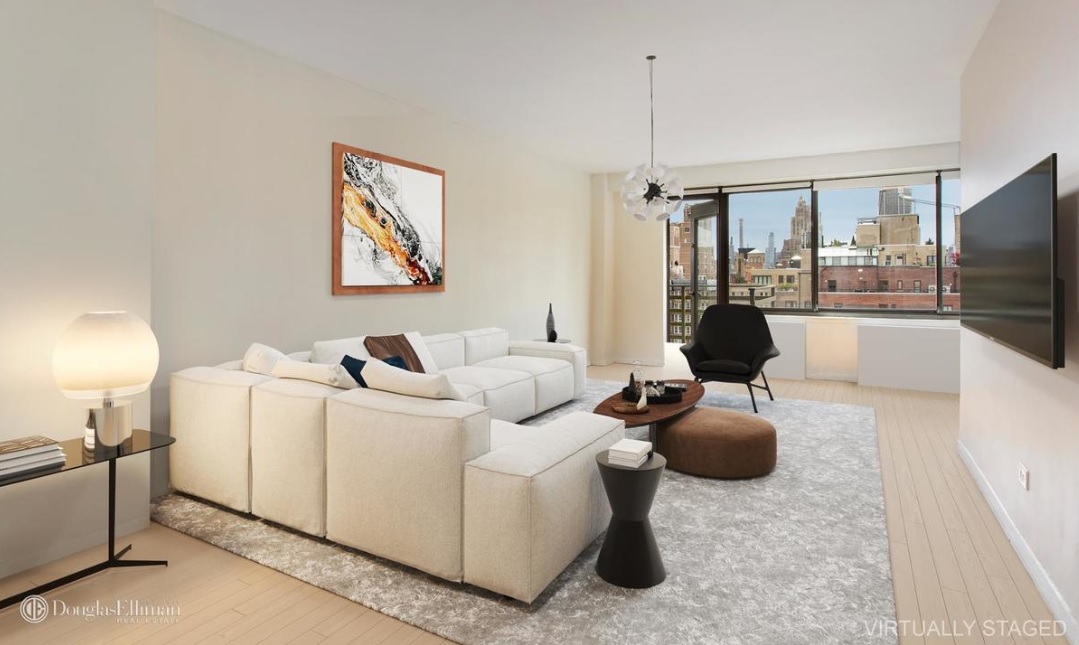 Priced at $1,400,000, this top-floor 876-square-foot corner one-bedroom, one-bath condo has oversized windows, lots of cabinet space in the kitchen, and a 130-square-foot private south-facing balcony with Central Park views. It's in the full-service Vaux Condominium, which offers landscaped grounds, a full-time doorman and concierge, a resident superintendent, an on-site health club, laundry facilities, parking, gardens, and a children's play area. Common charges are $570 a month. Taxes are $565 a month.
Brick Underground articles occasionally include the expertise of, or information about, advertising partners when relevant to the story. We will never promote an advertiser's product without making the relationship clear to our readers.