Buy Curious
What you need to know about garden apartments in Queens (because they mean something else here)
In four of the five New York City boroughs, the term "garden apartment" typically refers to a first-floor unit in a townhouse. In Queens, however, the phrase means something entirely different, so if you are hunting for an apartment here, don't be surprised if a listing leads you to a low-rise apartment building.
Yes, there's typically green space, but it's usually shared, unlike an apartment in a townhouse that would have a private backyard.
In this week's Buy Curious, Michael Chadwick of Citi Habitats and Diane Kantzoglou of BOND New York dig into Queens garden apartments, and tell you why you might want to buy one and what amenities you can expect to find.
The question:
I've heard that the term garden apartment means something different in Queens than it does anywhere else. So what does it mean? And should I get one?
The reality:
In Queens, a garden apartment is found in a low-rise, detached building, Chadwick says.
Sometimes the units are duplexes with private entrances to a parking lot or common—like a townhouse. Other times, they are accessible via a shared hallway with four or more apartment entrances. 
"There are never long hallways or attended lobbies like more urban-style living," he adds.
What are the benefits?
"Tranquility and overall affordability," Chadwick says. "If the sounds of sirens and drunk people do not lull you to sleep," you should definitely consider buying in one of these complexes, he says.
But he notes that you have to want a more suburban type of lifestyle since these apartments "can feel more like Long Island than Manhattan—a pro or con depending on your perspective."
These buildings are also ideal for pet owners or those who love to host barbecues, he says. And car-owners will be pleased since they often come with assigned spaces.
Do they feel like a house or an apartment?
Kantzoglou says these apartments tend to be larger than Manhattan apartments. They are great starter homes for couples who aren't quite ready for a house, or mature buyers who don't want to or can't maintain a large house, she says.
"These places feel like real homes—without the added worry about the out-of-pocket expenses for the exterior and mechanical upkeep," she says.
They have a lot of house-like attributes, Kantzoglou says, explaining that many of them offer private storage areas in the basement, as well as access to outdoor garden spaces.
"For New York City, garden apartments are among the most suburban-like housing options available and they can be the next best thing for those who dream of one day owning a single-family home," Chadwick says.
What sorts of amenities do you get?
You won't find high-end gyms, pet spas, or on-site dry cleaners like you would in high-end towers, but you will find park-like landscaping, tree-lined walkways, gardens, barbecue areas, and the occasional playground.
What's pricing typically like?
One-bedroom co-ops in some of the more far-flung reaches of Queens can start in the low $200,000s and start around $300,000 for one bedrooms in western sections of the borough. Two-bedroom units can range from $300,000 to $500,000, depending on size and location.
How does the maintenance compare?
"As a percentage of the purchase price, maintenance fees can be high," Chadwick says. "For example, this one bedroom that costs $218,000—an amazing price for New York City—has a monthly maintenance of $841."
The extensive landscaping found in some of these complexes can be costly to maintain. Some of the large enclaves also have roving security patrols—another expense that is shared by owners.
Where are these apartments typically found?
The majority are located in the more suburban areas of Queens closest to the Nassau County border. 
There are several large co-op complexes like Bayside's Windsor Oaks and The Estates at Bayside, as well as Glen Oaks Village and Parkwood Estates. Jackson Heights had some of the first garden apartments in the U.S.
There are a number of garden apartment buildings in Fresh Meadows, too.
Garden apartments can also be found in areas closer to Manhattan, as well. "Sunnyside Gardens is probably the most famous garden apartment complex in New York City," Chadwick says. It was built in the 1920s and is known for its unique design of private internal courtyards surrounded by apartment buildings and one- and two-family homes.
What types of buildings are they?
There are garden apartment complexes that are condos or rentals, but most are co-ops.
"Many of the larger complexes were built for returning GIs after World War II—when there was a strong demand for new housing," Chadwick says.
Are there any cons?
Because garden apartments are typically found in master-planned communities, the architecture can be "cookie-cutter," Chadwick says.
Even though there is outdoor space, it's typically shared. It's definitely not the same as having your own fenced-in backyard that you can use as you see fit.
Plus, many of these communities are located a substantial distance from Manhattan, so you may have a lengthy commute.
Finally, like most suburban developments, many of these neighborhoods were designed for car-owners, so keep that in mind if your only mode of transportation is the MTA.
If that all appeals to you, check out these garden apartments in Queens: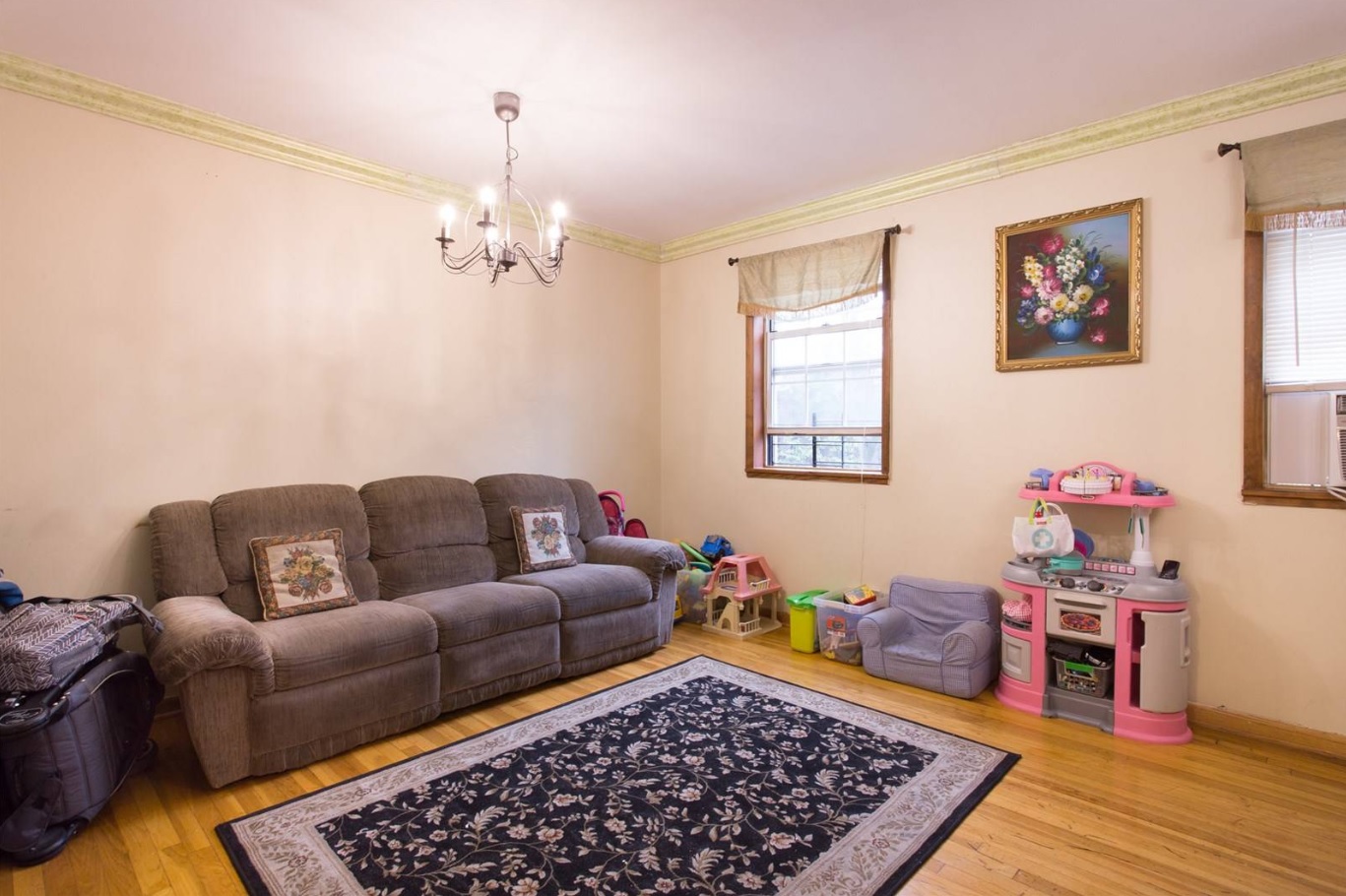 Features of this 850-square-foot, two-bedroom, one-bath apartment include hardwood floors, a large living room and dining room, and an eat-in kitchen. The $298,000 unit is located in Kew Village Estates (also pictured top), which has a backyard area for residents, garage parking (with a waitlist), and laundry facilities. Maintenance is $905 a month.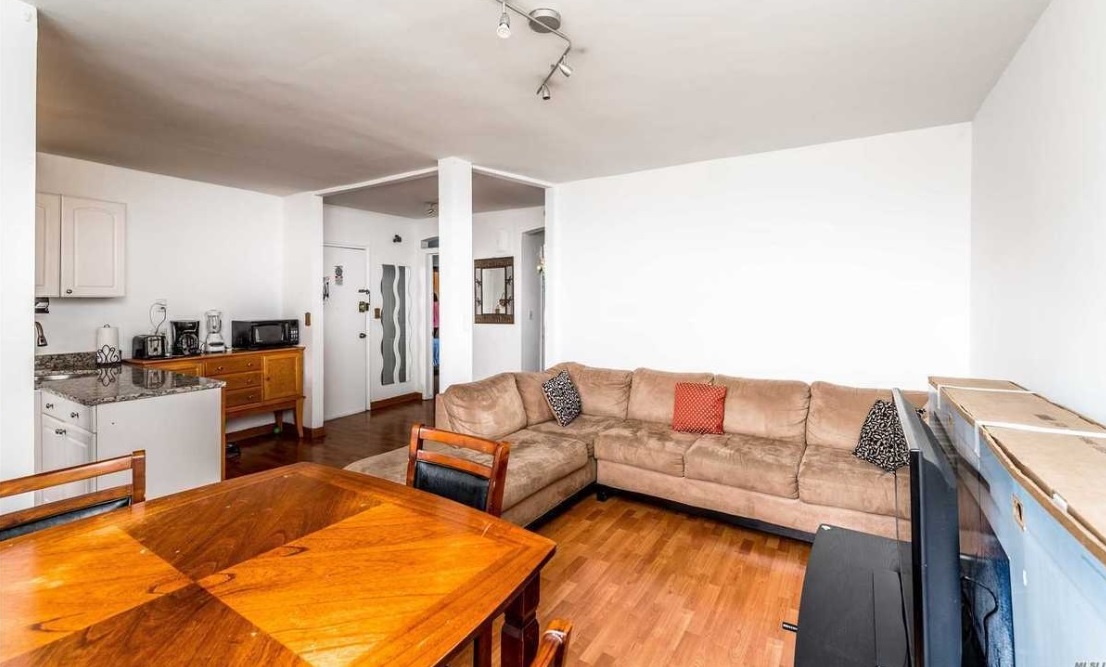 Listed for $549,000, this 900-square-foot, two-bedroom, one-bath apartment has high ceilings, hardwood floors, windows in the kitchen and bathroom, a large living room, and a dining area. It's in the Garden Bay Manor Condominiums, a prewar development with landscaped grounds. Common charges are $535 a month.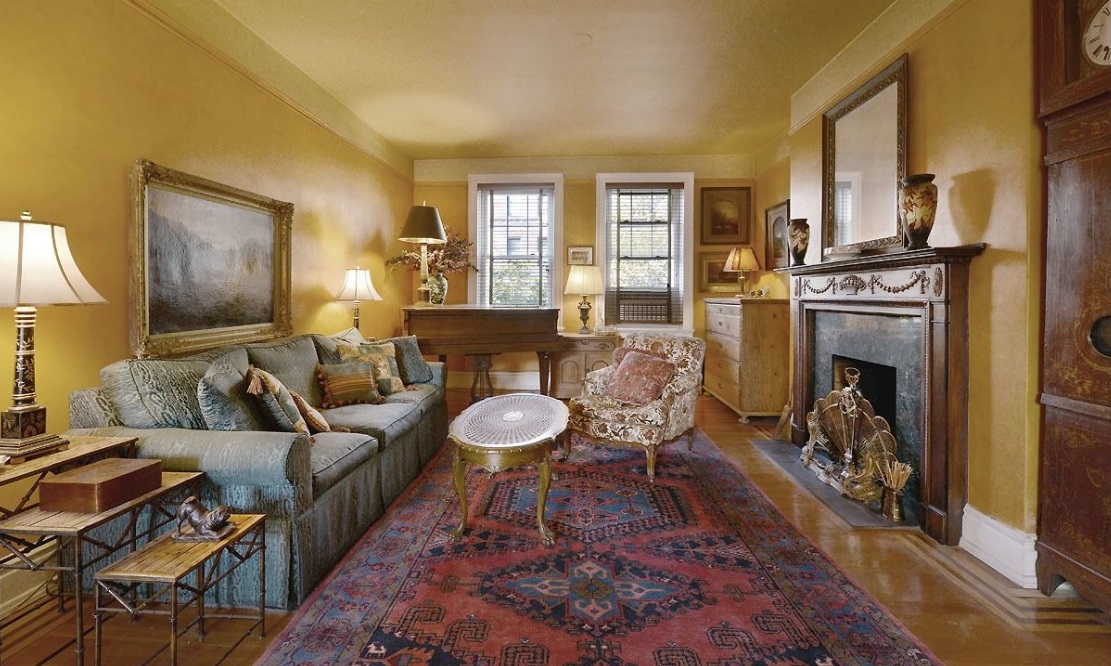 The elevator opens directly into this $779,000 two-bedroom, two-bath garden apartment. There's a large living room with a wood-burning fireplace, a dining room, and an updated kitchen. It has tons of prewar details, including nine-foot ceilings, plaster walls, oak strip floors, and original moldings. It's in Hawthorne Court, a co-op building with on-site laundry facilities and free storage bins in the basement. Cats and dogs are permitted, but subletting isn't allowed. Maintenance is $750 a month.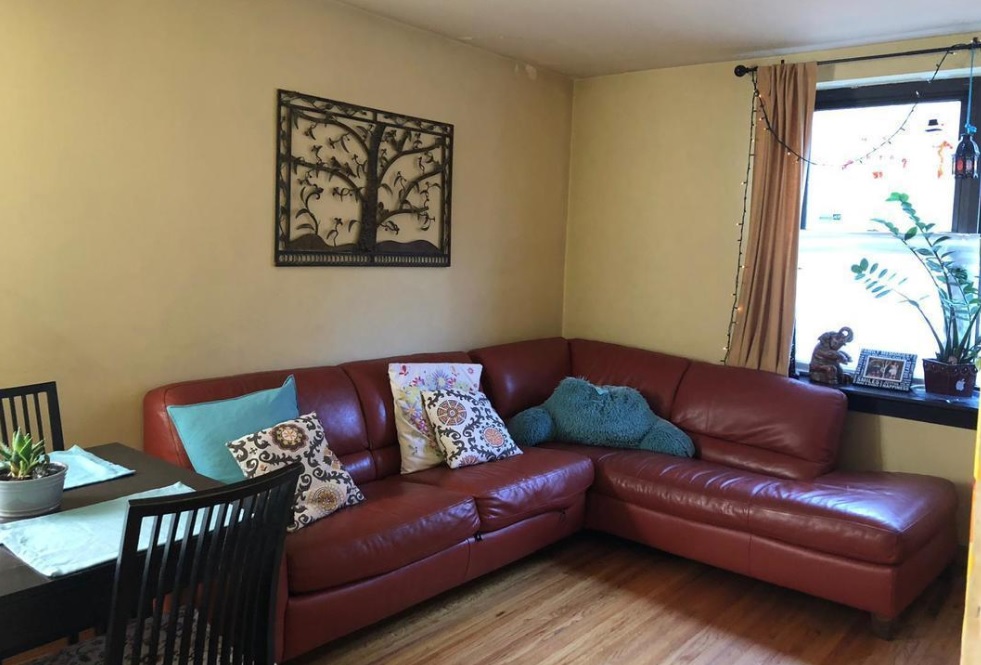 Priced at $349,000, this 700-square-foot, one-bedroom, one-bath co-op has hardwood flooring, a dining foyer that can fit a table for four, and tons of closets. It's located on the first floor of a pet-friendly, three-story walk-up building with a live-in super and an on-site laundry room. Subletting is allowed after three years of residence. Maintenance is $685 a month.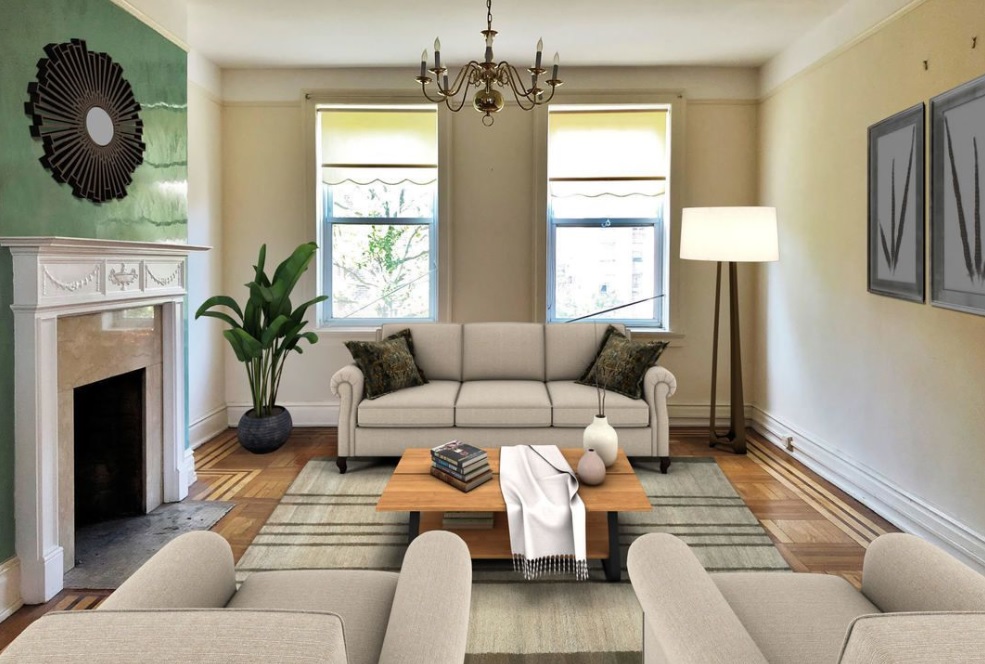 This $849,000 three-bedroom, two-bath garden apartment has a Colonial-style wood mantel with a tiled hearth, solid oak parquet hardwood flooring with mahogany inlay, an elevator that opens into the apartment, a formal dining room, a windowed kitchen with full-size appliances and granite countertops, and a sun room with casement roll-out windows. Maintenance is $1,000 a month. It's in the Elm Court, a pet-friendly co-op building with laundry on the premises. Storage is included. Subletting is not permitted.
Brick Underground articles occasionally include the expertise of, or information about, advertising partners when relevant to the story. We will never promote an advertiser's product without making the relationship clear to our readers.